Service Employees Local 660- Los Angeles County Workers Beat Back Hikes in Health Insurance Premiums
Members of Service Employees Local 660 beat back management's demand to force workers to pay increases in health insurance premiums, after hundreds of worksite protests throughout Los Angeles County and massive rallies in the streets and at the offices of the County Board of Supervisors.
SEIU Local 660 represents 50,000 Los Angeles County workers in hundreds of classifications, including nurses, clerks, librarians, welfare workers, social workers, road workers, court employees, and many others.
With a state budget deficit earlier this year of $48 billion, there was so little money coming to Los Angeles County from the state that the County's Department of Health Services alone had a deficit of over $700 million, and was threatening to close hospitals and other health facilities.
DRAWING THE LINE
Late last year Local 660 spearheaded a campaign that brought $168 million into the County's health system and saved three hospitals from closing. That laid the groundwork for this year's contract negotiations.
Saying "we've done our part, now you stand by us," Local 660 members told County Supervisors that they were "drawing the line" and would not pay any of the double-digit health insurance increases that the insurance companies were demanding from the county, nor any increase in the co-pays that the County was demanding.
The health insurance increases would have amounted to between $400 and $1,900 per member a year, depending on the type of coverage they had.
Furthermore, the County came to the bargaining table this year saying that there would be no money for raises because of the deficit in the County budget.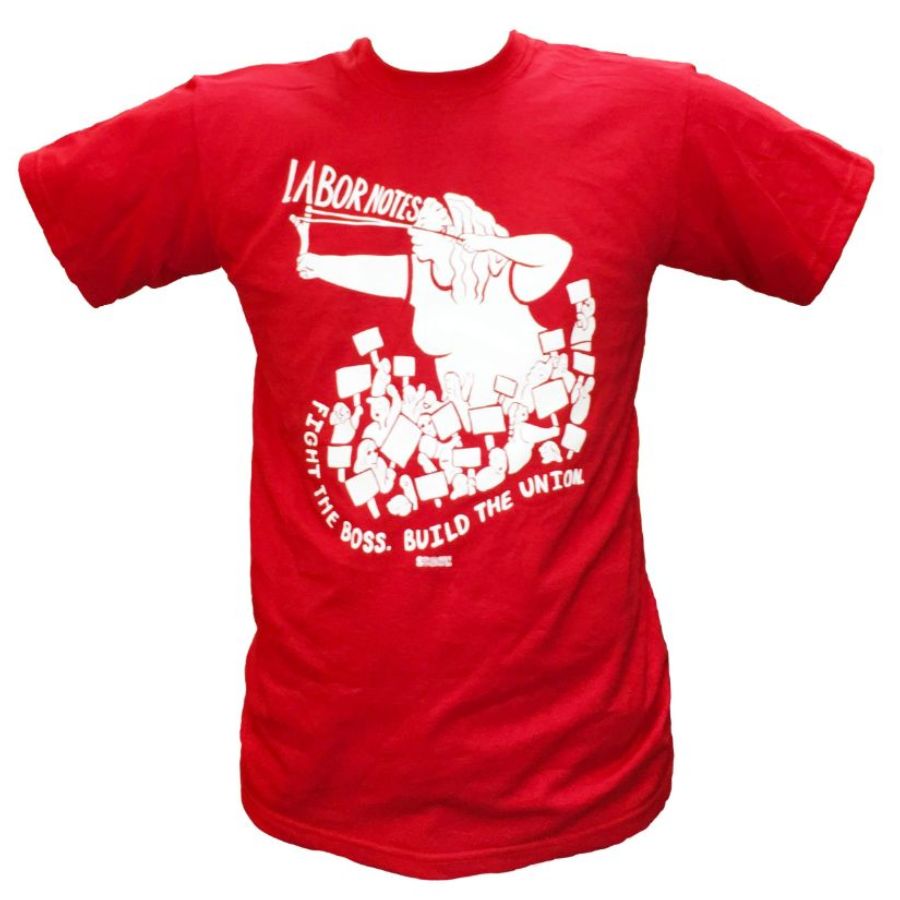 Over 25,000 Local 660 members had gone on strike three years ago over County foot-dragging during contract negotiations, crippling government agencies throughout the entire county, and that memory was fresh in everyone's mind.
Local 660 members also distributed a leaflet showing that taxes paid by corporations had dropped from 40 percent during World War II to less than 10 percent today, to explain why there was such a huge deficit in government budgets. The leaflet also urged support for bills in the state legislature to close tax loopholes on corporations and raise the top income tax bracket on the very wealthy.
Health Care for All-California, a state-wide health care reform organization which Local 660 supports, urged support for a bill in the state legislature that would set up a non-profit, single-payer health care system in California and save billions of dollars in health care costs.
Local 660 also worked in coalition with seven other unions that are negotiating with the County, including firefighters and sheriffs - the sheriffs are so frustrated with their bargaining that they've been having "Blue Flu" days for months.
A joint rally of many thousands of workers from all eight unions in October, with many workers taking the day off work to attend, sent a message that things could potentially get worse. Despite the tough economic situation, the County Board of Supervisors realized they had a full plate of problems on their hands, and that they had to defuse the situation.
On November 11, after nearly 24 hours of straight bargaining, and threats of more job actions, the County settled with Local 660.
There would be no health insurance increases passed on to the workers, no increase in the current $5 co-pay, and a 5 percent pay increase over the life of a new three-year agreement, with one caveat: if the County's financial situation deteriorates to an emergency crisis level-nearing bankruptcy-then the county may redirect some or all of the 5 percent pay increase to help save the county government.
While this last part is distasteful to many, it was felt by most that this was the best that could be achieved under the circumstances. The most important thing was that workers defeated management's drive to push increased health care costs onto their shoulders, and that they struggled to create more unity and promote more progressive solutions.