Vermont Troublemakers School
Workshops:
How to have an organizing conversation
How to broaden member participation
Reviving social justice unionism
Developing rank-and-file leaders
Winning contract campaigns
Strikes and other worksite actions to win
And much more
Event at a Glance
Date
November 09, 2014, 9:00 am
Location
Rowell Hall, University of Vermont, 106 Carrigan Drive Burlington, Vermont
Workshops
How to have an organizing conversation
How to broaden member participation
Reviving social justice unionism
Developing rank-and-file leaders
Winning contract campaigns
Strikes and other worksite actions to win
And much more
Conference Flyer
Online registration is now closed, but walk-ins are welcome! Just show up on Sunday and we can register you on the spot. Please try to arrive around 9 a.m.
Calling All Troublemakers!
Vermont Labor Solidarity Committee and Labor Notes present:
Vermont Troublemakers School 2014
When: Sunday, November 9, 9 a.m. to 5 p.m.
Coffee and breakfast snacks provided. Please try to arrive around 9 a.m. to allow time to park, find the building, register or check in, and schmooze with fellow troublemakers. The program begins at 10 a.m.
Where: Rowell Hall, University of Vermont, 106 Carrigan Drive, Burlington
(Click here for a map to the event location and nearby parking.)
New strategies centered on social justice unionism have animated recent struggles—from the 2012 Chicago Teachers strike to the recent Teamster Chittenden County Transit Authority walkout in Vermont. Join us for a day of discussion, training, networking, and inspiration! We'll discuss rank-and-file strategies for advancing our unions and demanding our rights. Register today!
A Packed Agenda
Opening Plenary: The Revival of Social Justice Unionism: New Directions for the Labor Movement, with special guests:
Mark Brenner, director of Labor Notes, a media and organizing project of union activists who want to put the movement back in the labor movement, and
Barbara Madeloni, newly elected president of the Massachusetts Teachers Association, leader of EDU (Educators for a Democratic Union).
While labor as a whole has been weakened by relentless attacks, and by our own political and organizational shortcomings, our troublemaking wing is growing. By doing the hard work to create rank-and-file invigorated, democratic unions, building workplace power, and reaching out to the broader community with a social justice vision that resonates with the aspirations of working class people, we are taking the path to building the labor movement that we so desperately need.
Morning Workshops:
Building Strong Stewards/Rank-and-File Networks: Our unions are only as strong as we make them, from the ground up. Having a network of well organized, confident, seasoned, and savvy shop stewards is vital to building the broadest participation of members throughout every union. From the smallest local issues to the greatest fights for social justice, stewards are key to rebuilding a fighting labor movement.
How to Have a Successful Organizing Conversation: All power in the workplace starts with talking to your co-workers…not just to "sell" something, and not just to gripe, but to identify shared concerns and encourage direct, collective action by your co-workers to solve problems. They are useful for organizing new unions, re-energizing your local, preparing for contract negotiations, or fixing what's wrong on the job. This workshop will help you learn about "organizing conversations" and give you the chance to practice them.
Organizing Against An Abusive Boss... and Surviving Retaliation: Is your boss unpredictable? Does he play favorites or pit people against each other? Do you dread going into work, and feel like you could be trapped, set-up, or attacked almost any time? Do you and your co-workers feel hopeless about doing anything about it? Do you all worry about retaliation? If so, this workshop will give you both courage and concrete advice, because these panelists have all stood up to abusive bosses, faced retaliation, fought back... and won!
New Forms of Worker Organizing: As work is restructured more of us than ever don't have a recognized union or traditional collective bargaining situation. How can workers build power, take action to fix problems and act like a union anyway? How are activists building connections between workers in different workplaces, between people in different unions, and communities to strengthen our movement from the bottom up, and fight for work with dignity and? How are workers using direct action to make their demands heard? How are undocumented workers, who live in fear of being deported, organizing to secure their human rights?
Afternoon Workshops:
Building a Powerful Contract Campaign: These days, aggressive demands from management may leave us feeling that we just have to accept a bad settlement and "be grateful to have a job." Even if your union does the basics when preparing to bargain a contract - survey members, write proposals and select a bargaining team - the basics aren't enough. This workshop will take you beyond the basics: How to map your worksites, identify potential activists, build contract action teams, conduct one-on-one surveys, build a calendar, plan accelerating tactics to unify the membership and support the bargaining proposals.
Combating Sexism and Racism within Our Unions and in Our Workplaces: Systems of oppression like racism, sexism, homophobia and ableism cause suffering and division in our communities, so combatting oppression is essential to building a strong labor movement. True solidarity means standing together to combat oppression in our workplaces, in the world and in our movement. This workshop will draw on personal experiences to explore how racism and sexism are at work in our movement and how we can deepen our understanding of them in order to stand strong for collective liberation.
Building Democracy in Our Unions: Union democracy and rank-and-file re-invigoration are key to saving the labor movement from its enemies. How do we bring our unions alive in the workplace? How can we transform and rebuild our unions from the bottom up, making a sleepy local into a fighting union? It's not enough to tell our co-workers to "get involved." How do we build structures that can draw workers in, starting with a solid presence in the workplace, make room for members to own and shape their union, strengthen our movement, and build a leadership team? How does a steady reliance on workers' power on the job and in the communities, thinking bigger about what kind of union we're trying to build, figure into our strategy?
Direct Action in the Workplace through Building Rank-and-File Power: Workers self-organizing and taking direct to address grievances in their workplaces has been an essential element of every union upsurge. This workshop will address why this is the case, and the importance of thinking about building rank-and-file power through collective action in various forms. You will learn about several examples of successful direct action campaigns and discuss relevant lessons for other workplaces and unions.
Closing Plenary: The Fight for the Soul of Public Higher Education at UVM
Public universities are meant to provide an affordable means of attaining a higher education for students of every background. Yet tuition at public universities across the country has skyrocketed over the past generation, while the number of high-paid administrators has likewise mushroomed. We are hurtling backward to the days where a college degree was something only the wealthy could achieve. Like their counterparts at many other public universities, faculty and staff at the University of Vermont are battling for the future of public education. By standing up for livable wages, manageable workloads, and decent benefits, they are also fighting to make public education a right available to all. Come hear representatives from United Academics, United Electrical Workers, and the Vermont State Employees Union share the details of this fight, and learn what we can do to build solidarity to help them win.
Use this form to sign up for workshops. Link here: bit.ly/1CHqzwm
Register Now
Online registration is now closed, but walk-ins are welcome! Just show up on Sunday and we can register you on the spot. Please try to arrive around 9 a.m.
Several unions are covering the registration costs for their members to attend. If your registration will be covered, you can just note that on the registration form you'll fill out when you arrive.
Translation Available for Spanish Speakers
Spanish interpretation will be offered for the plenary sessions and some workshops. Registrants wanting translation should contact Kate at (802) 825-8399 no later than October 31.
Contaremos con servicio de interpretación simultánea durante las sesiones plenarias y algunos talleres. Para mayor información favor de comunicarse con Kate a (802) 825-8399, antes del 31 de octubre.
Childcare
Registrants wanting childcare should contact Avery no later than October 31 at avery.pittman[at]gmail[dot]com
Map and Parking
Here's a map showing the Rowell Hall location, where the school will be held, and nearby lots where you can park. (Click to enlarge.)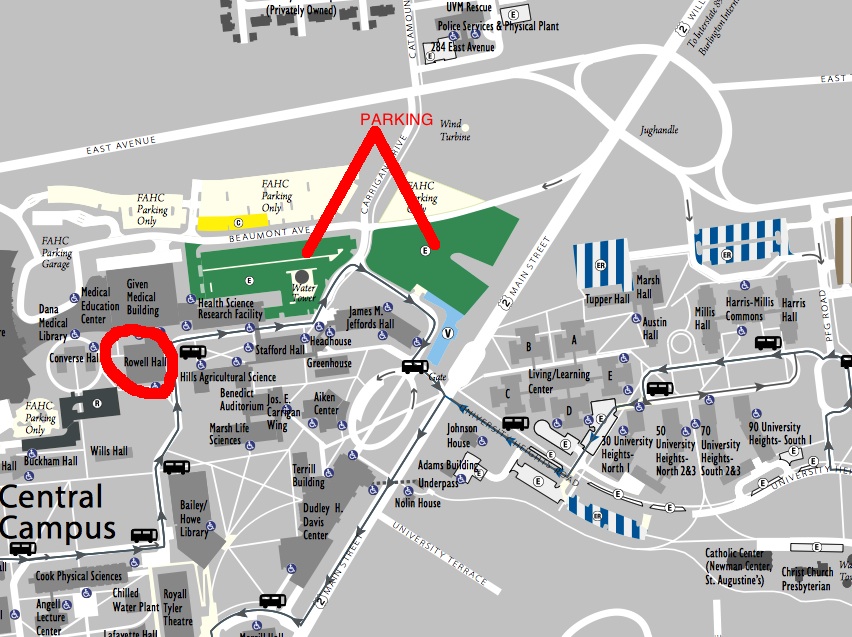 Supporting Organizations
Here's a list of organizations whose members are contributing to shaping and building our Troublemakers School:
Vermont State Employees Association
CCTA Teamster Bus Drivers
Vermont Workers Center
United Academics at UVM
Vermont Federation of Nurses and Health Professionals (VFNHP)
VT-NEA
AFT Vermont
International Socialist Organization
UE Locals in Chittenden and Washington Counties
Vermont Migrant Justice
Home Health Care Workers
Howard Center AFSCME Local 1674
Green Mountain Labor Council
And more to come.
Questions?
For more information or to get involved, contact Traven Leyshon at Traven.L[at]gmail[dot]com or 802-522-3484.
Sponsored by United Academics at UVM.