Pre-Convention Battle: Detroit UNITE HERE Local Seized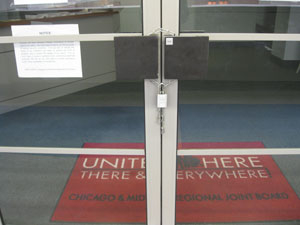 Detroit's UNITE HERE Local 24 was padlocked in January after the union's regional board took over the local's office and removed the appointed state director. The takeover was the opening salvo in a leadership struggle developing ahead of the national union's June convention.
Officials of the Chicago Midwest Regional Joint Board say ejecting Michigan State Director Joe Daugherty was a necessary response to member complaints about the local's failure to process grievances. Local 24's 7,900 members in the Detroit area make up about 80 percent of the Michigan membership.
Many of Local 24's sidelined leaders—including Daugherty—were elected to local positions December 11 and aimed to disaffiliate from the Joint Board, which maintains control over the local's hefty dues flow. They say they were shut down because of this effort.
The Joint Board removed Daugherty, who is also an international vice president, claiming his criticisms of the board amounted to insubordination. Daugherty, who was appointed in 1999 to head up organizing in the city's casinos, had arrived in Michigan fresh off HERE's victorious six-year strike at Frontier Hotel and Casino in Las Vegas.
In that campaign, he earned the nickname "St. Joe"—and fame in HERE circles—for not missing a day on the picket line during the lengthy strike.
After learning he was fired, Daugherty staked out an overnight watch inside the union's office. He said staffers from Chicago and Canada, flown in by the Joint Board for the takeover, kept him from placing phone calls and blared recordings of UNITE HERE President Bruce Raynor's speeches at full volume.
Local 24 members and staff had angrily mobilized at the office and confronted the Joint Board staffers. Police evacuated the office the next day and chained the door at the request of the building manager.
Board leaders posted welcome signs for the new state director, Clayola Brown of New York.
UNEASY MARRIAGE
UNITE HERE was born in 2004 of a merger of textile and laundry workers (UNITE) and hospitality workers (HERE). The marriage, at times uneasy, prompted pre-existing UNITE regional boards to offer affiliation to HERE locals. The Chicago Midwest board now includes 50,000 members in hundreds of UNITE and HERE locals in 11 states.
Local 24, the Joint Board's largest affiliate, joined the umbrella organization three years ago, seeking greater institutional support for organizing projects at casinos, sports arenas, and the Detroit airport.
Len Lazich, a bartender at MGM Grand casino and chief steward, said the board made it impossible for Local 24 to conduct business, steadily siphoning resources from Detroit over the years. Lazich said the local sends the board more than $4 million a year, adding that since the affiliation, local staff has been cut by 60 percent.
Mickey Seawood, a steward who works in environmental services at the MGM Grand casino, said members felt the Joint Board broke its promises to bolster organizing.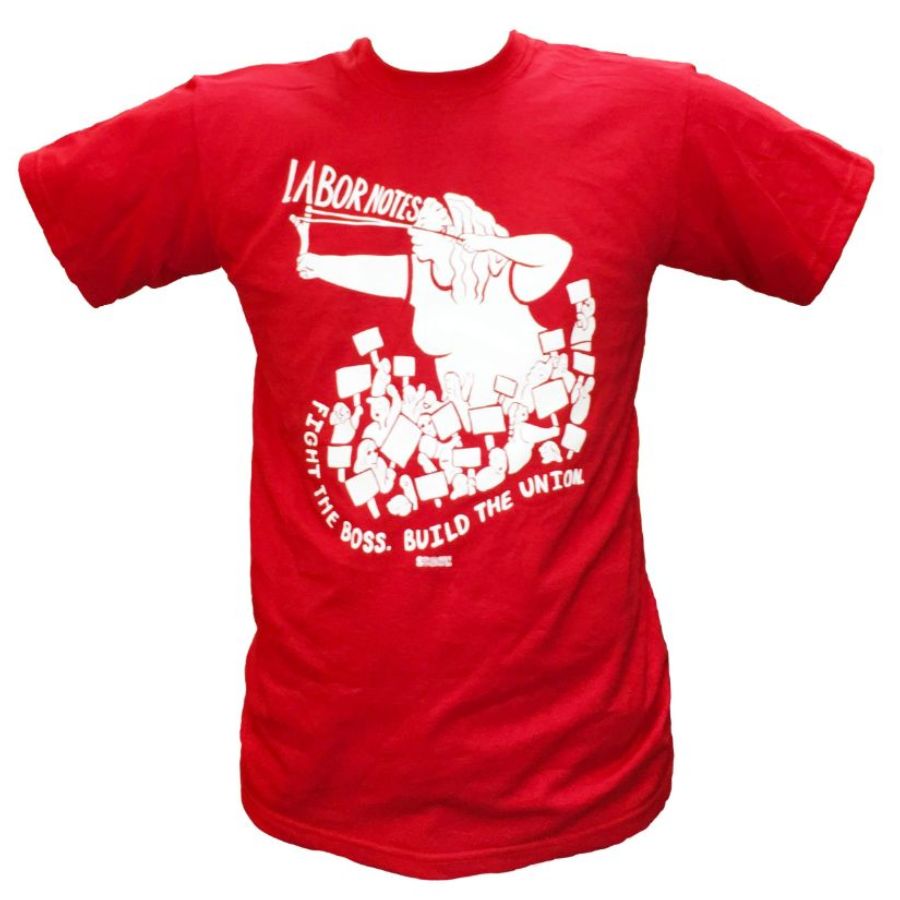 "They never delivered," she said.
DERELICTION OF DUTY
Brown counters that Local 24 leaders had failed to process hundreds of grievances, some more than a year old. Officers, some elected just a month ago, are asking for documentation.
"They're talking about all these hundreds of complaints, but no one has copies of them," said Jackie Kaifesh, vice president of the local's airport division.
Doris Boone-Hanna, who answers phones at the Marriott, says she has paperwork. In just the last year she said she has filed seven grievances. Boone-Hanna led an unsuccessful decertification campaign in 1989.
Among her 15 co-workers, Boone-Hanna says there are 18 grievances dating back to June that haven't been handled yet. She says that under Daugherty's watch, the local held unfair elections, paid stewards unevenly based on allegiance, and failed to notify members that their health co-pays had doubled.
Boone-Hanna blames Daugherty for not enforcing contract language on seniority. "I went home one night and I was No. 3 in seniority, and when I came back the next morning, I was No. 5," she said. "I've been here 29 years, and I'm still on the midnight shift."
TRUSTEED IN 2003
In late 2003, Local 24 underwent the union's standard treatment for troubled locals: It was placed in trusteeship after an investigation revealed financial mismanagement. Leaders were purged and the trusteeship ended in 2004.
Daugherty's ouster, however, was not preceded by formal investigations. Brown maintains that the Joint Board may remove an appointed leader at will. Although Daugherty and the other officials maintain their elected offices in Local 24, the Joint Board has circulated letters advising employers to deal with the board directly. Local 24 claims the letters illegally strip the local of its authority.
Brown said the only hiccup in the takeover process was Local 24's belligerent response. She said members and staff were disruptive and violent in a failed attempt to reclaim the office.
"Normally it does work quite smoothly," she said. "I've been with the union 39 years, and I've never seen this kind of reaction."
Brown's administration is meeting with disgruntled members such as Boone-Hanna. Meanwhile, Local 24's deposed leaders have set up headquarters across the street from the padlocked office. They are collecting signatures to disaffiliate from the Joint Board. The UNITE-HERE merger agreement stipulates that locals can leave joint boards by presenting member petitions to the International.
In the month following the takeover, around 4,000 members have signed petitions for disaffiliation, Lazich said. International vice presidents will resolve the affiliation and takeover disputes February 10 at the union's executive board meeting in Washington, D.C.