As Talks Drag, American Axle Strike Enters Third Month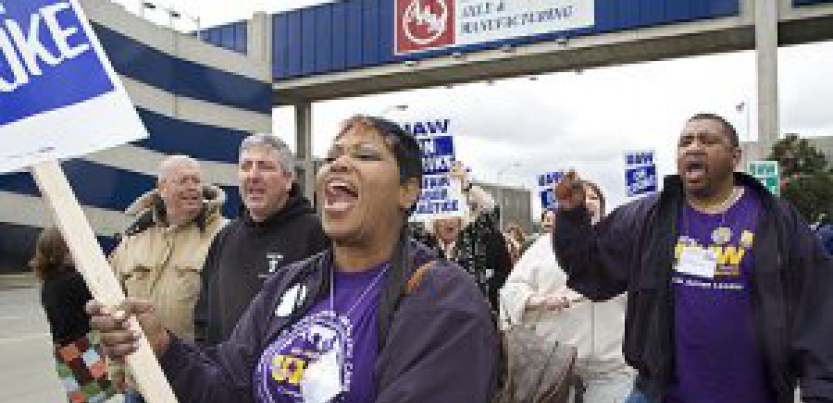 Although the two-month-old strike at parts-maker American Axle (AAM) has shut down 30 General Motors plants and idled more than 40,000 GM workers, the United Auto Workers appear unable or unwilling to make use of their leverage to reach a settlement.
In Michigan and New York state, 3,600 AAM workers have been out since February 26 battling CEO Dick Dauch's demand for a 50 percent pay cut (see Labor Notes April 2008).
The UAW International had scheduled a support rally for April 18 in downtown Detroit, but abruptly called it off, at Dauch's request. Negotiators apparently hoped that their gesture would be repaid with a contract offer, but within a few days reports were that relations were worse than ever.
An AAM stockholders meeting was scheduled for April 24 in Detroit, but the International planned no public action. UAW Local 235, a few blocks from company headquarters, organized a rally with several hundred members and supporters itself.
NO PRESSURE FROM GM?
Dauch bought five factories from General Motors 14 years ago, which have been profitable even with inherited high wages. He has a reputation in the industry as stubborn and unpredictable. Strikers had hoped that GM, its profits suffering from lost production, would pressure him to settle.

Best-Selling Book
Secrets of a successful organizer
A step-by-step guide to building power on the job. Buy Now. »
But General Motors has chosen to subsist on axles from the AAM plant in Mexico, opening different assembly plants and closing others over the weeks as parts become available. GM executives may be expecting that if Dauch extends deep wage cuts to plants historically owned by the Big Three, that will bode well for their own next round of concessions in 2011.
Meanwhile, supervisors continue production of parts needed by Toyota, unhindered.
Support has, however, come from unexpected places. SEIU United Healthcare Workers–West, a large health care local in California, donated $5,000 to the strikers. The local has made further plans to ask central labor councils in their state to adopt strikers as well. Members had met strikers on the picket line while attending the Labor Notes conference, and UHW rented extra buses to enable more conference-goers to join the action.
The last AAM contract, which contained concessions for workers yet to be hired, was ratified by a small margin, partly because it contained a $5,000 signing bonus. Rumors swirl of an even larger bonus offer—$6,000 or $7,000—this time. If strikers accept, they will lose far more than that in their first year of work, as hourly pay drops from $28 to $14.