Housekeepers' Giant "Hope Quilt" Puts Hotel Job Injuries in Spotlight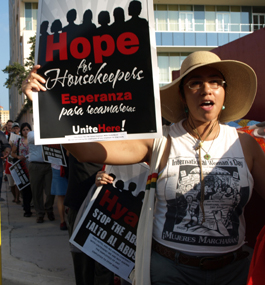 Three middle-aged Latina women hunch over the table as they lovingly attach sequins and glitter to foot-long quilt squares on a wet October evening in San Antonio.
Don't be fooled, though; they aren't abuelitas handcrafting a comfy quilt for a new grandson. They are union activists, housekeepers at the Grand Hyatt, hard at work building their piece of the Hope for Housekeepers tour, a seven-city series of actions organized by the hotel workers union, UNITE HERE.
The campaign kicks off a "national movement of women to stop the abuses of women in the hotel industry." The strategy is to rally union and non-union hotel housekeepers against harsh working conditions and workplace injuries in front of Hyatt and Hilton hotels where active, heated organizing drives are underway.
At the center of the tour is a six-foot wide "hope quilt." Each square is crafted by housekeepers themselves and symbolizes different kinds of injury on the job: housekeepers sign orange squares to indicate how many years they've dealt with long-term pain. Brown squares denote permanent injuries.
The tour kicked off September 30 in Long Beach, California, where 500 hotel workers and supporters noisily marched in front of a non-union Hilton that they hope to organize.
Since rallies in San Francisco and Santa Clara in early October, the quilt has grown to 130 feet long.
More than 100 Hyatt workers and community supporters rallied October 15 in front of the San Antonio Grand Hyatt. Led by housekeepers and trumpet- and drum-playing members of the musicians union, they marched from there to a city council meeting. Workers unfurled the quilt around the chambers and demanded that the mayor and council take action to ease the workplace injury rate at the hotel, which sits on city-owned land.
"It's something different, something new," says Maria Soto, a 52-year-old housekeeper who has led worker delegations, spoken at rallies, and marched in the streets as part of the grueling, year-long fight to organize a union at her San Antonio hotel. Maria says she takes ibuprofen each night to dull the chronic pain from her job—and double doses on the days when her workload is higher.
LEAN CLEANING
Lean production—including speedup, understaffing, "just-in-time" production, and the resulting jump in workplace injury rates—hasn't been limited to auto assembly lines or meatpacking. A Wachovia Capital Markets report says hotels employed an average of 71 workers per 100 rooms in 1988. Two decades later, 53 workers are handling the same workload. Speedup has created a tussle over the number of rooms cleaned per shift.
All four non-union housekeepers interviewed for this story said their number one issue is "reducing the number of rooms." They clean up to 30 rooms a day, including as many as 14 check-out rooms, each demanding at least a half hour to clean properly.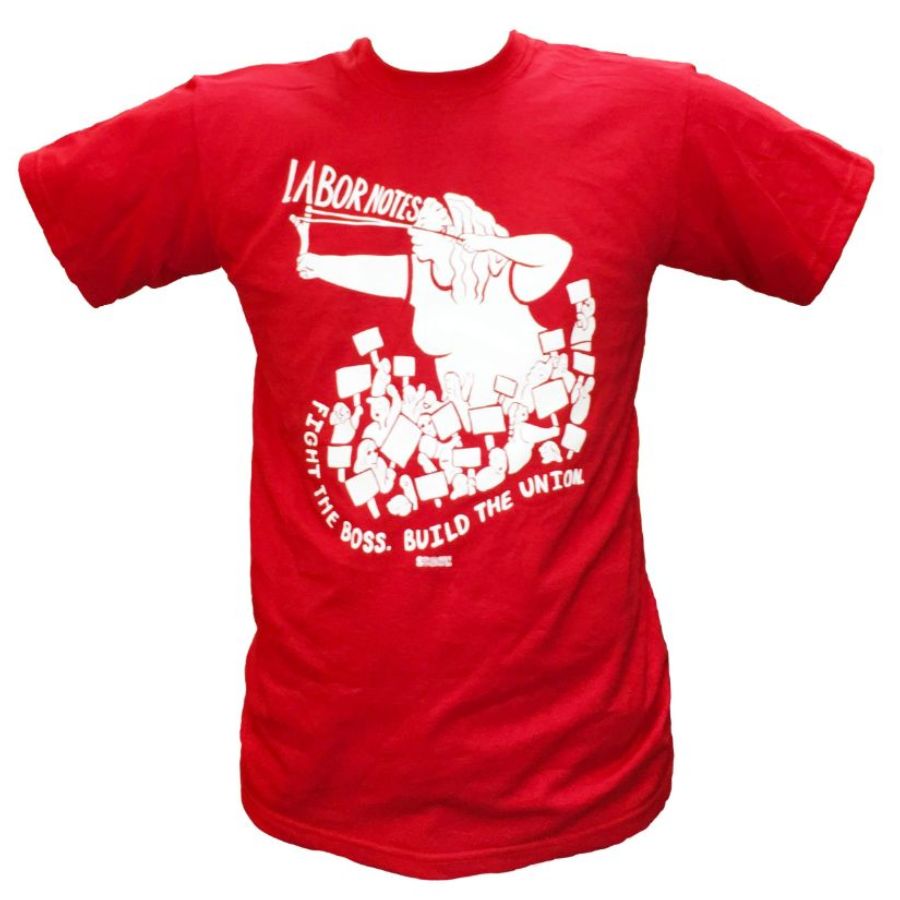 Heavy covers, pillows, mattresses, and linen carts weighing up to 80 pounds add to the chance of injury, housekeepers say. "It's like pushing a bull," said Eunice Zapata de Juarez, a union supporter who spent months on light duty after being injured on the job.
The union has been active building community coalitions to support the fight against workload increases, and each supporting group has added its own multi-colored squares. Fuerza Unida, a collective of seamstresses in San Antonio, volunteered to do the sewing for the Texas stop and opened up their hall for the union's decoration parties.
Moved by the commonalities she saw between the local housekeepers and Fuerza's founding fight to keep Levi's plants open in San Antonio in the early 1990s, former Levi's worker Petra Marta told the workers, "We see your struggle as our struggle."
BUILDING MOMENTUM
The fight for better working conditions is central to UNITE HERE's Hotel Workers Rising contract campaign, a nationally coordinated effort that began again this fall after major victories in 2006.
Many union contracts now limit room quotas to between 12 and 14 per shift, and quotas are also reduced if some rooms are particularly burdensome, as when guests check out. The large disparities in workload between union and non-union hotels is the focus of the quilt tour, as it drums up support for new organizing campaigns nationwide.
The tour garnered national attention when the "Boston 100," housekeepers at three non-union Hyatt hotels, were fired and replaced by subcontracted workers making half their former pay.
Although they do not belong to a union, a number of the fired Boston workers have now joined a union-led committee. And some of the more active members jumped on as part of the housekeepers' tour. One of the Boston 100, Luz Aquino, addressed a visibly moved crowd at the Texas rally. She said she came to support a national campaign to change the "abuses of women workers" after they as a group began fighting for their jobs.
After the October 15 rally in San Antonio, the quilt moves on to Indianapolis and Chicago, with a possible stop in Boston, to feed back into ongoing solidarity efforts.
---
Readers can pledge their support online for the Hope for Housekeepers tour at action.unitehere.org/campaign/hope.
Chris Kutalik is a Labor Notes Policy Committee member and a community supporter of the San Antonio hotel campaign.