How a New Union Is Staying Afloat (with a Little Help from Its Friends)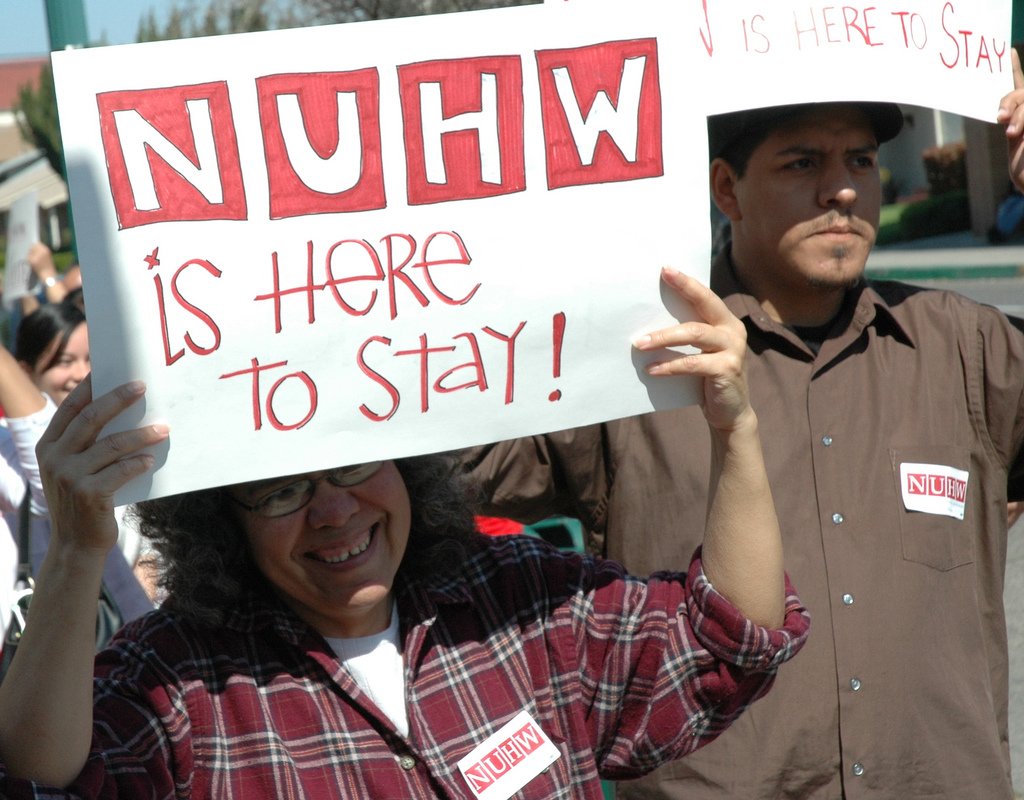 When California health care workers gave up on the project of democratizing the Service Employees (SEIU) and launched a rival organization instead last winter, the road to union recognition didn't seem so long and hard. Soon after the National Union of Healthcare Workers (NUHW) was formed in January, in response to SEIU's trusteeship of the United Healthcare Workers (UHW) local, the new union displayed enough rank-and-file backing to file election petitions in 350 private and public sector bargaining units covering about 100,000 employees. In many of these workplaces, a strong majority signed cards seeking a vote that would let them switch from SEIU to NUHW.
Unfortunately, SEIU-erected and Labor Board-assisted legal roadblocks soon multiplied, making a mockery of "employee free choice" among homecare, hospital, and nursing home workers in California.
The Labor Board ruled, for example, that no vote could be held among 45,000 workers at the Kaiser Permanente hospital chain until next year, when their five-year contract expires. Elsewhere, many other election cases are still pending, and litigating them has proved very costly to NUHW.
Pro-NUHW workers have been able to wrest bargaining rights away from SEIU at a small hospital in Contra Costa County and came within 200 votes of winning June balloting by 6,000 home care workers in Fresno County. In that still-unresolved contest, NUHW fielded 150 volunteer organizers, with a shoestring budget of $200,000, against more than 600 SEIU staffers and lost-timers from other locals. The latter were parachuted in from around the country, in a counter-insurgency campaign estimated to cost about $10 million overall, including advertising.
This imbalance in financial resources clearly puts the new union at a disadvantage in any future votes as well. Rank-and-file supporters make voluntary contributions to keep NUHW afloat. But, as captive members of SEIU for the time being, they still have 2 percent of each paycheck automatically deducted and sent to the very union they're trying escape from.
GRASSROOTS APPEAL
To raise money for upcoming campaigns, NUHW has turned to outside supporters with increasing success. In April, Kaiser worker Angela Glasper, a former UHW board member, spoke to a friendly New York City crowd in the first of three East Coast events that raised $17,000 in two days. Among those giving generously were hospital union veterans with many years of past service with the now-SEIU-affiliated District 1199 in New York, New England, or New Jersey. Since then, NUHW organizers have appealed for financial and other help at fundraisers in Massachusetts, Missouri, New Jersey, Oregon, Washington state, and the Bay Area.
Last Thursday night found NUHW interim-president Sal Rosselli passing the hat successfully in the unlikely venue of Burlington, Vermont. SEIU membership in the Green Mountain state stands at zero, except for a handful of Dartmouth College maintenance workers who live on the opposite side of the Connecticut River.
Yet there is plenty of concern about the direction of organized labor generally—and SEIU's role in it—among local progressives, Teamster reformers, and members of United Electrical Workers (UE), American Federation of Teachers (AFT), Communications Workers, state employees, and other unions.
More than 50 of these folks turned out to hear Rosselli speak at the Vermont Workers Center, a JWJ-affiliated community-labor solidarity group (which hosted the event but took no official stand on the merits of NUHW vs. SEIU).
Their California visitor was introduced by Vermonter Andrew Tripp, one of several organizers recently departed from SEIU who are now assisting NUHW and/or publicly criticizing their former employer for its aggression against UNITE HERE (see Labor Notes, July 2009).
Others in this alumni club include Fred Ross, Jr. in San Francisco, Dana Simon in Boston, and Audra Makuch in New York City, all of whom penned anguished public letters explaining why they quit SEIU.
"I was one of Andy Stern's boys," Tripp confessed at the Burlington meeting. "I spent 10 years building SEIU and was in the inner circle of 1800 Massachusetts Ave., the 'Purple Palace.'"
What turned Tripp against the union he still much admires for its organizing prowess was SEIU's emerging culture of conformity, its complacency about "material corruption," and its disturbing lack of commitment to rank-and-file leadership development.
"There was no room internally for debate," Tripp reported. "I came to believe that what was happening within SEIU in California was its only chance of being reformed."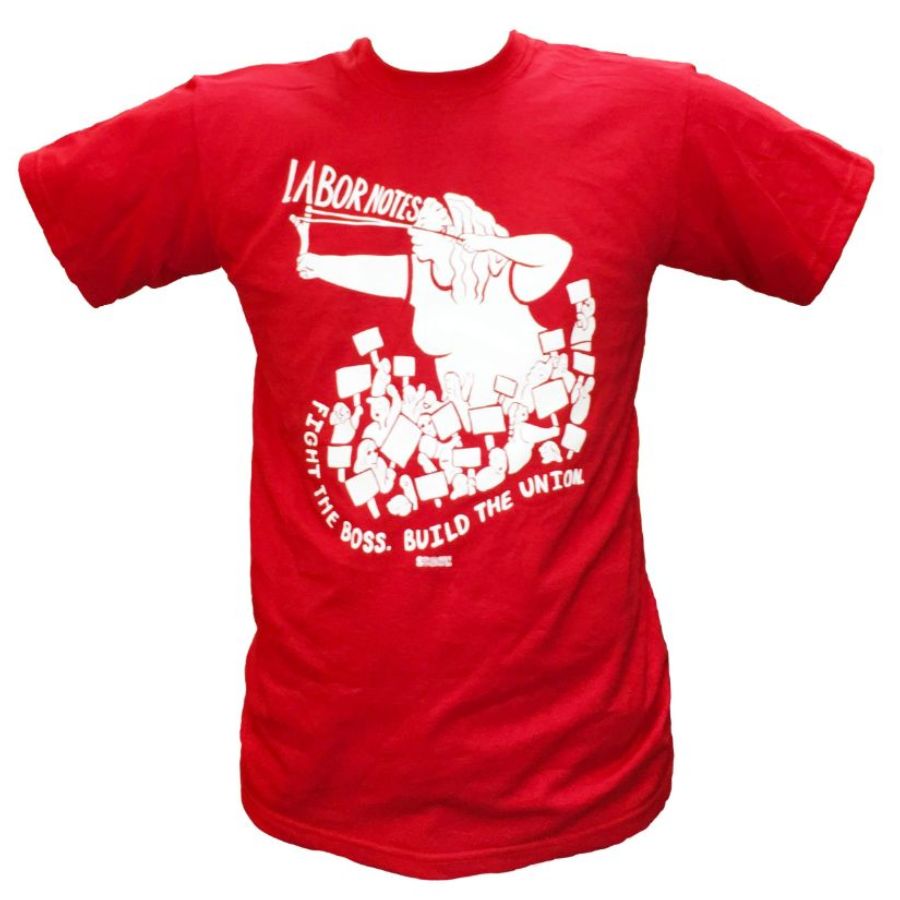 Rosselli filled in the details about these West Coast developments, pre-and post-trusteeship. He emphasized how SEIU President Andy Stern's increasingly "frenzied focus on membership growth led to top-down deals with workers in exchange for organizing rights."
When UHW started to argue that there was a different path to "density"—one that didn't undermine membership participation in bargaining and union decision-making—Stern's response was a scorched-earth counter-attack, culminating in his January removal of all UHW elected leaders.
Now that UNITE HERE has gotten a taste of similarly unpleasant purple medicine in recent months, leading to SEIU's public ostracism (see Labor Notes, August 2009), NUHW is making common cause with other Stern foes, to avert its own political isolation and financial strangulation. Rosselli told the Vermonters that NUHW is now partnering with UNITE HERE, and has moved into the union's offices in Los Angeles, San Francisco, and Sacramento.
"We're working together to resist Stern's brand of corporate unionism," he said.
In San Francisco, UNITE HERE Local 2 is loaning organizers to the current NUHW drive to sign up enough homecare workers to get a vote between SEIU and NUHW later this fall. UNITE HERE volunteers traveled to Fresno to aid the NUHW effort there and President John Wilhelm told reporters last month, after his union's Chicago convention, that he and his newly elected executive board were considering more formal assistance to NUHW.
WHAT KIND OF DEALS TO STRIKE?
In Seattle, meanwhile, UNITE HERE local leader and International Executive Board member Rick Sawyer appeared with NUHW organizer Glen Goldstein at an August 3 public forum, co-sponsored by Labor Notes, where controversies about "bargaining to organize" in several industries took center stage.
Sawyer described the conflict between his union and Stern's in much the same way as Rosselli had in Vermont. The defection of former UNITE HERE President Bruce Raynor to SEIU, with the 100,000-member group now called "Workers United," had its roots in a "debate about how to grow," Sawyer contended. The Local 8 secretary-treasurer accused Raynor of "cutting deals without any buy-in from co-president John Wilhelm, local leaders, or affected workers."
Sawyer, a former SEIU organizer himself, acknowledged that there can be "tough decisions" that have to be made to neutralize management interference with private sector organizing, but argued that they "had to be membership-driven." Pursuing "growth at any cost, sacrificing all contract standards" was not an acceptable strategy, he told the crowd.
Despite SEIU's most unwelcome "attack on many different locals," Sawyer said UNITE HERE is "having an important debate about who should control the union … about bottom-up unionism vs. top-down."
Noting that SEIU has pledged to "hit Seattle," Sawyer expressed confidence that his local, well-represented at the August 3 meeting, would be ready to repel any jurisdictional incursion.
This unusual event was held in the city's "Labor Temple," home of its central labor council and many affiliated unions, including UNITE HERE. It drew a standing-room only crowd of nearly 100 people, and was endorsed, in an individual capacity, by past or present elected officers or staffers of the Washington state labor federation and Seattle locals of the Longshore Workers (ILWU), federal employees (AFGE), AFT, Newspaper Guild, AFSCME, and the Sailors' Union of the Pacific.
SEIU officials tried to persuade some of the sponsors to call off the event, and their pressure did succeed in getting Rosselli disinvited from speaking at the Washington State Labor Council convention several days later. (But money for NUHW was reportedly collected quietly at that gathering as well.)
NUHW members hope that the emerging alliance between their union and UNITE HERE will survive any Change to Win-mediated settlement of the Stern-Raynor-Wilhelm battle. The last thing NUHW members need now is to be left in the lurch again, as they were last spring, when an initial source of funds quickly dried up after the California Nurses Association decided it was time to end years of organizational rivalry with SEIU. In the meantime, the new union's growing "NUHW Solidarity Committee" does its best to tap sources of funding around the country that are not as affluent but are less susceptible to sudden changes in direction.
---
Steve Early is a Boston-based Labor Notes Policy Committee member involved in grassroots fundraising for NUHW. He is the author of Embedded With Organized Labor, a new book that explores some of the roots of current conflicts in and around SEIU. It's available here. Readers wishing to donate to NUHW can do so online. For more information on setting up a NUHW fundraiser in your area, contact Ellen David-Friedman at 802-522-6227.