Frito-Lay Forced Overtime Frustrations Not Limited to Striking Topeka Plant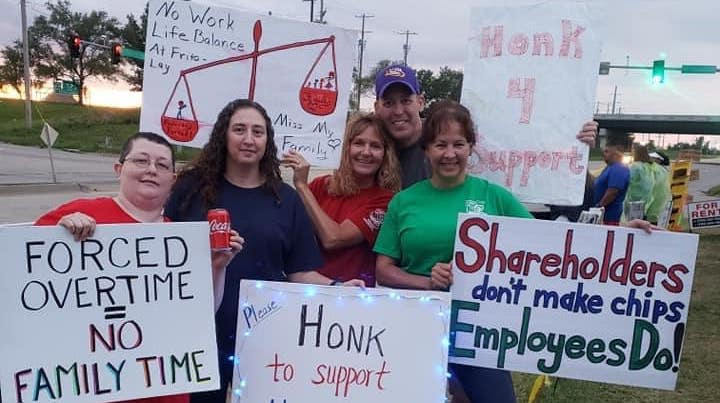 UPDATE, Friday, July 23: Union members at the Topeka Frito-Lay facility are voting all day today on a new tentative agreement. Union leaders say they are not recommending a yes vote, since the company "did not move on the economics," as Bakery Workers Local 218 president Brent Hall told the Topeka Capital-Journal. Frito-Lay is still only offering a 4 percent raise over two years, although under the latest offer workers would receive a 3 percent increase in the first year, and a 1 percent raise in the second year. The previous agreement, which workers rejected before the strike, included 2 percent annual raises in each year.
On forced overtime, the contract offer would guarantee workers at least one day off per week, on either the sixth or seventh day of their work week—provided they haven't used any previous time off that week, including sick days, floating or regular holidays, FMLA, or unpaid funeral leave.
The offer eliminates the 60-hour a week cap on the amount of time workers can be forced to work. Some union members had expressed concerns that that cap would mean higher seniority workers would end up being forced to work on their weekends after lower seniority workers reached the 60-hour limit—although there are concerns that this new offer does not stop the company from imposing 72-hour weeks. The new agreement would also eliminate the hated "suicide shifts"—when workers are forced to stay over an extra four hours after their normal eight-hour shift and then forced in four hours early before their next shift, leaving them just eight hours between shifts.
Voting ends tonight at 10 p.m. CT.—Eds.
---
Frito-Lay workers in Topeka, Kansas, have been on strike since July 5, demanding wage increases and an end to the company's reliance on forced overtime, which has seen some of them forced to work 12-hour days, seven days a week for weeks on end.
But frustrations over forced OT aren't limited to Topeka. Below, we publish a letter from the wife of a Frito-Lay warehouse worker at another of the company's 30 U.S. manufacturing facilities, who said she feels like a "single, married mom" because of the way the snackmaker's abuse of mandatory overtime has upended her family life. (We are publishing the letter anonymously at her request.)
---
Dear Labor Notes,
I want to thank you for your recent article 'We Want to See Our Families: Frito Lay Workers Strike Over 84-Hour Weeks, Meager Raises.' As a spouse of a Frito-Lay warehouse employee [at a different facility], everything in your article hit home to me. I really hope that your article can help draw national attention to how Frito-Lay treats their employees. I do believe that a lot of families of Frito Lay employees are caught in the same situation as we are.
When my husband started working there, nearly 10 years ago, the wages were competitive. As you mentioned, the raises since then have been, least to say, minimal, despite the growing costs of housing and living expenses. When PepsiCo is banking billions of dollars, their employees are stuck earning the same wages and working non-stop.
As a family, we can never plan anything. Our daughters and I constantly go places without him, because there is never any stability in knowing his schedule. Oftentimes, only hours before we expect him home, he will text me to let me know he has been forced over. I have joked that I'm a single, married mom.
I could go on and on! It's a frustrating situation that has felt like it will never change. I only hope that with the strike happening, and more attention being brought to the situation to the media, such as your article, that things will change for the better for all Frito-Lay employees.
Kindly,
The spouse of a Frito-Lay warehouse worker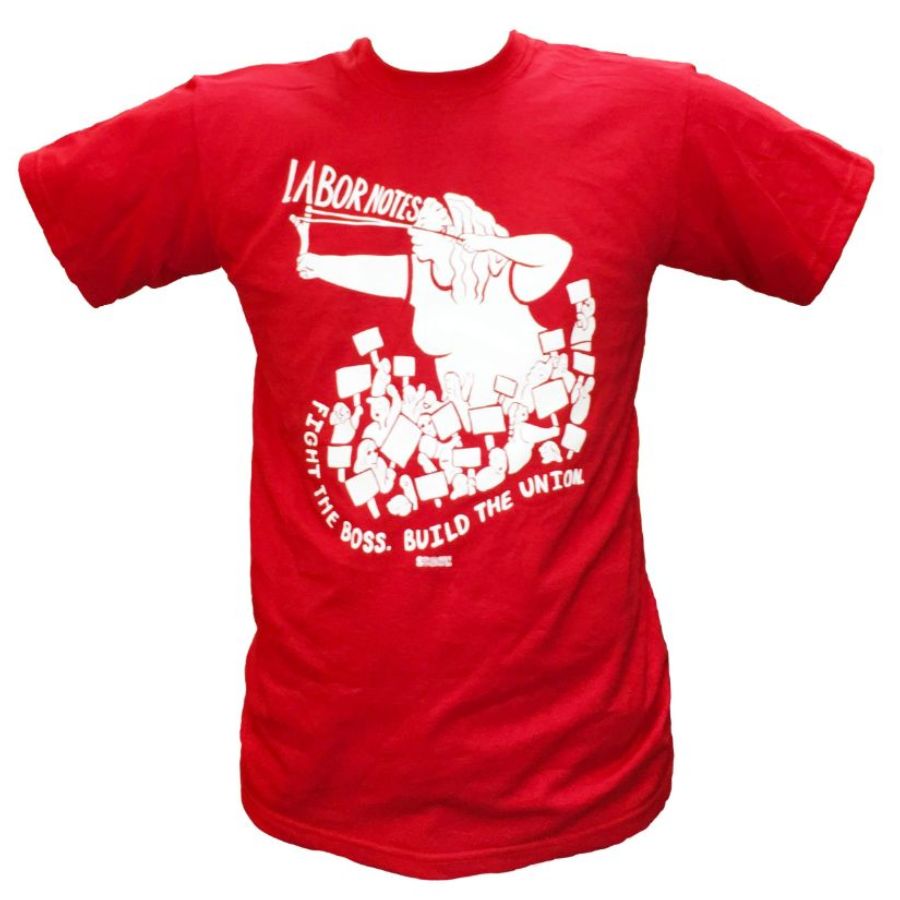 And this issue isn't just a product of the pandemic. When Labor Notes asked the letter-writer how long forced overtime had been an issue for her husband and her family, she responded, "That's been happening since he's worked there!"
TOPEKA STRIKE UPDATES
Bakery Workers (BCTGM) Local 218 heads back to the bargaining table with Frito-Lay on Monday, July 19. (See the update above for details of the tentative agreement reached this week.)
Striking workers have been maintaining a picket line outside the facility and posting photos of all the community and union support they are receiving on the Topeka Frito-Lay Union Members Appreciation Page on Facebook.
Frito-Lay has been touting the offer that workers overwhelmingly voted down before the strike, highlighting that it included a 60-hour a week cap on the amount workers can be required to work, eliminated mandatory "suicide shifts" ("squeeze shifts," in company lingo, in which workers only have eight hours off—these will now supposedly be voluntary), and included 2 percent annual wage increases for each year of the two-year contract. But as workers have pointed out, a 60-hour week still means they routinely could be forced to work:
five 12-hour days
six days a week, including three 12-hour shifts, or even
seven days a week, with one 12-hour shift.
And the 2 percent increases are a pittance given that wages have been stagnant for most classifications for over a decade, with small lump sum bonuses instead of increased wage rates most years.
Workers say that if the plant doesn't significantly raise wages—and improve working conditions, including by reducing forced overtime—it won't be able to attract more workers, meaning that 60-hour weeks will be the norm, even for the highest-seniority workers. Workers who have been at the plant for 20 or 30-plus years worry they could be forced in on their weekends if lower-seniority workers hit their 60-hour cap earlier in the week.
PEPSI PROFITS WHILE WORKERS SUFFER
Meanwhile, PepsiCo, which owns Frito-Lay, raised its profit forecast earlier in the week, projecting earnings per share of 11 percent this year. The company also announced it will raise its prices. Pepsi shares are now trading at record highs—as workers toil away 84 hours a week in the company's plants.
Max Alvarez did an hour-long interview with Topeka Frito-Lay striker Cheri Renfro on the Working People podcast. Given the 84-hour weeks Frito-Lay has subjected workers to, I particularly appreciated Renfro's description of anti-union right-to-work laws as "right to work you to death." Kansas is a right-to-work state; about 600 of the 850 workers at the Topeka Frito-Lay facility are union members. Find it on your podcast app or at In These Times.
Lauren Kaori Gurley of Vice published an interview with Mark McCarter, a shop steward who has been working in the Topeka plant for 37 years. It's titled, "I'm a Frito-Lay Factory Worker. I Work 12-Hour Days, 7 Days a Week." As McCarter says, "This job wears you down, it tires you, and makes you mentally exhausted. It plays with your mind. Some of these guys who work 12 hours a day everyday are destroying their marriages. They're destroying their families. My wife passed away and I don't have a wife to go home to to say, 'Hey babe I'm only working eight hours tomorrow,' but a lot of these guys come in with the understanding that they'll be here for eight hours but then they got to call their wives and kids and say, 'Guess what? It's not eight hours. It's 12 hours and then I have to go back to work at 3 a.m.'"
A local magazine, 785, has set up a fund to help Topeka strikers pay their water bills. Strikers are also urging supporters to boycott Frito-Lay and Pepsi products. Supporters can also call the PepsiCo Board of Directors mailbox (1-866-626-0633) and leave a message demanding that they settle a fair contract.
Elsewhere, truck drivers at a Pepsi facility in Muncie, Indiana, have been on strike since Monday over the company's effort to jack up health insurance premiums from $14 a week to $81 a week. (PepsiCo owns Frito-Lay.) "We shouldn't be paying for it in the first place. This is a multibillion-dollar company," driver Tom Albano, a member of Teamsters Local 142, told The Times of Northwest Indiana. "And the raises the company is offering is not going to cover, or barely cover, what your increase is going to be in your health insurance."
Finally, 250 New Jersey workers who bottle drinks including Tropicana juices and Gatorade (both Pepsi-owned brands) voted to join the United Electrical Workers (UE), in the largest union election victory among blue-collar workers so far this year. The workers, largely Latin American immigrants, fought off an intense anti-union campaign by their employer, Refresco, the world's largest bottling company. According to the UE, "Workers began their union organizing campaign in 2020 after years of abusive treatment by supervisors, low wages, paltry benefits, sexual harassment, an unforgiving attendance system that penalizes workers for getting sick, and constant schedule changes. The organizing campaign was temporarily suspended as dozens of workers fell ill with COVID-19... The company's careless handling of the pandemic last year turned out to be one of the main reasons workers succeeded in winning over a majority for the union this year." Now they're on to the fight for a first contract.
Is forced overtime an issue in your workplace? Write to Labor Notes Assistant Editor Dan DiMaggio at dan[at]labornotes[dot]org.