Most Expensive Ballot Initiative in California History Pits Uber and Lyft Against Drivers Who Built a Union from Scratch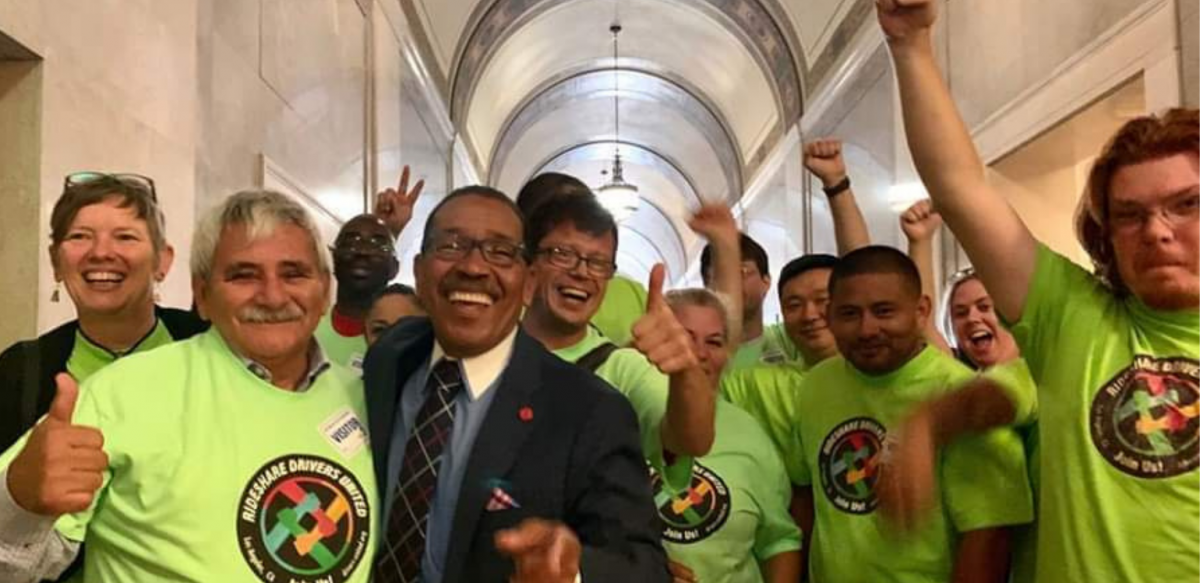 During this election cycle, companies like Uber, Lyft, and Doordash—the so-called "gig economy" giants—have spent a record-breaking $200 million to pass Proposition 22 in California. The proposition would exempt these companies from basic labor law.
While the initiative is opposed by the California Federation of Labor and many Democratic elected officials, its fiercest adversary is a little-known "start-up" union, Rideshare Drivers United.
RDU, formed three years ago, has grown to 19,000 members. Its organizing model relies on new technologies, support from unions and nonprofits, and most importantly, strong relationships among workers.
It's about "drivers talking to drivers and saying it's time to move," said part-time driver Nicole Moore.
GRASSROOTS ORIGINS
Rideshare Drivers United emerged out of grassroots protests in August 2017 against the lower-than-minimum wage paid by Uber and Lyft to drivers at LAX Airport.
Esterphanie St. Juste, one of the founding members of RDU, had been driving since 2015—and protesting almost as long. "I was in so many organizations, but none of them ever took off," St. Juste said.
But things began to change when drivers were asked to wait for passengers in queue in a lot outside the airport. "We had an opportunity to meet other drivers for the first time," St. Juste said. "We would stand there for hours waiting, and we had a chance to talk. We started realizing they were taking more than 20 or 25 percent of the fare."
They formed "a ragtag group of drivers," St. Juste said, "pissed off and irritated." They sent letters to Lyft and Uber and learned that the companies had changed their contracts, which the drivers were compelled to sign by accepting the terms and conditions of the apps.
Around this time the drivers met an East Hollywood app developer named Ivan Pardo. For years, Pardo had wanted to build an app that would help drivers organize strikes. But he also realized that "an app alone wouldn't solve anything, and that a democratic, driver-led organization was needed."
Pardo heard about the LAX protests and started volunteering with RDU. When he met St. Juste and other drivers, he saw that the movement had legs.
"Esterphanie had an understanding that this would be a big battleground for workers in the coming years," said Pardo. "There was a conviction that this needs to be fixed or else there would be horrendous consequences for workers in all industries."
RDU held more protests and continued to organize at the LAX rideshare lot. It found support and meeting space from local labor institutions—the Los Angeles Federation of Labor, the Los Angeles Alliance for a New Economy, and the UCLA Labor Center. In a year it grew to 1,000 members.
ORGANIZING ON A SHOESTRING
Much of the labor movement has been reluctant to organize gig workers because, under law, they did not seem to have collective bargaining rights. The apps typically treat drivers as independent contractors.
Around the country, the Teamsters and Service Employees (SEIU) have backed efforts to improve drivers' pay and standards without fighting for employee status or collective bargaining. In New York, the Machinists actually formed a partnership with Uber, called the Independent Drivers Guild (IDG).
In California, however, the court system helped rideshare drivers and other gig workers clear a major hurdle when the state Supreme Court handed down its 2018 Dynamex ruling, laying out clear standards that would have to be met to classify workers as independent contractors. Uber and Lyft drivers were entitled to employee rights.
With the law on its side—and a bit of ingenuity—RDU demonstrated that gig workers could be organized on a shoestring budget. A $4,000 grant paid for Facebook ads that brought drivers to RDU's website, where they could become members, participate in surveys, and most important, schedule a call with a volunteer organizer. Through Pardo's app, organizers talked with drivers, identified potential leaders, and began to build an organizing committee in Los Angeles, then nascent branches in San Diego and San Francisco.
"The more you talk to other drivers," said driver Tyler Sandness, "the more you realize that every driver has the same problems—problems with pay, problems with deactivation. All these frustrations are shared by the entire workforce."
A GLOBAL STRIKE
But while drivers were building their own organization, reports emerged that newly elected Governor Gavin Newsom was negotiating with Uber, Lyft and other unions in California to broker a deal similar to the IDG in New York.
RDU held a protest in downtown L.A. calling on Newsom to stand up for the principles that members had voted for in their Drivers' Bill of Rights: fair pay, transparency, a voice on the job, and community standards.
Then last year, to impress Wall Street in advance of their Initial Public Offerings (IPO), Uber and Lyft cut drivers' pay rates dramatically. Uber noted in its S-1 filing with the Securities and Exchange Commission that it could expect "driver dissatisfaction" to increase.
RDU organizers met immediately to determine their strategy. Drivers decided to strike against both companies on March 25, 2019, for 25 hours, in protest of the 25 percent wage cut. They would hold a five-hour picket outside of Uber's Greenlight Hub in Redondo Beach. During 10 days of phone banking, no drivers voiced opposition, and virtually all committed to turning off their apps for the day.
Although the companies did not concede to RDU's demands—and there was little expectation they would—the strike contributed to a sluggish IPO for Lyft and generated significant media attention. The Guardian, Los Angeles Times, Washington Post and ABC News carried the story. RDU grew from 3,500 to 4,700 members in one month.
The buzz also spread throughout the country. "We heard specifically from at least two other driver groups," Moore said: "'If you go on strike, let us know when, and we'll go with you.'"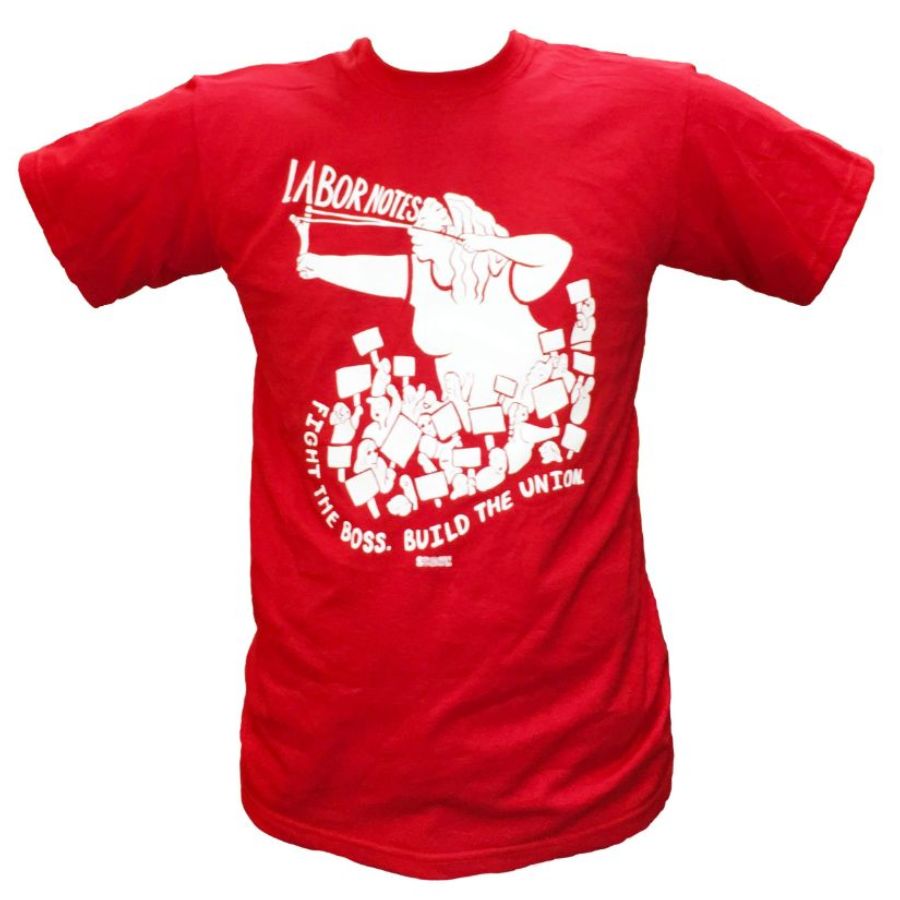 RDU determined to lead a national day of action on May 8, the eve of Uber's IPO. Drivers in at least 10 U.S. cities—including San Francisco, San Diego, New York, D.C., Philadelphia, and Chicago—participated. A member of the New York Taxi Workers Alliance, one of RDU's strongest allies, worked to get the support of international organizations; ultimately drivers on five continents struck against Uber. Presidential candidates Biden, Sanders, Warren, Harris, and Buttigieg tweeted their support.
RDU had helped elevate the conditions of gig work to a major political issue—not just in California, but throughout the U.S. and around the world.
CALIFORNIA'S GAME-CHANGING LAW
With workers mobilized, progressive state legislators introduced Assembly Bill 5, which was designed to write the Dynamex ruling into statute.
Now other unions saw the possibility that rideshare drivers could win employee status and collective bargaining rights—and started paying closer attention.
Eric Dryburgh, then an organizer with the Transport Workers Union, called his organizing director as soon as he learned about AB 5. "I thought, 'We can't not do this,'" Dryburgh said. "This is a really, really important fight." So TWU partnered with RDU.
Dryburgh was impressed with the organization that the drivers had built. "They had a good system. I didn't really need to mess with much," he said. But he guided the drivers in how to "scale up, take the vision and put it into action."
Sandness, who became a full-time organizer, was excited to lead the lobbying effort and meet with lawmakers for the first time. "I have a bit of a 'Mr. Smith Goes to Washington' streak in me," he said.
As more elected officials came out in support of AB 5, Governor Newsom—who has long-standing ties to Silicon Valley—ultimately voiced his support in a Labor Day op-ed in the Sacramento Bee. The bill passed both legislative houses and was signed into law last fall, set to go into effect on January 1, 2020.
"Seeing AB 5 pass," said Sandness, "it seems like the winds are turning."
But immediately Uber and Lyft were taking legal action to try to earn exemption from the law. And one month later they filed a ballot initiative—what would become Prop. 22—to rewrite the law altogether.
$1.3 BILLION IN WAGE CLAIMS
RDU launched its "People's Enforcement of AB 5" campaign on March 25, one year after its first strike. Pardo had designed a new online tool to assist drivers in filing wage-and-hour claims with the California Labor Commission.
Over the next months, the organization showed drivers how much money they were being cheated out of through misclassification. "It gave people a thing to do that wasn't just striking," said Dryburgh.
The COVID-19 crisis made driving unsafe and brought demand to a standstill. RDU helped ensure that drivers wouldn't fall through the cracks. "We assisted hundreds if not thousands of drivers in navigating through the unemployment process," said Sandness, "and helped people get not only pandemic assistance, but in some cases actual unemployment insurance."
In May, Attorney General Xavier Becerra and the city attorneys of Los Angeles, San Francisco, and San Diego filed suit against Uber and Lyft, demanding that they comply with AB 5. In August, when 5,000 drivers had filed a total of $1.3 billion in wage claims and damages, the Labor Commission itself filed suit against the two companies—an unusual move.
Two weeks later, a judge ruled in the state's favor and enjoined the companies to properly classify drivers as employees. "It was a 'pinch yourself' kind of moment," said Moore.
With the vote on Prop. 22 just two months away, the fate of rideshare drivers now lay in the hands of voters.
THE CORPORATE COUNTERATTACK
The California Labor Federation and many unions prioritized defeating Prop 22. RDU began working closely with TWU, SEIU, the Food and Commercial Workers, and the Teamsters to stave it off, battling a barrage of propaganda from the gig companies.
The big unions have contributed essential resources, while RDU brings the worker voices, said Dryburgh, who now works directly for RDU.
The #NoOnProp22 Campaign has used Zoom rallies, caravans, and worker-produced online videos. Through the campaign season, growing numbers of drivers participated in phone and text banking sessions. By November 2, RDU members had contacted 1 million voters.
"We're up against the most expensive ballot initiative in the history of California, the history of the United States," said Sandness, "and we're going toe to toe with them. The door is just going to be open to us to get even more, and hopefully create the first gig economy union in the U.S."
"To beat the tech companies and change the scales so that drivers have something with real teeth, you're going to need a really strong union to do that," said Dryburgh. "And the only way you are going to have a union strong enough to do that is one built like RDU. It has to come from the drivers."
Brian Dolber is an assistant professor of communication at California State University, San Marcos, and an organizer with Rideshare Drivers United.