We Reinvigorated Our Undergrad Union… Just in Time for COVID Fights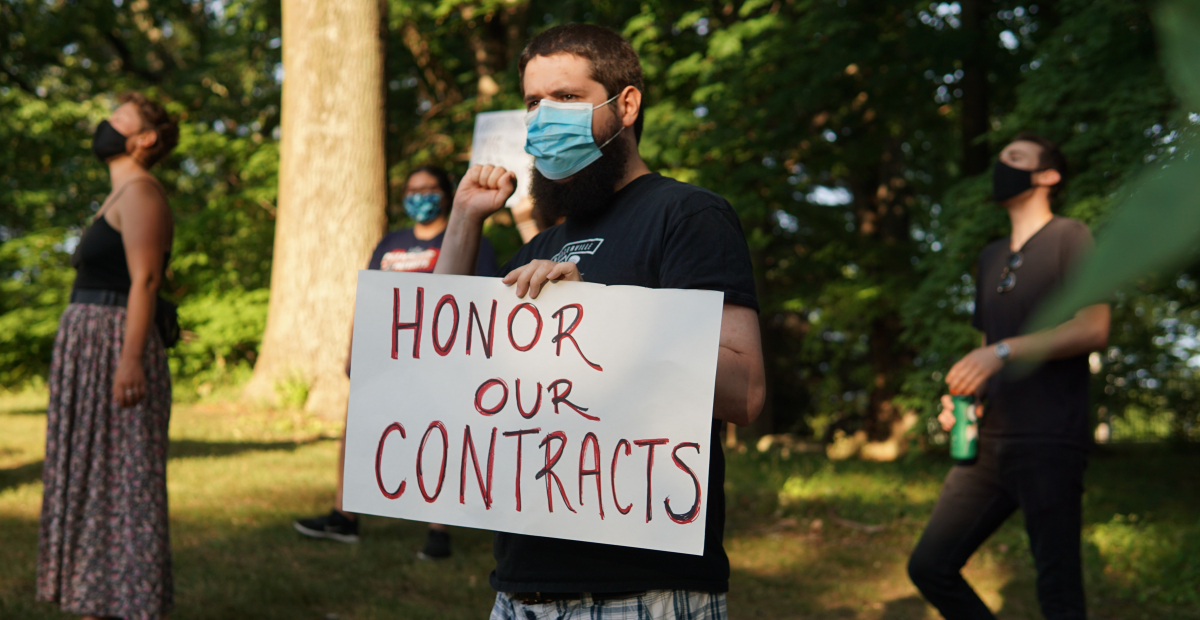 All summer, our union of undergraduate workers has been battling UMass Amherst over its response to the coronavirus crisis. We won personal protective equipment (PPE), campus-wide COVID testing, and workers comp; then we won the reversal of an incredibly dangerous reopening plan. Now we're battling retaliatory layoffs.
The university's initial plan to bring back almost 8,000 students would have ended in a public health disaster. We pushed to reverse it—at the same time that we were bargaining for new safety measures and additional compensation if we did have to return to campus.
We won almost all our safety demands, and on August 6, alongside Amherst residents, we notched another victory when UMass Amherst abruptly altered its reopening plan, drastically reducing the on-campus population and introducing a variety of additional safety measures. This decision is sure to prevent thousands of COVID infections and save lives.
Yet as UMass reversed its plan, it also laid off 93 percent of the nearly 500 Resident Assistants and Peer Mentors who make up our union. Just one business day before we were expecting to move onto campus, hundreds of our members were suddenly out of a job and a place to live.
Our contract has a layoff clause that clearly states all laid-off staff must receive their full compensation. UMass informed us that it would not be honoring this. Another section obligates it to find alternative work for us if the university closes. We proposed that we work remotely to support the thousands of remote students who now have virtually no support from UMass. No go.
We acted swiftly, gathering nearly 2,000 signatures on a petition demanding that UMass compensate the laid-off staff and provide housing for those who needed it. We immediately won free housing for all RAs and PMs in need. Then we fundraised more than $1,200 to address food insecurity among our laid-off members. More than 200 members signed onto a grievance demanding that UMass honor our contract's layoff language.
We also held a short protest encampment on Chancellor's lawn. The first attempt, by six of us, only lasted a few minutes before campus police threatened to arrest us. But the next evening, August 13, we returned 40 strong. We chanted; we sang; we toured the Chancellor's lavish backyard. This time we held the lawn for more than 30 minutes before the police drove us off again.
SAFETY STRIKE AUTHORIZED
UMass Amherst had revealed its incredibly unsafe reopening plan in July. It invited all undergraduates back to live on campus, and expected RAs and PMs to put ourselves at risk as the main enforcers of social distancing mandates, without access to PPE, hazard pay, or any clear health and safety protocols.
We went into impact bargaining over the plan. At the first session, UMass rejected all our proposals, and demanded a concession: that we be limited to one pay structure, whereas we had previously had two pay structures that prevented students from losing financial aid as a result of having a job as an RA/PM.
We pushed back in a member-driven fight. We held regular membership meetings and developed a dedicated organizing team that directed our strategy democratically, involving members in an escalating campaign. Hundreds of RAs and PMs petitioned the university and gained media attention. Our vote to authorize a safety strike was the culmination of our power—80 percent of members voted, and 95 percent of them voted yes.
Finally we won a Memorandum of Agreement that guaranteed RAs and PMs the following:
free COVID testing for the whole campus
the right to workers compensation
remote work options for PMs
a $450 cost-of-living adjustment to help staff pay for meals
a commitment to provide each of us with seven masks (one for each day of the week)
a guarantee that social distancing enforcement protocols would not involve UMass Police
health and safety language authorizing staff to unilaterally refuse tasks they think would expose them to COVID
We won on virtually every issue except hazard pay. This victory still applies for the approximately 40 RAs and PMs who weren't laid off and will be working this semester.
SLEEPY UNION TRANSFORMED
We got here by forming a rank-and-file caucus that over the past few months has transformed the Resident Assistant/Peer Mentor Union (RAPMU) into a fighting union.
Just a few months ago, RAPMU membership was 58 percent—down from 86 percent the prior academic year. The three co-chairs refused to involve members. One of them dominated—an armchair radical who made most decisions unilaterally. Only one member attended the February membership meeting, and after the co-chairs refused to listen to his criticisms, he stormed off.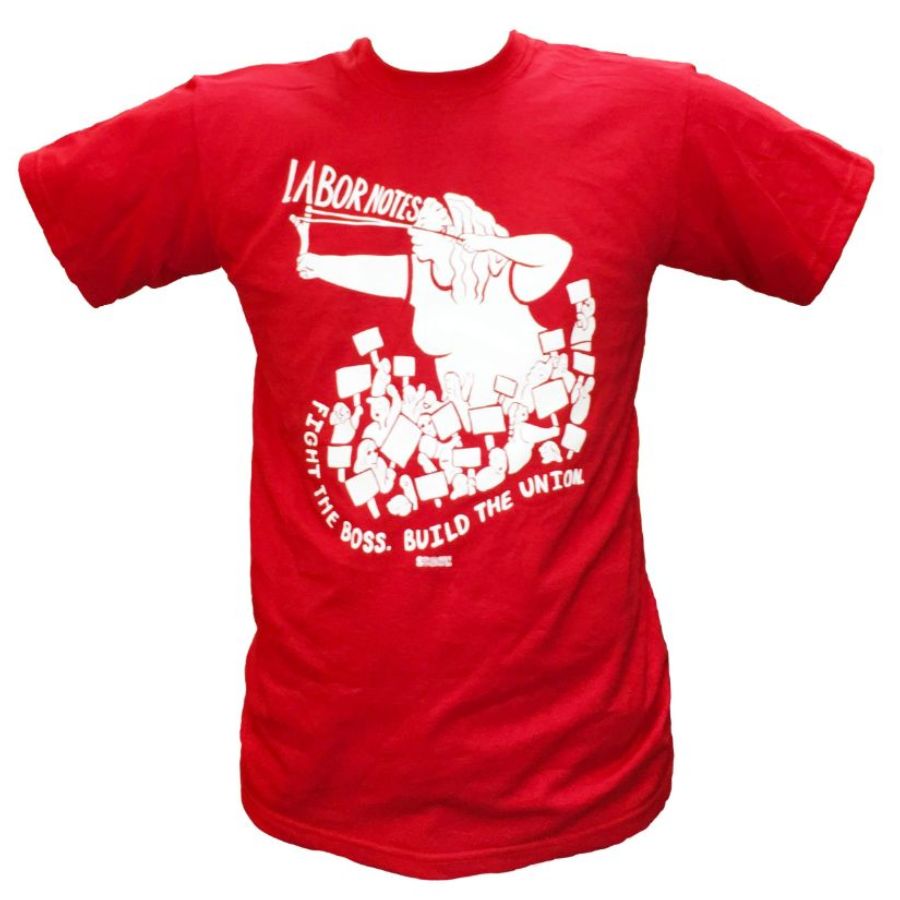 Frustrated, the three of us formed a caucus called the Community Task Force to build worker power and address key workplace issues.
Our contract mandates anti-racism training for all RAs and PMs. However, the university was refusing to enforce this mandate, and when a racial justice trainer provided an anti-racism training in January, the university refused to pay her. Our caucus began a campaign to demand that the university pay her and agree to hold future anti-racism trainings.
We talked one on one with dozens of RAs and PMs to enlist their support, and we launched a petition that got 350 signatures, from both our members and the community.
Our caucus quickly superseded the influence of the union co-chairs, and two of the three resigned. Ironically, they claimed that our union wasn't doing enough to combat racism, yet they had largely ignored our caucus's campaign for racial justice. (The remaining co-chair was sympathetic and assisted our campaign.)
Two of us, Nat and James, were elected in a special election to replace the resigned co-chairs. We were sworn in March 12—a day before COVID caused the closure of the entire campus.
PANDEMIC HIT
We immediately entered impact bargaining over the campus closure. By mobilizing 300 members to sign a petition supporting our demands, we secured a Memorandum of Agreement for the remainder of the spring term that included hazard pay for on-site RAs, expanded sick leave, the ability for all RAs and PMs to work remotely for full pay, and housing and meal plan refunds that accounted for our housing subsidies. While virtually every nonunion undergraduate worker was instantly laid off, we won financial security for our 500 members.
Impact bargaining ended; organizing continued. UMass never agreed to pay the racial justice facilitator who had provided January's anti-racism training, so we saw to it that our union paid her in full.
Alice became the third co-chair and began spearheading an Anti-Racism Training Planning Committee, which sought to center the voices of Black, Indigenous, and People of Color (BIPOC) members, and created a comprehensive anti-racism training that the university agreed to facilitate for the future.
As the Justice for George Floyd uprisings spread, we organized member conversations about white supremacy and police abolition. We also supported a new student group called the Racial Justice Coalition and endorsed its demand to defund UMass police. Our members overwhelmingly approved. Next came our summer of struggle over the reopening.
MORE FIGHTS COMING
A long fight is ahead to ensure that on-site staff have the protections we bargained for; to win compensation for the laid-off staff; and ultimately to beat back all austerity measures.
With the exception of UMass Police, every other union on campus is now facing similar challenges, particularly our union and the staff unions, which both hold disproportionately low-income, BIPOC memberships. The university has just demanded massive furloughs and layoffs from the staff unions.
We have expanded our caucus, developed new leaders, and are collaborating with other student organizers to virtually host a national undergraduate workers convention September 13-17, featuring renowned organizers Jane McAlevey and Labor Notes' Barbara Madeloni, to train our members and other student workers.
Our fight has just begun, and from the Milwaukee Bucks' inspiring strike for Black lives to the recent Cornell RA strike over health and safety, we're seeing how our struggles for racial justice and public health are linked. We have a world to win.
Nat Luftman, Alice Troop, and James Cordero are the founders of the Community Task Force of the Resident Assistant/Peer Mentor Union (RAPMU) at UMass Amherst, and currently serve as the union's co-chairs.