Somerville Paraeducators Win 20 Percent Raise and Permanent Status After Nine-Month Battle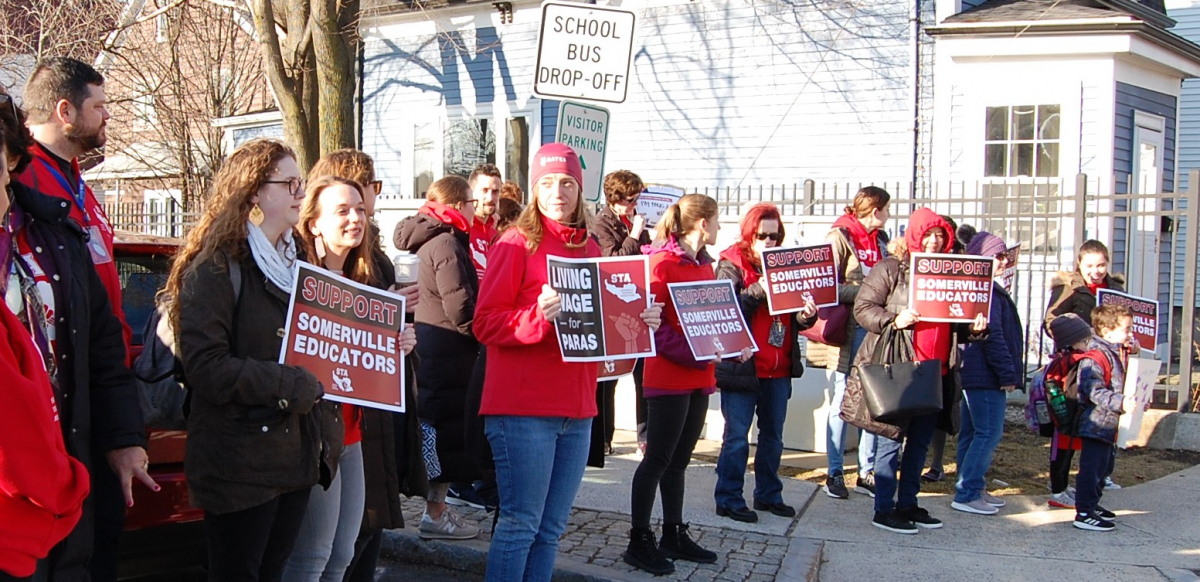 The ask was clear and self-explanatory: a starting salary of $25,000 and permanent status after four years.
Somerville's paraprofessional educators made this demand over and over during the course of protracted and contentious negotiations over a contract that expired August 31, 2019. We made the demand on social media, at community meetings and rallies, and in the local media.
Paras asked parents to support our fight as residents picked their children up from school. And we made the demand to members of the school committee (like a school board) during public meetings month after month, from January on.
To resounding success. Of 117 paraprofessional educator members of the Somerville Teachers Association, 85 voted on June 15 to ratify a contract proposal for a $25,000 starting salary and permanent status after four years.
The new agreement represents a 20 percent increase in base pay. There were no recorded votes against.
The three-year contract, retroactive to September 1, includes corresponding increases along four salary lanes, based on educational achievement, and nine steps. It also affords a 3 percent increase in year two and another 3 percent in year three.
The proposal replaced one that members had voted down by 77 percent in October that would have added an extra day's work in year two, and offered lower cost-of-living allowances.
Some contract issues were left on the table, because we recognized the effects of the pandemic and members' precarious economic situations. But the agreement does begin to address the longstanding disconnect between paraprofessionals' salaries and the actual work we do.
Paraprofessionals play a critical role in schools, implementing curriculum, working with small groups of the most academically-challenged youngsters, intervening with kids who act out, and, in lower grades, even tying shoes, cleaning up messes, and drying tears.
The contract recognizes our standing as educators in our own right, not just as "classroom helpers."
PANDEMIC AND PROTESTS
The COVID-19 pandemic threatened to wipe out months of work to mobilize the union community and the city at large. On May 13, the district retracted its offer of 5, 6, and 7 percent raises over three years, saying it would offer three zeros instead.
The union filed a grievance alleging regressive bargaining. But members were getting restless—and nervous.
Many paraprofessionals had lost second and third jobs due to the pandemic. After-school programs were closed, restaurants and bars were shuttered, childcare opportunities had dried up. And now we faced a summer without a paycheck, since many of us rely on summer schools and day camps for paychecks during the 10-week summer recess.
Then, while the union forged ahead with our demand for $25k and permanent status—continuing to reach out to both the educator community and parents, analyzing budgets, and challenging the notion that the city did not have the funds to pay its employees—the world changed again.
Protests erupted around the police murder of George Floyd in Minneapolis. Suddenly the world was decrying systemic and institutional racism, the subjugation of Black and Brown people. The inequities in the city's educational system came into focus, including the makeup of the paraprofessional unit: the most diverse educators in the Somerville school district.
We hammered that point home to school committee members. at their online formal meetings and during their online coffee hours. (These were a vestige of in-person meetings that Somerville school committee members used to hold in local coffee shops in pre-COVID times, to learn of community concerns.)
City council members also alerted the school committee that they would not consider any budget it presented without a settled paraprofessional contract that started salaries at $25,000.
A NEW APPROACH TO BARGAINING
Negotiations had originally started in spring 2019 and stumbled on through the summer recess; the first tentative agreement was offered for review and ratification that October. Those negotiations were held behind closed doors, with only bargaining team members admitted.
As bargaining proceeded, we had a union election and swept out the long-term president, who nevertheless held office through July 15 of last year, per union bylaws. The new leaders—a slate made up of members of the Somerville Caucus of Rank-and-File Educators—had vowed to create a more member-driven and democratic union. They sat in on the sidelines as silent observers while the original team completed bargaining on the first agreement.
But after the members voted that one down, the new leaders opened up what had been perceived as a closed society. They opened up bargaining to allow all members at the table. Contract discussions and meetings were scheduled during times when paraprofessionals were available, taking into account that most of the workforce labored at second and third jobs. At times the negotiating team topped 25 people.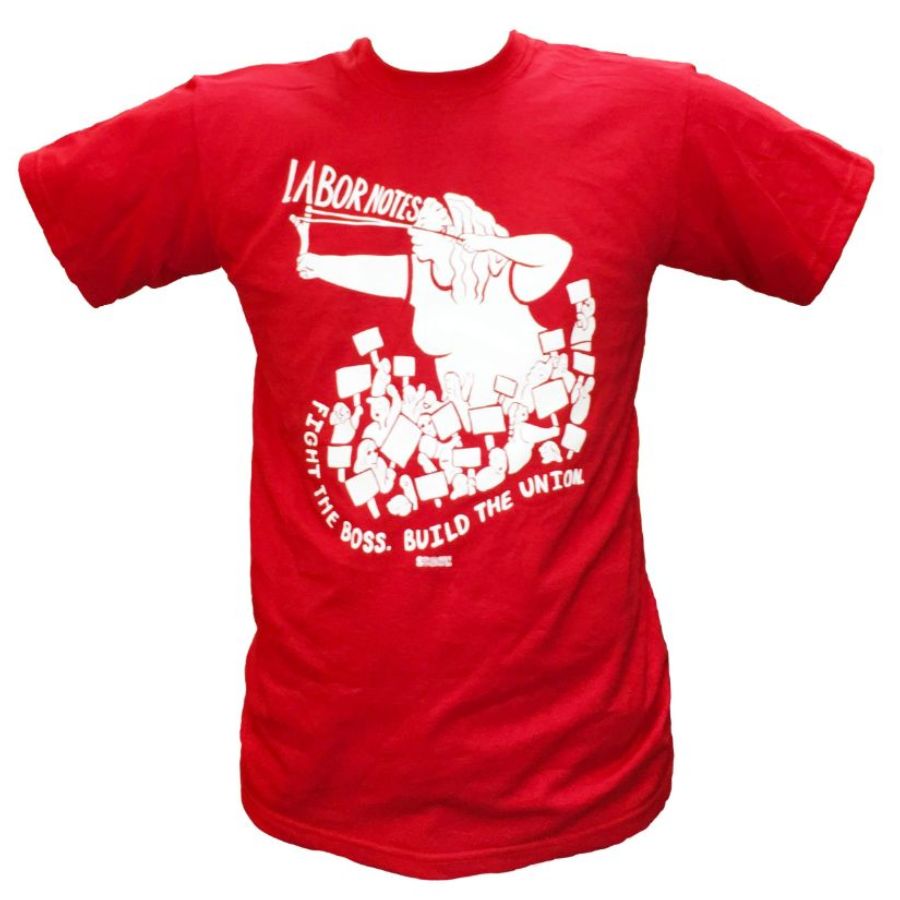 The new president, Rami Bridge, asked the paraprofessionals: "What do you want?" That simple question precipitated a flood of answers, mostly centered on salaries and professional status.
Our salaries were beyond insulting: starting at $20,680 and topping out after nine years at $25,502, contingent on educational achievement and licensure.
Paraprofessionals also never achieved professional status or tenure; all of us were forced to wait for an annual rehire letter that sometimes arrived as late as mid-July. Even those who had worked for the district for 30 years had to wait by their mailboxes.
In addition to an expanded contract negotiating team, we created a Contract Action Team, a group of dedicated people who worked to rally staff, elicit public support, and disseminate the message that paraprofessional educators deserved a living wage and professional status.
COMMUNITY SUPPORT
First move: bring in the community to support the paras. We handed out flyers at our schools, listing our salaries and demands.
The next step was to go out into the community to ask for support. Paraprofessionals engaged residents in the streets, in front of our schools, at the supermarket. We started collecting signatures of support and contact information, and asked residents to write letters, call school committee members, and attend school committee meetings.
Momentum was behind us. Two successful planning meetings with community representatives engendered enough support for paras to request residents attend a school committee hearing in January.
Meanwhile the school committee concluded that it had reached an impasse in bargaining. Over the winter break, it called on the state to assign a mediator—a move that only served to obfuscate the negotiation process. Even with the mediator, the school committee members refused to attend bargaining sessions; instead they sent representatives as diverse as the head of the English Language Learners and the head of Professional Development.
'JUST PAY THEM!'
In January, hundreds of residents attended the school committee meeting with more than 40 signing up to address the board. Their sentiment: Pay these people already! "Why am I here on a Monday night instead of home with my family? Just pay them," said one man.
Daphne Balan, a paraprofessional who works in Somerville but does not live here, was initially barred from speaking by the school committee's rule that allows only city residents to speak. That restriction was sidestepped after a resounding chorus of "Let her speak."
Balan's passion ignited the public: her struggle to feed and house her family, her fear that her car would need more repairs than she could afford, humanized the struggle. She made it real.
A second school committee meeting in February was effectively shut down. The raucous gathering forced the governing body to postpone several agenda items.
We kept pushing for a decent starting wage. Even after COVID-19 pushed city government online, parents, teachers, and residents continued to support the para fight by attending virtual meetings. Supporters pointed out the city's financial responsibility to its workers and highlighted the diverse makeup of the paraprofessional staff.
Somerville prides itself on being a city that speaks more than 50 languages—but in our school settings, it's often only the paraprofessionals who speak those languages. Inequities in the education system were revealed by the crisis learning mode. Many of our underserved residents, our Latino, Afro-Caribbean, and Black populations, those served by our paraprofessionals, faced challenges in acquiring Internet connections and suitable devices for distance learning.
We heard rumors that city councilors were unhappy with the intransigent school committee and its three-zeros offer. That encouraged us to keep fighting. In May, one city councilor indicated that he would not sign off on a school budget that left paraprofessionals without a living wage. Two others also indicated they were unhappy with the lack of a resolution to the contract fight.
We believe these factors—community support, paras' willingness to continue the fight, the unfair labor practice grievance, and pressure from the city council—combined to push the school committee to meet our central demand.
Through this contract fight, paraprofessionals taught our community about our diversity, our educational achievements, and the nature of our jobs. "If you had asked a city councilmember in September what a paraprofessional educator did, not one would have known," said Bridge. Now everyone in Somerville knows that paraprofessional educators are integral to the education of our students.
Kinga Borondy is a paraprofessional at Albert F. Argenziano School in Somerville, Massachusetts, where she works with first grade English-language learners. She served on the Contract Action Team and Bargaining Team for the paraprofessional unit.
More stories from Labor Notes on paraeducators:
Paraeducators Join the National Uprising of School Employees, January 24, 2020
In the Pacific Northwest, the First Paraeducator-Led Strike of the Teacher Uprising, November 18, 2018
What Vermont Paraeducators and School Bus Drivers Learned When They Almost Went on Strike, November 9, 2018
Colorado Educators Reach Their Boiling Point, May 31, 2018