'No Increase? No Work!' Toronto Health Care Workers Save Pandemic Premium via Job Action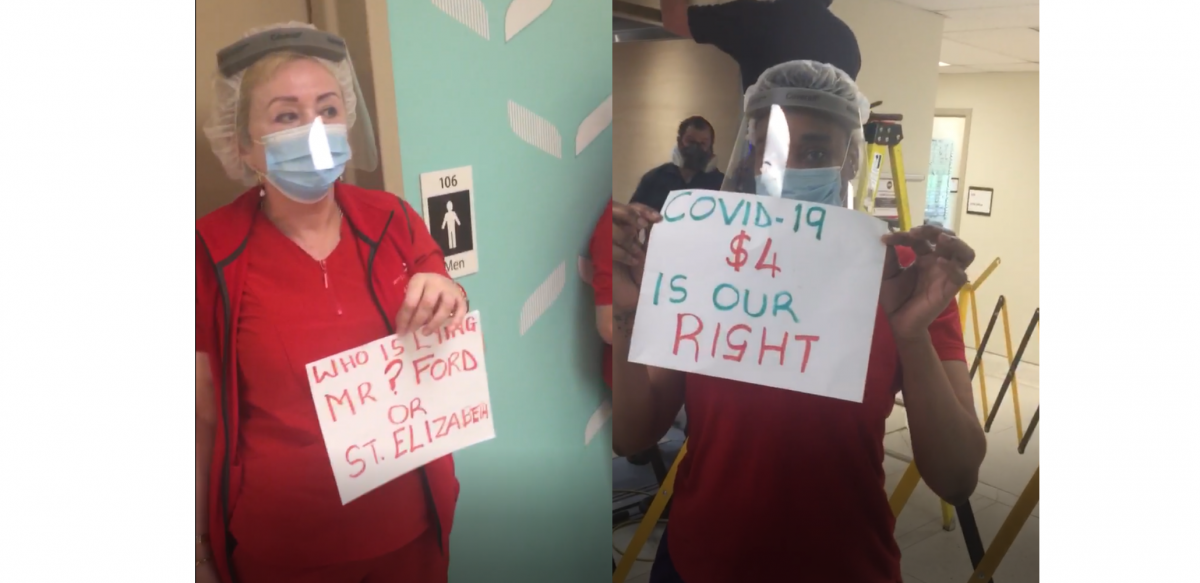 Relief—that's what Niki Gurgen, a personal support worker (PSW) at the Hillcrest Reactivation Centre rehabilitation hospital in Toronto felt when she heard about the $4 per hour "pandemic premium" the Ontario government was providing to health care and other essential workers.
A former electrical engineer who emigrated to Canada from the country of Georgia in 2005, Gurgen is also president of the new local of the Canadian Union of Public Employees (CUPE) at her workplace—so new, there isn't even a collective agreement yet—and she knows her co-workers could use the increase.
Kim Francis has been a PSW for over 10 years, providing personal assistance for daily living such as feeding, lifts and transfers, bathing, and assisting with medication. Like Gurgen, she was there when Hillcrest opened in 2017. "We cleaned the windows and floors, moved the beds in, and then clients started to arrive," Francis said. "We know everything about the place—we made it and we built this place up."
Gurgen, Francis, and their co-workers earn a fraction of what other hospital workers in Ontario earn doing the same type of work, in large part because they are employed by a private contractor, instead of directly by the hospital, and because they have yet to negotiate their first collective agreement. Most workers earn $16 per hour (in Canadian dollars, equivalent to $11.79 in U.S. dollars), are entitled to just three paid sick days a year, and lack much in the way of job security or other benefits common to hospital collective agreements in Canada.
FAR MORE RISK TODAY
COVID-19 has drastically increased the risks of health care work, while governments and employers have roundly failed to keep workers safe. In Ontario, health care workers account for over 17 percent of all infections—four times higher than China, and much higher than Italy—and 14 health care workers have died.
Yet health and safety legislation, including the right to refuse unsafe work, has proven inadequate. Of 280 work refusals between January and June due to inadequate personal protective equipment (PPE), Ministry of Labour investigators have upheld only a single case.
Health care workers, who have no legal right to strike in Ontario, have turned to workplace action to pressure employers and the government for protection and compensation. Over the past few months, sticker days, moments of silence, informational pickets, and mass grievances have been organized in hospitals and long-term care homes across the province.
When the temporary pandemic premium was announced, Hillcrest was already in outbreak, with approximately 14 residents and seven staff infected. Morale had never been lower, and with most workers earning only slightly more than the Ontario minimum wage of $14 Canadian an hour, the added risk and stress of COVID-19 were hard to justify. Some simply left. Management assured workers that the new premium would start in late May.
NO INCREASE, NO WORK
When workers arrived at the facility on May 22 to find an email apologetically explaining that their workplace might not qualify for the government premium after all, they were outraged. "This was going too far," said Francis. "We were working for such little money and we deserve the extra increase. We needed to let them know we were serious."
It's a close-knit group, with relationships built in the course of the union drive, which was certified in June 2019. Over half the approximately 100 workers in the bargaining unit consisting of primarily PSWs and Registered Practical Nurses (RPNs) are active on a WhatsApp group, which allows for rapid sharing of information. So, at the start of their shift, Gurgen, Francis, and the other workers who were on shift quickly huddled and decided to hold a protest.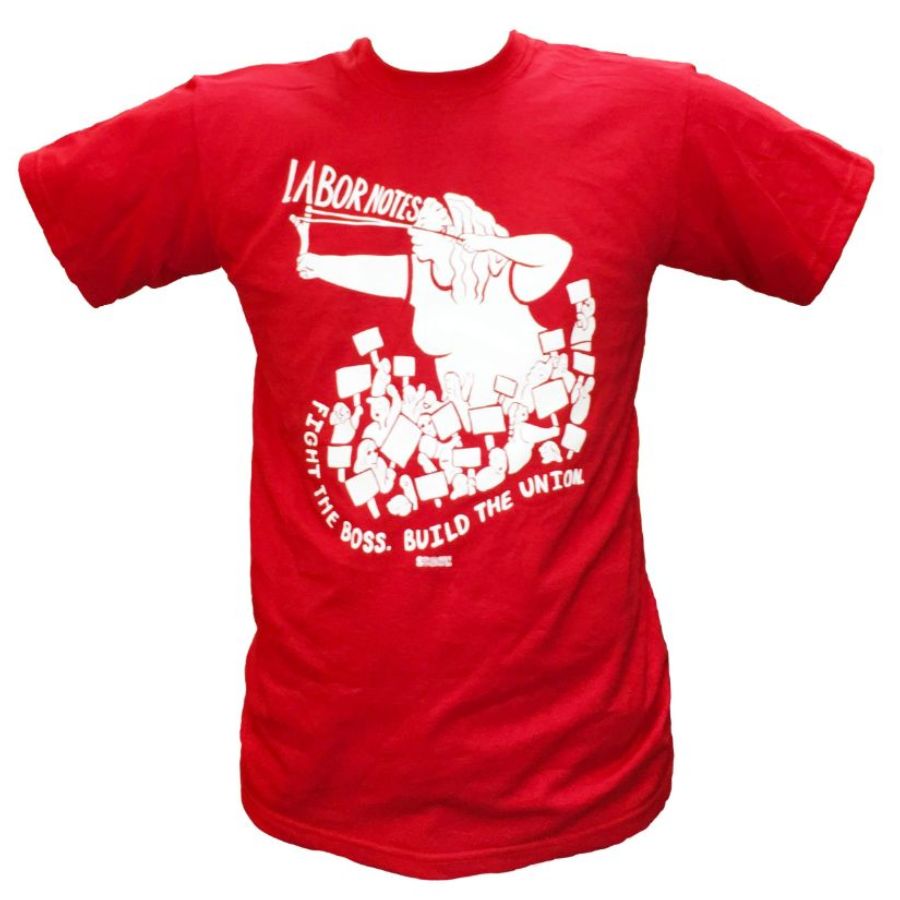 "We made signs: 'No Increase? No work!' 'Where is our money?' 'Who's lying, management or the government?'" Gurgen said. "We left one person on each floor—the same protocol management uses for staff meetings. We made sure residents were not in danger. We served breakfast first, made sure they were OK, and then we protested."
The workers did not speak; they wore masks, held signs, and stood at six-foot intervals in the lobby. "We were silent," Gurgen says, "and it was more powerful than any words we could have spoken."
At first management didn't know what was happening. "Is this a strike? Work stoppage? What's going on?" Management took pictures of all the workers and began threatening discipline. "They told us that there would be consequences and possible punishment. In my opinion, they were shocked," Francis said. "Most people were scared. They thought they would lose their job, but I told them they can't fire eight people at once!"
NEVER DO ANYTHING ALONE
After a 30-minute standoff and management's agreement to an audience with the company's national vice president, the workers returned to their stations.
When the VP arrived, he informed the staff there would be no repercussions for the protest. Even more shocking, the company committed to paying the $4 per hour premium on their next paycheck—even if government funding never arrived.
Those funds, promised by the government in late April, have yet to flow to any employers, leaving the vast majority of the estimated 350,000 eligible Ontario workers waiting and wondering. Controversy over who qualifies and administrative challenges have delayed distribution. Most employers are waiting to receive the government funds before providing it to their employees. On June 5, Gurgen, Francis, and their co-workers became some of the first workers in Ontario to receive the $4 per hour pandemic premium.
"I let everyone know when we got paid, it was because of this action," Gurgen said. "Everyone was so happy and proud of us, celebrating." "Never do anything alone," said Francis, "and make sure you have a team with you. That's what leads to success."
This likely won't be the last direct action these workers take together. The temporary $4 increase is a huge relief, but it's slated to expire in August, and working conditions are still far behind most hospitals.
As they look ahead, Gurgen, Francis, and their colleagues are seeking big improvements in their first collective agreement. Fortunately, they've already shown management they're united and willing to fight for a fair contract: shoulder to shoulder, six feet apart.
Jonah Gindin and Renee Bursey are staff representatives for the Canadian Union of Public Employees.