Postal Day of Action: "We Need the Postal Service!"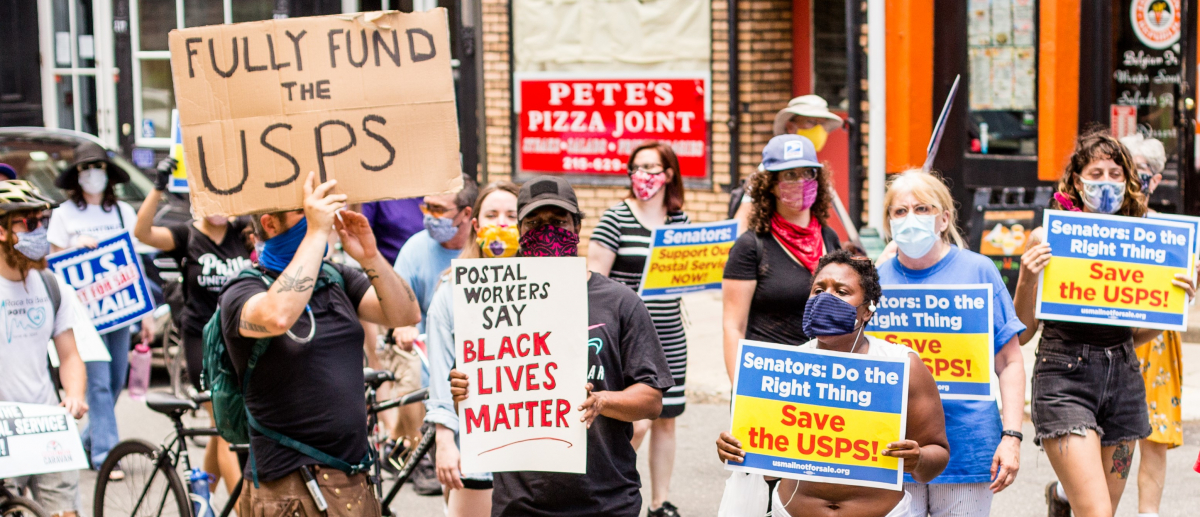 Despite the pandemic, postal workers in at least 18 cities and towns rallied on foot, by car, and even by bicycle June 23 to demand federal funding to save the U.S. Postal Service.
While the House has passed a $25 billion rescue package, the Senate is not expected to take it up until after July 4.
What's the Problem?
According to the Postal Board of Governors and the recent Postmaster General, it will take at least $25 billion in emergency appropriations to prevent the USPS from running out of money. Trump's newly appointed Postmaster General is an anti-union, pro-privatization guy from the private logistics sector.
A big drop in letters during the pandemic has intensified the budget crunch, but the underlying problem is a punishing 2006 law requiring USPS to prefund its retiree medical benefits 75 years in advance. This onerous requirement, now a $1 billion per year bite out of USPS funds, makes it look like the postal service is in the red—creating an artificial crisis designed to pave the way for piecemeal privatization.
Ultimately, to get the service back on firm financial footing Congress will need to repeal this law. The unions also argue for strengthening the postal service by expanding into such services as postal banking and vote-by-mail. But in the short term, the most immediate need is an infusion of cash.
The lead caravan of 75 cars in Washington, D.C., delivered to senators a petition with 2 million signatures demanding that they vote emergency funding for the postal service in the upcoming HEROES Act. Around 200,000 people tuned in to a video livestream co-hosted by the Postal Workers (APWU) and MoveOn that featured APWU President Mark Dimondstein, Letter Carriers (NALC) President Frederic Rolando, and other speakers.
VOTE-BY-MAIL THREATENED
In New York City, the largest APWU local worked with the activist group Rise and Resist to demonstrate at 16 post offices around Manhattan and the Bronx. The protesters handed out leaflets to alert passersby that the Postal Service is in danger of going broke this year, and asking them to call or write their senators.
The day of action coincided with New York's primary election. At a post office in uptown Manhattan, at least half the customers were there to mail their absentee ballots. "We asked our neighbors, 'Where are you going to go to mail in your ballot for the general election in November?'" reported Miriam Frank, an Auto Workers retiree. "Several customers were visibly shocked and dismayed at this grim prospect."
The Philadelphia demonstration drew 75 people who rallied in front of a post office or circled in cars, honking their horns. Besides the local NALC and APWU presidents, speakers represented many other unions and community groups. A highlight was Kempis Songster of the Amistad Law Project, who spent 30 years behind bars starting at age 15. He spoke movingly about how important the mail is to people in prison—"tears falling on letters"—before the group marched a few blocks to the office of Senator Pat Toomey.
Two days later, Philadelphia's city council passed a resolution calling for Pennsylvania's senators and representatives to support funding the USPS and underlining its importance to Black workers and the Black community. The postal workforce—the largest union workforce in the country—is 21 percent Black. Philadelphia is the largest city to pass such a resolution yet.
The demonstration in Portland, Oregon, was festive. Ralliers decked out in "save our postal service" face masks carried balloons and signs; they danced to "Please Mr. Postman." They paraded one by one to a mailbox to drop in their postcards to Congress, before marching over a bridge to symbolize the fiscal bridge needed to keep USPS alive.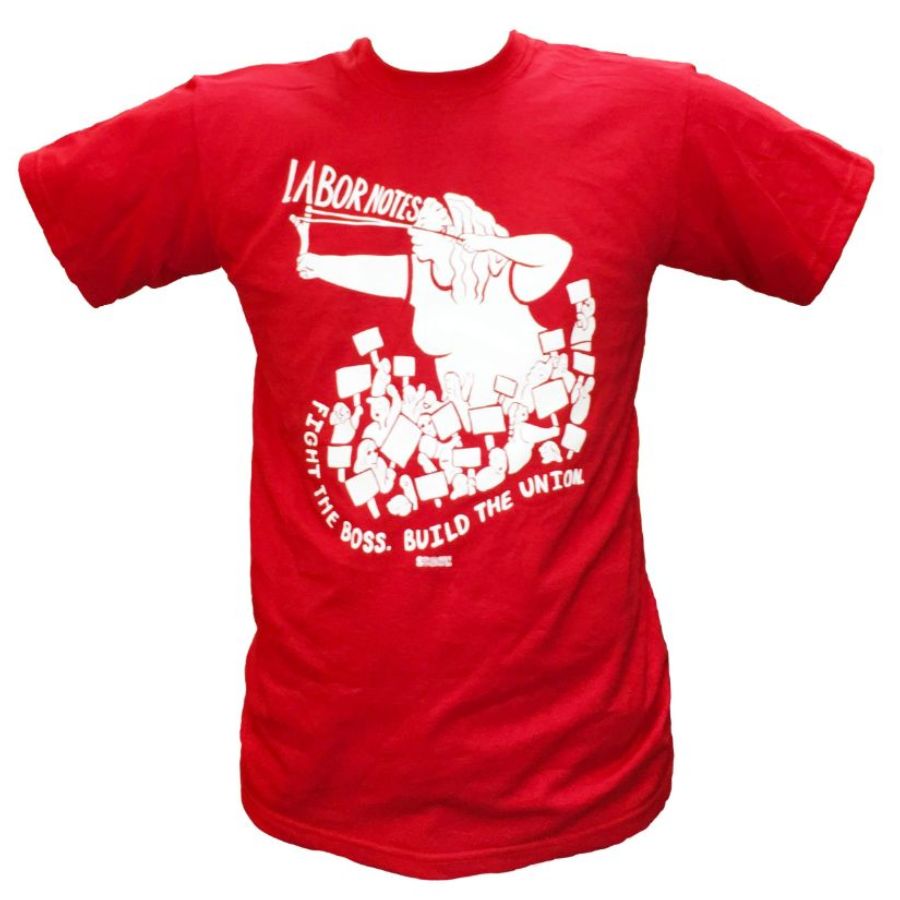 Besides union folks, speakers included a representative of the Alliance of Retired Americans and a Veterans of Foreign Wars post commander. The postal service is especially important to seniors and people with disabilities, who may rely on deliveries for prescriptions and these days to avoid coronavirus exposure. Many letter carriers also get to know and keep an eye out for the elderly people on their delivery routes. The special significance of the postal service to veterans is as an employer; the workforce is 18 percent veterans.
ALL OVER THE COUNTRY
In Detroit, Roscoe Woods, president of 480-481 Area APWU, spoke on the importance of the postal service for mail-in voting in November and said, "Trump isn't worried about fraud, he's worried that voting by mail will increase voter turnout and cost him his job."
Rep. Rashida Tlaib told protesters and supporters: "Our democracy is at stake. You are the ones who are going to protect our democracy when you deliver those ballots." Rep. Brenda Lawrence, a former postal worker and manager, also spoke.
In Kalamazoo, Michigan, 50 people waved signs and invited passing pedestrians to write and mail postcards to Michigan's senators. Dozens did.
A caravan of 40 cars drove through the heart of downtown Des Moines, Iowa. Rally speakers included State Representative Ako Abdul Samad.
The car caravan in Raleigh, North Carolina, stopped by several local post offices on its way to the Capitol Post Office, directly opposite the Federal Building where Senator Thom Tillis has his office. The local chapter of the Raging Grannies sang a tribute to postal workers, sung to the tune of "Solidarity Forever."
Seattle held a caravan of cars and bicycles from a post office to the Federal Building. One homemade sign read: "SAVE THE ONLY WAY TO REACH EVERYONE!"
Actions also took place in San Francisco; Denver; Mankato, Minnesota; Cornwall, Connecticut; Oklahoma City; Toledo; San Antonio; St. Charles, Missouri; and Clarksburg, West Virginia.
GRASSROOTS EFFORTS
The APWU called the day of action, but many of the local events were organized by postal workers and retirees from all four postal unions who have been coordinating their efforts through a weekly phone call.
This group came together in the early weeks of the pandemic and focused at first on shop floor organizing on immediate safety measures. Now its main focus is building grassroots support to save the public Postal Service. They meet on Sunday evenings. Postal workers from any union are welcome; to join, email al[at]labornotes[dot]org. And anyone who wants to follow and join future actions is invited to follow the Save Our Postal Service page on Facebook.
Click here for a gallery of photos from the day of action all over the country.