Organizing COVID-19 Action Teams in New York Hospitals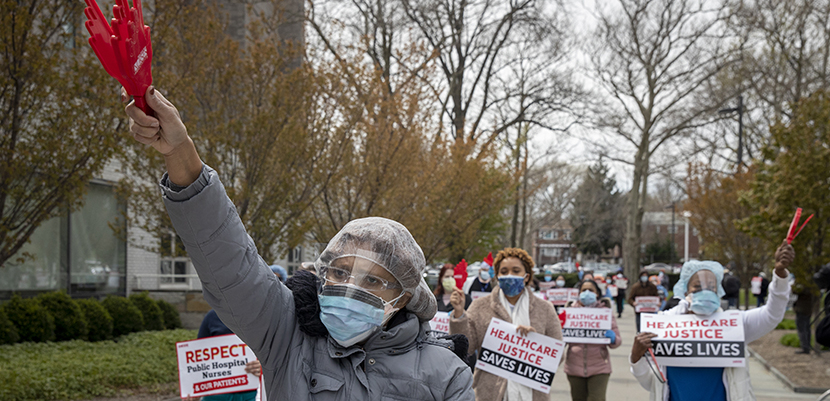 For most nurses and other health care workers it's been the most traumatic month of our careers. We knew we were going into this world-historic challenge with a crippled, fractured, understaffed, and under-capacity health care system. What we didn't quite realize was that there would be no real plan to protect us.
Those of us in the hot spots were exposed by the thousands. Our hospitals, our public health systems, our federal agencies—none were prepared to protect workers. We were rarely tested and rarely quarantined and were forced to care for patients that we had no experience caring for. We got exposed, we got sick, and we died.
Very early on, some of us knew there were solutions and we began to organize. Within the New York State Nurses Association (NYSNA) we started to gather information about the science of the disease and raised the alarm early about the shortage of N95 masks, which block airborne particles. COVID-19 is spread, at least partially, through the air. But because of shortages, the CDC relaxed its guidelines, dropping the requirement that hospital workers wear N95s for every COVID patient interaction.
Therefore, nurses knew what we needed and we knew we weren't getting it. This life-and-death situation created a high-pressure moment. On the one hand we were overwhelmed physically taking care of patients and emotionally dealing with chaos, rapid decline of our patients, and constant death. But we knew we had to speak out.
UNEVEN ORGANIZATION
Our level of organization across NYSNA is wildly uneven. Some hospital systems, especially our largest ones in New York City, had robust campaigns for their last major contracts, signed a year ago, and had a higher level of member involvement than most other facilities. They formed Contract Action Teams that recruited member-leaders in every hospital unit to distribute information, organize discussions, and mobilize for actions.
In many other hospitals, there was little to no strategy for organizing. Many rank-and-file leaders and union staff relied on the limited power of labor-management committees or on trading favors with politicians to stop bad policies.
In my hospital, Jacobi Medical Center in the Bronx, one of the 11 public hospitals in the city, we were in-between. We did not have a significant contract campaign in 2006 or 2015. It seemed the bulk of NYC Health and Hospital's (NYC H+H) union leaders weren't interested in publicly challenging the city around certain concessions or pushing for further gains through public actions during our last rounds of bargaining. Some of us tried to organize campaigns around issues related to the contract but couldn't build sufficient momentum. Still, we had some history of organizing actions at our hospital and some people who had these experiences.
In the broader union, discussion had already begun about turning Contract Action Teams into COVID Action Teams, aided by recent sweeping changes in the union's senior staff. The major challenge, though, was that social distancing meant people were hesitant to act publicly.
In February this year we elected new leaders at our hospital who were more clear about the need to organize. When the N95 shortage became apparent, we knew that the public needed to know, but we weren't sure if nurses were willing to speak out.
Then on March 28, the hospital announced a new policy that would require many of us to use the same N95 mask for an entire week. On the same day, it was reported that the first nurse in the country had died from COVID-19, at a Manhattan hospital, likely from lack of proper protection. In our sadness and outrage, a few of us decided we had to organize and speak out publicly.
TESTING THE WATERS
We used one of our "Shared Governance" meetings in the Emergency Services Department to test the waters. This is supposed to be a staff nurse-led committee with a management liaison, coming together to solve workplace problems.
Well, our biggest problem was the national shortage of N95s—not something the hospital could solve on its own. So we proposed a public speak-out to call out the federal government. It was unanimously supported by the staff nurses at the meeting and planned for two days later. The management representative, who was brand new, sat in the corner and remained silent.
Over the next 48 hours we worked furiously with our core of Emergency Room nurses to get the word out to other nurses and to the press. We created a Facebook event and got signs and markers from union staff. We bought extra sanitizing wipes to keep our action COVID-free.
There's always the 15 minutes of dread before any action or meeting, when, as the organizers, you worry about whether people will show up. But as we were putting the finishing touches on setting up our signs six feet apart, nurses began to arrive, first in a trickle, then as a couple of waves. We had close to 50 nurses by the start of the action and about 15 reporters lined up.
It was a huge success. Nurses felt seen. They spoke to the press about their truth, even ones that we didn't expect. It was the first action of its kind in New York City and gave nurses at other hospitals confidence to organize many actions at their own facilities over the next two weeks.
In the end, we played a role in pressuring President Trump to at least partially use the Defense Production Act to procure N95s, and we forced Governor Andrew Cuomo to make a statewide order that hospitals provide health care workers at least one N95 mask per day. The seeds of the COVID Action Team had been planted and were growing.
But our fight wasn't over.
SICK LEAVE INSULT
As if lack of testing and effective quarantine for nurses were not enough, on April 6, in a callous and unnecessary measure, our employers imposed an emergency policy that restricted our sick leave. If a doctor's note couldn't be provided for all sick time, then our pay for that time would be taken away. We had questioned how much management valued our lives when it failed to provide us PPE; now many of us were certain that that value was close to zero.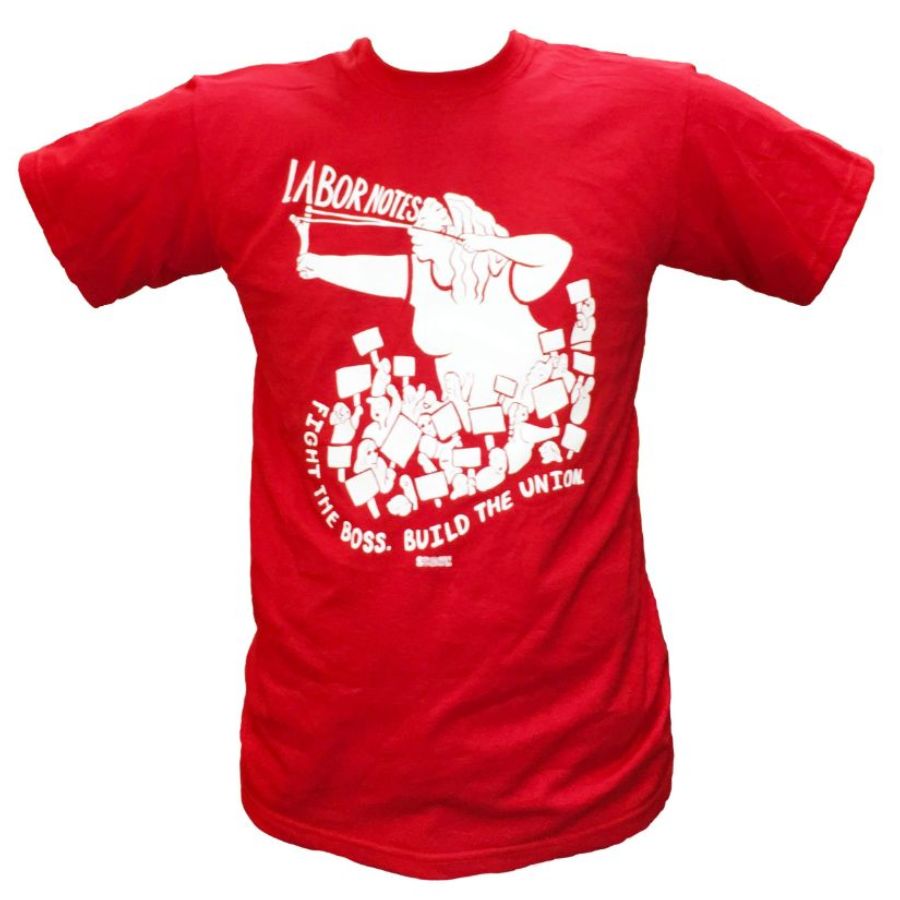 So we used the momentum from our first action to organize a second, this time aimed directly at our employers. The sick leave policy was something they could control and were doing intentionally. The policy also affected co-workers beyond nurses—nurses aides, environmental, patient escort, clerical staff. We knew we had to expand involvement beyond the emergency room, to the ICUs, Psych, and Medical/Surgical units. The policy itself was so demeaning and outrageous, word spread like wildfire and it was easier to bring more people into the organizing.
Our action's turnout doubled from the previous one, with close to 100 attending from different areas of the hospitals and different professions. We were buoyed by an action around the same issue at our sister hospital, Lincoln, three days before. We succeeded in our goals of putting pressure on the City and expanding the number of workers involved in our fight.
But the City didn't budge. So we needed to escalate.
CITY-WIDE COVID ACTION TEAM
First we formalized our organizing structure at Jacobi by calling for a COVID Action Team Zoom meeting with both our elected leaders and people who had been galvanized by the crisis. The call was attended by about 15 nurses and was more representative of the entire hospital than our previous executive committee discussions.
Then we helped coordinate a city-wide COVID Action Team and came up with a plan.
HOW WE'RE ORGANIZED AND TRAINED
At Jacobi our goal is to have a representative for each shift in every unit, which would be about a 50-person body. We plan more Zoom calls, a WhatsApp text message group, and an in-person meeting in the future.
The city-wide CAT conversations are open to anyone who wants to plan actions and are a place for people to learn how to start a CAT where they don't yet exist. As we grow, we will need a more formal structure of delegated representatives from each hospital.
It helped immensely that union staff had already created successful online CAT trainings that were very well attended. The NYSNA Labor Education Department had to adapt rapidly to current conditions.
One way we knew that some of our bigger actions might be possible was the interest in these trainings from NYC H+H nurses, with over 50 nurses from our system attending in the first week and more in subsequent weeks.
These trainings lasted about an hour. A beginning training, an advanced training, and a social media training were each held two or three times per week, modified from the half-day, full-day, or two-day trainings the staff had done before in person.
The trainings were open to all NYSNA facilities and were introduced by member-leaders who could provide examples of successful organizing efforts that had either just happened or were presently underway.
On the city-wide COVID Action Team Zoom meeting, the first decision to make was who to target. We had to go to the very top of our management structure—Mayor DeBlasio and the CEO of our system. We then planned a city-wide petitioning campaign and a Day of Outrage call-in day to their offices, followed by a public speak-out and press event at City Hall several days later.
But this time, it seems, the City smartened up. Two days after we started petitioning, the Mayor's office caved and directed NYC H+H to end the policy. Because of our previous actions, just the threat of a bigger action was enough for victory.
We still have a long road ahead. The deficient CDC guidelines are still in place. Governor Cuomo has just implemented health care budget cuts of $2.1 billion, including at least $400 million for New York City's public system alone. Both the city and the state are promising more cuts are necessary. This could lead to the demand to open city worker contracts for concessions, and even layoffs.
Right now, for essential workers, we have the opportunity to do things that may not have been possible before this crisis.
Even though some of our fights will be defensive—to protect what we have left—we also should put forward bold, systemic solutions, because millions have realized in the last month just how deep our problems go, and they are willing to support us.
The stakes are getting higher for all of us. But we have more power than ever to make change. We just have to figure out how to use it.
Sean Petty, RN is a pediatric emergency room nurse at Jacobi Medical Center, vice president of NYSNA at his hospital, and the Southern Regional Director of NYSNA.