Strikes Are Hard Work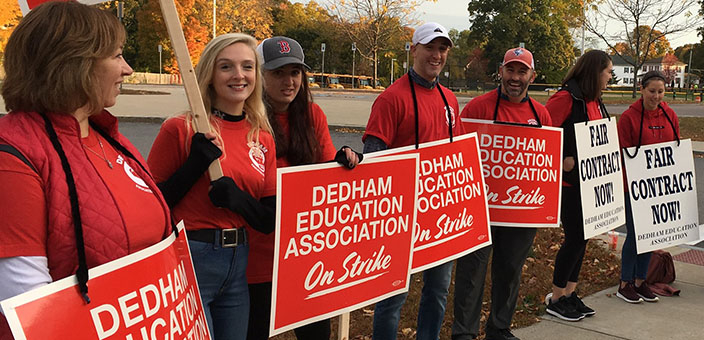 They stood on a picket line at the entrance to the school parking lot: seven educators out on strike for the first time.
Public sector strikes are illegal in Massachusetts. But the night before, after two years of fruitless negotiations, the 300 members of the Dedham Education Association had voted overwhelming to walk out.
Now educators lined the main street from the high school to the middle school, celebrating each passing car that honked support.
"I'm nervous," said one. "I am a new teacher, two years in the district."
"We are all new," said another. "I am glad we voted to strike, but I am afraid."
SCARY AND EXHILARATING
Striking is hard. It is scary. It is exhausting.
That's true even if it's not your first time. In Chicago, educators stayed out for 11 days last fall, their second open-ended strike in seven years. They held down picket lines, attended rallies, and prepared to get arrested for civil disobedience.
Weeks after victory, Chicago teachers said they were still exhausted and wrung out.
Earlier in the year, I stood in front of a Stop & Shop grocery store with strikers from UFCW Local 1459. Veterans of 30-plus years told me they were fed up with management demands and glad the union was finally taking a stand. Younger workers cautiously approached potential shoppers, handing them leaflets and asking them not to shop at the store during the strike.
For both veteran and newer workers, standing on the picket line was unfamiliar. They were excited and proud, and also anxious and uncertain.
There is no way to overestimate the courage it takes to go out on strike—to risk losing pay or losing your job or facing retaliation when you return to work.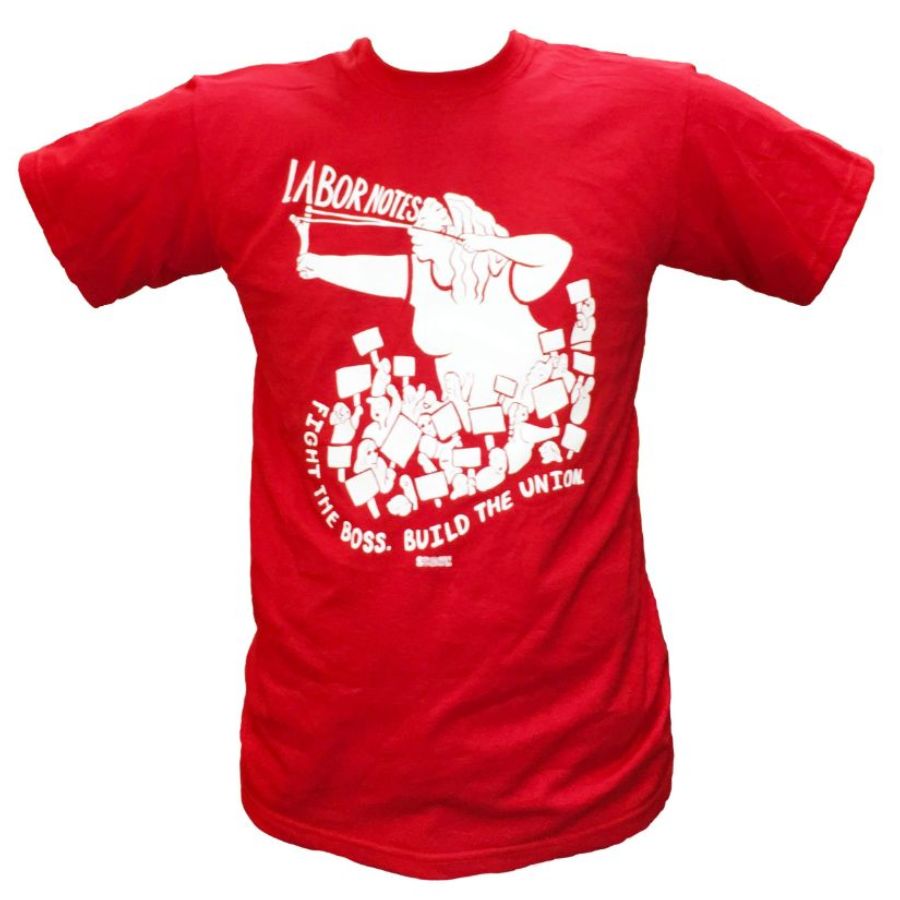 In Los Angeles last January, it wouldn't stop raining. I didn't know you could be cold in L.A. until the chill shot through me from my soaking feet.
But striking teachers kept warm by dancing, singing, and marching. When the sun came out on the rally where a tentative agreement was announced, it was the perfect reward.
These strikes were all wins. They inspired workers across the country to tap into their collective strength, to demand more, and to fight back against the boss.
Some kind of movement is developing. Perhaps, after decades of lethargy, workers across industries are ready to once again leverage our power to disrupt—by withholding our labor—and win.
Certainly, workers are learning from each other, and the strikes are opening up a renewed understanding of what's possible when we activate the full force of our power.
TAKE IT SERIOUSLY
In a recent conversation we hosted about the educators strike in Chicago, some listeners wanted to know when we would talk about a national strike. Big wins in tough times can inspire us to think bigger.
But when we hear about successful strikes, we don't always fully listen to the work it took to get there. Members of the Chicago Teachers and school employees in SEIU Local 73 developed contract action teams and community coalitions to confront a powerful mayor. It took years to build the relationships, trust, and collective power that sustained them through a difficult fight.
A national strike will involve a protracted struggle. It will take serious preparation. It will take serious power. It's something to build towards—one step at a time.
One-day strikes that flex our muscles will bring new people into the struggle. That's great. But we want more than participation; we want transformation.
And what transforms us isn't the highs of excitement and inspiration. It's keeping on when the struggle gets tough—discovering within ourselves the reservoirs of courage, fortitude, commitment, and rock-solid solidarity. It's sharing the work of organizing each day, and the next day, and the next.