Texas Musicians Strike to Save Their Orchestra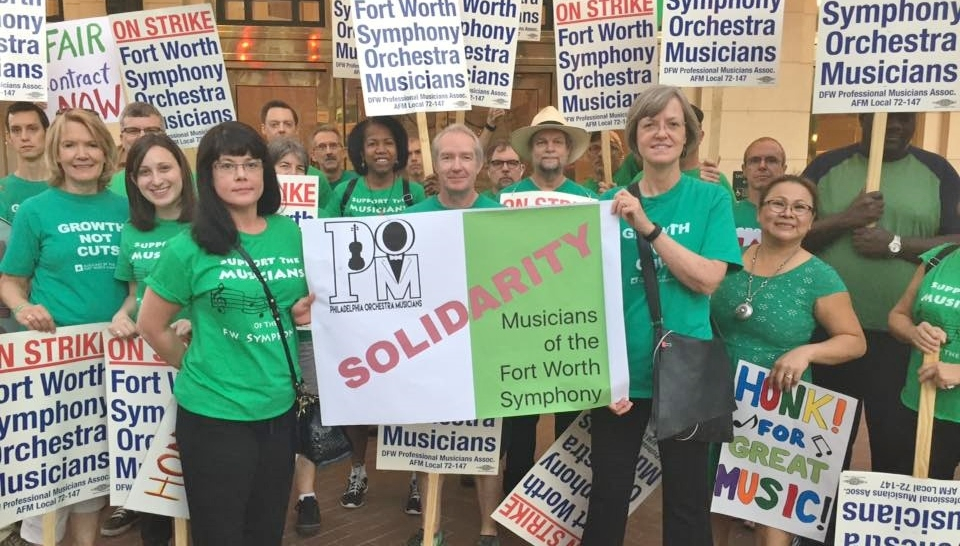 Deciding to strike is always a tough call—but with their orchestra's survival on the line, the 67 musicians of the Fort Worth Symphony Orchestra felt they had no other choice. On September 8, they walked out.
Contract negotiations have stalled, after 15 months of trying. Their nonprofit employer is demanding cuts to their salaries and health coverage, on top of the 13.5 percent pay cut it already extracted in 2010.
Another round of cuts, Musicians Local 72-147 argues, could be the symphony's death knell. How will it attract and retain talented musicians when its standards are already below what comparable symphonies offer?
The job of a symphony member is full-time. It takes many years of training and can be physically exhausting. The musicians' current minimum yearly salary, about $55,000 for a 43-week schedule, is roughly equivalent to what they were making in 2003, even though more performances and rehearsals have been demanded.
And under the health care plan management has offered, family coverage would cost about $1,750 a month—almost 40 percent of the minimum salary.
Even management doesn't blame its budget shortfall on unpopularity or a decline in ticket sales. In fact, for one popular concert series this year, the symphony sold more tickets than anticipated.
The problem is that the nonprofit can't seem to raise adequate funds. The employer claims corporate giving is down—but economic growth in Dallas-Fort Worth has outpaced nearly every other metropolitan area since 2010.
The musicians say the root problem is mismanagement, pointing out:
The symphony hasn't launched a single endowment drive since 2000.
It spends half as much on fundraising as other similar-sized orchestras do.
It doesn't even have a strategic plan beyond 2017.
Yet the employer insists it must address the budget shortfall exclusively with pay cuts.
"[Going out on strike] can hurt us here in the short term," said bassist Bill Clay, "but in the long term, we felt it's something we have to do."
AUDIENCES CHIME IN
Discussions of the symphony's fate haven't been isolated to the bargaining table. "I guess a benefit of negotiating for 15 months is that we've had an opportunity to educate the public on what the issues are," said bassist Paul Unger.
The symphony musicians typically hold a "meet and greet" with the audience in the lobby after shows. As bargaining grew more difficult, they started bringing leaflets along.
The musicians also began to give brief addresses before performances, explaining why a stronger contract was essential to preserving the quality of the symphony.
And they started an organization for community supporters, "Save Our Symphony Fort Worth." This group helped to generate support for their cause in the press. Since the strike, it has assisted in picketing, soliciting donations for the strike fund, and promoting public events planned by the musicians.
In January, energized by their strike authorization vote, the musicians marched from their concert hall to the Bank of Texas headquarters to speak to CEO Mark Nurdin, who chairs the symphony's executive board. He refused to meet with them and called security to remove them from the premises.
Two months later, after management arbitrarily canceled contract negotiations, 20 musicians held a sit-in at the symphony organization's office until they were threatened with arrest.
CHORUS OF SUPPORT
All this groundwork meant that when the musicians walked out on strike, they didn't have to invent a public engagement approach in a hurry. They simply had to step up what they were already doing.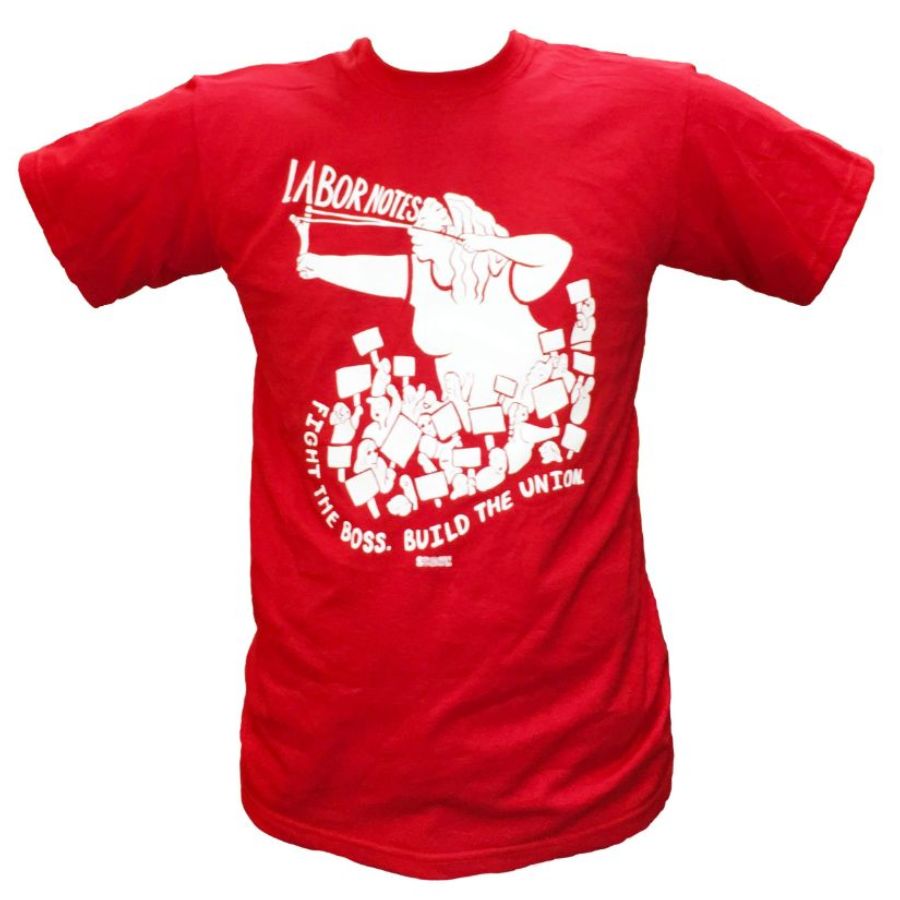 The employer has reacted to the strike by shutting down negotiations altogether. But the union's months of public outreach are bearing fruit.
After the Fort Worth Star-Telegram ran an editorial that largely failed to fact-check management's narrative, pro-union letters to the editor flooded in.
And unlike their employer, the striking musicians are fundraising with ease. In the first three days of the walkout, their strike support campaign on GoFundMe received almost $15,000.
One donor gave $1,000, commenting, "It was our intention to donate to the Fort Worth Symphony Orchestra after the negotiations concluded and the musicians were given a fair contract. Unfortunately for the musicians and the city of Fort Worth, there was a different outcome."
The strikers have been picketing at Bass Hall in downtown Fort Worth, where they perform most of their concerts and where management has its administrative office. In place of shows that were canceled, they've often offered music from the picket line.
Although the symphony musicians are engaged in an economic strike—which offers strikers less legal protection against replacement than an unfair labor practice strike—they claim that management would be extremely hard-pressed to replace enough of them to reproduce the quality their audiences have come to expect.
The strike has energized other Musicians union members in the metro area, including the Dallas Symphony Orchestra, Dallas Opera Musicians, freelancers, and club musicians. Members who had not been very engaged with the union before the strike have been joining the picket lines, showing up to union meetings and events, and wearing green at their shows to express solidarity.
The strikers' young students were eager to get in on the action, too. "We've had people join the picket line even from the youth orchestra that we work with," Clay said.
CRESCENDO OF STRIKES
The campaign's emphasis on public engagement echoes musicians who struck in Detroit in 2010, and those who were hit with lockouts in Atlanta and Minnesota in 2012 and 2014. All these symphonies eventually emerged from near-ruin, after beating back management's worst demands.
Since the Fort Worth strike began, the symphonies in Pittsburgh and Philadelphia have followed suit by walking out too. Both had similar stories—concessions given amid financial troubles, followed by standards spiraling down.
"I like to think that they've been inspired by what they've seen here [in Fort Worth]," Local 72-147 President Stewart Williams, an oboist, said recently. "The days of not going on strike, maybe that's going away."
Philadelphia musicians settled quickly under federal arbitration, winning a slight raise in pay. Pittsburgh musicians are still out.
The strike in Fort Worth could last all season. But the evidence from recent examples suggests that even in crisis situations, musicians can win gains by striking—and the community also stands to benefit from their cause.
"We're stewards of an institution that belongs to the public trust," Unger said, "and part of why we're here is to preserve this orchestra for future generations."
Ryan Haney is a member of Teamsters Local 745 in Dallas, Texas. You can follow the striking musicians' fight on their Facebook page, Musicians of the Fort Worth Symphony Orchestra.