Battle on the Boardwalk: Trump Taj Mahal Workers Continue Strike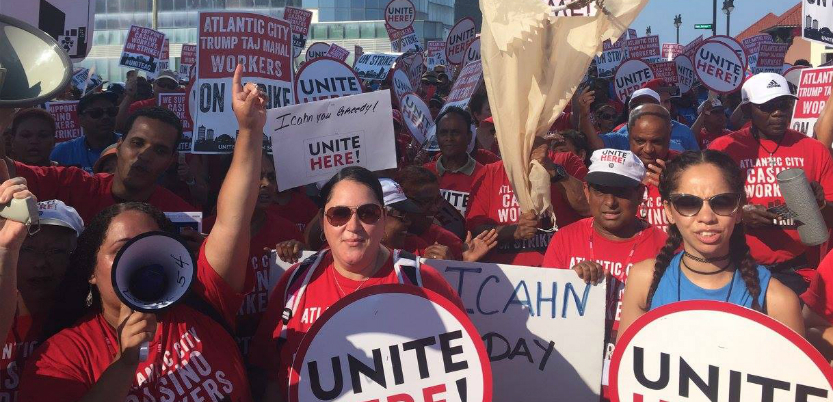 Bartenders, housekeepers, servers, cooks, and other casino workers at the Trump Taj Mahal have made history with the longest casino strike in Atlantic City since gambling became legal here more than 40 years ago.
While management and non-union employees have kept the Taj running, about 1,000 members of UNITE HERE Local 54 walked out July 1 after billionaire owner Carl Icahn refused to reverse deep health and pension benefit cuts enacted in 2014.
They remain on strike despite Icahn's announcement that he will close the casino in October. This will be the fifth casino in Atlantic City to close in the past two years.
"HE DOESN'T CARE ABOUT US"
Lynette Doelp, a cocktail server at Trump Taj Mahal since it opened 26 years ago, said, "Even though Icahn and his people have been getting bonuses, it has just been less and less for us for years. Taj employees have even died. It's just a sad situation."
Doelp was referring to a few recent deaths, including that of Esau Ivan Madrid, a dishwasher at the Taj for 17 years, who passed away during the strike because of a medical condition he couldn't afford to treat after his health insurance was taken away.
Since 2014, when Avenue Capital Group (the casino's previous owner) filed for bankruptcy and Icahn gained ownership by purchasing the debt, workers haven't had health care benefits or pensions. According to the union, 33 percent still have no insurance and just under 50 percent are covered through Obamacare, Medicare, or Medicaid.
Most recently, Icahn offered partial health care, which would not cover employees' spouses or families. At the same time, longtime employees have had their pay more or less frozen for the past 12 years—with workers at top seniority getting at best $0.80 an hour in total increases over this period. Local 54 reports that the average wage for members is just $11.17 an hour.
"More and more people are on public assistance or have to work two or three jobs to get by," said Chuck Baker, a cook who's also been at the Trump Taj Mahal since 1990. "You can't live on this and possibly afford health care for your family. The rent and cost of living is going up.
"Icahn isn't just closing a casino, he's closing Atlantic City. He got his, and he doesn't care about us."
CLOSING ATLANTIC CITY
Despite the recent recovery and increasing profitability of the city's casino industry, Icahn announced on August 3 the Trump Taj Mahal's closing. Not surprisingly, Icahn released a statement blaming Local 54.
"This property is going the wrong way in an industry that's doing better," said Valerie McMorris, a cocktail server at Trump Taj Mahal for 26 years, "The Taj has been impacted financially because Mr. Icahn won't invest in what they've always told us was their number one asset—us."
The recent string of casino closings has shocked the economy of Atlantic City and surrounding South Jersey towns, as thousands have already lost their jobs. In the fall, about 3,000 employees at Trump Taj Mahal are expected to join them.
"We have not had an offer from Icahn since the evening of June 30, when workers rejected that proposal and voted to strike," said UNITE HERE Local 54 President Bob McDevitt in a recent statement. "Now, rather than negotiate with those same workers, he has decided he would rather close down. That's not trying to reach an agreement; that's punishing working people for standing up to injustice."
WHAT'S TRUMP GOT TO DO WITH IT?
On April 2, 1990, Donald Trump opened his new Trump Taj Mahal and humbly declared that it was "the eighth wonder of the world." New Jersey's tallest building and the world's largest casino became an attraction.
From the start, Trump shifted his debts onto the casino—along with two others he owned, Trump Castle and Trump Plaza. While Trump made exorbitant amounts of money for himself, the Taj Mahal was already in bankruptcy court for the first time within only a year of opening.
In 1995 and 1996, the new publicly traded company Trump Hotels and Casino Resorts, acquired Trump's casinos, allowing him to shift the risk onto shareholders. This company soon faced crippling debt, lawsuits from shareholders, and bankruptcy in 2004.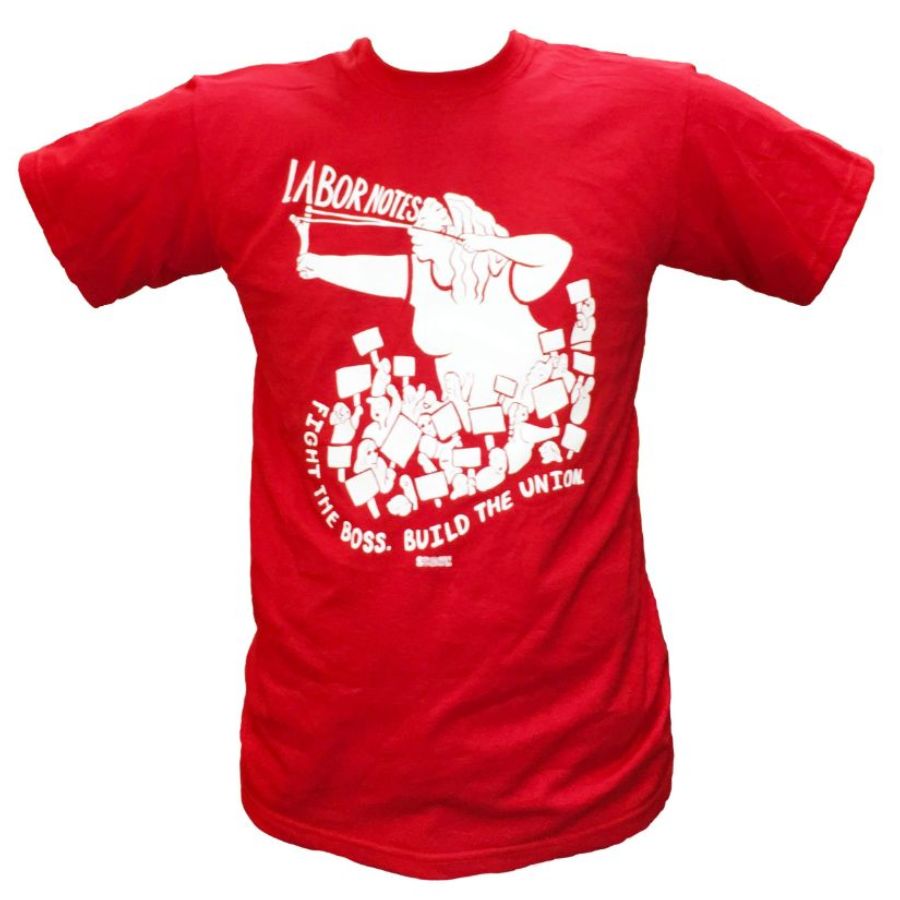 After yet another bankruptcy and reorganization in 2009, Trump Entertainment Resorts (its new name following the 2004 bankruptcy) was taken over by Avenue Capital Group. While Trump was no longer in charge, he still received stock in the reorganized company and compensation for the use of his name.
By 2014, Trump Entertainment Resorts was bankrupt again. This time, however, the court ruled in the company's favor and allowed Trump Entertainment Resorts to reject and overturn the terms of the collective bargaining agreement with Local 54. Health care and pension benefits were taken away. When the company exited bankruptcy, it became a subsidiary of Icahn's Icahn Enterprises.
Essentially, even though he repeatedly ignored regulators and bankrupted his casinos, Trump took home millions from Atlantic City.
During the Republican primary, Trump praised Icahn and put him at the top of his list for Treasury Secretary. Icahn endorsed Trump and touted their longtime business relationship and friendship.
SOLIDARITY
From the beginning, Taj Mahal workers have received community support. In the fall of 2014, when Taj workers initially lost their pensions and health care, Local 54 called for a boycott of the casino.
Some strikers say they've observed would-be customers going to different casinos when they found out about the strike. In the month of July, revenue at Trump Taj Mahal was down 8.2 percent. On the other hand, other Atlantic City casinos performed well over the summer.
"It can be hard since there's a lot of misinformation about unions out there, but when people find out what's going on here, they care," said Doelp.
In contract negotiations, Caesars, Bally's, Harrah's, and the Tropicana (which Icahn also owns), all reached agreements before June 30. Throughout the strike, workers from nearby casinos have joined the Taj picket lines, and workers from other unions have also shown their support. Richard Spieler, a business agent with Electrical Workers (IBEW) 827, has organized solidarity for the strike.
"Local 54 joined us on the picket line at the Verizon Wireless store in Northfield when we were on strike a few months ago," said Spieler. "Now we are out on the boardwalk for them. We've got to support each other."
In New York City, Local 54 rallied with other unions outside Icahn Enterprises. They were joined by the Hotel Trades Council as they delivered letters to Icahn. Ruthanne Yee, a cashier at a Taj restaurant for 10 years, said, "We had a lot of people taking pictures of us, asking us questions, and wanting to help. People support us when they hear what Icahn has done to us and our families."
Local 54 has committed to covering the cost of Atlantic City Public School uniforms for strikers' children and is asking for donations of backpacks and school supplies. In addition, they have launched a GoFundMe to raise money for strikers experiencing financial difficulties with rent, mortgages, utility payments, medical bills, and other essential expenses.
"A lot of people haven't gotten raises for a long time and they don't know if they're going to have jobs in a few months," said Yee. "It's tough right now if you have kids."
STRIKING DESPITE THE PROGNOSIS
Even after the August 3 announcement that the Trump Taj Mahal would be closing, Local 54 remained on strike.
The casino has been subject to rumors of impending closures or massive layoffs for years. Employees have received WARN Act notices, which provide advance notice of layoffs, for several false alarms.
Some have raised the possibility that if they stop and leave now, Icahn could remain open and try to hire a new, potentially non-union, workforce at lower wages. On the other hand, it is likely that this is classic "Icahn-omics." Icahn is known for buying companies, milking them, and shutting them down. In closing Trump Taj Mahal, he would generate more business for his other casinos in the area.
Despite the closing announcement, workers have remained steadfast. Strikers and supporters are on the boardwalk 24/7, chanting, "All day, all night, Local 54 on strike."
"We don't know exactly what is going to happen," said Yee, "but we're prepared to be out here for a while."
Meghan Brophy is a student at Barnard College and a Fellow with the Digital Leadership Project of Organizing 2.0.