Seattle Boycotts Hyatt while a Boston Boycott Ends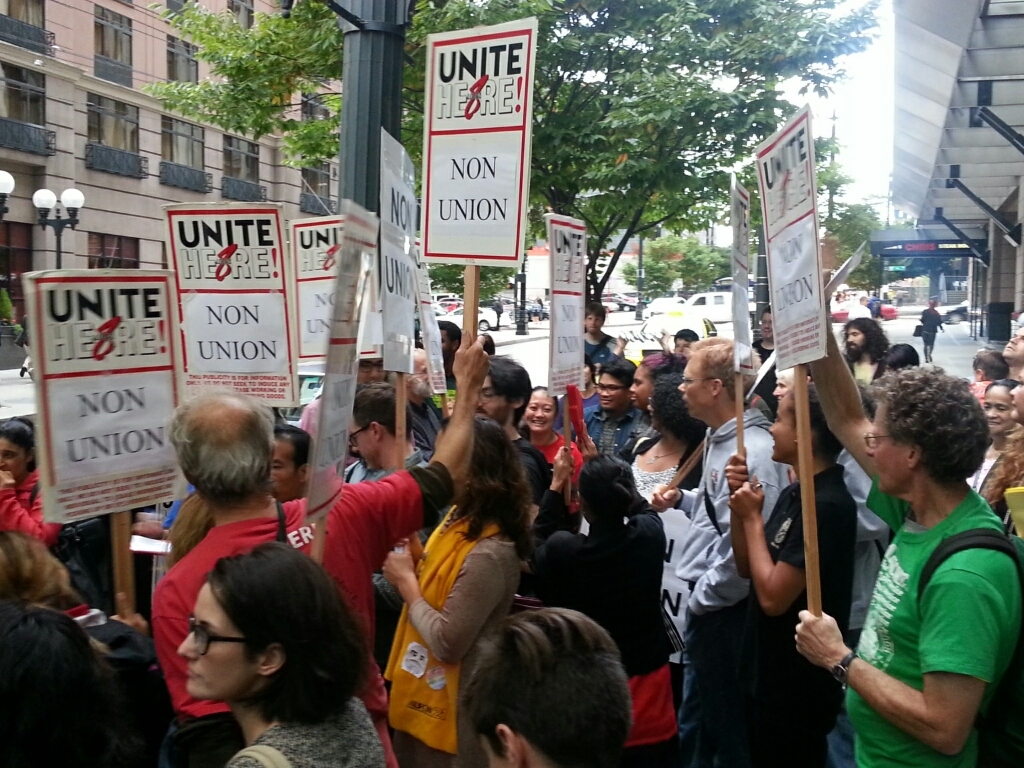 Just a few feet away from the dim entrance to the loading zone of the high-rise hotel, a crowd of 150 workers, students, community leaders, and union members has gathered. We're here to lend support to the Seattle Hyatt hotel workers' boycott.
The boycott rally is about a group of largely invisible and marginalized workers who are standing up together.
Unlike the many U.S. workers who won a four-year campaign to make the Hyatt hotel empire recognize their right to form unions, the workers at the Seattle Hyatt hotel chain have not been able to get their employer to agree.
That agreement created rules for both employers and unions during organizing drives at Hyatt-owned hotels, said Eunice How, an organizer with UNITE HERE Local 8. Workers got the deal by pressuring Hyatt through a series of rallies, strikes, workplace actions, community vigils, and a global boycott. Hyatt finally agreed to allow workers in several hotels to form unions without management intimidation.
But the Seattle workers weren't part of the deal, because the Hyatt chain here is a locally-owned franchise. The union is trying to get local owner Richard Hedreen to sign onto the same rules as national Hyatt.
Women working at Hyatt at Olive 8 reported that they clean on their hands and knees, said How. They are not provided a cart big enough to hold a day's supplies, she said, forcing them to rush through extra trips with heavy armloads of linen. Many of the housekeepers are Chinese immigrants, and supervisors task them with heavy workloads—taking advantage of the fact that workers who don't speak English fluently have a harder time conveying their protests.
Yuan Ping Tang, a housekeeper with six years at Hyatt Olive 8, takes to the bullhorn to describe his work duties: stripping linens, emptying the trash, cleaning up to 38 rooms a day. Workers in union hotels are usually not required to clean more than 16 rooms in an eight-hour shift. "I pay over $350 a month for family health insurance," he says. "It is very difficult for me to support my family when I pay so much."
"Hyatt hotels have been very busy this summer," said Yuan. "All we are asking is to make enough money to take care of our families. The workers in other Hyatts across the country have won a fair process. We deserve the same."
What does a "fair process" look like? One example occurred in two Long Beach Hyatt hotels in 2013. Managers let union members talk to the workers for two days, then workers voted. A federal arbitrator oversaw the election, and the hotel agreed to honor the vote. The National Labor Relations Board wasn't involved.
Boston Deal
A boycott in Boston ended this week when Hyatt agreed to pay $1 million to 98 fired housekeepers. The hotel chain abruptly fired the "Hyatt 100" in 2009 and replaced them with temps working for half the pay.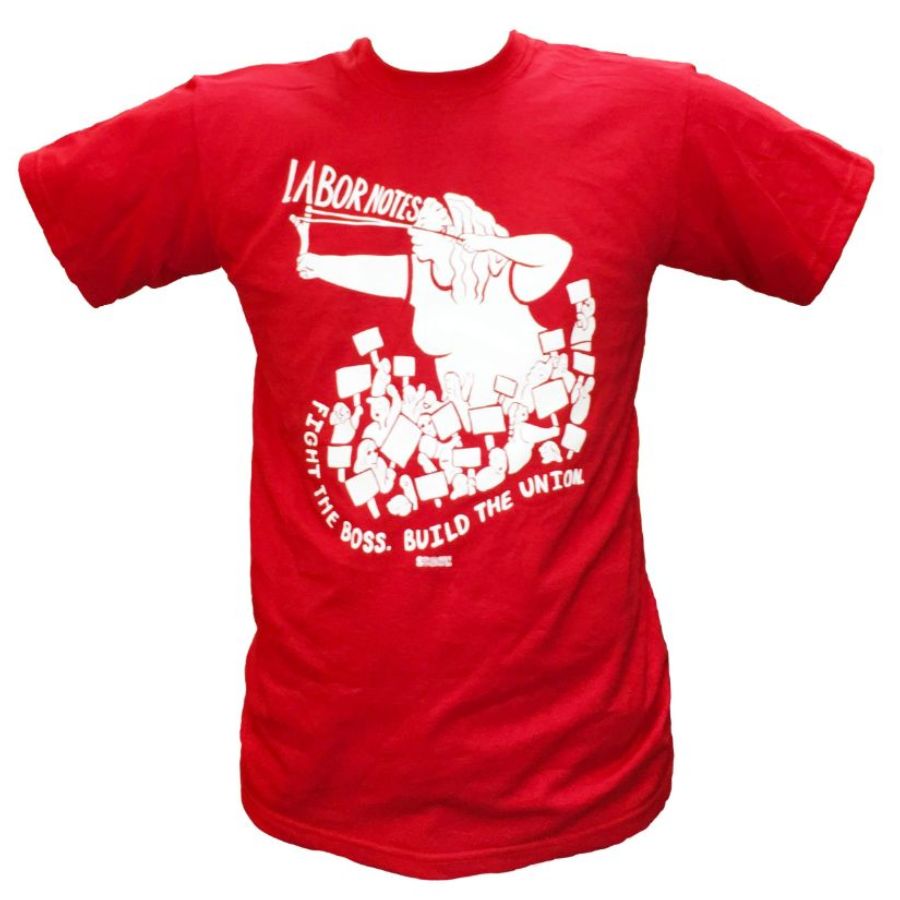 In the settlement, Hyatt also promises to give the fired workers a preference for hiring, while UNITE HERE agrees to end its boycott of three area Hyatts. The company felt pressure to resolve the dispute because it's trying to win a bid to build a new hotel.
In the Seattle crowd, Olga Chavarria talks about her experience helping workers like Yuan Ping Tang fight for a voice. As an employee of the Washington Athletic Club, Chavarria is a union member.
She gave an example of a success story: A year ago, cafeteria workers at Seattle University formed a committee to address the low wages, unaffordable insurance, and lack of job security. "I wanted to help them fight for the same rights that I enjoy," Chavarria says. "I volunteered my time to go meet the workers at their homes. They were fearful of retaliation, but they lost that fear and won a contract."
Tracy Lai, co-president of Teachers (AFT) Local 1789, which represents Seattle Community College faculty, heard about the hotel workers' struggles and decided to do something about it. "AFT does a lot of conferences and, in the spirit of solidarity, we're supporting the boycott," she said. "The API Chaya [an Asian Pacific Islander human rights group] intended to have their spring conference at the Hyatt, heard from the workers, and has now switched to another venue."
The boycott is working, says Stefan Moritz, director of strategic affairs at UNITE HERE Local 8: "Five nonprofits have cancelled their events with the Hyatt, 30 organizations have endorsed the boycott, and five King County council members have written letters of support for the workers." Even the State Insurance Commission has endorsed the boycott.
The hotel workers plan further actions to pressure the CEO to agree to an intimidation-free election. As part of a hotel building boom, Hyatt is seeking to build a mega-hotel where the old Greyhound bus station is, How explains. As in Boston, Hyatt's desire to get city approval may provide a leverage point for the workers.
How said, "The purpose of this rally is to make some noise, tell the workers stories, and create better work conditions for these hardworking people."
Rolando Avila is a community organizer, OPEIU Local 8 member, and worker at Statewide Poverty Action.
Did you just find out your event is in a boycotted hotel? Here's what to do.