Campus Workers Win Training, Hours to Cook Better Food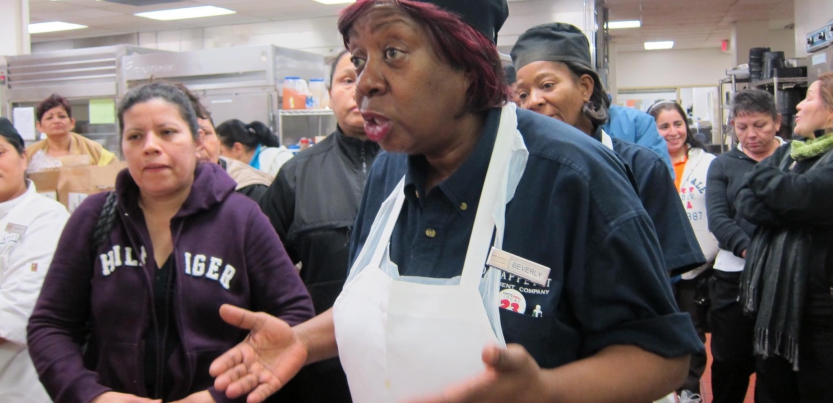 Food service workers at American University (AU) in Washington, D.C. ratified a groundbreaking contract Monday, with "sustainability language" that includes training and increased hours so they can cook from scratch with fresh, local ingredients—and a watchdog committee to hold their employer to it.
"I'm especially excited about the training and the paid sick days," said Dolores Ratcliffe, a member of the contract negotiating committee. "I feel like jumping up and down!"
UNITE HERE Local 23 had run an aggressive eight-month campaign targeting Bon Appétit Management Co., which operates food service at the university.
Workers will receive 16 hours of paid training per year on sustainable food prep and cooking practices, a key demand they had made as part of their "Real Food, Real Jobs" campaign. "I want the training to be able to do what you know I can achieve," said Anthony Randolph, an AU food service worker.
They also won improved hours: full-time now means 40 hours per week; part-timers have the opportunity to take additional hours; and full-timers have the option of overtime before any temp workers are called. While most food service workers at AU are considered full-time, they have been scheduled only 35 to 37 hours a week—and the company has kept hours down by using prepared foods rather than scratch cooking from fresh ingredients, workers argued.
An internal committee with immunity to speak to shareholders will offer whistleblower protection—so workers have a safe space to speak out on such concerns as food quality, safety, or organic sourcing.
"We got everything we asked for," said Carmen McRae, another member of the negotiating committee. "We all worked so hard on this."
The four-year contract also gives workers the largest raise they have seen in the history of their union ($2 an hour over the four-year contract), protects them from subcontracting, and preserves their health care benefits and pensions. Through these protections, workers will experience job security in a way they have not before.
Campaign Momentum D.C.-Wide

Best-Selling Book
Secrets of a successful organizer
A step-by-step guide to building power on the job. Buy Now. »
Students and workers at AU and six other campuses in Washington have been building momentum since fall on the "Real Food, Real Jobs" campaign, with marches, petitions, and teach-ins. More than 1,800 university cafeteria workers, students, faculty, farmers, and community members in the area—including 85 percent of cafeteria workers at AU, and over 600 students there—signed a pledge to publicly support the effort.
The list of demands to Bon Appétit for this contract was unparalleled; the company had never before agreed to similar contract language with any UNITE HERE shop.
During negotiations, the contract between AU and Bon Appétit was up for renewal and companies were bidding on it. At the same time, Bon Appétit employees at the University of LaVerne in California went public with an organizing drive and sustainability agenda—applying yet more pressure to the company.
As soon as the semester began, Bon Appétit managers, perhaps concerned that the universities might not renew their contracts, called for emergency negotiations at Gallaudet University in D.C. and at AU.
At AU, Bon Appétit accepted all of the union's demanded sustainability language.
Food service workers at the other six universities are either in bargaining or preparing for negotiations this spring.
By taking on a big-picture issue—food sustainability—that falls outside labor's usual bread-and-butter repertoire, and by coordinating multi-campus campaigns with students and other allies, D.C. food service workers are approaching these contract fights as a social movement union.