California Warehouse Workers Defeat Walmart Contractor's Retaliation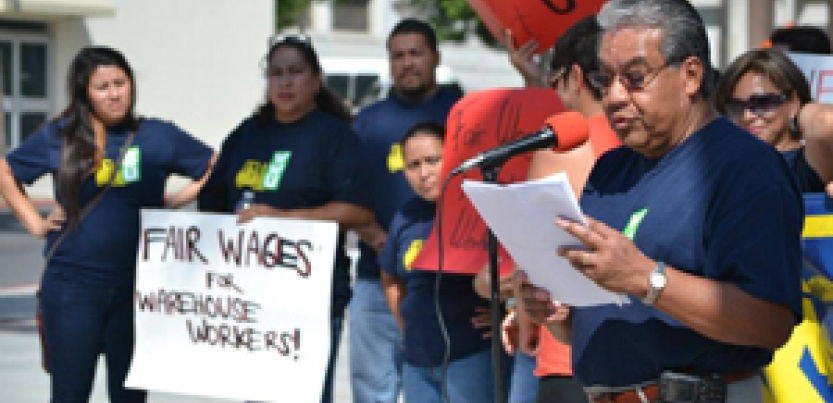 More than 100 warehouse workers in California threatened with retaliatory firing won in court Wednesday the right to keep their jobs.
Federal judge Christina Snyder ruled that "irreparable harm" would be caused by workers' losing their jobs as a result of the state's investigations into wage theft and safety violations. She said the firings would have a chilling effect on future enforcement of California's labor laws.
The workers had cooperated with state investigators looking into illegal employer actions in the Inland Empire's vast warehouse complex. They had filed a class-action lawsuit over wage claims with the help of Warehouse Workers United, a campaign backed by Change to Win.
Their employer, the staffing agency Rogers Premier, was fined hundreds of thousands of dollars by California's labor commissioner for bad record-keeping. Schneider Logistics, which had used Rogers to staff its warehouses, then fired Rogers. Workers were told they would lose their jobs February 24. Schneider's warehouse and shipping service delivers millions of dollars' worth of goods to Walmart stores each year.
Workers said retaliation at the Walmart warehouses had been rampant long before the firings.

Best-Selling Book
Secrets of a successful organizer
A step-by-step guide to building power on the job. Buy Now. »
"If you complained you would get fired, or as punishment you would get sent to the night shift," said warehouse worker José Tejada. "They would do whatever they wanted."
Connecting the Dots
WWU's attorney Janet Herold said the judge's decision is the first step toward blowing down the walls in the maze of corporations and subcontractors that shroud the retail supply chain.
The court found that the warehouse workers were not just employees of the staffing agency but were jointly employed by both Rogers Premier and Schneider Logistics.
Schneider, the warehouse operator, had sufficient involvement in the work life of warehouse employees—including firing, disciplining, and directing them—to discount the argument that it had no control over them, the court decided.
Schneider managers also testified that it was uncommon for employees to lose their jobs when the firm switched staffing agencies.
"The decision is great, because these workers will be able to keep their jobs," said WWU organizer Guadalupe Palma. "But we're still calling on Walmart to take responsibility for its supply chain and enact better standards for suppliers and enforce them."