Auto Workers Spare Big 3, Win Landmark Just Transition at General Motors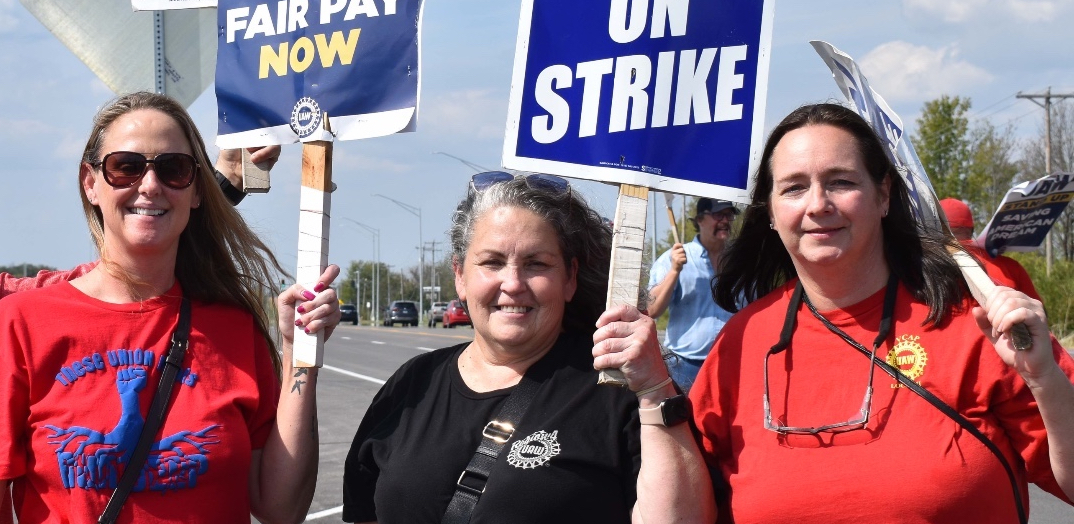 On Facebook Live Friday afternoon, Auto Workers President Shawn Fain symbolically awarded roses to automakers General Motors, Stellantis, and Ford based on progress at the negotiating table, a reference to the reality show "The Bachelor." The only thing missing was teary-eyed CEOs breathing a sigh of relief as the UAW agreed not to widen its strike to more factories for now.
The UAW was poised to tap 5,000 members at GM's assembly plant in Arlington, Texas, as part of its latest stand-up strike escalation. These workers would have joined 25,000 already on strike at five assembly plants and 38 parts distribution centers nationwide.
But in the eleventh hour, GM agreed to put battery manufacturing facilities for electric vehicles into its national union contract.
"We were about to shut down GM's largest money maker, in Arlington Texas," said Fain on Facebook Live. "Today, under threat of a major financial hit, they leapfrogged the pack in terms of a just transition. And here's the punchline: Our strike is working. But we're not there yet."
The companies have argued that the union can't legally negotiate over EV battery plants, but apparently the threat of a widening strike changed GM's horizons.
GM's Arlington plant is considered by some analysts to be the most profitable manufacturing facility in the world, which is why the union chose it as a target.
The significance of GM's concession is even greater when you consider that the Arlington plant plans to reduce production of SUVs at the facility in favor of all-electric alternatives.
REFUSING OVERTIME
UAW Local 276 members in Arlington had been organizing to refuse voluntary overtime, holding practice pickets that drew 80 to 100 workers, and finding creative ways to avoid doing the company any favors.
The mammoth Arlington plant covers 250 acres. To cover that huge expanse, UAW electricians and other skilled trades on their way to repair breakdowns typically hop on bikes to cross the factory floor. "Now even the electricians are refusing the overtime," said production worker Tiffany Martin last week. "And I noticed a few of them not using their bicycles to get to the breakdowns in the line. They have been walking without any rush."
Nicole Adams, an assembly line worker at the plant, said body shop workers have refused to work through their breaks.
"We were ready on the first go-round," said Adams. She credits Local 276 President Keith Crowell for keeping members engaged with weekly Facebook Live events modeled after Fain's appearances.
Adams said her co-workers have traveled to nearby parts distribution centers to stand in solidarity with fellow workers. Workers at GM and Stellantis parts centers have been on strike since September 22.
"We understand the struggle," Adams said. "This is my second strike. My first strike pay was $250 a week, so I can imagine how stressful it is to just be making a portion of your paycheck." The UAW raised strike pay to $500 a week earlier this year.
ROSE CEREMONY
The UAW's rose ceremony ribbing reflects just one key dimension of its Stand-Up Strike strategy: public bargaining updates. The weekly live video updates and shifting targets are a big departure from the union's traditional approach, where negotiators disclosed nothing while union members sat tight and waited for a final result.
"Serious bargaining happens at the table, not in public," complained GM CEO Mary Barra in a September 29 statement. "The UAW is pitting the companies against one another, but it's a strategy that ultimately only helps the nonunion competition."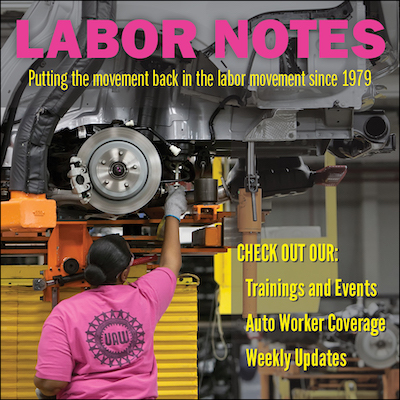 But nonunion auto workers appear to be drawing inspiration from the UAW's fight. "The response from auto workers at nonunion companies has been overwhelming," Fain told NBC News. "Hundreds of workers across the country, from the West to the Midwest and especially the South, are reaching out to join our movement and to join the UAW."
At the 1,800-worker Toyota engine plant in Huntsville, Alabama, where they finish the V6 and V8 engines for Tacoma and Tundra trucks and Sequoia SUVs, worker Gerald Bernstein (a pseudonym) said his co-workers talk in hushed tones about the strikes—and especially about the UAW.
The strike is helping them make sense of their own workplace problems, like speed-up, Bernstein said; Huntsville workers must complete their assembly tasks in 46 seconds. Another top issue is mandatory overtime.
"Seeing the other workers go on strike and talking about the UAW, it has sparked conversations about whether we should go on strike too," Bernstein said.
CLASS WAR THEATER
The companies responded to the union's strike strategy by dismissing it as mere theatrics. "The CEOs are trying to trivialize our strike," said Fain. "They are saying it's just theatrics. And yes, we are loud and proud about our fight. We want the public to understand our fight, and to side with us, as poll after poll shows they do.
"But it's not about theatrics. It's about power. The power we have as working-class people. Theatrics don't cause companies to agree to double digit pay increases. Theatrics don't result in the right to strike over plant closures. Theatrics don't win COLA. Theatrics don't result in GM battery cell manufacturing to be under our national agreement."
The union is aligning its key demands across all three automakers—including a big wage boost, a shorter work week, elimination of tiers, a cost-of-living adjustment (COLA) tied to inflation, protection from plant closures, conversion of temps to permanent employees, and the restoration of retiree health care and benefit-defined pensions to all workers.
Ford agreed to bump wages to 23 percent, up from the initial 9 percent it first proposed. Ford and Stellantis have agreed to reinstate COLA, with GM, according to Fain, not "far behind."
In its latest offer, Ford has shortened the time it takes workers to reach top pay from eight years to three, compared to four years at GM and Stellantis. The UAW is still demanding that all workers receive top pay after 90 days.
GM and Ford have agreed to end one of the many tiers in the current contracts, putting workers at certain parts plants back on the same wage scale as assembly workers. The top rate for Big 3 assembly workers is currently around $32.
Temps got big pay bumps to $20 an hour at GM and Stellantis and $21 an hour at Ford. All three companies have made commitments to convert temps to permanent employees, but the details are still unclear on where wages and conversions will land in ongoing negotiations.
The main sticking points remain post-retirement health care and pensions. "For those members who never got a pension or post-retirement healthcare, we are fighting like hell for real retirement security. But the companies are fighting like hell to keep our retirement uncertain and insecure," said Fain.
Fain concluded his remarks with an emphasis on the results the stand-up strike strategy has yielded so far. "Not everything is about pulling out the bazooka," he said, wearing a union T-shirt that read, "Eat the rich." "We've been very careful about how we escalate this strike. We have designed this strategy to increase pressure on the companies—not to hurt them for its own sake, but to move them. To get them to say 'yes' when they want to say 'no.'
"Today is a perfect example of that. We know their pain points. We know their money makers. We know the plants they really don't want to see struck. And they know we've got more cards left to play."