Will Erie Locomotive Plant Workers Strike for the Right to Strike over Grievances?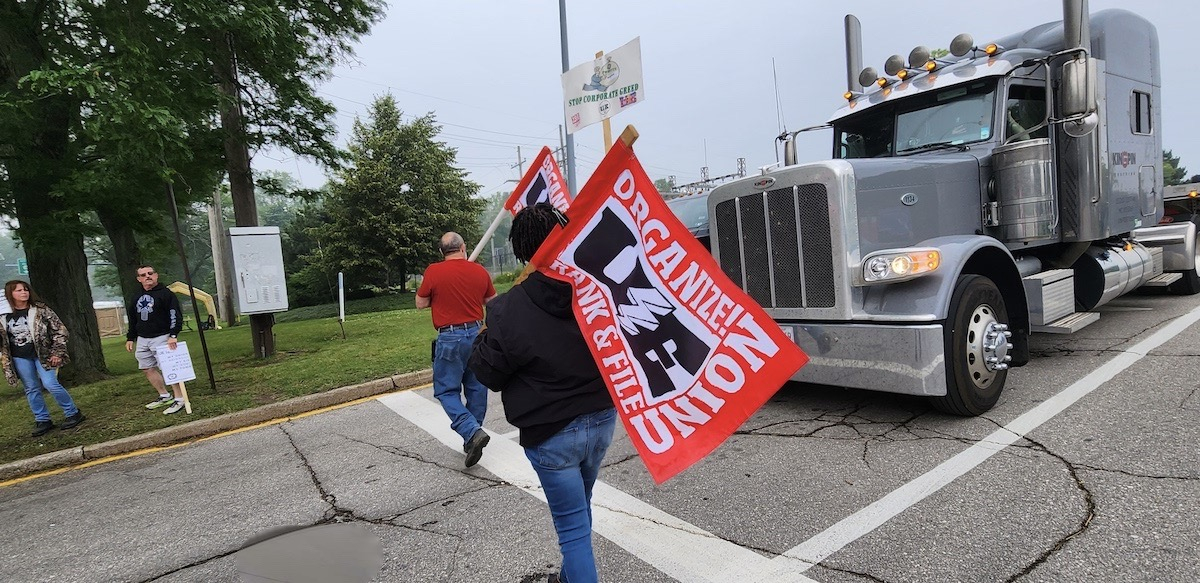 UPDATE, June 23: After rejecting the company's last, best and final offer today, the 1,400 members of UE Locals 506 and 618 are on strike at Wabtec's locomotive plant in Lawrence Park. You can donate to the strike fund here. —Editors
"What do you think of the company's contract proposals?" asked a man at the head of a contingent of workers marching through the mile-long, mile-wide Wabtec locomotive factory.
"F— you!" responded members of United Electrical Workers (UE) Local 506, their voices echoing off the walls.
A few blocks down at Irish Cousins, the bar across from the union hall, one patron's "How are you doing?" was answered by another with "Waiting on the word."
It was the afternoon of Friday, June 9, and 1,400 workers were preparing for the possibility that when their contract expired at midnight, they would be on strike.
As the clock ticked down, the two sides were far apart in their bargaining for a second contract. The first was negotiated when General Electric sold the $4 billion-a-year division to Wabtec (Westinghouse Air Brake Technologies Corp.) in 2019, ending more than a century of GE operations in Erie.
UE has represented the plant's workers since 1937, the year before it negotiated its first national agreement with GE. Thanks to decades of plant closures, corporate reconfigurations, and outsourcing both overseas and to nonunion plants in the U.S., this shop was the last remaining facility covered by UE's former GE agreement.
With less than an hour to go, a federal mediator involved, and letters of solidarity flooding in from workers across Wabtec's international supply chain, the union's executive board agreed to a 24-hour extension. The next day, the board announced it would bring Wabtec's final offer to a membership vote June 22.
Should members reject it, they will be on strike. At press time June 14, the board had not decided what to recommend.
SHOP FLOOR POWER
One priority among workers is the right to strike over grievances. They had that right in the GE contract, and while a nine-day strike in 2019 defeated some of Wabtec's most egregious proposals, members ratified a first contract that didn't include it.
The result has been a disaster. The number of grievances has ballooned, a May report from the Illinois School of Labor and Employment Relations found. Grievances are more likely to drag on for months or years than they were under GE, and more than twice as likely to be rejected.
According to chief steward Leo Grzegorzewski, 95 percent of grievances that reach the final step are rejected by Wabtec, forcing the union to go to arbitration at a cost of $9,000 each time. Since 2019, around 68 grievances have reached arbitration.
The Erie workers rarely struck over grievances when the plant was owned by GE—only four times from 2005 to 2019, for a total of 13 hours—but the possibility of a strike forced management to treat them with respect. Without it, workers say contract violations are rampant and management does as it pleases.
The first contract allowed strikes over timeliness in the grievance process and over any permanent subcontracting or transfer of work. Local 506 President Scott Slawson said Wabtec's latest offer falls well short of the strike rights in the GE contract.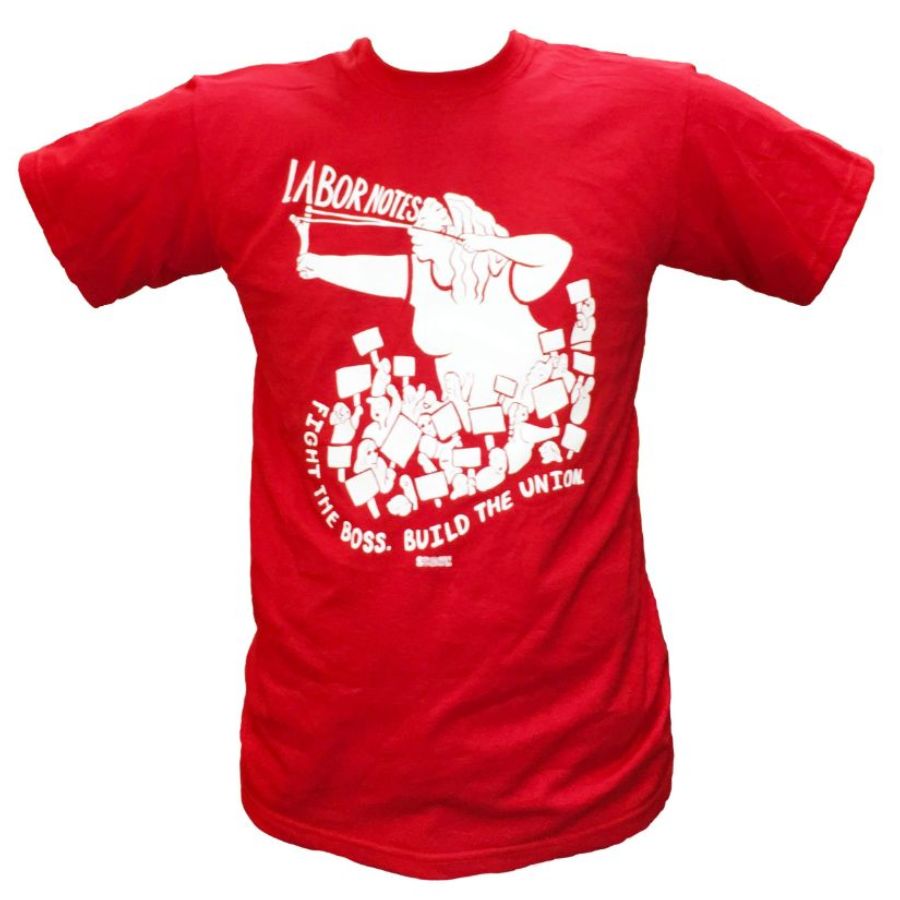 "One of the great tragedies of the American labor movement is that in the McCarthy era, most of the labor movement decided to give up the fight over controlling conditions on the shop floor," said UE General President Carl Rosen. "That's what having the right to strike over grievances allows you: the ability to keep the employer from imposing their will at any point during a contract, while you're stuck and can't do anything until that contract expires."

GREEN LOCOMOTIVES
There's also the urgent matter of upgrading locomotives to be less polluting. UE's Erie locals have been leading the union's Green Locomotives Project.
Building green locomotives in Erie would create between 2,600 and 4,300 new Wabtec jobs and 3,000-5,000 additional jobs in Erie County.
The union wants Wabtec to commit to a joint push for higher Environmental Protection Agency standards. But Slawson says the company has "flat-out rejected" such collaboration.
Workers also want to reduce or eliminate the 10-year wage progression for new hires, whose lowest-paid job starts at $20.47 an hour, and insist on a real raise for legacy workers, who haven't had one since 2016. With inflation, that's a 19 percent pay cut.
Wabtec is refusing to shorten the wage progression and is offering a combination of raises and lump sums.
During negotiations, Wabtec inflamed members with yet another contract violation—announcing that if workers hadn't already scheduled vacation for 2023, the company would schedule it for them.
"Our CEO has publicly stated that employees are the company's number-one asset," said Slawson. "But nobody feels like the company's number-one asset. They feel like the company's number-one whipping post."
THREAT MAY BACKFIRE
So why didn't the union call a strike over the weekend? Slawson said the board wanted members to make the call. "If the members say, 'We can't live with this,' that's a much louder message," he said.
He also made reference to threats from Wabtec. On June 9 the company handed him a letter saying it is assessing the Erie plant's "long-term viability," given its unfavorable "competitive position" relative to Wabtec's nonunion plants. Citing the union's stubborn insistence on raises and proposals that would limit its "operational flexibility," the company lists 275 union jobs that it is considering "permanently subcontracting."
Such saber-rattling has a long history in this plant. In 2017 GE moved hundreds of jobs to a nonunion plant in Fort Worth, Texas—but ended up moving them back to Erie after struggling to hire and retain enough skilled workers. Nonetheless, a similar threat from Wabtec played a role in the 2019 settlement.
Even so, there's little reason for Wabtec to feel confident that workers will accept its offer. Orders are up, increasing members' leverage.
Wabtec has begun bringing scabs in, and workers say management is nervous, aware that its actions—including a letter to workers explaining how to cross a picket line and how to resign from the union—may backfire.
When I stopped into Irish Cousins on June 12, workers were discussing their frustration. Across the street, piles of strike signs and tents sat in the Local 506 hall; it would take only a moment to bring them to the plant gates.
Alex Press is a staff writer at Jacobin, which is publishing a longer version of this story.