Mexican Auto Glass Workers Withstand Threats to Form Independent Union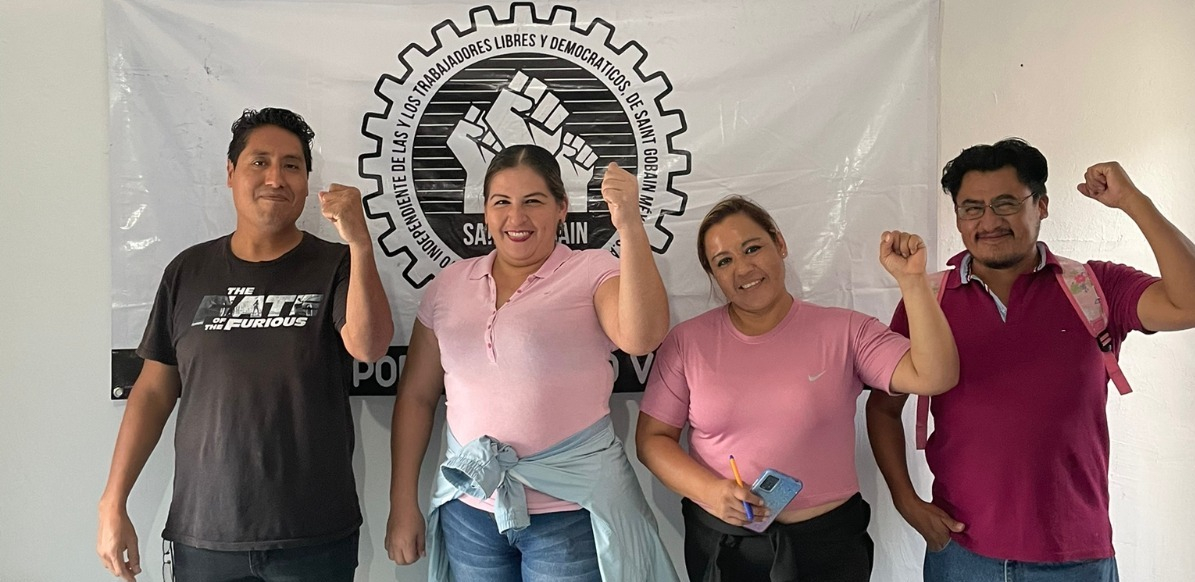 Workers who produce glass for automakers including Ford, Volkswagen, and Tesla at a big auto glass plant in Mexico are pushing for a new contract, after forming an independent union despite threats of violence from a powerful, employer-friendly union.
The factory, owned by the French multinational Saint Gobain, employs 1,900 workers. It's located in Cuautla, Morelos—the city in south-central Mexico where the revolutionary Emiliano Zapata is buried.
Last September, workers there voted to join the new Independent Union of Free and Democratic Workers of Saint-Gobain Mexico and leave a union affiliated with the Confederation of Workers and Peasants (CTC).
The CTC had held the contract since the plant opened in 1996. It's one of the numerous, politically connected "employer-protection unions" that have long dominated Mexico's labor scene. Such unions are notorious for signing contracts behind workers' backs, locking in low wages and preventing workers from forming independent unions.
The new Saint Gobain union is part of a wave of new independent unions challenging the entrenched unions over the past two years. The factory is one of the biggest to vote for an independent union so far; the largest is at the General Motors plant in Silao, Guanajuato, where 6,500 workers joined the National Union of Auto Workers (SINTTIA) a year ago.
The CTC's power is concentrated in the industrial belt around Mexico City. The organization is notorious for its use of violence in industrial and political disputes.
FIRING WAS THE CATALYST
In July, a majority of workers at the Saint Gobain plant had voted against legitimating the CTC's collective bargaining agreement, opening a path toward joining the new union.
They overcame the CTC's aggressive campaign to harass independent union supporters and threaten them with losing benefits.
Under labor law reforms passed in 2019, legitimation votes on all union contracts in Mexico must be held by May 1, 2023, for the contracts to remain in effect—a measure meant to ensure that workers get to see and have input on their collective bargaining agreements.
Fifteen months prior to the vote, in April 2021, workers had begun to meet in secret. One of the organizers of these meetings was Gabriel Mendoza, a soft-spoken 43-year-old who had just gotten fired for standing up for his co-workers when CTC officials were urging him not to.
"You defend the workers and you do not agree with what the union says," he said the Human Resources manager told him.
"A national advisor for the CTC was in the meeting with me when I was fired, and he didn't say anything," Mendoza recalled. "I knew it was an agreement between Saint Gobain and the CTC."
His firing was a catalyst that spurred Saint Gobain workers down the path of creating an independent union. Mendoza reached out to a few trusted co-workers and they began meeting regularly.
BLURRED LINES
Mendoza had worked at the plant for 21 years—most of his adult life. He was a workplace leader and was elected as a delegate and shop steward of the union, handling grievances.
After being terminated, Mendoza informed the rest of the CTC delegates via the messaging app WhatsApp. Soon after sharing the news, he was kicked out of the group chat—further confirming his suspicions that the CTC was behind his sacking.
His co-worker Ivette Diaz Lopez was furious when she learned of Mendoza's firing, because he had advocated for her when her pay was docked. "For eight months, I constantly had to fight with my employer so they'd pay me my entire paycheck," she said. "If I worked overtime, they'd pay me the regular rate. If I worked a holiday, they'd say I didn't work that day."
As shop steward, Mendoza stood by her and accompanied her to H.R. to handle grievances. That solidarity contrasted sharply with other do-nothing CTC representatives.
"I told them my labor isn't free, but the CTC was more focused on defending the employer than the workers," Diaz Lopez said.
She recalled one meeting where the blurred lines between management and the union became apparent. The H.R. rep threatened to fire her—but instructed the CTC representative to do it. They both laughed. Therefore, when Mendoza invited Diaz to meet with other workers, she did not hesitate to join them.
GOON SQUAD
Other workers began to join the independent union meetings because they too were fed up with the collusion. Ana Lilia Ramon Martinez had worked as a factory helper for seven years before she was injured on the job and went on disability.
"My relationship with the CTC was so awful," she said. "I had told them that my job carrying 67 pounds of glass was hurting my back, and I wanted a different position, but they would tell me it was not possible."
She toughed it out and continued to work through the pain until it was so intolerable that a doctor informed her she was unable to do that job anymore—she had injured her spine.
Ramon Martinez was one of the workers Mendoza invited to the initial meeting. "He told me we were forming a new union," she recalled, "but I told him I knew nothing about how to do that and I didn't want to get in trouble." Still, she showed up.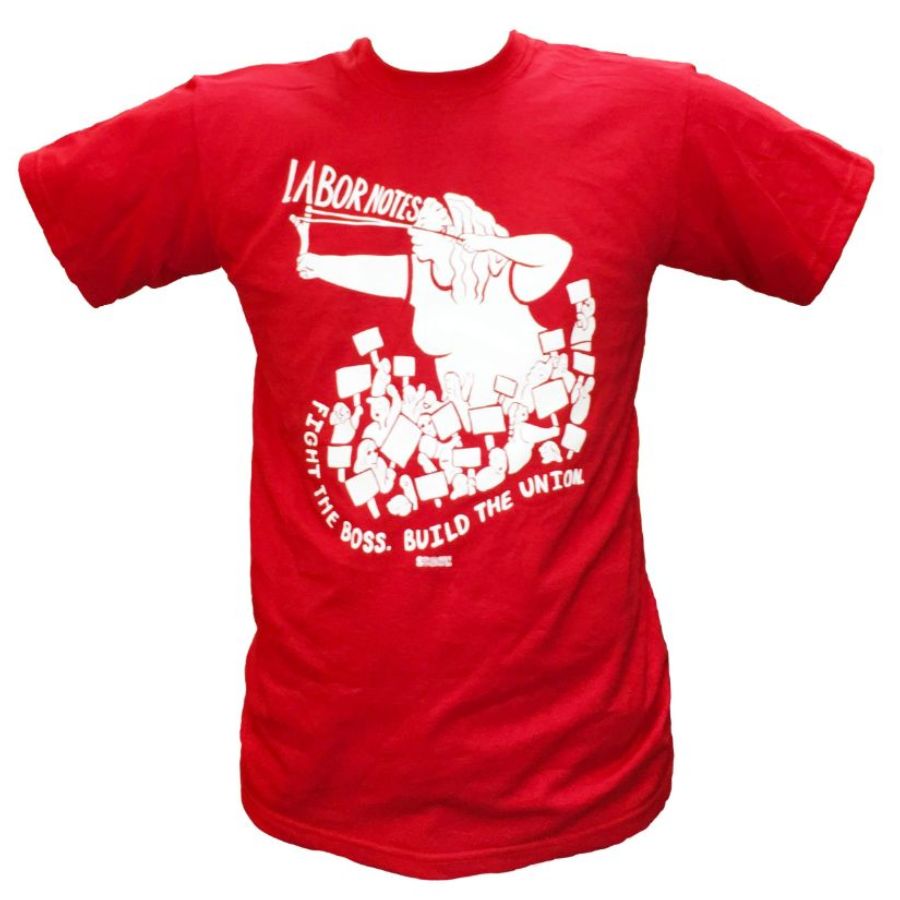 Sure enough, soon the CTC began intimidating the independent union organizers. "When we would go outside the plant, delegates for the CTC would come up to us with their goons, and they would threaten us," Ramon Martinez said.
In one particularly harrowing incident last November—two months after the independent union had won the vote to represent workers—she visited the factory to drop off paperwork about her injury. Members of the CTC confronted her.
"If I didn't stop organizing, they [said] were going to disappear me," she said.
"I told them, 'Well, do it. I'm here already.' And they said, 'No, we're going to do it one by one. But we are going to start with you.'"
LOST FAITH IN THE CTC
Joaquin Guzman, now the general secretary of the independent union, started attending meetings because of the respect he had for Mendoza. When the union establishment was complicit with grueling working conditions and measly pay, an honest shop steward stood out.
"We work six days a week, eight hours a day, and depending on your level you make roughly 264 pesos ($14) a day," Guzman said.
When the company targeted Mendoza, "something ignited in me," he said. "Why was the company behaving like this? I was a very passive person before. I never had the interest to know my rights. But I began to speak more and more with my co-workers and ask to see our collective bargaining agreement." Many workers had never seen the contract before—a common situation in Mexico.
The CTC eventually gave in to their demands to see the collective bargaining agreement. "They only began sharing the contract after we were organizing our independent union," said Jose Alfredo Mendoza Castro, who has been with the company for 25 years and saw the contract for the first time in 2021. "But it was too late. Workers had lost faith in the CTC."
NEW REFORMS KEY
They had also lost their fear—though the CTC's threats escalated. "They'd show up when we were outside the plant passing out leaflets and they'd threaten us over WhatsApp and Facebook Messenger," Guzman said. A typical message read: "Stop your f***ing shit or things will end badly for you."
In spite of the intimidation, workers voted to ditch the CTC and join an independent union.
Roberto Gonzalez Diaz, a 14-year veteran at the company, credits new labor reforms from the government of President Andres Manuel Lopez Obrador and the U.S.-Mexico-Canada trade agreement.
Those reforms, the product of decades of struggle by Mexican labor activists, are meant to give workers the ability to democratically choose their own unions and have a say over their contracts. Prior to the reforms, the Mexican Secretary of Labor estimated that 85 percent of the country's collective bargaining agreements were signed with no input from workers, who often didn't even know they had a contract.
The last time workers at this plant tried to form a new union, they got fired once the CTC and the employer found out, Gonzalez Diaz said. Their ability to keep the organizing under wraps helped this time—but so did being recognized by the newly formed Federal and Local Center for Conciliation and Labour Registry.
NEGOTIATIONS
Now the new union is in negotiations. The 12-member bargaining committee is hopeful it can win a new contract that will improve conditions and compensation at the plant.
Reflecting the plant's workforce, half the committee members are men and half are women—"it's written in their bylaws," said Teresa Velasquez, an organizer with the Worker Support Center of Puebla (CAT). She and two other organizers from the CAT have lent important support to the Saint Gobain campaign, including leading a know your rights workshop and helping pass out leaflets.
In comparison to other elections CAT has supported, this one was incredibly aggressive, Velasquez said. "The police, national guard, and military are often present during elections here in Mexico," she said. "We believe it's because the government is well aware of how violent the CTC can be."
The new union already has made a massive improvement in the plant, organizers say. "Workers send us messages on WhatsApp to let us know when they're having issues at work," said Diaz. Her co-workers come up to her to let her know they haven't been paid correctly. She hands them her number and tells them to WhatsApp her.
This past month, Saint Gobain doubled the profit-sharing bonus that workers get, bringing it up to 14,000 pesos ($744).
Employers in Mexico are required to engage in profit-sharing based on a formula set by the government. Companies are supposed to reallocate about 10 percent of profits among all the workers.
Previously "they paid us 6,000 pesos ($319) a year in profit-sharing bonuses [utilidades]," Diaz said, "while other smaller national companies pay three times that amount."
Guzman urges other workers who have company unions to "become encouraged to do what we accomplished, what SINTTIA accomplished, and what many other independent unions have accomplished, because this is what's best for us.
"It's been proven time and time again that power comes from workers," he said, "so don't be afraid to make the change."