Bay Area Transit Workers Organize for Hazard Pay, Build Toward Contract Campaigns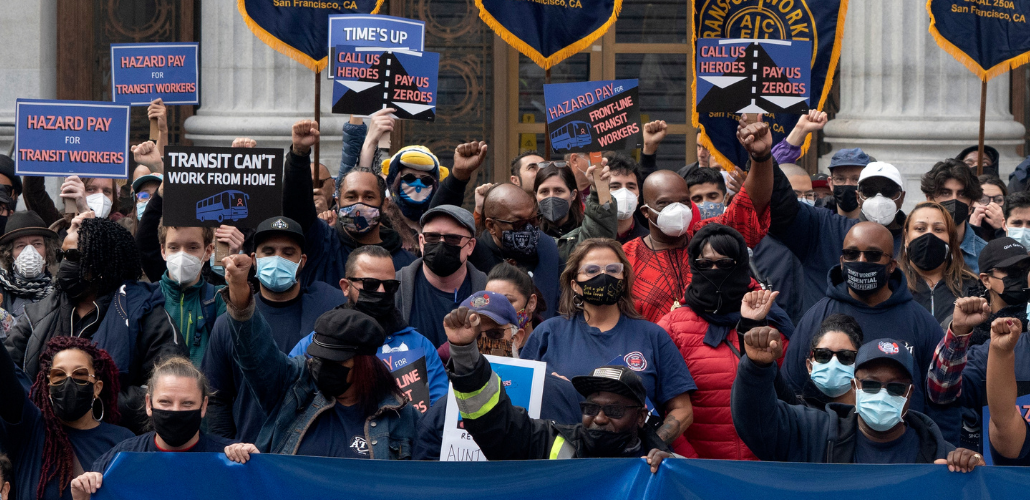 Oakland transit worker Connie McFarland drove home after a long shift last July 28 and logged onto Zoom for a board meeting of her employer, AC Transit. She joined a chorus of 40 workers and riders who held up the start of the agenda with nearly two hours of public comment.
Their demand: hazard pay for frontline transit workers.
Bus operator Sultana Adams, an assistant shop steward with Transit (ATU) Local 192, described the trauma of an assault by a rider who spat in her face. McFarland told the board, "We really would like to have some form of appreciation that's more than lip service."
By coming together around this popular demand, Bay Area transit workers built power across unions in the lead-up to their contract campaigns and fought to improve transit for their riders.
A UNIFYING DEMAND
The demand for hazard pay united Local 192 with Local 265—representing workers at the Santa Clara Valley Transportation Authority (VTA), where nine union members lost their lives last May in a tragic mass shooting—and Transport Workers (TWU) Local 250A, which represents San Francisco transit workers.
"Hazard pay was absolutely the right demand," said bus operator Anne Marie Ruiz, a Local 265 safety steward. "There's a lot of anger out of our rank and file. We're moving the county while management's working from home and not giving us the things that we need to keep ourselves safe."
McFarland agreed: "We haven't been able to get together behind a lot of demands, but this one was uniting." She said every member shared the experience "where somebody in management treated us poorly and put their health and their safety so far above us, and then dismissed our concerns as if they were irrelevant."
The presidents of all three locals had pressed the demand repeatedly since the early days of the pandemic. Union leaders and rank-and-file organizers agreed that a hazard pay campaign in 2021 would serve as a "dress rehearsal" to bulk up their organizing muscles for their contract campaigns in 2022.
At the Local 192 union meeting a few days after the July board meeting, Adams brought a motion to form a Hazard Pay Coalition. Members approved it overwhelmingly.
'HAZARD PAY BY LABOR DAY'
The rank-and-file organizing around this demand was something new. Also new was the solidarity among frontline workers across the three major transit locals, and with the People's Transit Alliance and other rider and community groups. Their rallying cry was, "Hazard pay by Labor Day!"
At first the campaign focused on turning out members to board meetings. "We had brand new drivers and drivers that have been here forever," Ruiz said. "I was so proud to see them out there. I don't think that the board or management at VTA realized how frustrated their employees are."
To engage a wider circle of members, the three locals also circulated petitions that racked up more than 1,500 signatures.
And to take the fight to the public, in September several members of Local 192 joined riders in canvassing other riders at Oakland bus stops. They asked about riders' experiences taking the bus during the pandemic and how they wanted the agency to spend $110 million in federal rescue funds it had received. Riders wanted service restored and fares cut.
Many riders also supported the call for hazard pay—and were shocked to hear that transit workers had not received it already.
Early in the campaign, hopes ran high for a quick victory at AC transit. In July, the board directed the general manager to negotiate hazard pay with the union. The union delivered its proposal, and members hoped for a rapid resolution that would get checks out soon.
But for months, management made no response. That disrespect rankled members, McFarland said: "They knew the board heard it, and they knew that they were just not answering us."
FREE SPEECH ATTACK
Meanwhile in San Jose, the chair of the VTA board floated a proposal in October to limit public comment from membership groups at board meetings. Outraged by the attack on their free speech rights, members of both ATU locals turned out in force, along with riders, to defeat that proposal.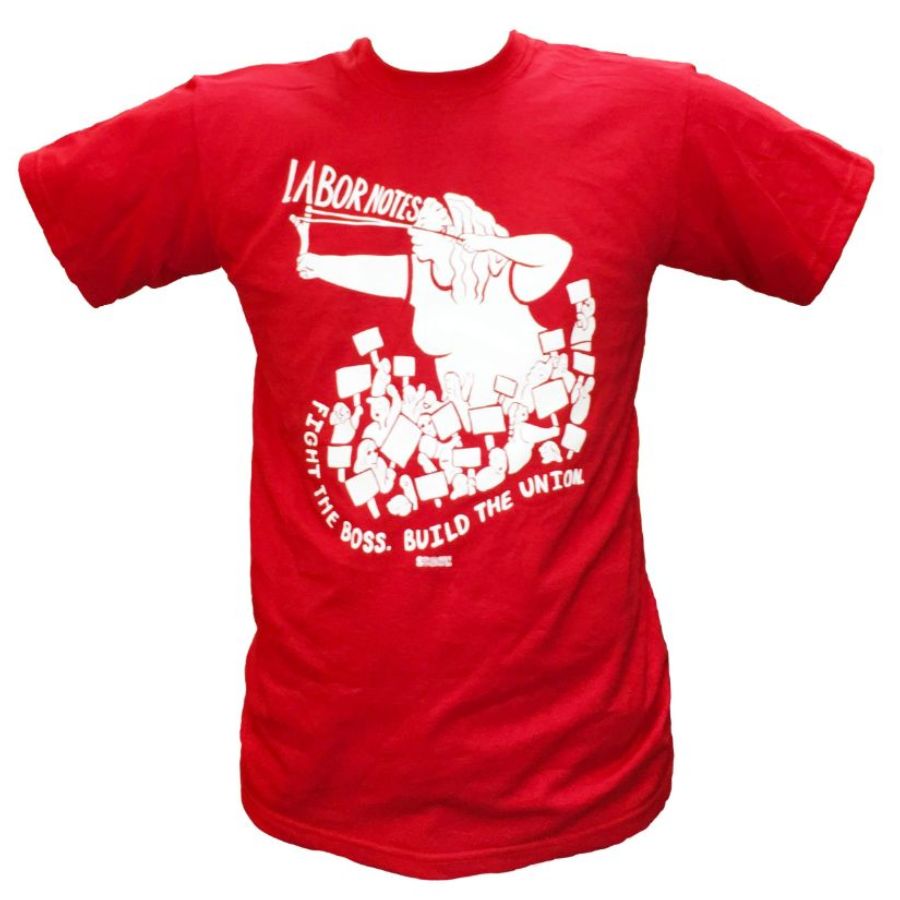 But the episode sparked a tactical debate among the rank-and-file organizers. Was public comment at board meetings creating enough pressure to force a concession from management?
So on October 23, 100 workers, riders, and other supporters gathered for a rally at San Jose city hall. "It's hard to silence us there," bus operator Rachel Garcia Feezel said.
Ruiz was moved by the solidarity reflected in the turnout from the Bay Area's three largest transit unions and the support from passersby: "People are driving by and horns are honking and people had their fists out the window. It was overwhelming." Afterwards the workers left behind posters on the building, expressing why they deserved hazard pay.
The rally had an immediate impact. Beforehand, VTA (unlike AC Transit) was not even negotiating. Press coverage of the rally forced VTA management to tell reporters that it was "actively engaging" with unions "to reach agreement regarding additional pay."
THE SPIRIT OF '46
Inspired by the San Jose rally, and still waiting for an offer from management, AC Transit workers began planning a rally of their own.
The Oakland rally took place on December 4, the 75th anniversary of the 1946 general strike, when 100,000 workers walked off their jobs. Yvonne Williams, a retired operator and former Local 192 president, reminded the crowd how that strike began: an ATU Local 192 streetcar operator refused to cross the picket line of striking department store workers, blocking traffic in the heart of downtown Oakland.
Turnout at this second rally was twice as large as the first. More than 200 people attended, from transit locals, other unions, and community and rider groups.
"So many people came out who normally I don't think would have," McFarland said. "The rallies energized us, and when you have energy flowing, it encourages more people to speak up and be active."
Union leaders spoke, but so did rank-and-file bus operators and mechanics. Troy Blake, a service worker of two years, told the crowd, "It just feels like we're back in Montgomery for the bus boycott." Management, he said, has "been at home the entire pandemic, and I've been out here cleaning these buses, worrying that I'm going to take something home to my family."
'THAT EUREKA MOMENT'
The rallies increased the pressure on management.
In San Jose, VTA management proposed a $3,500 "appreciation bonus" as part of a contract proposal that also included a 10 percent raise over three years. Negotiations over the new contract were not slated to begin for several months. Local 265 members ratified the proposal by a 3 to 1 vote on January 5.
VTA's early action made it the first Bay Area transit agency to put an offer of hard cash on the table, even if it wasn't explicitly called hazard pay. Ruiz attributes this to the increased militancy: "In the drivers' room, we're right there next to the office," she said, where managers can overhear workers saying, "Well, they don't give us what we want, we'll just walk, we'll strike."
And at AC Transit, a few days after the Oakland rally, dozens of workers and riders again lambasted the board over management's failure even to respond to the hazard pay proposal. The scales tipped. The staff report for the January 26 board meeting states: "$5.0 million has been added to [the budget] for appreciation pay."
Rank-and-file organizers emphasize the power they have built internally. Activities like canvassing riders showed workers that "people do support us and appreciate us, and value what we contribute daily to our communities," Adams said. Those experiences, she said, gave workers "that eureka moment of how powerful you have the potential to be."
"Members are gravitating to us since the rally," said bus operator Jimanette James, one of the shop stewards who helped organize the Oakland rally. "If the conversation is good, they are going to join in."
The rank-and-file organizers and newly engaged members are now looking ahead to flexing their muscle in Covid safety fights and contract campaigns in 2022. "Our goal is fair pay," McFarland said. "Our goal is fair treatment. And our goal is good service for our passengers. And more often than not, the people who are making the decisions are not riding the buses. So they've lost touch with the average person."
Elana Kessler is an organizer with People's Transit Alliance, a project of East Bay Democratic Socialists of America. Richard Marcantonio is managing attorney at Public Advocates Inc., a nonprofit civil rights and economic justice advocacy organization.