Workers at Cambodia's Biggest Casino Strike and Win Higher Wages and Reinstatement of Union President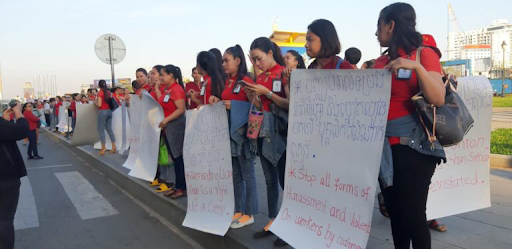 Sithar Chhim had checked every potential meeting room in downtown Phnom Penh, the capital city of Cambodia. Nobody would rent the president of the NagaWorld Casino Workers Union the room her union desperately needed to hold their strike vote with their 4,000 members.
NagaWorld Casino ownership, which had recently fired Chhim for leading a campaign for a wage increase, is so formidable a political and economic force in the city that no hotel or event hall wanted anything to do with the union's strike planning. NagaWorld is Cambodia's largest hotel and casino, and holds a monopoly-license on gaming anywhere within 200 kilometers of Phnom Penh for the next 25 years. Moreover, meeting in a public space in Cambodia was not an option, with the government almost certain to immediately shut down and disband any assembly.
This was just one of the many challenges facing the NagaWorld workers, and yet Chhim and 5,000 of her coworkers went on to wage a successful two-day strike that won huge wage increases and her reinstatement. In a country where any activism often faces severe repression, and against a remarkably powerful employer, the strike at the NagaWorld Casino ultimately brought casino ownership to its knees.
DAVID VS. GOLIATH
Led by billionaire CEO Chen Lip Keong, Malaysia-based NagaCorp counted a revenue of $1.8 billion at the NagaWorld casino in 2019 alone. Yet while the casino made windfall profits—$571.8 million in 2019—housekeepers there were paid a mere $191 per month. NagaWorld workers decided it was time to push for a raise. At a mass membership meeting, union members voted to demand monthly wages be increased to $500 for gaming workers and $300 for hotel workers.
This decision came at a time when union actions are exceptionally difficult in Cambodia. A wildcat strike wave in 2013, based largely in the country's garment sector, led to the formation of hundreds of new unions. But in response, employers heightened the intensity and sophistication of their union busting, while the government developed legal mechanisms for labor "dispute resolution" to channel workers' unrest into less disruptive—and often fruitless—avenues. Fear of retaliation is high, with discrimination and dismissal of union leaders rampant, and workers widely complain of long delays and employer-bias from the governmental Arbitration Council. This one-two punch smothered much of the Cambodian labor movement to a point where strikes and worker victories are now relatively rare.
This pattern of widespread wildcat strikes followed by government co-optation and employer repression is familiar in Asia, with similar patterns recently witnessed in countries such as Bangladesh and Thailand.
There also exist significant differences between Cambodian union structures and American unions which shaped the NagaWorld strike. In general, Cambodian unions are less centralized than American unions. By way of example, the term "union" in the Cambodian labor movement exclusively refers to one workplace-level organization, whereas in the United States it typically refers to the local or the International union and often its staff.
Each organized workplace in Cambodia is its own "union," while any larger grouping of workplace-level unions is referred to as a federation or confederation. What may seem like semantics actually reflects a structure with greater rank-and-file control at the workplace level, harkening back to earlier days of the American labor movement where each workplace often constituted its own "local." Each Cambodian workplace union elects its own executive board, president, and treasurer, writes its own by-laws, and collects its own dues at the workplace (only potentially submitted to a local or federation thereafter).
The NagaWorld union is no different; its leadership works full-time in the casino, it has no staff, and it is not affiliated with any larger Cambodian labor federation. For the union, as the strike loomed and eventually unfolded, this structure meant a significant lack of financial and technical resources—but a strong shop-floor leadership and a highly engaged membership. With 8,000 total employees at the Phnom Penh casino, the union counts 4,000 dues-paying members (Southeast Asia is almost universally "open shop").
'WORKERS SHOULD GROW TOO'
Unlike the U.S. labor movement, most unions in Cambodia do not have a collective bargaining agreement. Without a contract, but determined to fight for raises, the NagaWorld union designed a campaign of escalating workplace actions. Members voted from among several suggestions presented by the leadership to adopt the campaign slogan "Company grows, Workers should grow too," plastering the message everywhere they could—on flyers, social media, and T-shirts.
The campaign kicked off with a mass petition, followed by a series of actions to turn up the heat on management, including a march on management's offices, members' "framing" their Facebook profiles with the union campaign slogan, a mass sick-out on a public holiday, and wearing union-colored facemasks to work. The union held mass membership meetings with its 4,000 members between each action to discuss and to determine the next step.
Over the course of these actions, the union built strength in its historically weaker department, the hotel, and by August had built its membership up to a slim majority of NagaWorld's 8,000 employees for the first time.
In September, the union printed the thousands of T-shirts with the union logo and campaign slogan, purchased in advance by each member, in preparation for a T-shirt day on September 20. But that day, in a move intended to spread fear among the casino workers and halt the union's campaign, management suspended Chhim, the union president, when she attempted to defend a member being interrogated for carrying a T-shirt in her bag.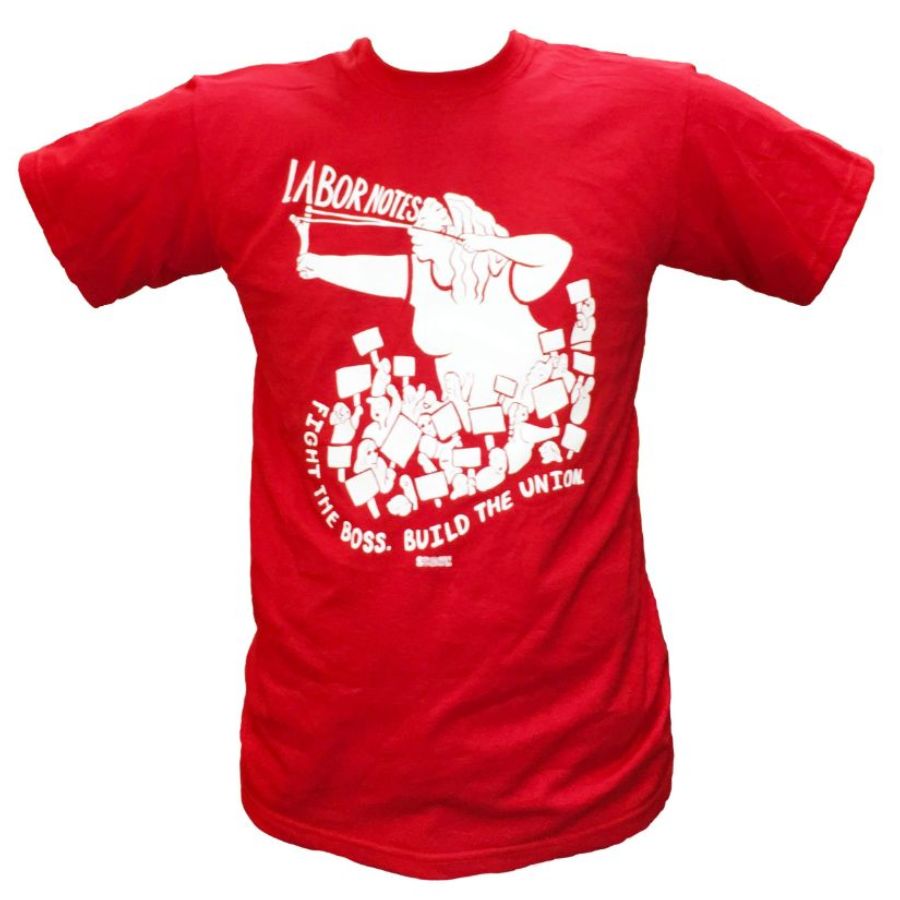 The union filed a complaint using the government's designated labor dispute mechanism, only to be frustrated by the Ministry of Labor's refusal to even send the complaint to arbitration. With letters to the employer requesting negotiations going unanswered, additional workplace actions failing to produce Chhim's reinstatement or wage increases, and all legal avenues proving useless, the union stared down the prospect of a strike.
NO CHOICE BUT TO STRIKE
By nearly all metrics most American unions would use, the NagaWorld union was not in a strong position to win a strike. Facing an employer with mammoth financial and political power, the union had no strike fund, no staff organizers, no staff researchers to develop a "corporate campaign." Yet the union saw no other path to winning the reinstatement of their president, much less winning wage increases. Moreover, "we felt that if we allowed the casino to dismiss our president, it would ultimately be the end of our union," said Chhim.
The union eventually found a space for the most consequential of these mass meetings yet, where members would vote on whether to strike. Forced to settle on a space too small to accommodate the whole membership, the union held several consecutive meetings on December 15. Members voted overwhelmingly to strike, with 2,373 in favor and only 57 against.
Every action has a reaction, and the employer responded forcefully to the strike vote. Casino ownership applied for and received a preemptive court injunction against the potential strike, which ruled the strike illegal on the grounds that the dispute had been designated an individual dispute (of Chhim's) rather than a collective dispute by the Ministry of Labor. Management issued letters to all employees that any workers participating in the strike would be terminated. The company began hiring replacement workers, housing and feeding them on the property, and preventing them from leaving or contacting family outside, according to the union.
The injunction meant the strike would be indisputably illegal, and the Cambodian government is not known for leniency regarding legal or political transgressions—firings were the least of the union's concerns, with imprisonment or physical repression not just possible but expected.
Chhim defiantly led the NagaWorld workers out on strike despite the obstacles. On January 9, the gaming department workers—the union's strongest department, with roughly 2,000 workers—walked out on strike, while the other 6,000 employees continued working. Inspired by and not wanting to abandon their co-workers, however, culinary and housekeeping workers streamed out of the hotel and into the massive rally in front of the casino the following day. Jubilant workers traded speeches as the crowd continued to swell, hitting approximately 5,000 workers, more than the union's total membership.
With most of its operations shut down by the second day of the strike, the casino was bleeding money. Near sundown the government intervened to broker a settlement, offering the workers 30 percent raises, a $200 healthcare stipend, a bonus payment of two months salary, and immediate reinstatement of the union president.
The union put the settlement to a membership vote in the mass assembly at the strike camp, and the members unanimously approved the deal. The power of the striking workers had defeated the powerful casino owners, swiftly and decisively winning what months of pleading and litigating could not.
MASS PARTICIPATION KEY
What the union lacked in a highly manicured strike plan it was able to make up for with its methodical buildup to the strike. Union leaders were systematic in gradually building up mass support for the strike, regularly giving updates on the campaign while actively engaging members by opening up most campaign decisions to mass membership votes. Leadership set an "organization test" for each workplace action to measure their strength as they built up to the strike, recruiting "activists" (the Cambodian term for shop steward) in each department that failed to turn out members to the previous action. Facebook and cell-phone messaging kept casino workers in constant contact with the campaign—but the regular general assemblies attended by thousands of members were where the real organizing, education, and buy-in developed from members.
"We've learned from this campaign that it's very important and powerful to create union actions that involve all members, let members make decisions, and lead all union actions by themselves," said Chhim. "As a result, members were confident and resilient in leading the strike."
In difficult times for many unions around the world, the global labor movement should take inspiration from the NagaWorld workers' struggle. Their victory is a testament to the power of workers, both to move corporations and to run their own unions. The union faced an astonishingly powerful employer with few financial resources, but decided to fight nonetheless and ultimately won resoundingly. Looking back, the union and its leadership are being celebrated for their courage and brilliance, yet leading up to the strike many saw them as reckless. As the NagaWorld workers have shown, if workers are to use their power to win a better world, a required ingredient will be a willingness to boldly take on powerful opponents despite the risks.
Andrew Tillett-Saks is a labor organizer based in Southeast Asia.