Erie Locomotive Plant Workers Strike against Two-Tier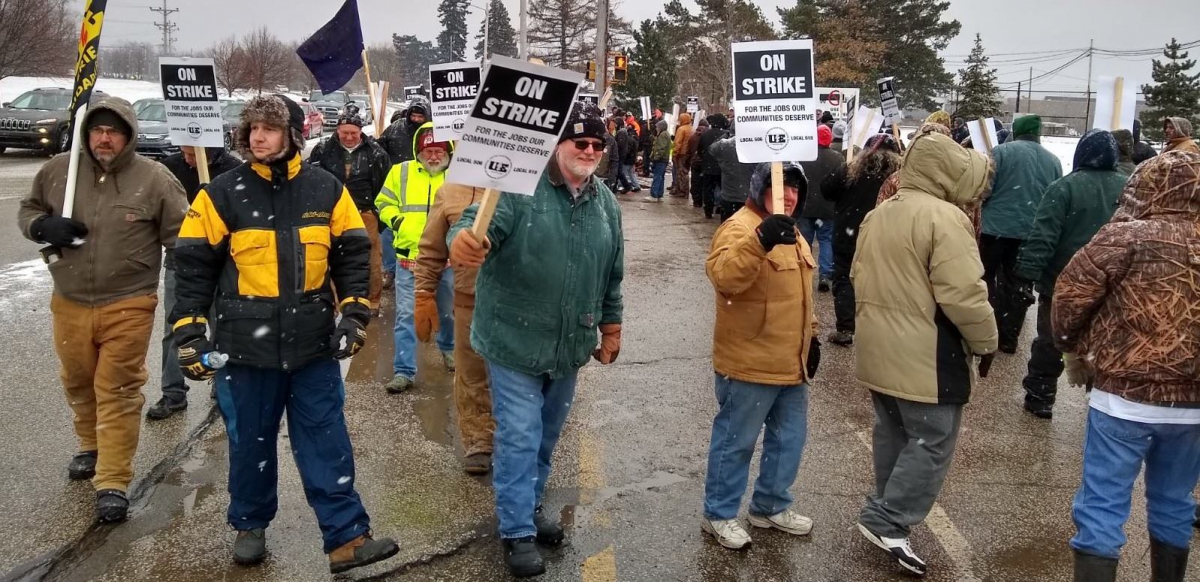 This article has been updated since the original version, first published March 1.
At a sprawling locomotive manufacturing complex a mile long and a mile wide in Erie, Pennsylvania, 1,700 workers struck for nine days and fended off their new employer's efforts to impose a raft of concessions, including two-tier wages.
Temperatures were below freezing. Strikers stood on a dozen picket lines ringing the plant, feeding wood into burn barrels and making life difficult for any non-union employees who tried to drive through the gates.
They won a three-month truce. The union still has a big fight ahead.
The day before the walkout, the former GE Transportation plant formally became a part of Westinghouse Airbrake Technologies (Wabtec), which bought the $4 billion-a-year division from the industrial conglomerate last year.
Since Wabtec kept the same workforce, the Electrical Workers (UE) remains the collective bargaining representative and the company must bargain over a new agreement, though it can implement new terms and conditions to start.
UE proposed keeping the terms of the existing contract in place while negotiating a new one. Wabtec instead announced it would impose two-tier wages, paying new hires and recalled employees up to 38 percent less.
The company would also institute mandatory overtime, reorganize job classifications, and hire temporary workers—with no union and no benefits—for up to 20 percent of the plant's jobs.
The agreement that ended the strike, reached late on March 6, reverses these concessions, at least temporarily. It will remain in effect for 90 days, while the UE and Wabtec attempt to negotiate a new deal.
A FRESH START SPOILED
The UE has fought off similar demands for years, usually accompanied by GE's threats to move production elsewhere. So workers were hopeful about the Wabtec acquisition.
"We all wanted a fresh start with this new company," said assembly line worker Bryan Pietrzak, who has worked at the plant since 2011.
But the new company still has the same people sitting across the negotiating table. In the words of UE President Peter Knowlton, the Wabtec deal was "financial wizardry."
"This is about a company trying to get concessions from a local it has not been able to get concessions from for 20 years," Knowlton told the crowd at a rally in front of Wabtec headquarters outside Pittsburgh. "We're not going to start now just because their name is GE-Wabtec instead of GE."
Back in Erie, a few blocks from the plant, the UE Local 506 hall was decked out with banners proclaiming the union's opposition to two-tier. "Selling out new hires is not negotiating—it is CANNIBALISM," one proclaimed. Another said simply, "One union, one tier."
Almost all the strikers were members of Local 506, one of the biggest locals in the 35,000-member UE. A handful belong to Local 618.
Wages earned at the plant are crucial to Erie's economy. Picket signs said "On Strike for the Jobs Our Communities Deserve," a nod to the "schools our students deserve" slogan popularized by the Chicago teachers.
MANDATORY O.T.
The company's demand for mandatory overtime made workers furious. Already 85 percent of plant employees volunteer for overtime.
"They want to force people to miss church, weddings, Little League games," UE Local 506 President Scott Slawson told 18,000 people at the Bernie Sanders presidential campaign kickoff rally in Brooklyn. Sen. Sanders lent the strikers immediate and outspoken support.
"There's been so many problems with families breaking up because they don't spend enough time with them," said Don Brown, a Local 506 member and a safety coordinator at the plant. "Now they want to cut our wages, too!"
Wabtec also wanted to shift schedules away from a standard Monday-Friday week and to reduce the number of job classifications. The union says reducing job classifications will endanger worker safety by putting employees in functions they are not qualified to do.
It's dangerous work already. On the first day back after the strike, a worker's ear was partially amputated in a plant accident.
GLOBAL LOCOMOTIVE
Inside the plant, highly skilled workers build diesel-electric locomotives to pull freight trains.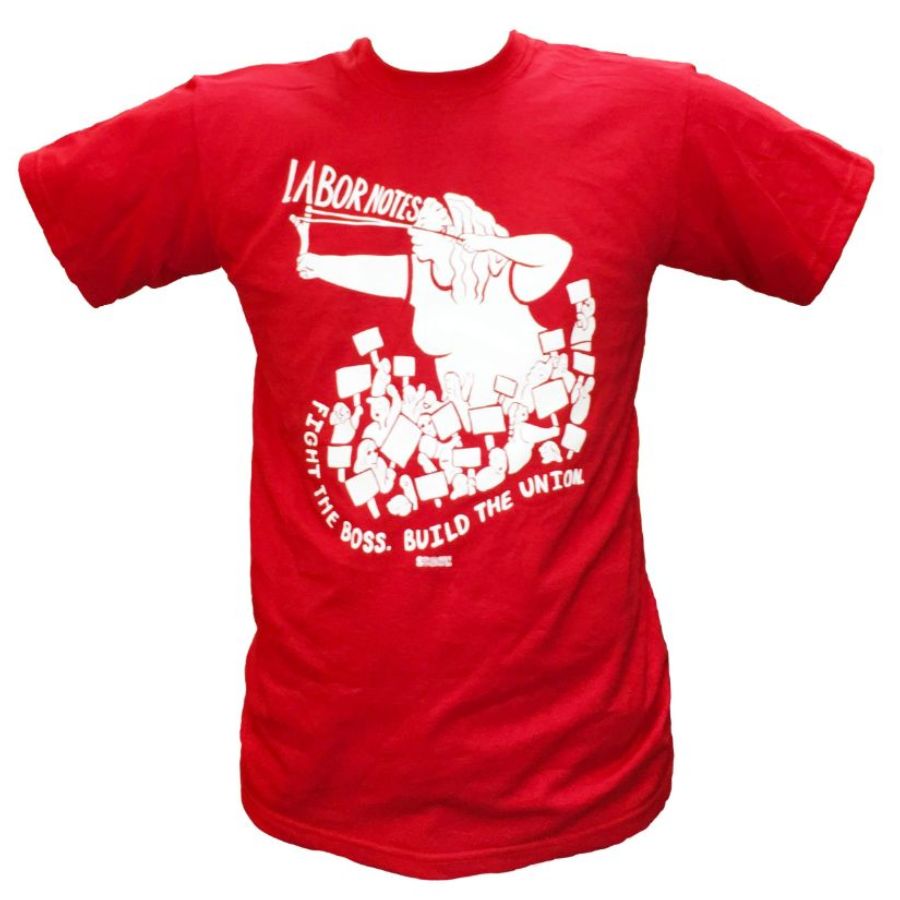 Each locomotive, which the Wall Street Journal describes as "a power plant on rails," sells for millions of dollars. The buyers are domestic or international railroad companies.
The Erie plant had 21,000 workers at its peak. It has long been one of the world's top locomotive production facilities. GE Transportation is the leading producer of freight locomotives in North America and a significant player in the global market.
The industry ebbs and flows with freight demand and the aging of locomotive fleets. Many workers at the Erie plant have weathered long layoffs and eventually been recalled. The jobs they worked in the meantime often paid a fraction of the plant's $35 an hour.
A Century of Erie Strikes
Labor disputes at this plant go back even further than UE. The first mass strike here took place more than a century ago, in 1918. With support from local Machinists (IAM) and Electrical Workers (IBEW) locals, 2,300 workers struck for union recognition and against unfair layoffs, including dismissals over union activity.
In the aftermath of World War II, workers at the plant joined a national strike against GE. Over a million workers from UE, the Auto Workers, and the Steel Workers stayed out for nine weeks, demanding a raise of 25 cents an hour. They won 18.5 cents.
A plant-wide strike in 1969 lasted 102 days, part of a national action against concessions GE was demanding. The workers won increased wages, paid sick leave and personal days for hourly workers, and a restoration of cost-of-living allowances GE had taken away in 1960.
Many picketers this year wore stickers saying "102 days," an homage to 1969. The strike paved the way for further gains in the contracts of the 1970s.
However, GE pushed back by outsourcing more parts production to third-party suppliers or non-union factories in the decades that followed. The factory's foundry was shut down in the early 1980s, and its diesel engine production moved to a non-union GE facility 75 miles away in Grove City, Pennsylvania, where UE Local 601 continues to organize as a non-majority union.
PUSHED AGAINST THE WALL
Wabtec's acquisition prematurely terminated UE's national contract with GE. The Erie locomotive plant was the last covered under this agreement, first negotiated in 1938. Decades of plant closures, relocations, and spinoffs eliminated the others.
Wabtec announced its purchase of GE Transportation last May, but refused to bargain with the union at its biggest facility until January. "They were too busy running around forcing concessionary contracts down the throats of workers at smaller Wabtec facilities around the country," Slawson told the Brooklyn crowd.
Negotiations didn't pick up in earnest until the beginning of February, after the February 25 merger date was finally set.
In the week before the strike, the union met with management multiple times; hoping to reach a short-term agreement. Meanwhile the union escalated its resistance—holding an in-plant march on Wednesday, a mass membership meeting on Thursday, a practice picket on Friday, and a strike authorization vote on Saturday.
But after negotiations late into Monday night failed to produce a deal, workers walked out at 5 a.m. on Tuesday, February 26.
"You push somebody against the wall, they're going to come back fighting," said Brown. "They ain't giving us a choice."
KEEP JOBS IN ERIE
GE announced in 2011 that it was opening a new, non-union locomotive manufacturing facility in Fort Worth, Texas, ostensibly for overflow work.
The million-square-foot factory opened in January 2013. By April of that year, GE had announced it was cutting 950 jobs in Erie to move production to Fort Worth, prompting protest walkouts.
In 2017 the company announced it would transfer all locomotive production to Fort Worth, eliminating another 572 jobs. The Erie plant would be left to produce prototypes and components.
Those plans stumbled, however. The union says quality suffered as the company struggled to recruit and retain skilled workers in the low-wage Texas plant.
Meanwhile the demand for locomotives picked up. More work is now being sent back to the Erie plant. Hundreds of workers were recalled over the past year, and the plant continues to make locomotives.
Pietrzak, who was among hundreds laid off in 2016, was recalled in October. He hit the picket lines to fight for the plant's future.
"It's not about money," he said. "It's about having my son or daughter, or your son or daughter, standing next to me doing the same work, making 30 percent less."