Federal Workers: Shutdown and Out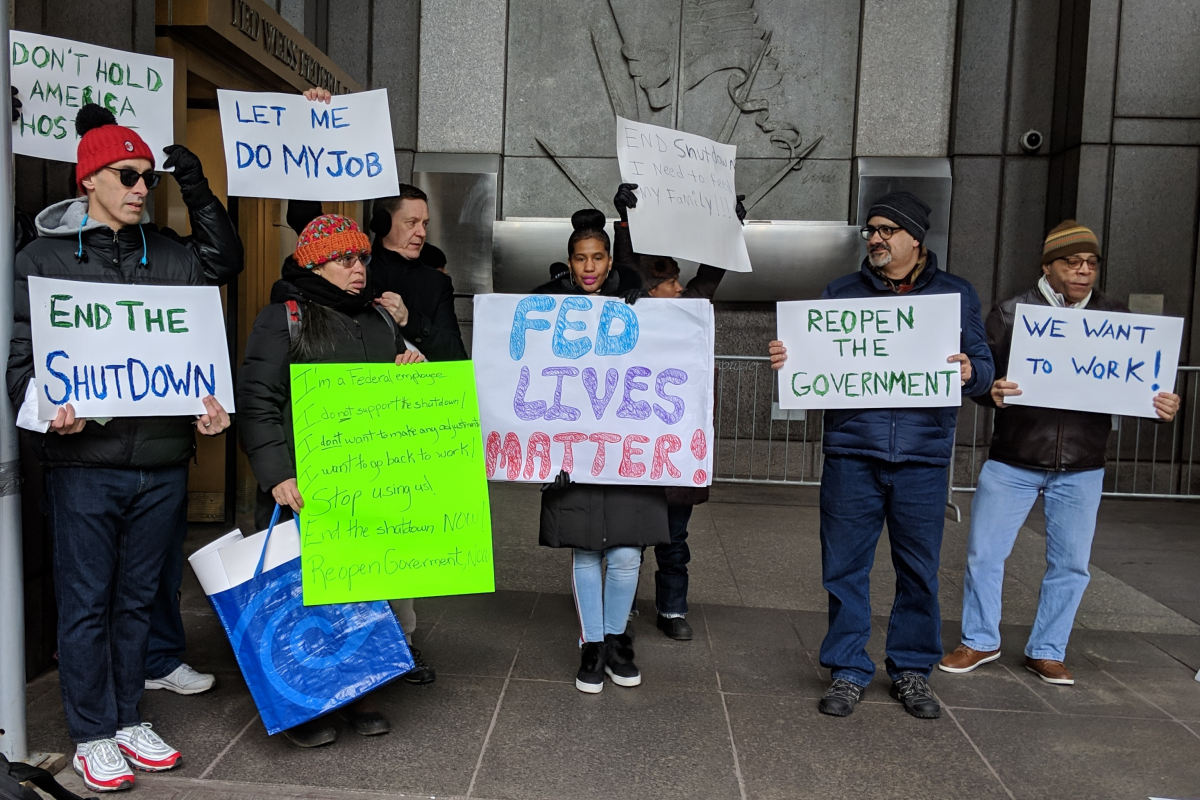 What would you do if management could force you to work without pay, lock you out with no consequences, and fire you for going on strike?
That's the situation facing 800,000 federal workers—and their unions—during the longest government shutdown in U.S. history.
Forty percent of the government's civilian workforce besides postal workers are being deprived of money to pay for rent, gas, groceries, and car and student loan payments.
They include 420,000 workers who are being forced to work without pay and 380,000 who are locked out.
The shutdown is the result of President Trump's demand that Congress fund an anti-immigrant wall along the U.S.-Mexico border. Democrats in Congress are refusing to go along with the idea.
Transportation Security Administration agents are among those being forced to work without pay because their work is deemed essential. Others include prison guards, air traffic controllers, and the Coast Guard.
Most of her co-workers are "really frustrated," said TSA officer Kelly Eads of Government Employees (AFGE) Local 1230 in northern California. "Morale is really low. A lot of officers can't or don't want to come to work."
The non-essential workers who are locked out on furlough include most employees of the Environmental Protection Agency, the National Parks Service, and the Small Business Administration, among many others.
"We have a lot of members that are two-income federal households," said Ashby Crowder, president of AFGE Local 2578. "It's tough for all of us, but it's really tough for them." His local represents locked-out National Archives workers.
The administration has attacked federal unions relentlessly over the past two years.
Last May, Trump issued three executive orders that made it easier to fire federal workers, reduced the amount of official time available to union representatives, and limited the scope and length of collective bargaining. However, the key provisions of these orders were struck down in court.
More recently, Trump froze civilian federal workers' pay for 2019.
NO CUSHION
Seventy-eight percent of Americans live paycheck to paycheck, according to a 2017 CareerBuilder report.
Federal workers are no exception, and they are suffering. Some are selling their plasma, working second jobs as Uber and Lyft drivers, or calling out sick because they can't afford to put gas in their cars. One was rationing insulin she needs to treat her diabetes.
Black workers, who make up 18 percent of the federal workforce, have been disproportionately affected. Given the racial wealth gap, they often have less of a cushion to rely on.
Eads said many TSA officers can't find second jobs due to the odd hours they're forced to work. Even when they're getting paid, TSA officers are among the lowest-paid government employees. In some places their starting salary is as low as $23,000 a year.
The situation is even worse for employees of federal contractors, like janitors and cafeteria servers in federal buildings. They are less likely to receive back pay once the shutdown ends and, unlike federal workers, have no guarantee of keeping their health insurance.
The public has not been spared from the impact. Environmental Protection Agency inspections have ground to a halt. Food stamp recipients have been warned by states to budget their February benefits in case the shutdown goes on. Low-income residents are fearing eviction if government rental assistance payments are cut off.
HAMSTRUNG BY LAW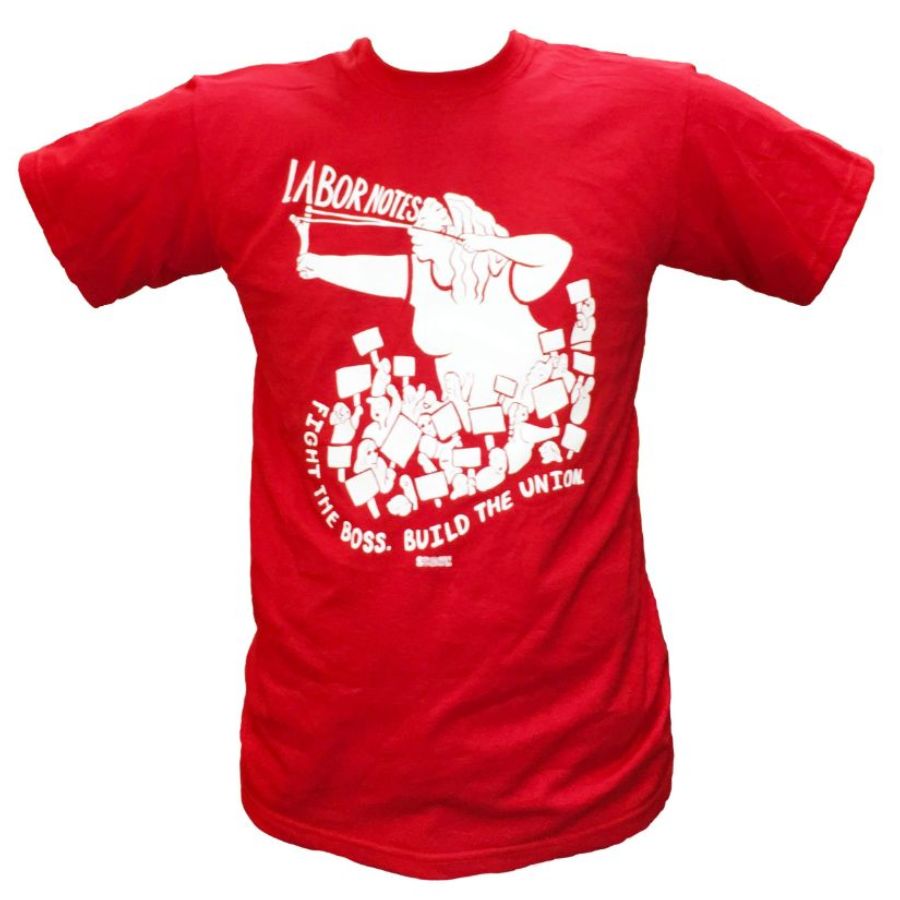 The two biggest unions of federal workers have filed lawsuits against the government for forcing employees to work without pay.
AFGE represents 670,000 federal workers. The Treasury Employees (NTEU) represents 150,000.
Thousands joined a January 10 demonstration in Washington, D.C., backed by the two unions, 31 others, and the AFL-CIO.
Some sympathetic observers have called for more militant action. Most prominently, in the New York Times, author Barbara Ehrenreich and former organizer Gary Stevenson called for affected federal workers to strike.
Federal unions are legally prohibited from advocating a strike against the federal government. The specter of a mass firing, as Reagan did to striking air traffic controllers in 1981, always looms large.
But Joseph McCartin, the foremost historian of the public sector labor movement, suggested in the American Prospect that unpaid federal workers might use a tactic with a long history among public sector workers: spontaneous sickouts.
SICK OF UNPAID WORK
Some workers have begun taking such initiatives. Uncoordinated sickouts by TSA officers forced Miami and Houston's biggest airports to shut one terminal each over the weekend.
TSA officials initially claimed the number of workers calling in sick was only slightly more than normal. That's not the report we got from local agents.
On some days last week the rate of sick calls at northern California airports was three times as high as normal, according to TSA officer Gilbert Galam, the secretary of AFGE Local 1230.
By January 14, the TSA itself was conceding that the national rate of sick calls was three times as high as the same day a year ago.
Crowder and nine of his co-workers from the National Archives staged a small protest alongside a major thoroughfare in College Park, Maryland on January 4, in the second week of the lockout.
"We're not just going to sit at home," said Crowder.
Similar rallies have taken place in St. Louis, Boston, Tallahassee, Philadelphia, and New York.
Fifteen workers and supporters picketed outside a federal building in lower Manhattan on the frigid morning of January 10, chanting "Feds wanna work" and "Yes work, no wall."
Some of the picketers weren't directly affected by the shutdown, but came to show solidarity.
"Tomorrow it could be us," said Franco DiCroce, president of Professional and Technical Employees (IFPTE) Local 98 and a project manager at the Army Corps of Engineers, a federal agency that's currently fully funded. Large chunks of the government have already been funded for 2019 through prior legislation.
January 11 marked the first full missed paycheck for most affected federal workers. Galam thought that members would be more fired up to rally after going without pay for the first time since the government began its shutdown on December 22, 2018.
The last time the government shut down for more than two weeks was in 2013, when it did so for 16 days.