Viewpoints: Building Trades Activists Argue for a Different Approach to Trump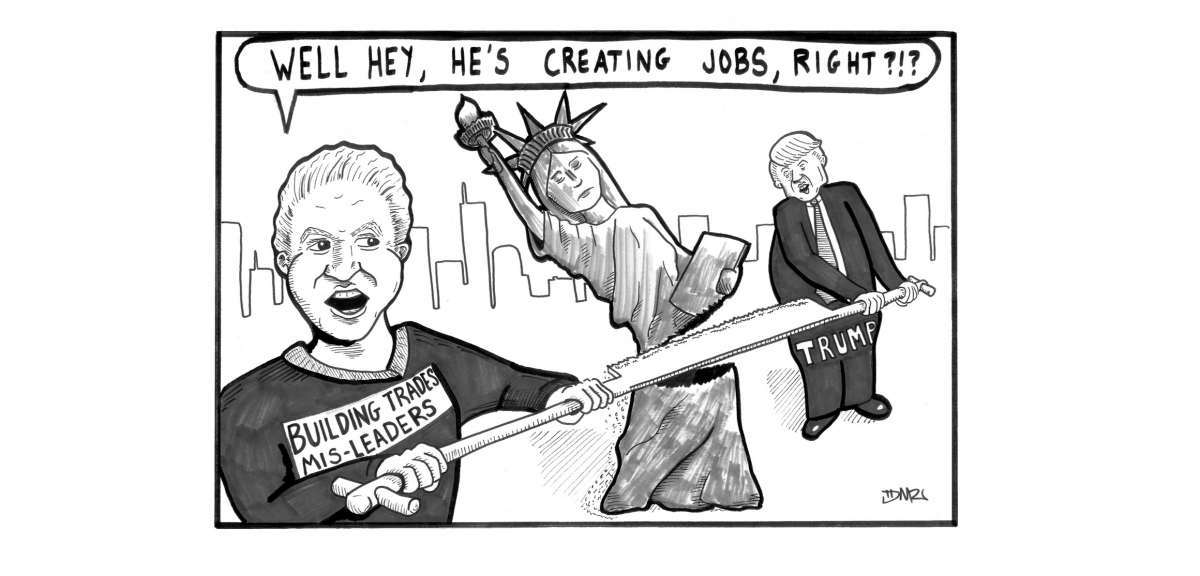 After national leaders of the Building Trades unions met with President Donald Trump January 25 and heaped praise on him, two readers sent in their thoughts. One is a local assistant business manager, the other a retired communications staffer for the Electrical Workers (IBEW). Here are excerpts from both. –Editors.
Fawning over Trump Shuts Out Our Movement's Future
by Len Shindel
Surrounded by key union leaders, Trump was relaxed and smooth. He thanked the Sheet Metal Workers for their work on his hotel down the street—even as an electrical contractor was suing his company after allegedly getting stiffed on the job.
Union leaders clapped when Trump announced he was trashing the Trans-Pacific Partnership. Trump said their members would soon be needed to complete a load of new projects as he terminated the "disastrous" trade policies that had sent jobs out of the country.
He assured them they would be building new Ford plants and pharmaceutical manufacturing facilities for companies like Johnson and Johnson. The union leaders said they also asked Trump to move ahead, despite widespread protests, on the Keystone XL Pipeline and the Dakota Access Pipeline.
NO PROMISES ON WAGES
Sean McGarvey, president of the national Building Trades, asked whether the new administration would continue provisions of the Davis-Bacon Act protecting wages for construction workers on federal projects. Nonunion contractors had sent a letter asking the president to set the law aside.
Trump said he "knew a lot" about Davis-Bacon, but he made no commitment.
Nonetheless, as participants got up to leave, Carpenters President Doug McCarron said he had one more message for the president. He gushed over Trump's inaugural address, calling it a "great moment for working men and women in the United States."
Trump's Counselor Kellyanne Conway and Press Secretary Sean Spicer, sitting directly behind the president, beamed like newlyweds on a honeymoon who just rolled out of the sack to find they had hit the lottery.
Afterwards a union press release crowed, "In politics, there are people of words, and people of deeds. North America's Building Trades Unions are grateful that President Trump is a man who puts actions behind his words."
BALANCING ACT
I don't pretend for one minute that any labor leader's job is easy, especially after the defection of so many union members to a Republican Party that has never buried its animosity toward unions.
Trump brilliantly exploited the Democratic Party's support for neoliberal trade policies like NAFTA and the TPP. He drove the stake in deep. And since the election he has hired Robert Lighthizer, who previously worked with AFL-CIO economists seeking to strengthen the Obama administration's trade negotiations.
But fawning over Trump's lip service to trade and infrastructure mimics the Democratic Party's failings on those issues—the illusion that by treating your adversaries well, you can bend them to your agenda. Rumor had it that Laborers (LIUNA) President Terry O'Sullivan, who was also in the White House meeting, was even worried about members wearing their orange union T-shirts to the Women's March on Washington.
UNDERMINING LOCAL ACTIVISTS
When McGarvey, claiming to speak for all the trades, kowtows to a president who launched his political career attacking the legitimacy of the nation's first Black president and stereotyping Hispanics as "rapists and murderers," he undermines the work and morale of dedicated activists and potential members who represent the future of the U.S. labor movement.
My anger over this stuff has turned to sadness. Thirteen years ago, after 30 years as a Steelworkers activist and local union leader, I went to work for the IBEW as a communications specialist in the union's Washington, D.C., headquarters.
I marveled at how strongly members identified with their trade and their union. But I also learned that this pride sometimes came with the evil twins of nepotism and exclusivity. So I gained even greater respect for the courageous IBEW activists and leaders who were working to build a more diverse and inclusive union.
I was honored to write stories about former gang members in South Central L.A. who joined the building trades, transforming their lives and contributing to their communities. I took pride in reporting how apprenticeship instructors were teaching principles of solidarity and fairness.
And while I had deep differences with the IBEW on fossil fuel policy, I took heart in the work of local unions that promoted jobs and training in renewable energy—working with, not against, environmental advocates.
WRONG MESSAGE
Such forward-looking activists are found not only in the IBEW. They exist within O'Sullivan's LIUNA and McCarron's Carpenters too. Members of both unions have worked to reach out to recruit tomorrow's workforce and mentor new leaders, including large numbers of Latino workers.
In fact, McCarron built his reputation supporting Latino drywall installers in his native California who organized to join the Carpenters. There is so much fertile ground to increase the building trades' density in previously ignored or excluded sectors.
We need a critical reassessment of the Building Trades' message and strategy toward the new administration. But that will require a struggle by other courageous leaders and activists in the trades. Sometimes internal polarization is necessary for a movement to win.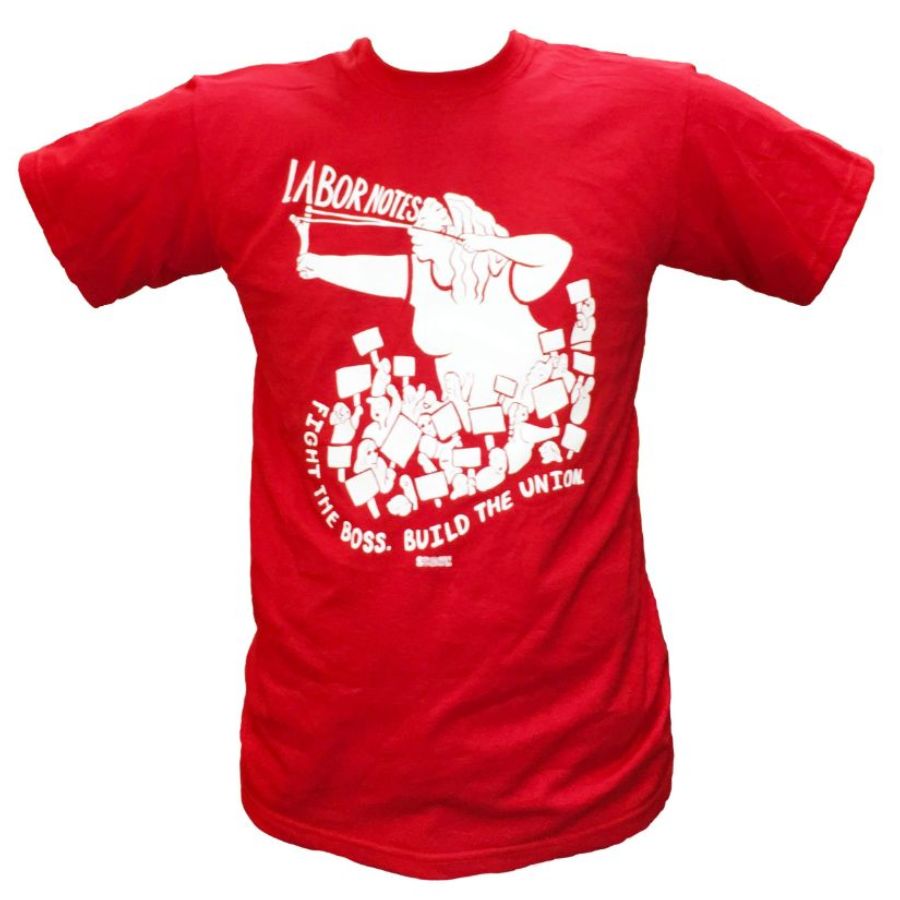 Len Shindel recently retired as a communications staffer in the IBEW's international office.
---
Brothers and Sisters, It's Time to Fight
by Kevin Norton
The speed of events since Trump's inauguration has made my head spin. The administration's absolute onslaught against women, environmentalists, Muslims, immigrants, and the government itself began on day one. So I was a little shocked to see some of the building trades union leadership meet so happily with our nation's first orange president.
"We have a common bond with the president," Building Trades President Sean McGarvey said. "We come from the same industry. He understands the value of driving development, moving people to the middle class." McGarvey also commented that President Obama had never met with the trades.
Some enthusiastic Trump supporters have lit up my Facebook page with stories about how he is going to "Make America Great Again." One wrote, "I was told Trump was anti-union... Being an informed voter, I knew it was hogwash... here's the proof." He left a link to an article about the new president's meeting with the union leaders.
WE NEED FRIENDS, BUT…
We need to have an honest dialogue about Trump. I was brought up to respect women and treat people as you would like to be treated. Work hard, give eight hours' work for eight hours' pay.
Trump has never worked on a construction site. He's a billionaire playboy, not a union brother. He has made his fortune in part by not paying hardworking contractors after the job was finished. He has always preyed on people who don't have the resources to fight back.
I've been involved in my union ever since I was fired for participating in an organizing drive in Boston in 1988. My dad and brother are in the trades too. Most of my closest friends are involved in the labor movement.
In the many local, state, and federal campaigns I've been involved in, our unions have always worked with coalition partners—environmentalists, LGBTQ organizations, worker centers, community organizations, civil rights organizations, and even business groups when we had a common goal.
When you build things for a living, you find yourself in coalition with developers and energy companies. This makes some of our environmental friends uncomfortable—just like our friendship with environmentalists makes some of our business allies uncomfortable. But given the state of the labor movement, we need friends, even friends we sometimes disagree with.
So I understand the need to work across party lines and with businesses to keep the brothers and sisters of the trades working. What troubles me is the attitude that "we can work with this guy."
HE'S NO FRIEND OF OURS
This guy who builds with non-union crews wherever he can, who stiffs union contractors, who fights workers organizing at his hotels, and who supports right-to-work legislation which will kill some unions and hobble the ones that are left. This anti-immigrant guy who hired undocumented workers for his projects and has been sued for stiffing them on their pay.
If he steals from contractors, why wouldn't he screw you?
There is no benefit to working with someone who has already pledged to destroy you. Trump's administration and the Republican Congress seem intent on killing the union movement and damn near every bit of progress that has been made in the last 60 years. He nominated Betsy DeVos, a horrendous anti-teacher advocate, to run the Department of Education. He nominated the anti-union CEO of Carl's Jr. to run the Department of Labor.
My dad taught me, "When someone says they are going to punch you, believe them—don't wait for them to do it." The guy won't even commit to support the prevailing wage rate or project labor agreements—at a meeting where he is asking unions to fund his infrastructure projects with our pension money.
FEET TO THE FIRE
Trump supporters, you have a role to play in keeping him honest. Send him a letter (or a Tweet) about how important your union job is. Tell him that if he supports the middle class, he will support the organizations that created the middle class.
Act like the place that puts food on your table is as important as the gun that you have in your closet. You're right to be upset when someone wants to attack the Second Amendment. I'm asking you to get just as pissed off about Trump trying to kill your union, apprenticeship, trade, and livelihood.
Ask your Republican congressman to support your freedom to support a union. Tell them they can pry your union from your cold dead hands. Then get back to me with the result.
Another thing my dad would say is, "The guy that throws the first punch wins the fight." Brothers and sisters, it's time to fight—in support of women, immigrants, Muslims, environmentalists, teachers, and our whole labor movement.
Kevin Norton is an assistant business manager in Los Angeles IBEW Local 11.