Postal Workers Stare Down Canada Post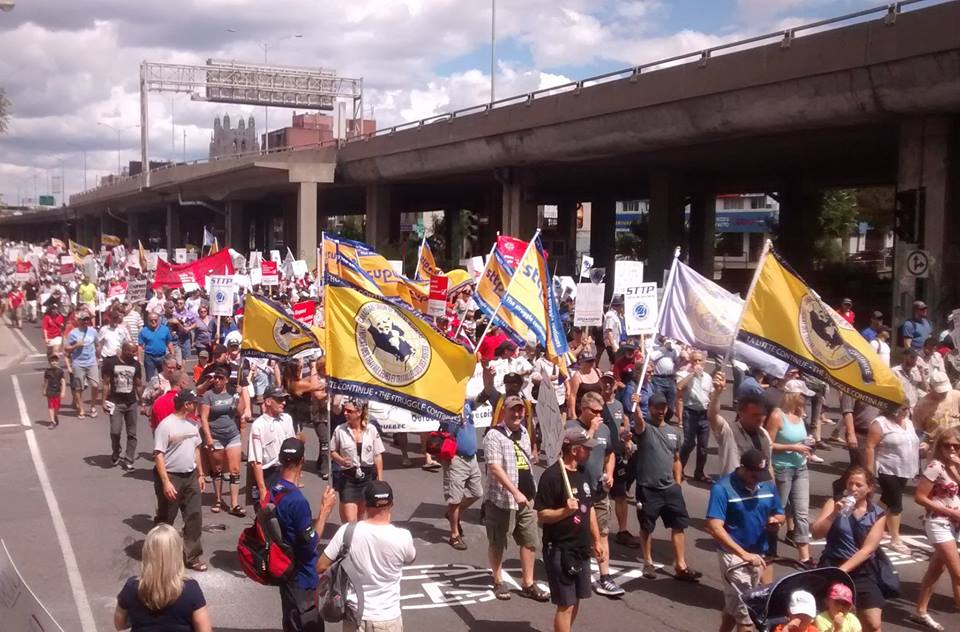 After staving off a lockout threat last month, 50,000 Canadian postal workers are turning up the heat with public demonstrations and creative actions at work.
Canada Post has been playing hardball in this year's contract showdown. The company set the stage for a lockout by warning customers of potential disruptions to services. Mail volumes dropped.
"They intended on locking us out, or us walking out, from the get-go," said Dave Bleakney, a national officer of the Canadian Union of Postal Workers (CUPW).
But the union has kept two steps ahead—and with its multifaceted contract campaign, so far it's out-maneuvering Canada Post.
After giving 72-hour notice July 5 of a lockout, the employer backed down. The notice was extended three days, then withdrawn altogether. Canada Post returned to the bargaining table.
TURNING UP THE PRESSURE
With still no movement on the big issues of pay equity and pensions, though, the union is increasing the pressure again.
A thousand postal workers and allies marched to Prime Minister Justin Trudeau's constituency office in Montreal on August 6, calling on the new Liberal government to intervene in negotiations.
"There is a real discrepancy between Liberal promises and the actions of post office management," said CUPW National President Mike Palecek in a press release. "Canada Post is sticking to a Harper-era plan that needs to go."
Locals have also been stepping up workplace mobilizing. Members at Local 856 in Winnipeg, Manitoba, are having a blast coming up with creative ideas.
Last week all the members at one depot blew whistles and banged cowbells every 10 minutes. "Someone would say 'Three, two, one… go!' and everyone would have whistles going," said local Vice President Basia Sokal, "and people who don't think the whistles are loud enough are banging plastic trays on the desk.
"The regional manager just stands in the aisle and looks and looks."
In another recurring action, members out on delivery meet on their coffee break and drive across a bridge together, honking their horns. "We get to a red light and people say, 'Do you have a contract yet?"' Sokal said. "It's the perfect opportunity to engage the public."
"They had no idea we were this strong," Bleakney said. "We want to continue delivering to the Canadian public, and you want to shut it down."
POSTAL BANKING AND PAY EQUITY
CUPW got a huge strike mandate in votes across the country. Yet the union has kept its focus on expanding services and not disrupting mail delivery. "It's really making it about the public interest, not greedy postal workers," Sokal said.
Though Canada Post still consistently generates annual profits, it bemoans a decline in traditional letter mail. CUPW is proposing that the company generate new revenue by reviving postal banking—using post offices to bring banking services to isolated communities. (U.S. postal unions are promoting a similar proposal.)
"In Canada, we have 2 million people who don't have bank accounts, and are at the mercy of payday lenders," said Larry Dionne, president of Local 730 in Edmonton, Alberta.
The union also wants to restore the food-mail program, which subsidized the shipping of food to remote Northern communities. And CUPW has made pay equity a key bargaining issue.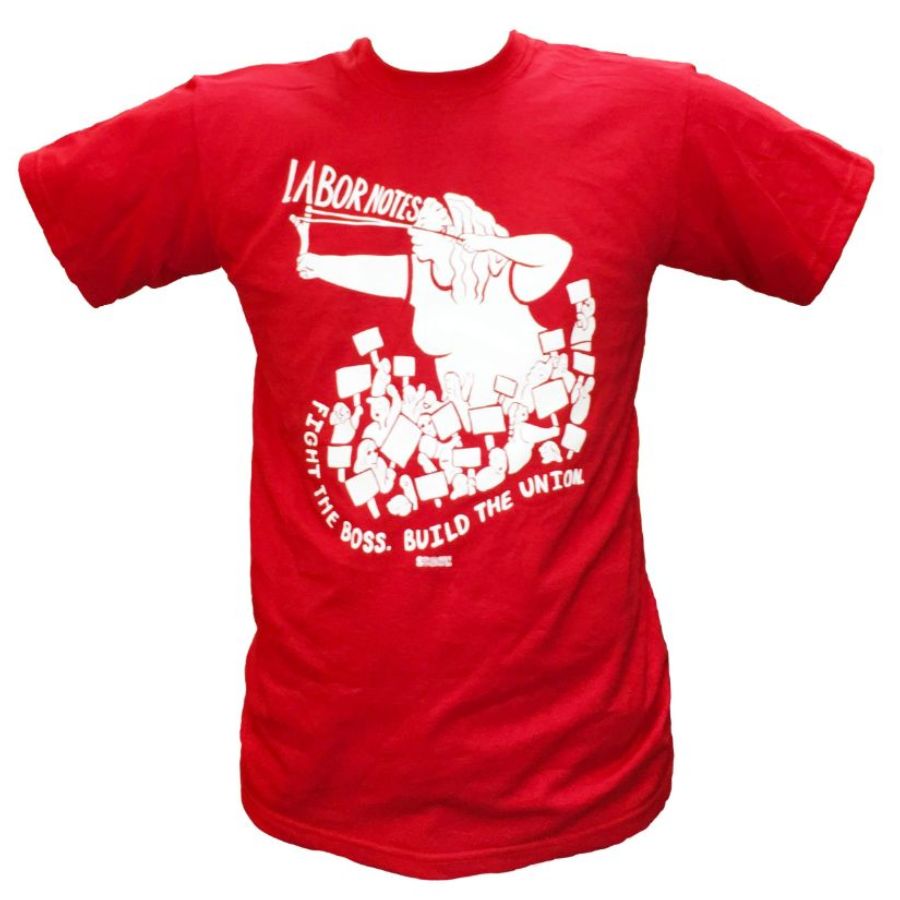 Letter carriers are split into two bargaining units: those who work in urban areas, and those in rural and suburban areas. Rural and suburban carriers—the majority of whom are women—make 28 percent less than their urban counterparts.
CUPW wants one contract, with wage parity, for both groups. "There is no reason why women should be making 28 percent less," said Toronto postal worker Pamela Taschuk. "This is the 21st century."
Canada Post, meanwhile, is demanding major concessions, including cutting defined-benefit pensions for new hires. "Everything we fought for and got," said Dionne, "they're saying you'll keep it till your retire, but all new hires, we're rewriting the contract for you."
READY FOR A FIGHT
When a lockout began to look increasingly likely, locals prepared members. The national office developed "Mobilization, Readiness and Action" workshops, which train members to talk to customers and community members about the issues at stake.
"Frontline workers are the ones the public sees, the ones the public listens to," said Bleakney. "It's a human army on the ground, talking to people they know."
Sokal started explaining to customers, "We're going to be locked out, and here's why." Workers have been recruiting local small-business owners to support them, getting around the union-bashing big-business associations.
The union has a strong foundation to build on, after leading the grassroots campaign that last fall halted an overhaul of Canadian postal services that would have eliminated door-to-door mail delivery in cities. Since then CUPW has been pushing to restore services to the communities where services were already cut.
Taschuk is one of the campaign coordinators—rank-and-file members who took leave from their regular jobs to work with the union. When she does outreach at community picnics and in malls, she's been swamped with support.
"The public realizes what's going on," she said. "Eight-hundred-fifty thousand homes lost door-to-door delivery, and they want it back."
COFFEE TIME
On the job, activists have found creative ways to build their confidence and show the boss they're ready for a fight.
Months before they escalated to cowbells and whistles, Sokal started getting her co-workers' blood moving with a simpler activity: coffee time. "We spread a rumor that tomorrow we're having coffee together," she said. "I bring coffee and everyone goes off the work floor at same time."
The coffee-time action puts management on edge and makes them wonder what members are planning, Sokal said. "It's an extremely easy thing to do on the workplace floor and is extremely effective."
In Toronto, the union had port-a-potties delivered outside the South Central Letter Plant to send a message that workers were prepared to start picketing.
CUPW has a rich history of creative tactics. When the last lockout was announced in 2011, members of the Edmonton local responded with a "lock-in" at the city's main sorting facility. "As the supervisors were coming, somebody shouted 'Let's lock them in! Nobody in, nobody out,'" said Dionne.
Police arrived. Through negotiations, supervisors were allowed to leave after six hours—but without their cars. And union activists won the right to search management vehicles every time they left the sorting station after that, to ensure they weren't taking any mail out.
Because concerns about medical conditions came up last time, the local gave notice to supervisors that if they need medicine on the job, they should stock up now. "We're giving them a heads-up," said Dionne. "We don't know what's going to happen if they lock us out."