Secret Weapon vs. Verizon: Retirees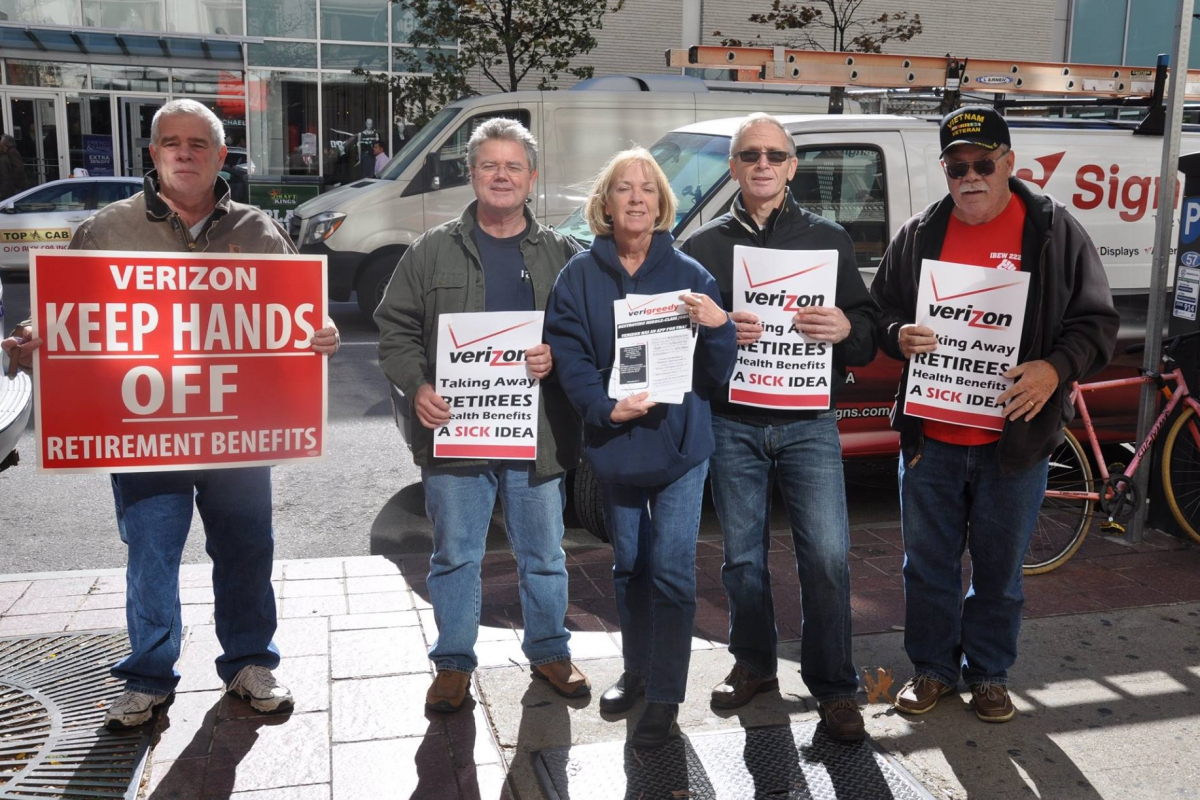 As 38,000 Verizon union members enter their fifth month without a contract, crews of retirees are swinging into action to defend their own health benefits.
In upstate New York, they've organized "Coffee Clubs" that fill the parking lots of Verizon Wireless stores with cars while they leisurely chat in a nearby Dunkin' Donuts. This can shut down the cell phone retailer's business for two hours at a time.
And in Massachusetts, Rhode Island, and New York, retirees have been out picketing Verizon garages—preventing trucks from leaving for an hour or longer.
The pickets are organized by small groups of five or six retirees, though even one is sometimes enough. They show up just as the trucks are about to leave. Carrying signs like "taking away retirees health benefits is a sick idea," they block vehicles until cops arrive and ask them to disperse.
To avoid hassles with local police, they move around; so far retirees have hit about 15 locations. They've also been picketing outside Verizon Wireless stores.
The activists say many retirees still feel intimidated by the company. But since they're not current employees, there's not much Verizon can do to retaliate. Under federal law a company cannot target an individual worker's pension, nor an individual retiree's health benefits.
"They can't do anything to us," said Thomas Flynn, a retired member of Electrical Workers (IBEW) Local 2222.
So when managers come running out with cameras, retirees tell them, "I don't work for you guys. I don't know what you're going to do with my picture."
PREMIUMS TO COME
Verizon workers from Massachusetts to Virginia, members of the IBEW and Communications Workers (CWA), have been working without a contract since August 1. The company wants to eliminate key job-security provisions and force current workers to pay thousands of dollars more for health care.
It also wants to get rid of contract language requiring it to bargain over health care for current retirees. The language was inserted in 2008; before that, the union and the company had an informal agreement to negotiate over the benefits, dating back to the 1989 strike.
Over and over, retired Verizon workers say, they accepted lower raises to their wages and pensions in exchange for defending retiree health benefits. Now, while the company is pulling in $1 billion a month in profit, it has announced it will force pre-2012 retirees to pay premiums for the first time.
Beginning in January, these retirees will have to pony up $86 a month for a family plan. Activists say the cost hike will be especially hard on the oldest retirees, who can't go out and get a part-time job.
"You have to realize, they start out slow," said Flynn, "but then every year it's going to go up and up and up."
"My biggest bill as a retiree is the Verizon bill," said Dave Reardon, the former assistant business manager at Local 2222, who retired after 35 years with the company and its predecessors. "Because I have FiOS, and I have Verizon cell phone service—I'm basically paying Verizon $300 a month, putting it into their wallets, and then they want more money on health care.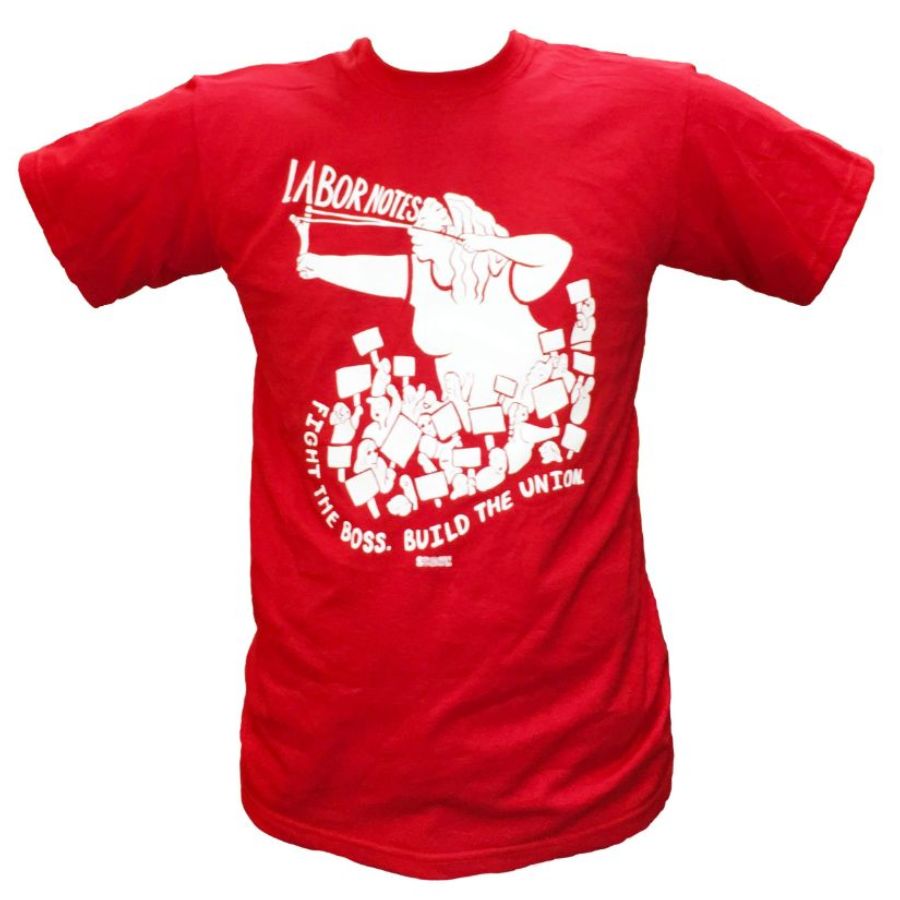 "At least they do give me free Showtime on FiOS."
Flynn helped the company out by lobbying for its FiOS expansion at town meetings in Belmont, Massachusetts. Now he feels betrayed.
"They pushed us into doing this," Flynn said, "to block the garages and get the public involved and let them know Verizon is a bunch of greedy bastards."
New Attacks on Retiree Health Care
The Supreme Court delivered a blow to retirees in January, ruling in M&G Polymers USA that health care benefits do not automatically vest for life upon retirement, unless the contract explicitly says so. This means companies may be able to cut some retirees' benefits at any time.
Meanwhile, General Electric announced it plans to cut health benefits for retirees over 65 beginning January 1. Instead, they will be given $1,000 a year to buy private insurance on an exchange. A coalition of unions representing GE workers, including the Electrical Workers (UE), CWA, Teamsters, and Auto Workers, has filed a federal suit to stop the cuts.
MORALE BOOST
The retirees are organizing these actions independent of their unions. But "it's a morale boost for the workers who are working today," said Flynn. "They give us a thumbs up when they see us; they toot the horn."
Retirees say instead of lecturing newer workers about the militancy they learned in the lengthy 1989 strike against Verizon predecessor NYNEX, they're teaching through action.
"It sends a message of solidarity," said Reardon. "Hopefully it gives them an example that sometimes you have to go a little beyond to achieve what you want to get."
They also hope to spur into action some of the thousands of other Verizon retirees.
The "Coffee Clubs," for instance, would be easy to replicate elsewhere. Retirees and community supporters simply meet up for coffee and donuts. Taking advantage of the fact that a number of Verizon Wireless stores share parking lots with Dunkin' Donuts, they fill the lot for a couple of hours.
One challenge is turning out enough people. Organizers say the action requires at least 25 cars: "Either we get all the spaces filled or it's a bust."
The downside is the tension it produces with Verizon Wireless store workers, who take photos of Coffee Club participants and call the cops. The union is trying to organize them.
"The wireless part of the business has become the main generator of revenue," said Reardon, "but they'll fight tooth and nail to keep the unions out of there.
"How many people are you going to see retire with a pension and medical benefits from Verizon Wireless? If they don't organize—nobody."