Overwhelming Union Win for American Airlines Agents
After many close votes against unionization, American Airlines passenger service agents scored an overwhelming victory September 16, voting 86 percent to unionize. The win covers 14,500 workers, the largest union-representation vote in the U.S. this year.
The election was a result of the merger between American and US Airways, which created the largest airline in the world. Over half of the new union members are in the South, with large groups in Dallas-Fort Worth, Miami, and Winston-Salem, North Carolina.
"We feel stronger now with this vote," said Eula Smith, a customer service agent in Charlotte, North Carolina. "I'm a 60-year-old woman with 42 years with this employer. You can't live in the South and make a decent wage unless you are in senior management in a corporation or belong to a union."
The agents handle reservations, check in passengers and baggage, and staff airline gates. A third of them—the 5,500 US Airways agents—were already members of the Communications Workers (CWA). The 9,000 American agents had tried to unionize several times, losing their 2013 election by a heartbreaking 150 votes.
This time, the company was largely neutral under its new CEO, former US Airways head Doug Parker.
In the 2013 campaign, "the company spent $3-4 million going through union-busting tactics," said Wendell Johnson, a 14-year American passenger service worker. "They set up a website 'AA Independent' that came up on the computer for all the employees to see." Managers and supervisors spoke against the union.
This time around, managers didn't get involved, said Johnson, who works at New York's Kennedy airport.
VISIBLE UNION DIFFERENCE
During the campaign, American agents didn't have to go far to see what having a union contract would be like; they could talk to US Airways agents at the next gate.
Looking across the aisle, Johnson said, he could see that "flights are manned appropriately" with two gate agents, per the contract. By contrast, American agents have suffered from staff shortages and speedup.
"They're always changing the rules on us, adding to our duties," said Johnson. "We are almost looked upon as doing the task of three agents." If a flight comes in late, he said, the gate agents are supposed to load the next flight quickly to make up the lost time. If they can't, they may get disciplinary marks.
For American agents, the threat of outsourcing hovered. Work helping passengers with self-serve check-in has already been contracted out, and agents worried that without a union contract, other check-in jobs might go, too.
"In the airline industry, if you have no representation, you are considered a weak link and most likely will be outsourced," said Richard Rivera, a 12-year American agent, in a video distributed by the union.
Another glaring difference: at American, 2,300 reservations agents in a new home-based category have lower pay, no sick leave or paid vacation, and even have to pay for their own Internet connections. The US Airways contract doesn't allow lower pay for home-based workers, and the company cannot push workers into working from home against their will.
"We're going to sit down and negotiate these things as well for the home-based workers at American, because it's just not fair what they have right now," said Vickey Hoots, a US Airways reservations agent at the Winston-Salem local.
The campaign was so strong in part because, despite losing union votes, the American agents had organized an active local, said Sandy Josephson, a reservation agent in Dallas for 23 years. Even without formal recognition, 400 voluntarily pay dues, and a trained corps of stewards go with workers to discipline hearings, said Josephson, who worked on the campaign full time after retiring.
Government Employees (AFGE) did the same during a decade of organizing airport security officers at TSA. That "non-majority union" organizing eventually led to union recognition and a contract.
LITTLE INFIGHTING
The merger drew the skepticism of regulators, but squeaked past late last year, after American agreed to give up some gates at key airports.
All the unions involved backed the pact, but it's not clear what promises they extracted from the airline in exchange for their support. It seems likely that Parker's neutrality stemmed from the union's support of the merger.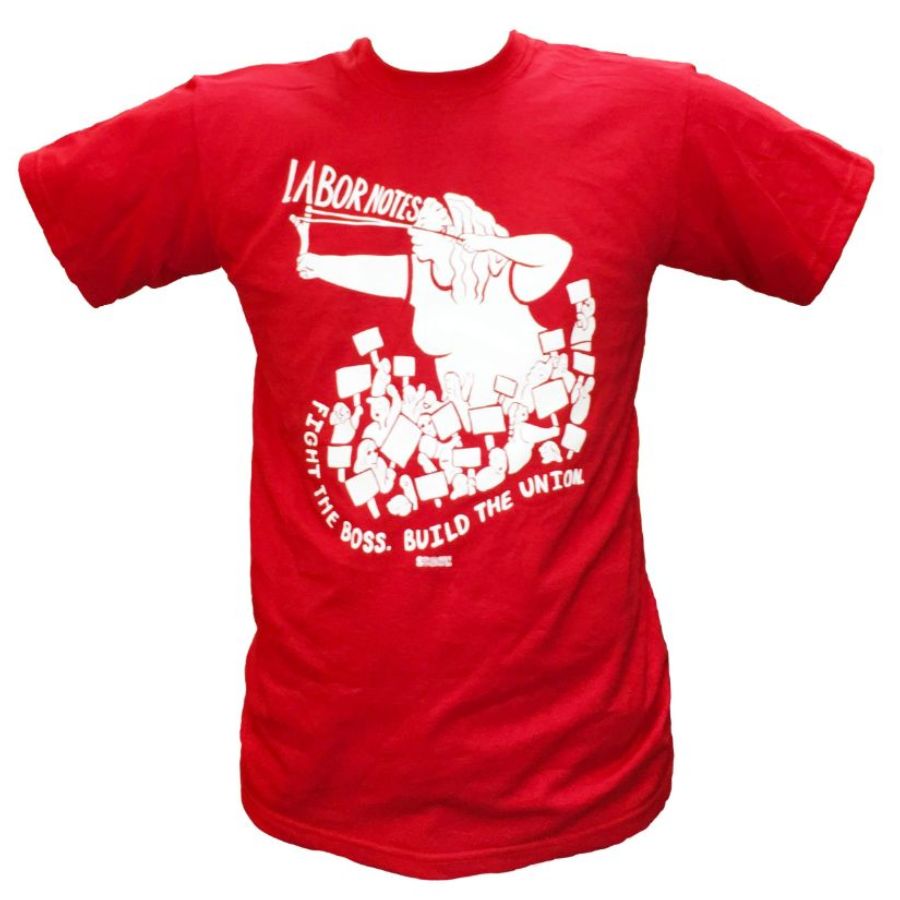 The unification could have presented an opportunity for unions to fight over members. But most seem to have decided that cooperation is better.
The 24,000 flight attendants are unionized on both sides of the merger, with the CWA affiliate Association of Flight Attendants at US Airways, and American flight attendants represented by the Association of Professional Flight Attendants, a union that only exists at American.
Because the APFA unit is larger, AFA agreed to merge into APFA, with union officers in the AFA unit serving as officers in the new unit. Because the unions agreed, there will be no vote, according to the rules of the National Mediation Board, which oversees elections in interstate transport.
The 30,000 ground crew workers are members of the Transport Workers at one airline and the Machinists (IAM) at the other. The two unions penned an agreement in May which signals that they will work together on the contract.
This kind of post-merger union cooperation is not unusual in the airline industry. Indeed, the American agents voted to join a CWA/Teamster unit, because US Airways' 2005 merger with America West incorporated Teamster passenger service agents.
ANOTHER VOTE
Passenger service agents at US Airways have been represented by the Communications Workers for 15 years, but many still remember the pitched battle they had to fight to win their union.
When she started working at Piedmont Airlines 29 years ago, said Hoots, "it was a good job because the airline industry was largely unionized."
But "all that changed in the early 1990s," she said. "Our sick leave was cut, our pensions were frozen, and they didn't care about our views on the job."
Not counting the recent vote, agents at US Airways "won two of the last three elections," Hoots said wryly. One election was voided because the employer claimed the National Mediation Board had violated the company's free speech rights—by ordering a new election. After the company got a judge to agree, the workers had to start all over again, finally winning in 1999.
US Airways declared bankruptcy twice, in 2002 and 2004. "Thank God we had a union. They tried to cut our wages nearly in half, to $13 an hour," Hoots said. "CWA was smart and bargained snap-backs that restored the cuts after a certain time."
The union was also able to bring back 250 jobs that had been outsourced to a company in the Philippines.
NEW SCENE
The American agents first filed for an election in 1998, but they were working under old election rules that counted everyone who didn't vote as a "no."
The employer "spent millions on an anti-union campaign, with posters, and videos," said Josephson, and encouraged workers "to tear up their ballot as soon as it arrived," a tactic also used against Delta flight attendants when they voted under the old rules.
But in 2010, the National Mediation Board changed its rules to conform to most other elections: if you don't vote, you aren't counted in the total.
With hope rekindled by the fairer rules, American agents tried again in 2013, after massive delays, since American wouldn't send employee addresses to the National Mediation Board when ordered to. While the company delayed, Josephson said, buyouts were offered to agents who agreed to give up their recall rights.
There had been 10,000 eligible workers, but by the time of the election there were only 7,800, and they lost the vote narrowly. "1,800 were so demoralized they didn't vote," said Josephson.
It was a new scene this time. Days before the votes were counted, Johnson said he was "shocked, but elated" that long-timers who opposed the union changed their minds because of the threat of contracting out.
"Those who used to say no, who were hard core against it, now feel that unless we vote this [union] in, our days are numbered."