Fight for Fifteen Spreads Out and Zooms In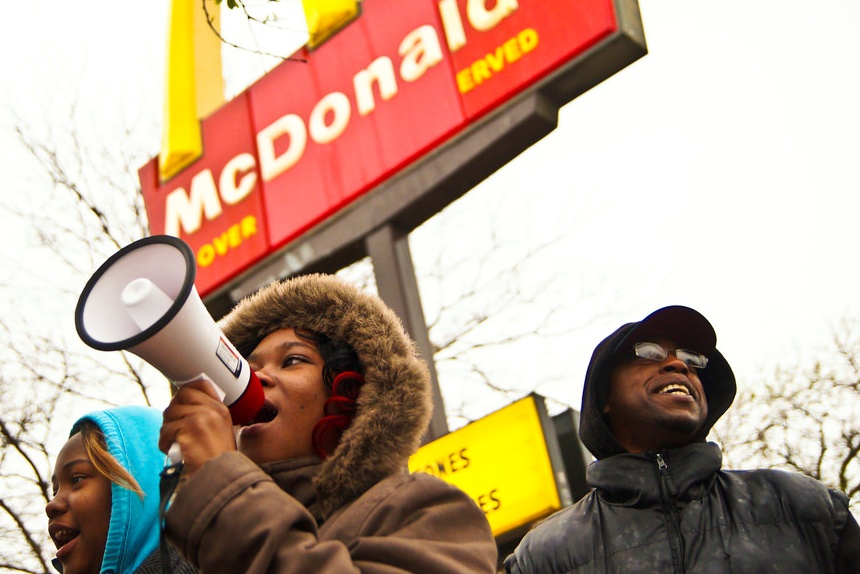 The call for "$15 and a union" went up again today, but with a new—and bigger—group of allies.
As striking fast food workers hit picket lines across the U.S., supporters and workers rallied in 30 other countries. Italian fast food workers are expected to strike Friday.
Fast food workers struck in 130 U.S. cities—some for the first time, including Miami, Orlando, Philadelphia, and Sacramento, organizers said. Some stores were unable to open until managers could be called in to work the abandoned tills and fryers.
With drums, horns, and maracas, strikers and supporters gathered in midtown Manhattan, where the strikes started in 2012.
Shantel Walker, who works at Papa John's in Brooklyn, said she isn't surprised the tactic is spreading: "Everybody's going through the same problem." She counted out the four bracelets on her wrist: this is her fourth time on strike, she added.
The fast food strikes seemed to come from nowhere when the first one jumped off in November 2012, but they are part of a coordinated effort by the Service Employees (SEIU), which has funded organizers and community groups to contact workers.
At first organizers followed a standard union organizing model, counting supportive workers in each store as though for a union vote. But the organizing is unlikely to follow the normal route to a Labor Board election.
With such an assortment of employers, the effort seems aimed at organizing low-wage workers not into a traditional union, but into a force that can extract changes from local or state governments.
The effort has pushed minimum wage increases in seven states and two cities. Fast food strikes in Seattle marked the start of a winning campaign for hospitality and airport-related workers in the nearby town of SeaTac, and the effort to win a citywide $15 wage in Seattle proper. In New York City, a paid sick leave bill went into effect in April.
But the campaign is also targeting specific employers.
Zooming In on McDonald's
Three class-action lawsuits filed in March alleged widespread wage theft at McDonald's and exposed working conditions at the iconic chain.
The lawsuits detail the many ways McDonald's steals wages from workers—some are simply missing money from their paychecks, others are forced to show up and wait, or to work off the clock.
"They pretend they don't know you've clocked out," said Chad Tall, who works at Taco Bell in Brooklyn. He said he's regularly asked to keep working after his shift is up.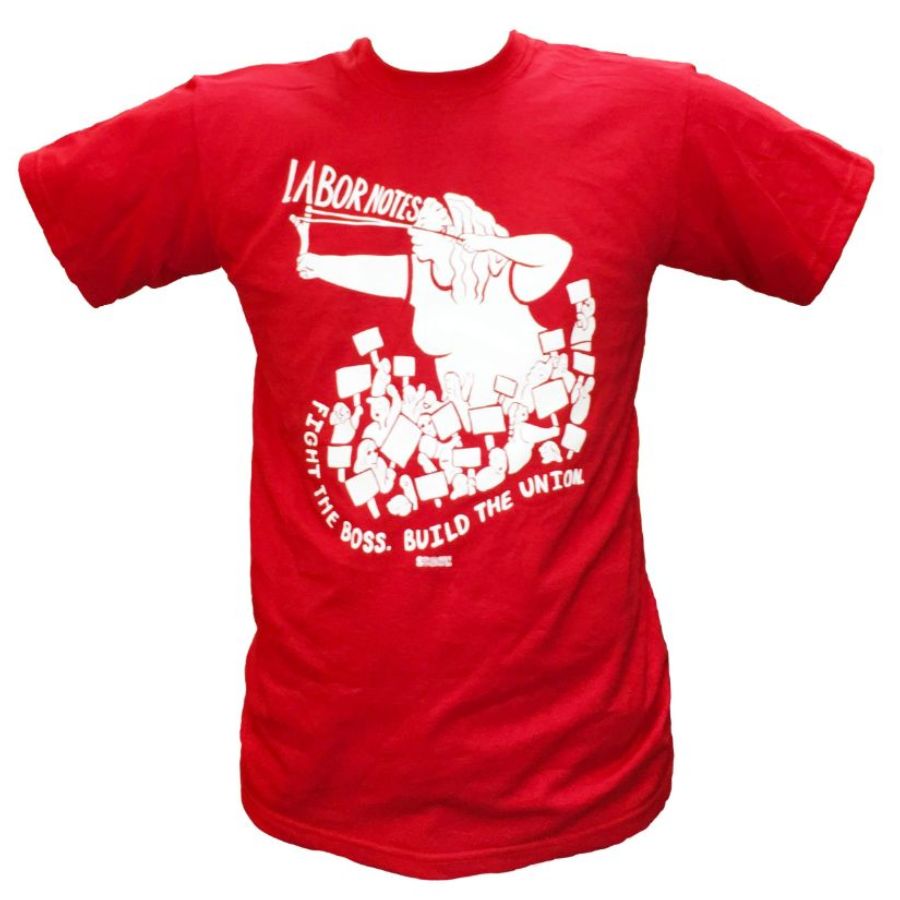 According to a survey of fast food workers in New York City, 84 percent have experienced at least one form of wage theft, and 66 percent experienced more than one.
Besides getting back wages for workers, the court cases could establish who's the real boss at McDonald's franchises.
"The stores aren't the issue," said Tall, also on his fourth walkout. "The corporation and the CEO are the issue."
Like many fast food chains, McDonald's works on a franchise model. An individual franchisee pays McDonald's for permission to use the brand, then sets up shop. The franchisee signs an agreement committing to follow headquarters' guidelines, and even to purchase supplies from the corporate office.
Individual franchisees have little power over how to operate the restaurant. Corporate headquarters sets the cost of the supplies sold to franchisees, and even the prices of menu items.
What's left up to franchisees? The workers' wages. That makes franchisees the nominal boss. But with costs and prices fixed by corporate headquarters, it's no coincidence the wages all hover around minimum wage.
The class-action lawsuits could shake up this system. Jack Temple, of the National Employment Law Project, argues, "The corporations set wages by setting everything but wages." If that's the case, the legal burden could fall on the McDonald's corporate headquarters, opening up new space for the Fast Food Forward campaign to demand "$15 and a union" from those really in charge.
Global Protests
Taylor McLoon, an 18-year-old McDonald's worker in Auckland, New Zealand, traveled to New York to show her solidarity.
In New Zealand, a fast-food organizing drive by a union called Unite led strikes at McDonald's and Starbucks. They won big raises for fast-food workers, and helped raise New Zealand's minimum wage in 2009.
McLoon's coworkers back in Auckland rallied today in support of the U.S. strikers—and they weren't the only ones. Photos popped up online showing solidarity actions in Tokyo, Switzerland, and El Salvador. Campaign organizers claimed similar solidarity actions took place in 80 countries.
"Having global organizing means you can see it's possible," said McLoon. "They [bosses] can say no to the workers, but they can't say no to the entire world."
Ahead of their counterparts in the U.S., New Zealand workers used strikes to force the company to the bargaining table. Now McLoon wants to share what they learned and support other fast food workers trying to organize.
But the fight isn't over in New Zealand just because they won a union. In an action called "McStrike," workers at McDonald's struck once a week for four months last year. Their demand was familiar: $15 an hour.