Portland Teachers Vote to Strike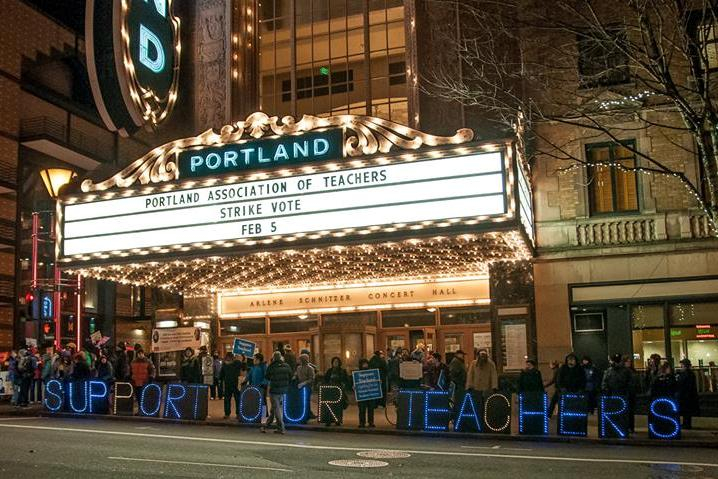 Portland, Oregon, teachers have voted nearly unanimously to strike.
Over 2,800 members of the Portland Association of Teachers (PAT) packed the Arlene Schnitzer Concert hall Wednesday evening for the stand-up vote, while hundreds of community members rallied outside in the freezing cold with signs that read "We've Got Your Back" and "Support Our Teachers."
The union represents about 2,900 teachers, counselors, school psychologists, and coaches.
"What's going on in Portland Public Schools (PPS) has shed light on a bigger problem: that for too long, education has been underfunded by design," said teacher Adam Sanchez during debate before the vote. "It's time to demand that the money flows into the classroom—not to corporations, not to testing and textbook companies, not to bureaucrats and high-priced consultants."
A citywide group of mostly high school students, the Portland Student Union, has emerged as a powerful force of activism and supporter of the teachers' fight. Its demands, which dovetail with the teachers' contract proposals, include smaller class sizes, funding for the arts, more time with counselors, and no school closures.
Students organized acts of solidarity with teachers in every one of the district's comprehensive high schools this week. At Cleveland High School, 600 students—half the student body—walked out Wednesday and marched to and around nearby middle and elementary schools, chanting "If you strike, we'll strike too!"
The vote passed by an estimated 98 percent, and union leaders set a strike date of February 20. If Portland teachers do strike, it will be the first time in the history of the association.
District Gets 'Aggressive'
When the current round of talks began last April, teachers had just agreed to forego a half-year's pay increases to avoid layoffs threatened by the district.
PPS claimed to be in financial crisis—but had recently taken out a lavish, no-bid contract with union-busting labor consultant Yvonne Deckard, promising her $15,000 a month to lead its bargaining strategy with teachers.
The union, meanwhile, had spent months developing its own positive vision for using the contract to improve teaching and learning conditions.
Modeled after the work done by Chicago teachers, "The Schools Portland Students Deserve" was presented as a preamble to PAT's contract proposal. It calls for equity of funding and programs across schools; lower class sizes and caseloads; wraparound services such as counseling and social work; whole-child curriculum including the arts and physical education; and an end to the misuse of standardized testing.
After two decades of constant cuts, Portland teachers feel stretched to the breaking point. The districts has increased the caseloads of special educators, counselors, and school psychologists, and reduced the number of arts, physical education, library, and other specialist positions. One professional is often assigned to serve the population of two or more schools.
Class sizes have increased—elementary classrooms are often 30 students or more—and classroom teachers are asked to do more with less support.
Teachers hoped the district would use the contract negotiation process as an opportunity for dialogue and collaboration with teachers. Instead, the district refused to talk about any of these issues, including class size. It argued these were "permissive" subjects, meaning that by state law the district is not required to discuss them.
Its initial contract proposal included over 75 significant take-backs. It would dramatically increase managerial rights, reduce workers' compensation and rights, and increase workload.
In September, district board member Matt Morton voiced the school board's intention to get "aggressive" with teachers. Its strategy has been to follow the minimum timeline allowed by law. The district called for mediation on September 16, the earliest date allowed, and declared impasse on November 20.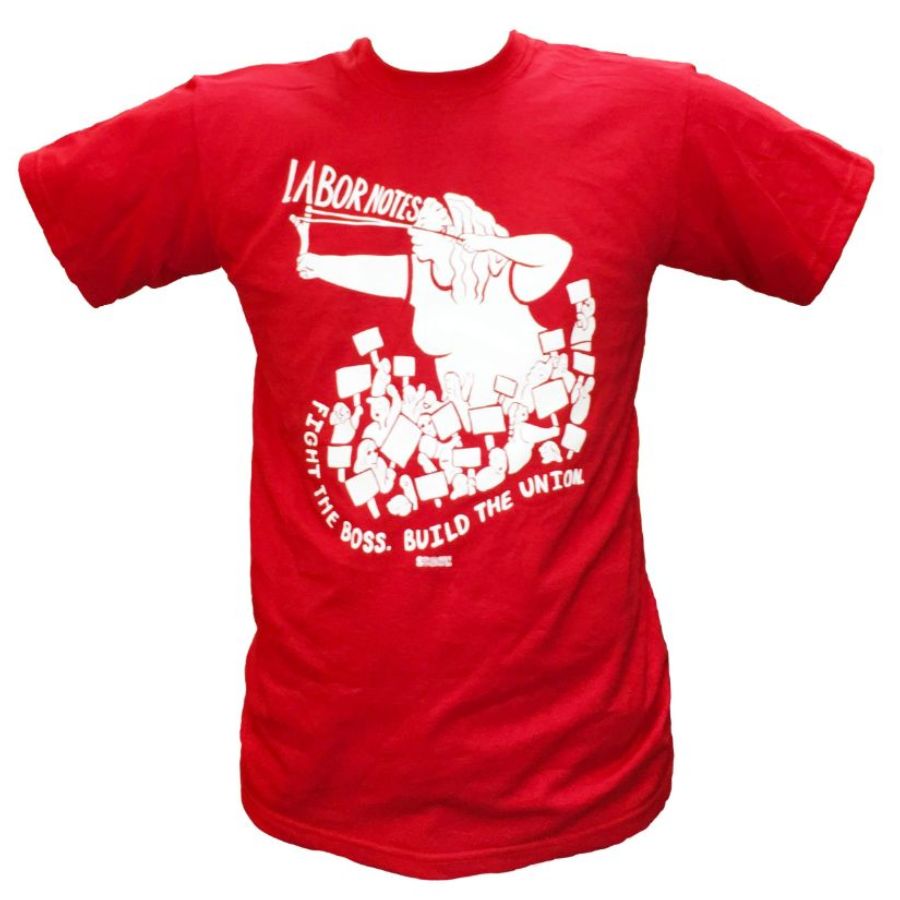 Another aspect of its strategy might be characterized as passive-aggressive: nobody with the authority to bargain was at the table. Neither a board member, nor Superintendent Carole Smith, nor the district's Chief Bargaining Agent Sean Murray, nor Deckard herself participated in a single face-to-face bargaining session with teachers until after the district declared impasse—so virtually no progress was made.
Superintendent Smith finally began to participate in December, resulting in some movement. But negotiations have still failed to resolve the issues most important to teachers, including workload.
The Surplus Surfaces
Throughout bargaining, the district has dismissed teachers' demands to reduce workload and add back teachers, calling our proposal too expensive.
This argument lost credibility in January, when—in a public hearing required by state law—the district revealed a budget surplus of $29.5 million dollars over two years.
A significant part of this money is the result of cutbacks to the Public Employee Retirement System; agreed-upon benefits were taken away from teachers and other state employees. Another part is because the district over-budgeted its per-teacher expenses by 20 percent. (The over-budgeting results in a lot of money in a slush fund, which can then be used for anything the district chooses—like union-busting labor consultants, for example.)
PAT amended its proposal to specify how the district could use a portion of these funds to significantly reduce teacher workload, lower class sizes, and start adding back programs that have been whittled away over the last two decades. Specifically, it asked the district to create 176 new positions, at a cost of about $15 million; to reduce caseloads of special educators by 10 percent; and to reduce class sizes by 5 to 10 percent.
The district has rejected this, and said it is "out of ideas." Its most recent proposal does little to relieve workload or class size, eliminates money-saving early retirement benefits, and weakens teachers' professional autonomy and rights.
Building Solidarity
Contract negotiations have created a tide of new activists in the union. Leaders from school sites and union organizers are pooling their efforts to make face-to-face contact with every member.
Schools and weekly school board meetings are regularly flooded with a sea of blue, the color representing PAT solidarity. At nearly every board meeting, teachers have testified passionately and articulately about school conditions and what we need to serve our students.
Many teachers who previously kept to their classrooms have found their voice as public advocates for students and for public education. Bargaining committee member Steve Lancaster, for example, had never been active in the union before he was asked last year to join the team. Since then, he has become a very public and powerful voice for teachers at the bargaining table, at union meetings, and in the media.
Sanchez said the strike is "part of a larger movement to transform teachers unions and to fight back against a corporate culture that bails out corporations and bankers while starving teachers, parents, and students of the resources we need."
From the start of the bargaining process, a network of parent and community supporters has fought alongside PAT. Many of these relationships were forged in early 2013, when the union partnered with community activists to stop the closure of neighborhood schools in the Jefferson Cluster, a historically under-resourced part of town, which includes Oregon's only majority African-American high school.
Community groups such as Parent/Teacher Solidarity and Jobs with Justice have organized public forums, passed around petitions in support of teachers, and canvassed neighbors with information about what is happening.
When students marched into a school board meeting January 13 to deliver their list of demands, all but one of the elected board members walked out during their presentation.
Elizabeth Thiel is an English teacher at Madison High School, and member of PAT. She has two children who attend Portland Public Schools.