After Historic UAW Defeat at Tennessee Volkswagen Plant, Theories Abound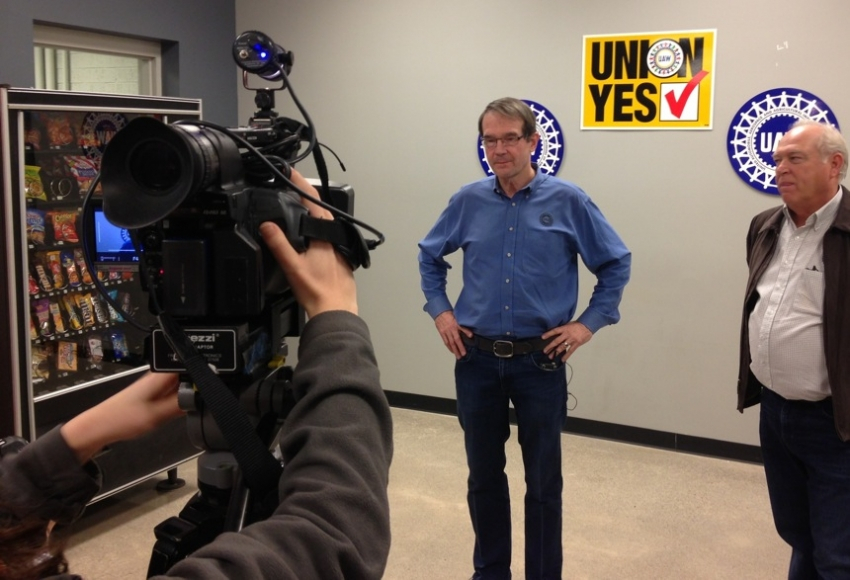 Labor Notes called it wrong. We predicted last week that with strong company backing, the United Auto Workers would win the vote at Volkswagen. But even with their employer's active approval of the UAW, and a neutrality agreement, workers voted "no" 712-626.
Mike Elk of Working In These Times was in Chattanooga, Tennessee, for the vote. He wrote:
The UAW was quick to blame the loss on public anti-union threats by right-wing politicians….U.S. Sen. Bob Corker (R-Tenn.) [said], "I've had conversations today and based on those am assured that should the workers vote against the UAW, Volkswagen will announce in the coming weeks that it will manufacture its new mid-size SUV here in Chattanooga."…
However, threats of workers losing their jobs are routine during union elections—though they usually come from management, not outside forces—and unions still often prevail. Both pro-union workers and anti-union activists said that other factors played key roles in derailing the union drive.
While the neutrality agreement forbade Volkswagen from campaigning against the drive, plant worker and union activist Byron Spencer says that low-level supervisors and salaried employees—who were not eligible for the union—ignored the directive and actively opposed the drive…
The No 2 UAW campaign used the very neutrality agreement that the UAW signed to argue that the union was making corrupt deals with management without worker input. The anti-union campaign argued that the neutrality agreement seemed to indicate that UAW would not bargain for wages above what was offered by Volkswagen's competitors in the United States. UAW and Volkswagen agreed to "maintaining and where possible enhancing the cost advantages and other competitive advantages that [Volkswagen] enjoys relative to its competitors in the United States and North America."
VW enjoys a cost advantage because a majority of workers in the Big 3 make $28 an hour. Both VW workers and Big 3 workers hired since 2007 are in the $15-$19 range.
The neutrality agreement bars the UAW from organizing again at Volkswagen for a year.
To read Elk's entire analysis of the vote results, click here. For information on what works councils do in Germany, click here.