A Novel Idea: Fiction for Labor Activists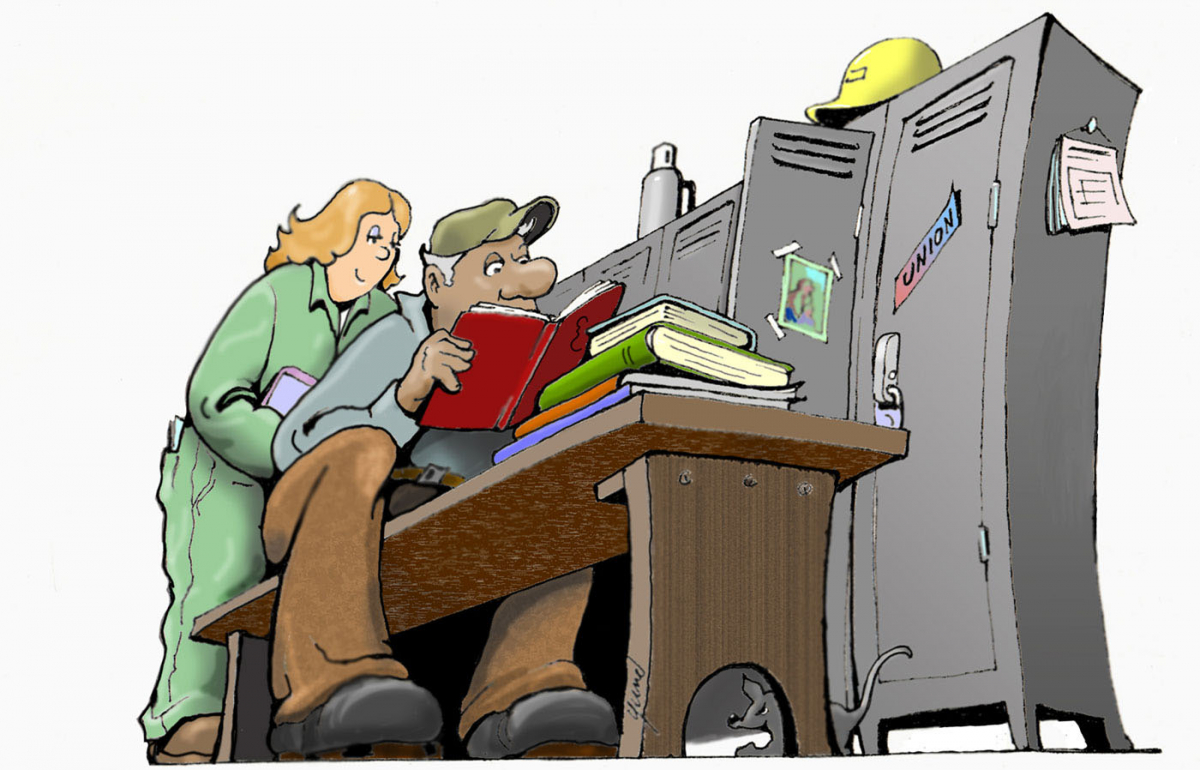 When we're not reading Labor Notes, many activists rely on fiction for inspiration, new perspectives, and, of course, entertainment. For some of us, novels even helped start us down our paths of activism.
But—which novels? A survey of a handful of labor activists and educators revealed their favorite class-conscious novels.
Strikes!
Since fiction is built on conflict, it makes sense that some powerful novels center on strikes.
Longtime CWA organizer Steve Early recommends The Ink Truck, by ex-journalist William Kennedy, a "comic novel about a flailing and failing newspaper strike. It's a must-read for any strike organizers sitting around fantasizing about what might rescue them from impending defeat."
John Steinbeck's In Dubious Battle, about a strike by fruit pickers in California and the difficulties of organizing, is controversial, says labor educator and author Stanley Aronowitz, because it "does not glorify the decisions the organizer makes to win."
God's Bits of Wood by Ousmane Sembene, nominated by UE organizer Erin Stalnaker, tells the story of a strike by Senegalese railworkers against their French employers in 1947-48. The novel isn't just about anti-colonialism—it's also a nuanced exploration of solidarity, including by women, who eventually become leaders in the strike begun by their men.
Michael McCormack Enriquez of Kansas City's KC99 likes Dashiell Hammett's Red Harvest. The backdrop for this detective novel is the 1917 strike by copper workers in Butte, Montana—and the murder of IWW organizer Frank Little, perhaps by Pinkerton goons. Hammett had a firsthand feel for the story, since he'd been a Pinkerton goon himself.
SAG-AFTRA organizer Allison Harger says one of her favorites is Sometimes a Great Notion, by Ken Kesey. The famous counter-culturalist of the 1960s here digs deeply into the motivations of a family of Oregon loggers who keep working during a bitter strike. (Paul Newman directed and starred in the 1970 Oscar-nominated movie.)
Early also mentions Strike! by labor journalist Mary Heaton Vorse, based on the 1929 action by textile workers in Gastonia, North Carolina. Says Early: "It's an American Germinal, about a much-red-baited revolt by North Carolina workers that the state has been ashamed of ever since."
Germinal, the 1885 classic by Emile Zola, made several peoples' lists, too. "No novelist has better explored the emotions aroused by working class exploitation, poverty, and misery," says Early, and Zola's fictionalized account of a French miners' uprising "will seem very familiar to those following recent strike activity—and its bloody repression—in the South African mining industry today."
Just Life
While strike novels may occupy a special place in organizers' hearts, most books on the list don't feature organizing at all. They're about the everyday lives of fellow working-class people, whether familiar or unfamiliar.
For instance, I like Carson McCullers's The Heart Is a Lonely Hunter, which pulls no punches on class politics or racism in 1930s Georgia. Health care organizer Teresa Tobin recommends Sandra Cisneros's intimate novel The House on Mango Street, whose heroine Esperanza Cordero straddles cultures as a Chicana growing up in Chicago.
"Dorothy Allison is my girl!" writes Portland organizer Kari Koch, who grew up in Oklahoma. "All her books are working-class as hell and Southern to boot. Bastard Out of Carolina is only the tip of her great works."
Ontario labor radio journalist Scotty Hertz suggests the 1987 novel In the Skin of a Lion by Canadian-Sri Lankan writer Michael Ondaatje, about the immigrants who helped build Toronto (but didn't get the credit).
Aronowitz recommends several other poignant novels about immigrants, including Pietro Di Donato's 1939 Christ in Concrete. Like the protagonist, Di Donato was 12 when his father, a bricklayer, was killed in a building collapse.
Aronowitz mentions Mike Gold's classic Jews Without Money, about growing up in Manhattan's Lower East Side in the 1920s; Low Company, by Daniel Fuchs, about restaurant workers in Depression-era Brooklyn; two by maritime organizer Alexander Saxton, Grand Crossing and The Great Midland; and Harriet Arnow's The Dollmaker, a portrait of a woman and her family who move from Kentucky to Detroit seeking work in the factories of World War II.
Jane Slaughter of Labor Notes suggests another of Arnow's books, Hunter's Horn, nominated for a Pulitzer Prize in 1949 and set in the Kentucky mountains. "On the surface it's about fox-hunting—the mountain way, not the English lords and ladies way," she says, "but deeper down it's about the lives available to girls and women." She adds that "the people are poor, yes, but the novel is not 'about poverty.'"
Several readers suggested stories or novels by Sherman Alexie (such as his 2005 Reservation Blues). "Most of his characters struggle with racism and poverty living on the reservation," says Labor Notes' Samantha Winslow, "and feel conflicted, if they leave the reservation, about whatever success they achieve."
Winslow also recommends Toni Morrison's classic The Bluest Eye, for its portrait of the "divide between the poor and the working class" in an Ohio African-American community, and Junot Diaz's Pulitzer Prize-winning 2007 novel The Brief Wondrous Life of Oscar Wao, whose Dominican-American characters "are the first in their families to go to college, struggling to find a place in the U.S."
Retired auto worker Dianne Feeley cites The Street, by Ann Petry, about a young black woman trying to raise her son in 1940s Harlem. Dianne says The Street "ranks with the work of Richard Wright and is told from a woman's viewpoint."
Feeley's top picks sketch out some of the diversity of the 20th century U.S. working-class experience: Zora Neale Hurston's black feminist classic Their Eyes Were Watching God, set in rural Florida; Maxine Hong Kingston's China Men, about several generations of a Chinese-American family; Meridel Le Sueur's The Girl, about moving from farm to city life in Minnesota; Paule Marshall's Brown Girl, Brownstones, in which a young woman from Barbados comes of age in Brooklyn; and organizer Tillie Olsen's collection of short stories, Tell Me a Riddle.
Natasha Beck, a Portland educator and activist, suggests a slew of books by women authors with women protagonists, including Alice Walker's The Color Purple and Meridian and any of Marge Piercy's varied novels, such as Woman on the Edge of Time, about a future society where everyone has their own room.
Los Angeles organizer Eric Mann says Ralph Ellison's Invisible Man "hit me like a ton of bricks and shaped my thinking for the rest of my life." He describes it as "a classic introduction to Black cultural dissent," following its hero's "journey through structures that do not see him, from the 'Negro college' to the Communist Party to the Black Militant to the white liberals."
And speaking of life-changing classics, several people mentioned Richard Wright's Native Son and Upton Sinclair's The Jungle. Aspen Swartz, a member of the Carpenters and the Labor Chorus in Seattle, says simply "Dickens!" (I just reread Dickens's own personal favorite, David Copperfield, and was surprised by how funny it was—and tender, of course.)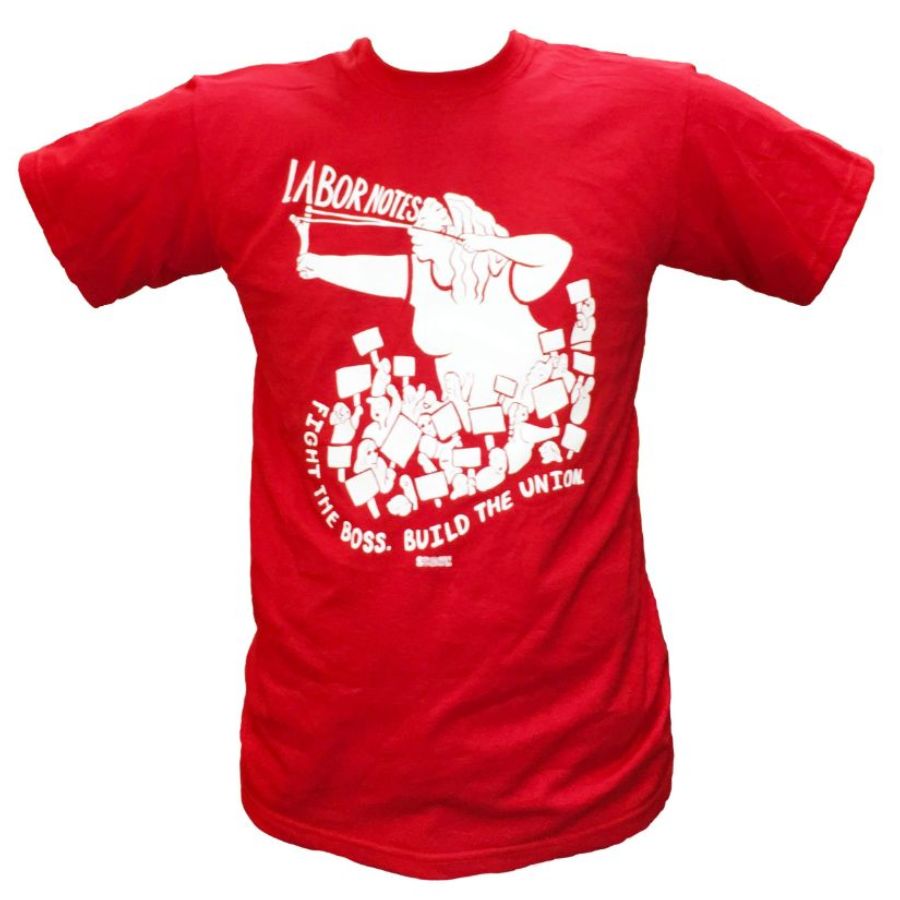 Swartz also adds Tolstoy's War and Peace. "It's written from the point of view of an aristocrat, but it gave me some insight into the lives of the serfs," she says.
Work
Some novels highlight the experience of work itself.
Steve Early suggests The Sweet Hereafter, by Russell Banks, a book about "how the already hard life of a school bus driver is changed by a fatal accident on the icy roads of her small upstate New York town. The movie was good, the book is even better, because nobody writes with more sympathy and insight about blue collar workers in small towns than Banks," Early says.
Early also likes Richard Ford's Independence Day, about "the agony and (much less frequent) ecstasy of a real estate agent in the suburbs of New Jersey—one of the best accounts ever written about this kind of white collar work."
Bob Downing, who organizes hospital workers in Seattle, says he's "a big fan of B. Traven. Treasure of the Sierra Madre is a brilliant and fun statement against the rush for riches that defines capitalism. (I love the movie too.) The Death Ship is a harrowing tale of the hopeless life of a merchant marine—less fun, sort of like a Conrad novel written from the perspective of the lower decks."
Natasha Beck recommends two by Meredith Tax: Rivington Street, about women involved in the Women's Trade Union League and garment workers' organizing in the early 1900s, and its sequel, Union Square, about women's organizing during the Depression.
Dianne Feeley was powerfully affected by On the Line, a collection of short stories by Harvey Swados about the tumultuous lives of auto workers in New Jersey in the 1950s. "It was the first book I ever read about people that were like my family. It changed what I looked for in fiction!" she says.
Ed Ott, former executive director of the New York Central Labor Council, recommends a novel soaked in New York City: Table Money, by the famously salty columnist Jimmy Breslin, centers on the raucous life of Owney Morrison, an alcoholic Vietnam vet and tunnel builder.
Ott also likes Empire Rising by Thomas Kelly, a vivid account of 1930s New York and the people who built the Empire State Building. Both of these books, says Ed, "understand that a job is about more than a paycheck. There is dignity in all work."
I'd like to add here a short gem by labor cartoonist Bill Yund, Reaper's Choice, a quietly gripping story about love and danger among the construction workers who cluster around Mick's Paradise Lounge in 1960s Pennsylvania.
And Labor Notes staffer Al Bradbury chimes in with one of my favorite authors: Barbara Kingsolver. Bradbury suggests Kingsolver's 2009 novel The Lacuna, "whose main character crosses paths with the Bonus Army of World War I vets demanding their paychecks, as well as Diego Rivera, Frida Kahlo, Leon Trotsky, and the House Un-American Activities Committee." I love Kingsolver's earlier books too, beginning with The Bean Trees.
Fun
Steve Early suggests Nobody's Fool, a funny, wise book by one of my favorite authors, Richard Russo. The main character is "a struggling building contractor, who's been reduced to working as a 'handyman'" and who is "a walking, talking, flush-broke, hard-luck example of why many workers with building trades skills are anything but 'independent.'" I find a lot of warmth and respect for working people (often blue collar guys in upstate New York) in all of Russo's books. And they're fun to read.
Erin Stalnaker also has some fun suggestions, including John Nichols's Milagro Beanfield War and John Sayles's short story collection that begins with the hilarious Anarchists' Convention.
Speaking of fun with a class-conscious spin, labor cartoonist Mike Konopacki likes Walter Mosley's mysteries, "especially his Easy Rawlins series, which has a great African American working-class perspective." Mosley's most recent Rawlins mystery is Little Scarlet.
I'd like to put in a word for Barbara Neely's mystery series featuring a middle-aged black mother, domestic worker, and amateur sleuth named Blanche White. The series starts with Blanche on the Lam.
Sara Paretsky writes about a female private investigator, V.I. Warshawski. Paretsky takes on issues ranging from racism and homophobia to blacklisting and corporate conniving. And she never neglects class.
Donna Leon is one more class-conscious mystery writer, though she's best known for her rendering of Venice and the quietly sensual and deeply ethical Commissario Brunetti. Her Through a Glass Darkly tackles not only political corruption but also unsafe working conditions and environmental pollution in Venetian glass factories.
Class for Kids and Teens
We have four books for younger readers:
For teenagers, Dan Lutz of the New York State Nurses Association submits For the Win, a sci-fi novel by Cory Doctorow (no relation to E.L.). Says Lutz: "The main characters are 'gold farmers,' kids in India, China, and Singapore who play online games—and then sell their accumulated gold, swords, spaceships, and ray guns to Westerners who want to level up fast (a totally real phenomenon). They work in sweatshop conditions—until they decide to organize their own cross-border union."
For the younger set, Change to Win researcher Mariah Montgomery writes, "One of my favorite books growing up was Roll of Thunder, Hear My Cry, about a black family in Mississippi during the Depression. They are small landowners, but most in their community are sharecroppers. The main character, an 11-year-old girl named Cassie, is coming of age and understanding more about racism and violence, and her family's (and others') struggle to push back against a white landowner."
Surgery resident Elinore Kaufman suggests the Ramona Quimby series by Beverly Cleary. Kaufman writes, "The Ramona books were the first books I ever saw aimed at kids that had any mention of class issues at all."
And for the littlest class-conscious readers, I'll put in the picture book Click, Clack, Moo: Cows that Type by Doreen Cronin, about intrepid farm animals organizing for justice: "Dear Farmer Brown, The barn is very cold at night. We'd like some electric blankets. Sincerely, The Cows." They don't stop at petitioning.
What class-conscious books have you loved? Please share your thoughts in the Comments section.
Laura McClure, a long-time labor journalist, is author of Organize or Die, a new mystery novel about love and organizing. Read a review here.