Unions Struggle to Regroup As Verizon's Hits Keep Coming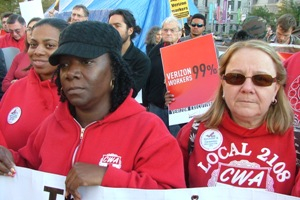 Just a few days shy of the six-month anniversary of last August's bitter Verizon strike, bosses in New Jersey celebrated by announcing the layoff of 336 technicians.
The mass firing left only 20 Verizon Connected Solutions techs in the entire state. They began April 3. The layoffs pour fuel on the contract fight that continues for the 45,000 Verizon union workers on the East Coast.
VCS technicians make up a small portion of Verizon workers overall. They work exclusively with the copper plant, part of the infrastructure that carries both voice and DSL through much of the state. They have a separate contract from 5,000 Verizon "core" workers, who work on both copper and fiber-optic cable and who maintain the high-capacity circuits that connect the cell phone towers for all wireless phone companies.
Because the VCS techs work with older equipment, management feels justified in giving them a contract that's worse on benefits, wages, work rules, and job security.
Bill Huber, president of Electrical Workers (IBEW) Local 827, believes the VCS layoffs are a foot in the door to lay off the better-compensated core techs.
Once the majority of VCS techs are fired, Verizon can change the job description of the few who are left and begin to lay off core workers.
In a meeting with union leaders, a Verizon official reportedly said that VCS is profitable; it's just not profitable enough to appease Wall Street.
Verizon earned $20.5 billion over the last five years while paying its top five executives $258 million. In 2010 the company paid no federal income tax and received a $1.3 billion refund.
INVIGORATE
This latest attack on their union brothers and sisters has reinvigorated many Local 827 members. Since the layoffs were announced, the union has been holding weekly rallies at Verizon stores and locations around the Garden State, demanding movement on their stalled contract. Many were already riled up about the December firing of 40 East Coast union members for strike-related activity, six of them from New Jersey.
The day the layoffs were announced, Communications Workers Local 1101 held a rally of 400 across the Hudson River in Manhattan to support Rich Corrigan and David Ramos, two of those fired because of the strike. Corrigan said the company knows he didn't do anything wrong, but it doesn't care.
Chris McMahon, another fired striker, said the lesson to workers is that if two managers team up on a worker, he can get fired, no matter how fabricated or flimsy the case. "The process is the punishment," he said. "Whether you're right or wrong, you're looking at a year or two without income."
"This could have been any one of us," said Pam Galpern, a Local 1101 member and organizer who emceed the rally. "It's a blatant attempt by the company to intimidate workers and chill union activity. But we're not going to stop until we get justice."
TALKS GOING NOWHERE
Billions of dollars of concessions are still on the table as contract talks grind on month after month. The company's latest proposal offers no wage increase this year and 1 percent increases in the next two years. Health care cost increases would include payments of up to $6,000 a year for a family and cuts in the percentage paid for many procedures.
Management is also looking for major pension concessions and essentially unlimited ability to contract out and transfer workers.
"We're eight months into negotiations and no closer to a contract," Huber said. "Their proposals have consistently focused on cutting to make us more marketable. CEO Lowell McAdam wants to get rid of the unions. The company has no desire to give us any new work, even at a lower pay scale."
Last fall, McAdam said that Verizon was "asset heavy" on the wireline side. This can be interpreted as too many workers, too much real estate, and too many facilities—copper and fiber cable, central offices, poles, and terminals.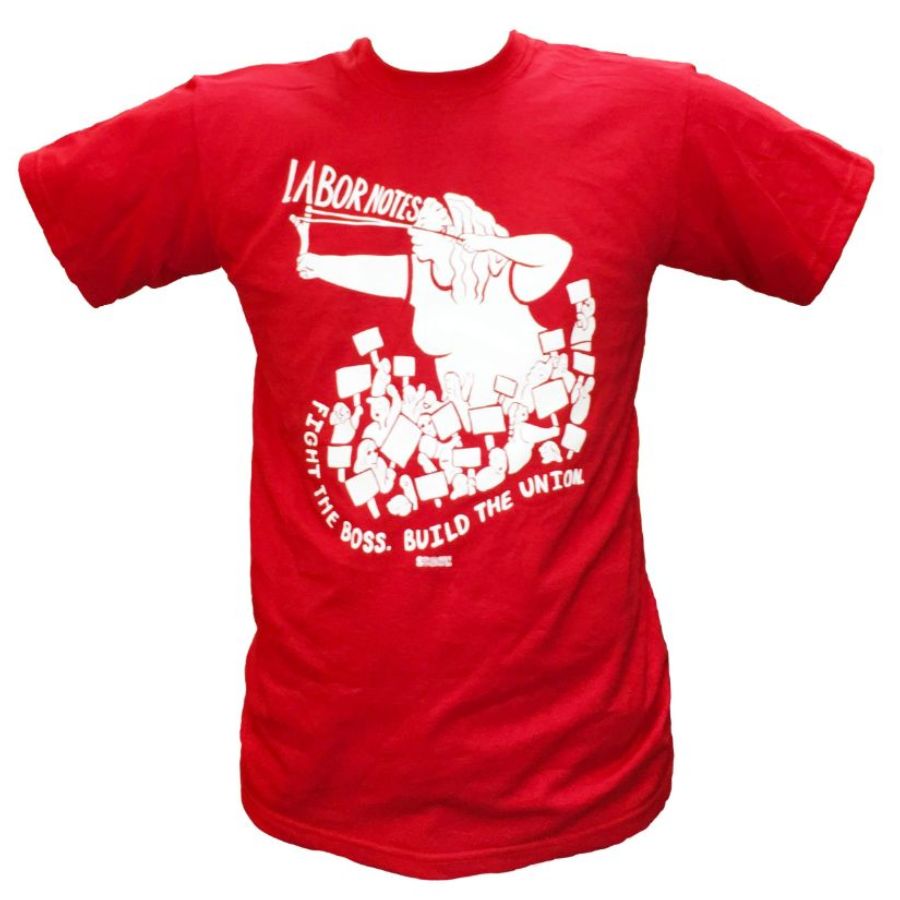 Huber thinks Verizon is preparing to sell the wireline part of the company to gain revenue, boost the stock price, and push off the books the pension and health care promises it's made to generations of workers.
For the 99%, a sale would mean service nightmares for customers, increased attacks at the workplace, and grabs at pension funds. That has been the story in northern New England since Verizon sold its business to FairPoint Communications in 2008. By 2009 the much smaller company, heavily in debt, was in bankruptcy.
Verizon announced in December a $3.6 billion purchase of spectrum from its cable competitors. The unions fear this means Verizon will focus exclusively on its wireless products and stop installing fiber-optic lines, which deliver the bundled TV, internet, and phone service that competes head to head with the cable companies. That would drastically reduce the union workforce.
The union is working to get U.S. senators to reverse the deal on the grounds that it would create an unregulated monopoly, eliminate jobs, and hurt consumers.
THE LONG ROAD TO VICTORY
Union leaders and rank-and-file rabble-rousers have attempted to keep members fired up since the end of the strike, but much of the militancy that exploded during the two-week rumble has fizzled.
In November CWA organized a 150-mile march from Albany to Verizon's Manhattan headquarters in conjunction with local Occupy groups. Informational picketing at worksites and leafleting at retail stores has continued, spottily. Verizon workers fanned out across the Northeast on February 28, telling commuters about the company's tax evasion, corporate greed, and refusal to negotiate a fair contract.
But the 40 firings and local managers' continuous harassment have had a chilling effect. Some members are frustrated with the inconsistency of mobilization efforts and the unwillingness of many of their co-workers to participate.
Members and leaders are debating how to regain leverage. After the strike, Verizon workers were held back by court injunctions that limited the number of pickets and kept them far from store doors. Some members wanted to defy the injunction and continue mass pickets at the stores.
But workers who defy injunctions must have their leaders behind them. Unions are big enough to take those kinds of hits; individual members are not.
The unions could adapt different tactics based on local circumstances. For example, Newark, New Jersey, is a city long ravaged by unemployment and racist disinvestment. The copper cables that feed the city's schools and public buildings are in atrocious condition, a result of Verizon's refusal to maintain older infrastructure. Workers spend hours trying to patch together broken pieces of wire.
CWA and IBEW could join with community groups that are already organizing around jobs and education to demand that Verizon hire in Newark rather than lay off.
Picketing at Apple stores that sell Verizon Wireless products could bring some international attention to the fight. The conditions in the Chinese factories that make iPads have become notorious around the world.
Or perhaps the unions could call for an Occupy Verizon day, bringing hundreds of workers to selected high-traffic stores to take them over.
The Verizon strike reminded us how much power workers have, more power than many of us realize. The data pipes that feed the world's financial markets flow through our central offices. The gadgets everyone depends on are powered by the network we maintain. With bold leadership, our might could be felt around the world.
---
Pat Fahy is a member of IBEW Local 827 in New Jersey.
/>