SEIU 1199 Protests Connecticut Nursing Home Lockout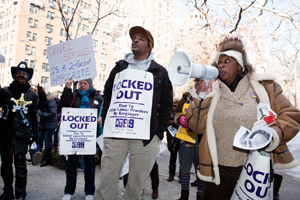 Connecticut nursing home workers are making it personal for a scofflaw employer who's locked them out of their jobs, seeking big wage and benefit cuts.
Members of Service Employees 1199 brought some street theater to New York University yesterday because the owner of the CareOne and HealthBridge chains, Daniel Straus, has endowed an institute there.
His center for the "Advanced Study of Law and Justice" was bankrolled with yearly gifts of $1.25 million.
The band of 60 protesters, mostly NYU students, arrived as the law school's faculty held a lunch to open the semester yesterday. Wearing cowboy hats, performers with "Sheriff 99%" badges and "Wanted" posters hunted for Straus, whom they branded a "1% corporate outlaw."
Deborah Chernoff of 1199 New England said Straus is using the lockout to try to extract deep givebacks from 800 members in six Connecticut nursing homes.
"There's an awful lot of hypocrisy in him coming here to buy good karma," she said.
In negotiations since workers' seven-year contract expired last March, management has insisted on $5 wage cuts, to starting pay of $9 an hour. CareOne wants to strip the union-negotiated staffing ratios and force employees to pay most of their health care costs.
Locked-out member Barbara McFadden says the ratios were once six nursing assistants for each floor of 60 residents in her facility in Milford, Connecticut.
Since Straus bought the chain a decade ago, that dropped to five, and sometimes four. Still, she said workers stuck with the job because they had a pension, fully paid health care, and top pay of $18 an hour—and because they liked the long-term relationships with patients' families.
Milford workers are the only ones Straus has locked out thus far, a strategy Chernoff says probably arose from the close proximity of a non-union Straus nursing home where some patients could be sent. SEIU 1199 has 30 percent union density in nursing homes in the state, she said, second only to New York. The bargaining that led to the lockout was only the second round since Straus acquired the Connecticut homes.
For the Patients
Several patients' family members joined the union over the weekend for a candlelight vigil in Milford. One daughter released a letter to Straus, saying scabs at the nursing home had put her family "through hell." She accused the temporary replacements of administering medications improperly, causing serious side effects.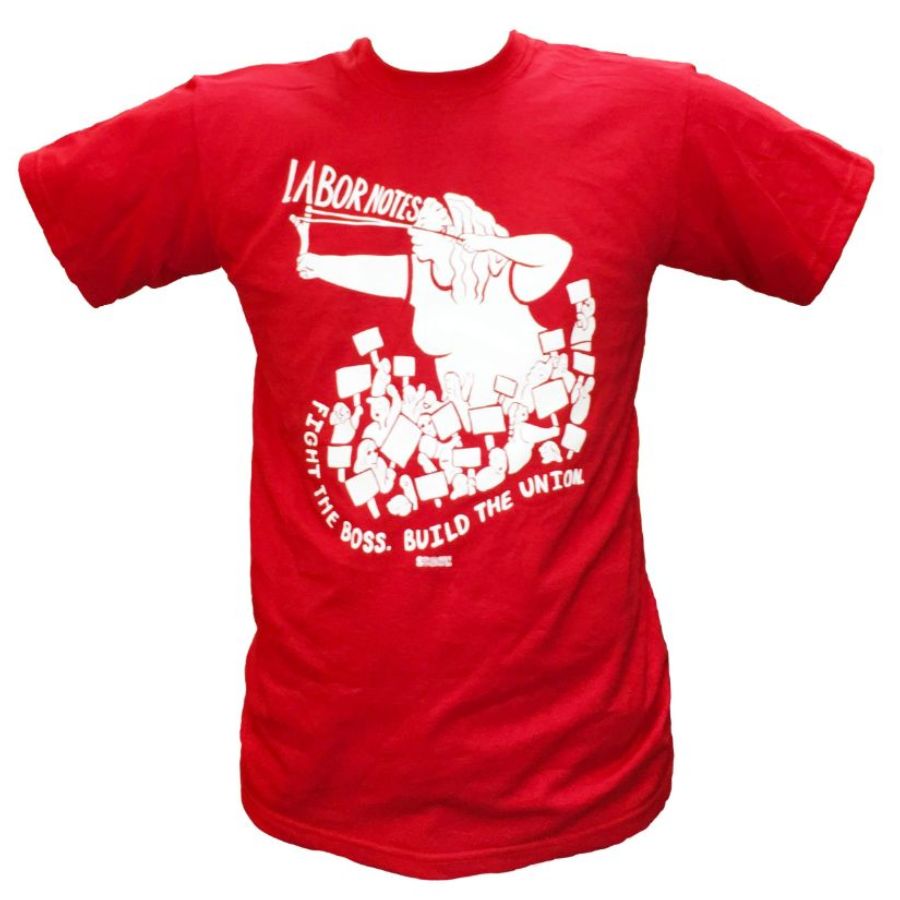 "You are dealing with patients who are frail, insecure, and who depend on the familiar faces and personalities of their caregivers," read the letter. "How would you feel if one of your family members was treated this way?"
"The families want us back to work," McFadden said. "They don't know these strangers taking care of them."
McFadden hasn't missed a day on the picket line. But she added that the lockout has been hard because workers had no time to prepare. Medical coverage was cut three days after the December 13 lockout and she's paid $700 out of pocket for diabetes supplies already.
Paul Napaul, a nursing assistant, said most workers are relying on spouses and going without medical coverage, because COBRA is too expensive.
"They say they don't have money to pay our benefits when they made $25 million last year," he said.
The union has filed claims of bad-faith bargaining and is waiting on the Labor Board to issue unfair labor practice charges. Members are receiving strike benefits, which are normally about $200 a week. Lockouts trigger access to unemployment insurance in Connecticut as well. Governor Dan Malloy called on the Straus chain to bargain, noting that 43 other SEIU-represented nursing homes had settled contracts last year.
Refusing to Bargain, Too
The Straus chain is also fighting workers at a New Jersey nursing home who organized 16 months ago with SEIU 1199, winning a 36-26 vote. Ten workers who were fired or disciplined are still waiting to get their jobs back, and the NLRB ruled last month that Straus's refusal to bargain is unlawful.
Like most nursing home chains, CareOne and HealthBridge rely on state and federal reimbursements. But Chernoff says they boost profits by running their own pharmaceutical supplier and management services company, allowing them to run up costs on "contractors" that are in fact the same management in disguise.
Connecticut members are leafleting outside stores in Milford, explaining the lockout and drumming up support. They're looking to raise the pressure on the boss.
"As long as Straus stays above the fray, it's easy for him to make decisions that hurt people's lives," Chernoff said.