'Right to Work' Advances in Indiana over Protests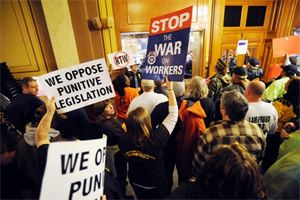 Thousands of Hoosier unionists are rallying at the Indianapolis statehouse for a second week of demonstrations against the legislature's attempt to pass a right-to-work law.
Members of the Steelworkers, Carpenters, Laborers, Teamsters, Food and Commercial Workers, and other unions packed the chambers and rallied outside a joint House-Senate hearing on the bill last Friday.
Despite this strong showing of opposition, the bill was approved by the majority-Republican Senate labor committee, and is expected to go before the Senate for a vote this week.
House Democrats stayed away from the statehouse last week, denying Republicans the quorum of 67 representatives they needed to allow a vote on the bill.
Democrats finally returned to the House chamber yesterday afternoon, and the House labor committee approved the bill along party lines this morning.
The legislation could come to a final vote as early as Friday, but Democrats hope they may still be able to stall it. They say they have not written off the possibility of walking out of session and breaking quorum a second time.
The NFL Players Association accused Republicans of attempting to "ram through" the bill before the Super Bowl, to be held February 5 in Indianapolis.
Free Speech Victory
Anti-union Governor Mitch Daniels had issued a rule December 30 limiting the number of people who could be present inside the statehouse, widely seen as an attempt to prevent unions from mounting the kind of mass protests that Wisconsin and Ohio saw last year in response to attacks on collective bargaining rights.
Protesters won an early victory five days later when Daniels repealed the rule in response to growing crowds outside the statehouse and widespread public opposition.
The so-called right-to-work legislation would allow workers to reap the benefits of union representation without joining the union or paying dues.
While the bill's backers argue that it would have little effect beyond the 11 percent of the state's workers who are union members, opponents say such laws drive everyone's wages down. "It's a 'falling tide' effect," said David Williams of the Laborers.
A study from the Economic Policy Institute said right-to-work laws have pushed wages and benefits lower in states that adopt them. Through the recession unemployment in right-to-work states has been worse than in union bastions. EPI has also reported that the law did not aid job creation in Oklahoma after it passed a right-to-work bill in 2001.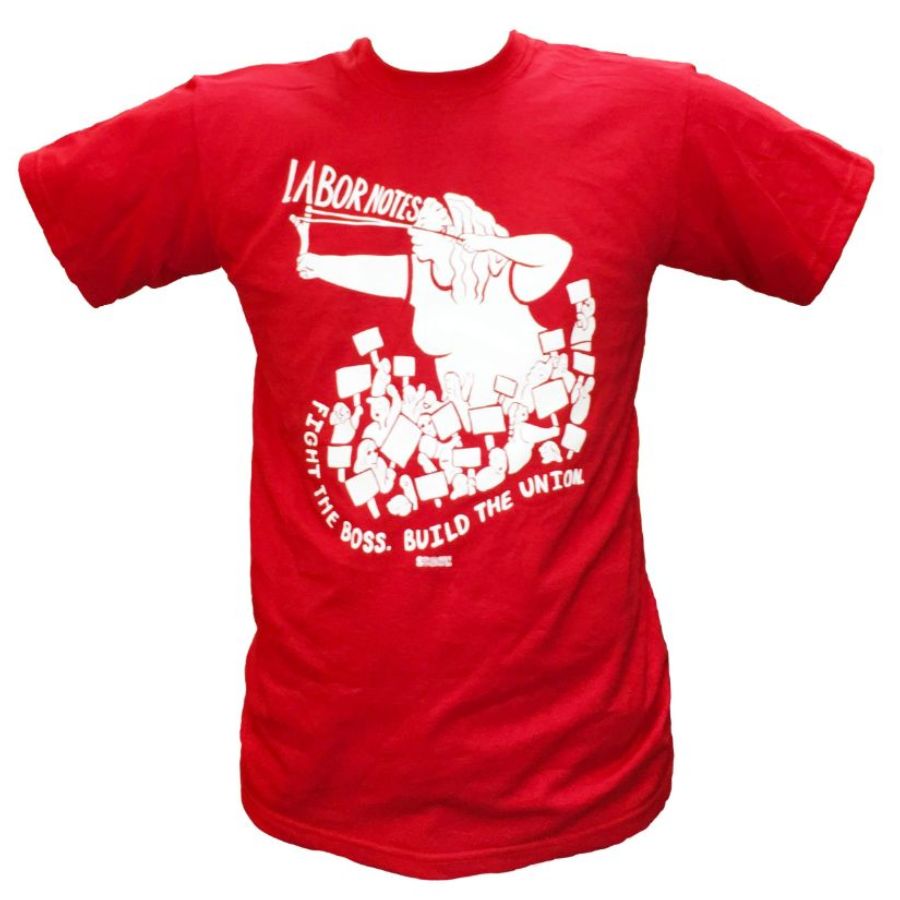 Union members fear such a law would create divisions between union members and workers who refuse to join. "We've got to stick together and this will just make us weaker," says Brian Babcock, a UAW member at the Lear auto parts plant in Hammond, whose local has been struggling against concessions.
Try, Try Again

Last year, right-to-work opponents forced Indiana Republicans to withdraw the anti-union legislation, aided by Democrats who left the state for five weeks and stalled legislative proceedings.
Republicans, however, have signaled that making Indiana a right-to-work state is a priority for this year's legislative session. Daniels, whose reluctance helped kill the effort last year, has become a vocal advocate of right to work.
"There's more urgency this year," said Robert Kreig, a Laborer from South Bend participating in the statehouse protests.
Right-to-work legislation threatens unions' finances and thus their ability to do the day-to-day work of educating, mobilizing, and representing members.
"It's like joining the YMCA and not paying the membership fee and then wondering why the gymnasium isn't maintained and the pool is dirty," Babcock said.
Republicans and their backers at the Chamber of Commerce are continuing their 60-year struggle over right-to-work laws in order to marginalize unions and reinforce an outlook of individualism.
They also want to curtail union support to Democratic politicians. Indiana's bill is modeled on the template produced by the American Legislative Exchange Council, or ALEC, a corporate-backed bill-writing mill that is also pushing anti-immigrant laws and voter ID measures that attack the ability of communities of color to vote.
Some unions, like the Steelworkers, have been educating members and the public on the realities of right to work, giving trainings to local leaders and going door-to-door in key districts across the state to talk to the public. Democrats are holding town hall meetings as well.
Brett Voorhies, legislative director for USW District 7, said these efforts have paid off: Hundreds of Steelworkers have descended on the statehouse. Last Thursday, USW members from across the state filled nine buses to the capital.
Unions vowed to continue mobilizing against the bill, no matter what happens in Indianapolis this week.