Winning the P.R. War in a Contract Campaign
With my union—the Ontario Public Service Employees Union—under attack from a privatizing provincial premier in 1997, I didn't pay much attention to the strike by 185,000 U.S. Teamsters at UPS.
But more than a decade later, the two-week UPS strike (whose slogan was "Part-Time America Doesn't Work") was to have a profound effect on 6,000 workers at the Liquor Control Board of Ontario, the publicly owned agency that is the largest buyer of booze in the world, with revenues of almost $5 billion a year.
LCBO workers had taken their kicks. Under threat of privatization for years, they had agreed to several concessions, including low-paid casuals and a four-tier wage structure. New casuals would never reach the top of the pay grid, a difference of $2.15 an hour.
Those were tough times. But a few years later, Ontario had a new premier and LCBO workers had a new union. It was time for a different approach.
CAMPAIGN MANUAL
As we prepared for the 2008 contract showdown, I remembered hearing a presentation from Rand Wilson, who had run communications for the Teamsters in 1997. That memory brought me to discover Outside the Box, by Deepa Kumar.
Kumar's book told how UPS workers were 60 percent part-time with no benefits and pay less than half the full-timers' hourly wage—same as at the LCBO. UPS workers had to lift things all day long, and it took a toll on their bodies—same as at the LCBO. UPS was immensely profitable, too—just like the LCBO.
Kumar told how a union on strike had won a public relations war in the mainstream media. We wanted to do that, too.
We bought 100 copies of Kumar's book. We gave it to our bargaining team, our member mobilizers, and the executive board. And we studied its lessons, namely that:
The mainstream media are corporations that fundamentally support what corporations do, but the tension between corporate ideology and the liberal idea of the free press can create spaces where a progressive message can take root.
No union can expect to attract media coverage without mobilizing members to take action.
Working people seldom hear about their concerns or their reality in the news, but when they do, it resonates. That can turn into real support for workers taking action.
The Teamsters' big issue at UPS was part-time jobs. The problem, skilfully articulated by the late Teamsters' President Ron Carey, was that low-wage jobs did not allow workers to live decently, raise their kids, or retire with dignity.
We took Carey's language and applied it directly to the Ontario situation.
TALK LIKE RON CAREY
As momentum built for the "Our communities need good jobs" campaign, OPSEU brought 100 union members to Toronto for training. We emphasized internal mobilizing and direct communication with the public in LCBO stores. We wanted every mobilizer to go home talking like Ron Carey. And they did.
The union controlled the message as the strike deadline loomed. Any reporter who asked, "What is this round of bargaining about?" did not hear about wages, benefits, or boot allowances.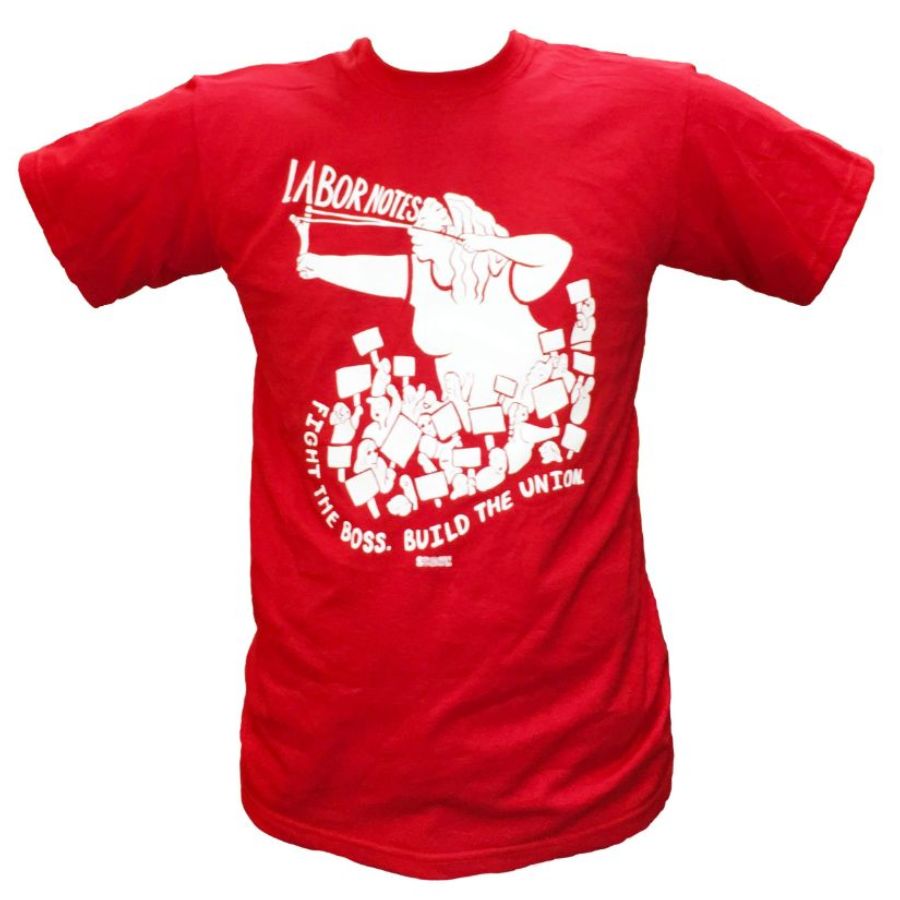 They heard: "With a recession on, our communities need good jobs more than ever," said bargaining team chair Vanda Klumper. "Do we want an Ontario with good permanent jobs with decent pay and benefits so regular people can live decently? Or will we accept disposable jobs that don't offer any hope for the future?"
We also created a way for union supporters to start conversations with LCBO workers. Campaigns Officer Sarah Jordison created "Booze Bucks," pieces of paper that looked like money and carried a message of support for the workers. The union handed more than 100,000 of these out to our other members, who in turn handed them to LCBO customer service reps in stores. They could literally see support walking in the door!
The bargaining unit is scattered in several hundred stores, warehouses, and offices around the province. The campaign was held together by a weekly newsletter and a strong web presence.
When members wore stickers on sticker day and buttons on button day, we took pictures and published them so members could see the momentum building. Twenty member mobilizers—booked off from work—took the union's message into workplaces and delivered it face to face.
Members reported back that the public was on our side.
"Usually when we set a strike deadline our customers tell us we should feel lucky to have jobs," one member said. "This time they're saying, 'Go for it.'"
Even the most reactionary of right-wing talk-radio hosts could not deny that people needed good jobs. And because the union was threatening the supply of that vital substance—liquor—no news outlet could ignore the story.
BLINK
As the clock ticked down, the LCBO blinked.
In the final day of bargaining, the employer dropped all demands for concessions and the union made 30 different gains. Newer casuals won the right to get to the top of the pay grid, older workers won prescription-drug and dental benefits, and "fixed-term" casuals got a 15 per cent pay hike on top of a wage increase. And the LCBO agreed to create more full-time jobs as well.
"Working people today are hungry for leadership that will lead them out of this mess," said OPSEU President Warren (Smokey) Thomas. "We told the public that good jobs—not corporate profits—are the bedrock of our economy, and the majority of the public said, 'You know, those crazy union people are right!'"
---
Randy Robinson is political economist for the Ontario Public Service Employees Union at its head office in Toronto.