Workers Challenge Big Food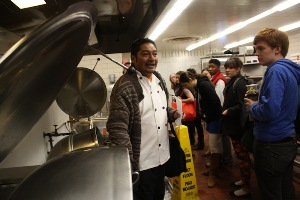 "Farm to fork" may sound like a doctrine for foodies, but for workers in food production struggling for decent jobs, it's an organizing goal.
Workers along the food chain—on farms, in warehouses and supermarkets, in restaurants and cafeterias—are seeking to make common cause with each other and against the corporations that run the food industry.
Big food purveyors like Walmart and Sodexo indirectly set the pay of the farm workers who pick fresh vegetables in the sun and the warehouse workers who move the frozen variety in and out of windowless buildings.
They do so by setting low prices and squeezing their suppliers, pushing contractors to underpay workers all along the chain. They goad farms and food processors to cut corners in a production system that values quantity over quality and appearance over nutritional content.
Corporate consolidation in the food system has become so extreme that the Department of Justice held investigative hearings last year. Firms seek to control food "from gene to supermarket shelf," said a report for the National Farmers Union, with five companies now controlling 50 percent of the retail food market and four firms controlling 85 percent of beef production.
Joann Lo of the Food Chain Workers Alliance says this means "workers need to be united across the food supply chain." Her organization brings together farmworker groups, worker centers, and unions.
Supermarket workers in Food and Commercial Workers (UFCW) locals in the New York and Los Angeles areas are part of the alliance, as is the hotel and culinary union UNITE HERE, Restaurant Opportunities Center, Warehouse Workers for Justice, the Coalition of Immokalee Workers in Florida, and the Farmworker Support Committee (CATA) in New Jersey and Pennsylvania.
FAIR FOOD
The alliance is connecting workers with consumers—leveraging fresh interest in locally grown, healthy, and sustainable food into backing for sustainable jobs.
"You care about the food you're eating?" asks Diana Robinson of UFCW Local 1500 in New York. "Well, let me tell you about the person behind your food."
Campus food workers had a median wage of $17,176 in 2010, according to UNITE HERE, and 28 percent of cooks live in "food-insecure" households, where nutritionally adequate food is limited or uncertain. Many Florida pickers still make 45 cents per 30-pound bucket of tomatoes, the same rate they did decades ago.
Connections between food workers and consumers can make managers nervous. At Pomona College in Claremont, California, the administration has banned students from talking to dining hall workers, even during their breaks. The gag rule came down a week after workers cooked and shared a meal with students as part of a union-supported "Food Day" event in October.
But people who are concerned about getting healthy local food to low-income communities often aren't making the connection to the workers involved in food production, Lo said.
That connection came into sharp focus in January when Michelle Obama, whose signature issue is healthy food, praised Walmart for its promise to reduce hydrogenated fats and salt in its brands, and to locate stores in underserved neighborhoods.
Unions shot back that Walmart is a prime cause of poverty, as it drives out unionized stores that pay better, squeezes its food suppliers, and pays its own workers so little they need food stamps to survive.
FOOD WORKERS ON BOTTOM
Low pay and harsh working conditions face nearly every worker in the long food production chain, from farmworkers, meatpackers, and warehouse workers to grocery clerks, cooks, and servers.
"They're stealing our wages, they're treating us poorly, and they're stealing our dignity, like it's nothing," said Deathrice Jimerson, a former warehouse worker who's now a volunteer organizer with Warehouse Workers for Justice south of Chicago.
Farmworkers are still organizing for basic labor protections, while at the other end of the chain, kitchen staff working for food service companies like Sodexo and Aramark have been struggling over a decade to win union recognition.
Because of their low pay, food workers are disproportionately affected by nutrition-related illnesses—diabetes, high blood pressure, and heart disease, said Jessica Choy, a California UNITE HERE organizer. "Workers are affected not only where they work by this broken food system," she said.
The union organized "Food Day" events at dozens of campuses in October, where students and kitchen staff cooked, ate, and talked together. UNITE HERE connects its union drives to students' growing desire for cafeteria food that isn't processed slop—favored by institutions to cut costs.
"Bringing in packaged food, to a lot of people that are passionate about feeding people, it's sort of like an insult," said LaShanda Bell, a cook at Northwestern University. "We want to mix sauces and make our own stocks and actually produce food with our hands versus unthawing, heating, and serving."
RE-SKILLING THE KITCHEN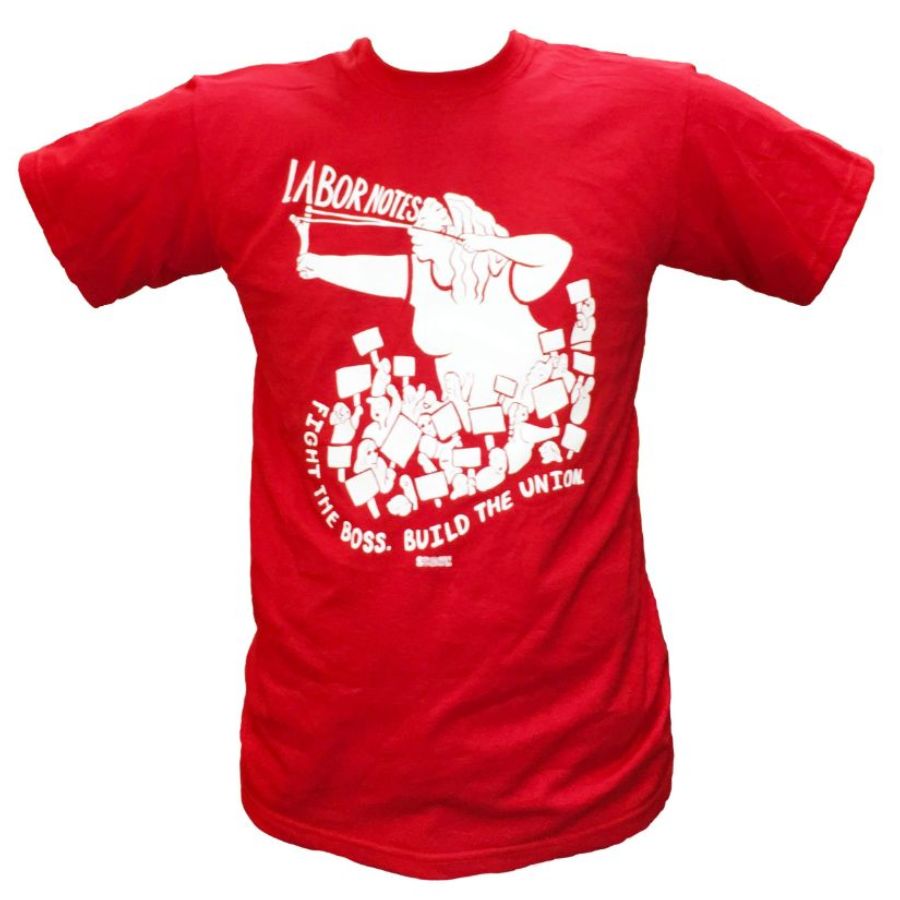 Union food workers at Yale successfully fought back against a de-skilling of their kitchen and the closing of their bakery.
After Yale contracted with Sysco, the food distribution company, "we went right to canned sauce, processed cheese, pizza dough out of a box," chef Stu Comen told the student paper. "Here we are, with our chef coats with our names on them, and we're opening up cans of sauce."
The workers, members of UNITE HERE Local 35, made common cause with students, holding taste tests and posting ingredient lists so students could compare the processed baked goods provided by Sysco to those produced in Yale's bakeshop.
Now the college aims to get 40 percent of its food from sustainable sources in the next two years.
Harvard dining hall workers, members of UNITE HERE Local 26, ratified a contract in September that sets up a union-management committee to implement "environmentally responsible" food practices.
Dining hall workers say these initiatives lead to more work as well as better, healthier food. At Harvard, workers were getting hours cut. They hope to see those hours return as real cooking increases.
PITFALLS AT POMONA
At Pomona College, it's been easier to get the school to switch to unprocessed food than to win union recognition.
On Food Day kitchen staff reported that the sustainable-food initiative won by students and workers has led to speed-up in the kitchen rather than to more hours or more jobs.
"They're putting skill back in the work, adding to the workload, and not taking into account how it may be affecting the workers," said Choy.
More than 90 percent of kitchen staffers signed a petition for a union in March 2010, but the college doesn't recognize their organization, despite many meetings in which management promised neutrality, a promise workers say has been broken.
In powerful videos the group has posted online, workers say they were fired for being sick, had vital medical care delayed due to management shenanigans, and were unable to afford health coverage, which runs up to $600 a month. Some workers were still making less than $12 an hour after 20 years of service.
ALL ALONG THE FOOD CHAIN
The Food Chain Workers Alliance is using worker-to-worker, worker-to-farmer, and worker-to-consumer connections to plan a larger campaign, expected to launch next year, focused on one corporate target that can impact work from farms to tables, Lo said.
Each group of workers will figure out specific demands, she said. They're compiling their knowledge of the industry and studying winning models employed by members of their coalition:
Warehouse Workers for Justice has successfully used community outrage to win back jobs for 10 workers fired in warehouses southwest of Chicago. An ethnic food distributor charged with discriminating against Latino workers got an earful from community leaders who threatened to boycott.
In a 10-year campaign, Florida farmworkers and students joined forces to pressure highly advertised brands like Taco Bell to sign on to fair wages for tomato pickers. They have nipped other brands into line with marches, campus actions, and boycotts, and are now focused on specialty grocer Trader Joe's and the Florida-based Publix supermarket chain.
But farmworkers are able to employ boycotts partly because they are excluded from U.S. labor law. Workers covered by the National Labor Relations Act are hog-tied by legal restrictions on "secondary boycotts," which target a company that is not their direct employer.
On campuses, kitchen workers usually labor for contractors like Aramark, rather than the university itself. In warehouses, workers are often temps, way down the chain from companies with a recognizable name. When confronted, the corporate behemoths point to their contractors as the culprits.
Successes have been won by cutting through the layers of subcontractors, finding where the real power lies, and then finding leverage to shift that target directly. By creating connections and a deeper understanding of what is at stake, food chain workers hope to scale up and "build a campaign that will fight for all of us on the supply line to America's tables," said Jimerson.
---
[Eduardo Soriano-Castillo contributed to this story.]