Teamsters Spread Sympathy Strikes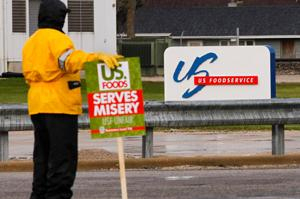 Taking advantage of contracts that allow members to honor picket lines, Teamsters are spreading sympathy strikes across the country at the nation's second-largest food services company.
The union's 4,000 members work at 25 distribution centers for U.S. Foods, which delivers to restaurants, hospitals, military bases, and jails. Each group works under different local agreements. This is the first time they've coordinated strike actions.
"People understand our turn in the barrel may be next," said Jamie Young, a driver who belongs to a Washington state local due to stop work at 2:15 a.m. Friday. "Our contract is coming up in three years, we want their support—it's pretty far-sighted."
The Teamsters said more than 830 workers in five states have joined the action thus far.
The strike jumped off in Streator, Illinois, when management disciplined a bargaining committee member for attending negotiations. Local 722 called an unfair labor practice strike Sunday. A member then traveled to St. Louis to picket U.S. Foods' center there. Tuesday he repeated the process in Fishers, Indiana. Teamsters locals began sympathy strikes in Buffalo, New York, and Plymouth, Minnesota.
The union is following the law and its contracts in spreading the strike. Under the National Labor Relations Act, strikers can picket other facilities owned by their company. Most Teamster contracts at U.S. Foods allow members to refuse to cross picket lines set up by other U.S. Foods employees.
The Teamsters used similar tactics to make huge membership gains in the 1930s and 1940s. Congress restricted sympathy strikes in the 1947 Taft-Hartley Act, and the Teamsters have been one of few unions to preserve the tactic.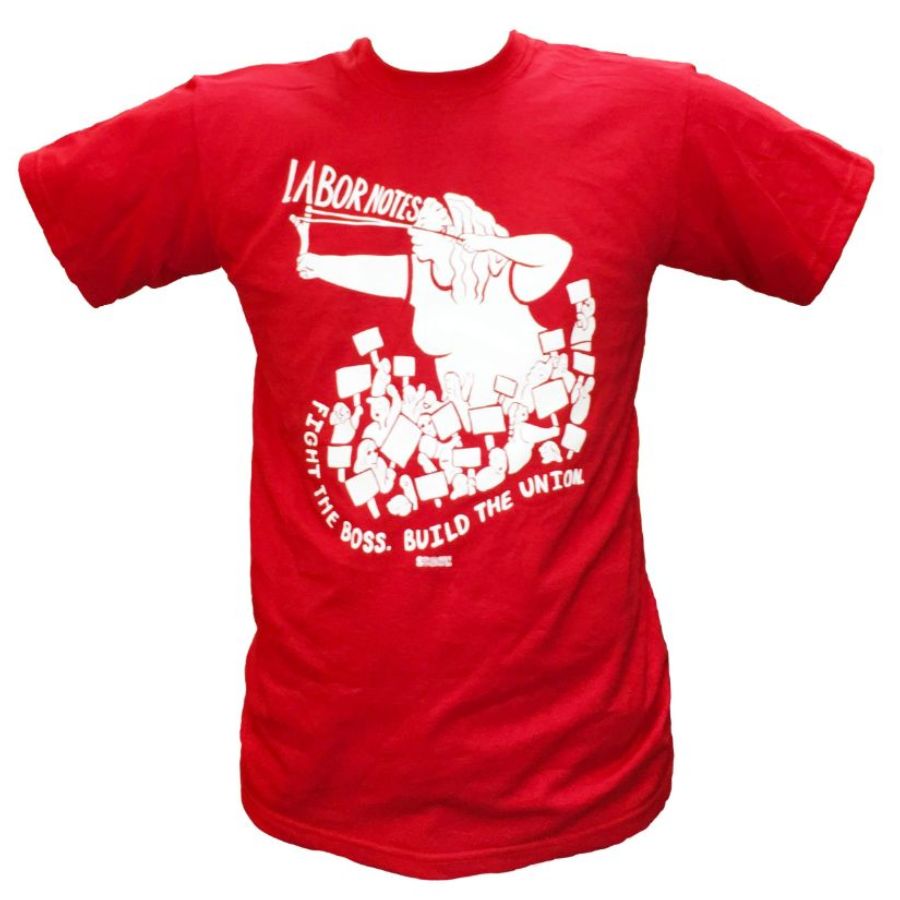 The union says the company escalated its aggression after its purchase by private equity firms Kohlberg Kravis Roberts and Clayton, Dubilier & Rice. The company closed a Boston warehouse, firing 114 Teamsters, and shipped work away from the union. Bargaining in Nevada included a demand for unlimited health care cost increases. Organizing drives have been met with fierce resistance, including firings, and have sparked hundreds of unfair labor practice charges.
Empty Trucks
In Fife, Washington, a sister local to the U.S. Foods local is setting up and staffing the picket lines. Once the company has had 72 hours' notice, Local 117 members will refuse to cross those lines, for a period of 12 hours.
Young said, "Pickers and drivers, we're solid. The warehouse guys aren't going to pick the food, the trucks won't get loaded."
Even if management wanted to drive the trucks out beyond the picket line and then tell union members to drive them, a common tactic for Teamster employers, the pickers inside the warehouse aren't going to put anything in the truck, Young said.
Young says there are plenty of reasons for members to feel ready to strike U.S. Foods, which is constantly surveilling workers and pushing for more productivity.
On his first day on a new route, he didn't know the locations or where to park. But management "sent a tailer out to watch me," Young said. "He wrote me a letter that night for lack of productivity."