Tacoma Teachers Strike Shows Defiance Can Attract Sympathy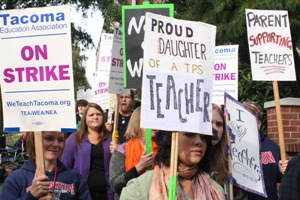 A nearly two-week strike by teachers in Tacoma, Washington, defied state laws against public sector work stoppages—and showed that when much-vilified public workers take bold action, they can win public sympathy.
Members voted by 87 percent to walk off the job September 12 to defeat management's bid to replace seniority with favoritism. They stayed out until September 23, winning an agreement that preserves seniority for now. A joint committee will study changing the system over the next year.
The district's plan would have taken the focus "off of teaching and onto remaining popular with the administrator," said Ann Welton, an elementary teacher of 19 years. "We want to spend our time teaching, not looking over our shoulders," added Laurie Goodrich, a teacher at McCarver Elementary.
Administrators tried hard to break their resolve. The district made robo calls to teachers nearly every day of the strike, threatening dismissal for those who stayed out. "I'd wake up at 4 in the morning and wonder if I was going to get fired," Welton said. "But you'd get back out on the line and things felt better."
During the strike, the 1,900-member Tacoma Education Association (an NEA affiliate) succeeded in shutting down schools in Washington's third-largest district. Just 88 teachers crossed the line, Welton noted.
The YMCA, the Boys and Girls Club, and local churches watched Tacoma's 28,000 students during the strike. Many spent their days outside in parks. Teachers collected food at several strike events for kids who rely on school meals.
The logjam in contract bargaining occurred over teacher transfer and reassignments.
Administrators originally proposed making such decisions based on 10 points, six of which were "immeasurable and undefined," said Rich Wood, a union spokesperson.
Criteria included "collaborations with others," "interactions with students' families," "whether or not you're sufficiently collegial," and maintaining "a safe classroom environment."
The district dismissed the union's proposed alterations to seniority, refusing any compromise.
The administration remained unmoved and teachers walked the line until the parties hammered out an agreement September 22 when the governor called them to a mediation session in the capital.
Under the agreement, the district will continue to base assignments on grade level, experience, and qualifications for a year while a joint committee, composed equally of union and district representatives, looks at changes to the system. Any recommendation must be approved by two-thirds of the committee.
Teachers were told that if they capitulated on seniority, the district would back off on its other concession demands, including a 1.9 percent pay cut and class size increase of two students. "Seniority is imperfect, but seniority is transparent," said Nathan Bowling, a high school social studies teacher. However the system changes, he said, it must remain transparent.
Existing pay schedules will be extended and class sizes will remain the same under the new deal.
TO THE COURTHOUSE
When teachers walked out, the district took the union to court—skipping a scheduled bargaining session.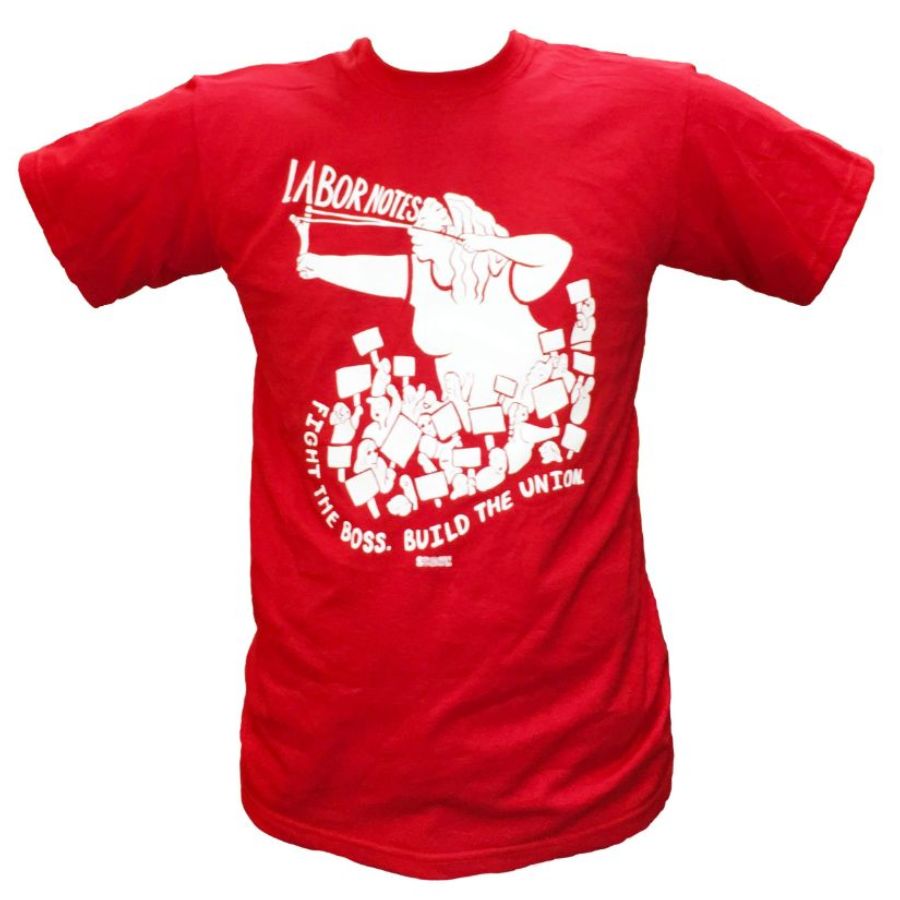 Fifty teachers and supporters rallied in front of the courthouse as a judge issued a temporary restraining order demanding the two parties return to the table.
One provision in the restraining order forced the union negotiating team, officers, and staff back to work. Since the membership went unmentioned, only the eight rank-and-file teachers named in the decision went back to work.
The district ordered all teachers into the classroom the next day. None showed up.
As teachers met at the Tacoma Dome stadium that day to vote whether to continue the strike, hundreds of students assembled outside, chanting "Teacher," "Power," "Teacher," "Power." Emboldened by their students and by the real language of the restraining order, 93 percent of teachers voted to persist.
The students had marched to the Tacoma Dome from a rally at the district office, organized through Facebook. "I invited 50 people I knew," said August Wimberger, a junior at Foss High School. "It just blew up."
Though parents' reactions to the strike were mixed, Wimberger noted that after students rallied, he saw "a more positive outlook on the strike." Students understood that pay was a subordinate issue in the dispute. "We care about fairness for our teachers," Wimberger said.
The Washington Education Association set up an informational website for community members. In addition, to reach those in poor neighborhoods with less computer access, teachers organized 50 people to canvass around each of the five high schools over five days, hoping to build even more support in the community.
UNITED IN ANGER
Student solidarity bolstered teachers' morale, and the district's efforts to intimidate teachers often backfired, spreading unity in anger rather than fear.
When teachers received notice of the restraining order, some were scared, but strike captains had alerted their colleagues that the letters were coming and explained the legalities. Teachers angrily noted the district spent at least $2,000 on postage for the mailing.
Powerful foundations that push an agenda hostile to public education and its unionized teachers entered the mix as well. Vibrant Schools Tacoma, a coalition underwritten by the Bill and Melinda Gates Foundation, poured out propaganda against striking teachers. The group penned a letter to the editor backing the district's proposed staffing policy, and for months, its website has featured survey data supposedly touting community support for undermining seniority.
Despite voting by 99 percent to ratify the agreement, rank and filers don't know what will happen if the committee can't reach an agreement on seniority by the 2012 school year. Teachers are predicting the old system will remain in place.
Whether or not seniority rights are safe, Welton said the strike had a positive effect on the union. A building rep for six years, she had a hard time before the strike recruiting younger members to union work. "Now I've got some of the younger teachers really interested," she said.
And though history and social studies textbooks lay dormant for two weeks, students received lessons they won't soon forget.
"Many students learned more through real-world experiences about democracy, civil disobedience, and being a part of a community than we could have learned from books in a year," Wimberger said.