Occupy Wall Street Holds Ground, with Labor's Help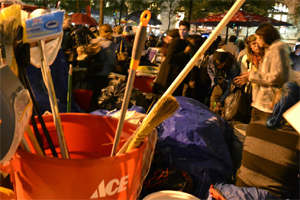 New York City authorities scrapped a plan to dislodge Occupy Wall Street protesters after a thousand people crammed into the park that occupiers call home to defend the encampment at daybreak.
There were too many in the park and on surrounding sidewalks to evict, and police called their operation off.
Unions and other sympathetic groups called out their members to defend the occupation—rallying to a phenomenon that's put wage cuts, layoffs, and foreclosures squarely in the national debate.
City officials and the company that controls the park said the protest needed to move at 7 a.m. so the park could be cleaned, but occupiers scrubbed the area last night, leaving it smelling of bleach and soap. Dozens of mops, brooms, and buckets dotted the scene, as the self-organized sanitation committee emptied garbage cans and bagged personal belongings in case of a police charge.
Occupiers said the cleanup was a ruse to block them from using the park, pointing out that city officials said they could return, but without bedding, tarps, and the right to lie down.
Red-shirted Communications Workers—many of them recently on strike against Verizon—graduate student members of the United Auto Workers, building services workers in their SEIU Local 32BJ purple T-shirts, and Transport Workers Local 100 members were among the unionists visible in the crowd.
The victory came "because of our unity and strength," said James Taylor of 32BJ. He also thought Bloomberg had made a political calculation: "Especially with the unions out here, they can't claim it's just a bunch of college kids."
Why was his union out for the protest? "Everybody's under attack," he said. "Nobody's safe."
Janitors Needing Support
Kevin Doyle, vice president of 32BJ, said 500 members of his union rallied at Wall Street and then marched to the occupation on Wednesday. The union represents 120,000 workers in eight states, and is facing tough contract fights—2,600 Philadelphia property service workers may strike as soon as Saturday night.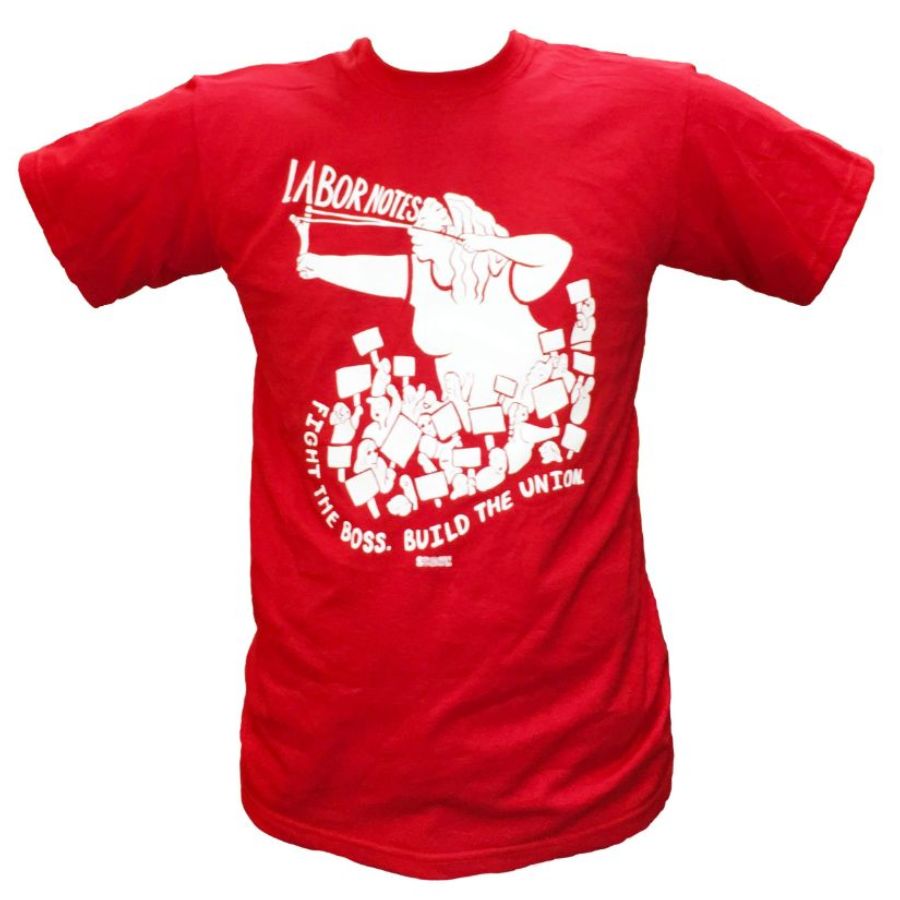 "The occupy demonstrations have struck a nerve around the country," Doyle said. "We're participating because there's the same kind of issues, the concentration of wealth, the need to re-democratize society."
Doyle wasn't the only union brass present. Chris Shelton, Communications Workers district vice president, presidents of two CWA locals, and Barbara Bowen, president of the teachers union at the City University of New York, were all spotted in the early morning light.
Community college teacher Craig Bernardini said his union has been supporting Occupy Wall Street from the get-go and put out an emergency call yesterday to defend the park.
"We're all fighting for the same things, but this group finally took initiative," he said of the occupation. He said a hiring freeze and budget cuts mean uncomfortably full classes for his students at Hostos Community College in the Bronx. Students have to roam the halls to snag extra chairs so they can squeeze into his crowded classroom, he said.
National Nurses United announced it would establish a first aid station in the park today in response to protester requests. The nurse union—whose members are mainly in California, Massachusetts, Minnesota, and Michigan—called on the city administration to respect the free speech rights of protesters, and vowed to expand first-aid efforts to other occupy sites in coming days.
Sunrise found people excitedly chatting about the victory and buying coffee from street vendors, while several hundred marched off toward the Stock Exchange and others started toward City Hall, attracting cheers and friendly waves from construction workers atop the half-built Fulton Street Transit Center.
Scuffles with the police were recorded on the Wall Street march, with a few arrests. "Shame! shame!" chanted the crowd as one marcher was led away.
More rallies are planned for tomorrow. A committee of occupiers who are connecting the protest to city labor struggles plans a march to Chase bank, which they say has laid off 14,000 workers since its infamous bailout.