Was Verizon Unions' Labor Lost?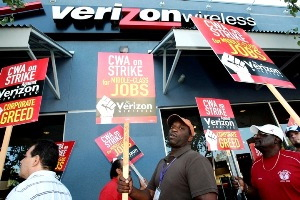 Almost two weeks into their August strike, 45,000 Verizon workers were tapping a deep root of anger at corporations that enjoy immense profits but can't be bothered to pay taxes or treat workers decently.
From Boston to Los Angeles, unions and Jobs with Justice chapters were adopting wireless stores to picket, slowly tightening a noose that threatened to choke Verizon's rollout of the new iPhone in September.
Though the company wouldn't admit it at the time, rumors that Verizon had stopped installing fiber-optic TV/internet service were true. A telecom industry journal later put the backlog at 100,000 orders. Service outages plagued the company.
Then a hurricane began slowly winding its way up the East Coast, where strikers were picketing from Virginia to Massachusetts. Members of the Communications Workers and Electrical Workers (IBEW) knew the barely trained scab managers sent to take their work were knee-deep already.
But it was union members who were about to be literally under water. Their leaders sent them back inside August 23 under the old contract.
CWA President Larry Cohen thanked members for their hard days of mobile picketing and protest outside wireless stores. The mobilization machine ground to a halt, and Jobs with Justice and allied unions like UNITE HERE were told to stand down and stop picketing wireless stores. The decision was later reversed, but the air had left the balloon.
A Verizon spokesman taunted the union, claiming all of management's major concessions were still on the table.
WHY DID IT END?
Members were left wondering what their sacrifice gained, and how best to carry on the fight now that they've returned to work.
"We're back to where we were in May," said Eddie Blackburn, an IBEW Local 2323 member in Rhode Island. "It feels like Groundhog Day. People are saying, we did all that, and they sent us back in -- for what?"
Three explanations for ending the strike are common among members. The first is that CWA did not want a long strike, because it had neglected the contract campaign that would have prepared members for a lengthy battle.
Another line of thinking blames the IBEW for wavering. The IBEW has no strike fund, and some local leaders called off union pickets at wireless stores after the company threatened legal action.
Because CWA had 70 striking members in Verizon's wireless division, it could legally picket wireless outlets. IBEW does not have members in wireless, so its legal right to picket was iffy.
Others thought the unions were expecting unemployment benefits would help members hold out, and when New Jersey ruled against members there, the unions panicked.
Union leaders rejected the theories, and noted that IBEW President Ed Hill repeatedly instructed locals that they could and should conduct informational picketing at wireless stores. Hill also issued a letter reminding members at contractors they should not cross Verizon picket lines.
From the start, CWA had said the unions needed a flexible strategy, and that their strike was designed to make Verizon bargain seriously rather than go all the way to a tentative agreement.
Blackburn said members understand that conventional, bitter-end strikes are highly risky. They still feel that the unions should have stayed out until Verizon pulled at least one big concession off the table, he said, reducing the $20 billion worth of givebacks the company sought.
PROGRESS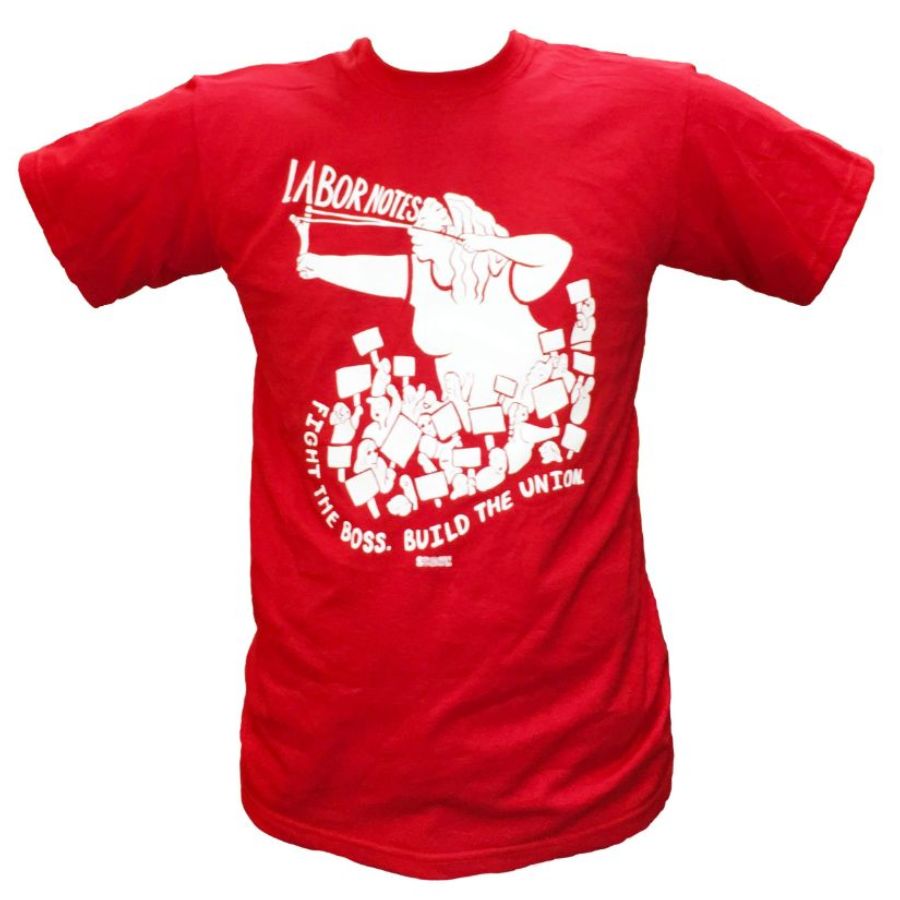 Getting rid of the noxious pension-busting, or contracting out, or transfer-of-work demands would have given members something tangible, and whetted their appetite for more.
Some of Verizon's 100 takeaway demands are off the table. On September conference calls with members, Cohen said the company scratched 30 concessions at the end of the strike, and that bargaining "is much more like it should be." But "vicious attacks on health care, pensions, and job security" are alive and well, he added.
Cohen pleaded with members not to "look backward" but to start re-engaging by leafleting wireless stores and attacking the Verizon brand.
He urged members to see their fight as part of a larger national struggle over creating and preserving good jobs, and prodded them to plan October actions alongside postal unions and hotel workers who are locked in similar battles.
"There are no guarantees," Cohen said. "But we improve our odds by fighting back."
Thousands of members are unable to participate, however. After Hurricane Irene drenched the Northeast, Verizon declared a state of emergency in several states -- which allows management to lift the cap on forced overtime.
Many workers were put on mandatory 12-hour shifts, six or seven days a week. Weeks later, members are still pulling these grueling stints.
Many pointed to the relentless schedule as they mourned CWA Local 1109 member Doug Lalima, who died on the job September 14 in Brooklyn. Lalima was electrocuted and burned while he worked on lines connected to a utility pole.
CLEANING UP THE MESS
CWA Local 1101 member Pam Galpern said the company is taking advantage of the state of emergency to force union members to clean up the backlog of repairs and installations left behind from the strike, and from the company's years of neglect of the infrastructure.
Members are also angry at the company over 81 indefinite suspensions for picket-line actions, and upset that the unions signed a back-to-work agreement that didn't include arbitration rights for suspended members.
As of mid-September, two-thirds of those suspended are still waiting for reinstatement -- including one member who mooned her supervisor.
"The suspensions are all pretty questionable," said Gay Semel, a CWA attorney. "If this went to an arbitrator, nobody would get discharged for the things they're accused of."
CWA has promised that all workers suspended in the strike will return to work, and vows it will win the jobs back in bargaining.
Under the terms of the back-to-work agreement, neither Verizon nor the unions could terminate the contract until September 22. Either party must give seven days' notice if it intends to force another walkout.
As the deadline approached, Verizon trained hundreds of managers in fiber-optic installation and advertised for scabs, leaving members wondering if a lockout is coming.