CWA's T-Mobile Win Sets Stage for AT&T Merger Fight
The vote count that established the very first union at T-Mobile last week almost didn't happen.
As T-Mobile technicians and organizers with the Communications Workers watched nervously, the election monitor opening the ballot box cut his thumb and nearly drenched the votes in blood.
It was one last heart-stopping moment in a tense campaign, which saw 15 Connecticut techs vote 8-7 to join CWA Local 1298. The closely watched vote set a winning tone for CWA in the first of several elections due at vigorously anti-union T-Mobile.
T-Mobile workers are joining up because the company is exploring a merger with AT&T, and having a union is their only defense against arbitrary management decisions during the merger. CWA backs the marriage because AT&T does not interfere when wireless workers try to organize. About 22,000 workers could join CWA through its neutrality agreement with AT&T if the merger goes through.
T-Mobile, however, has fought the union for years, and continues to delay votes for wireless technicians in New York. In Connecticut, T-Mobile tried to include engineers in the list of eligible voters, to dilute the pool of union supporters.
"They were trying to say those guys are out there with us in the sun, in the mud," said Chris Cozza, a T-Mobile tech and leader in the Connecticut campaign. "Last time I saw one on the job, I was up on the roof freezing while he was inside talking."
Cozza and another tech had to testify over four days of hearings before the National Labor Relations Board to establish which workers were union-eligible, an unusually long process for such a small group of workers.
Verizon workers, who are members of CWA, picketed in sympathy outside, protesting T-Mobile's anti-union tactics. Verizon is the nation's largest wireless company, followed by AT&T, Sprint, and T-Mobile.
Verizon's 45,000 East Coast landline and fiber-optic workers are facing difficult negotiations ahead of their August 6 contract expiration. Management wants to kill pensions and get a health care plan that will cost workers thousands of dollars out of pocket.
CWA's bargaining stance is weakened by its light representation among wireless workers: It only negotiates for workers at AT&T, giving it about 26 percent union density nationally in wireless.
WIRELESS WEAKNESS
As landline phone usage shrinks and fiercely non-union cable companies eat up market share delivering comparable services, CWA needs to expand on the booming wireless side—which Debbie Goldman, CWA's telecom policy director, sees as the key issue in proposed T-Mobile-AT&T nuptials.
"We need to represent a majority of wireless workers so we can bring living standards up," Goldman said.
Particularly in an industry with one-half of work in call centers, which can shift location easily, the union needs to seize any opportunity to organize wireless workers—and AT&T has been the only company to allow it.
"All the others fight viciously to keep the union out," she said.
T-Mobile, even in the throes of merger talk, is sticking to the anti-union script.
The company flew in executives from headquarters in Washington state to lecture against the union in Connecticut, and drilled workers for 42 days leading up to the vote on the company's need to "maintain flexibility" and keep out "third parties."
"The constant hammering worked on some guys," Cozza said, noting that several workers who signed authorization cards flipped during the stressful anti-union campaign. Paranoid that T-Mobile might use the GPS in its trucks to monitor his location, Cozza would park a block away from union headquarters when he met with organizers. Other workers were sure their cell phone conversations were being monitored.
Local 1298 organizer Cindy Harrity said careful trust-building made the difference. For months, she talked every day with workers, several of whom she's known for years, since they tried and failed to unionize under prior management. The clincher, she said, was bringing rank and file AT&T wireless techs who do the same work to talk to the T-Mobile workers. T-Mobile's hysterics about restrictive union rules and fines melted away.
SOFT LANDING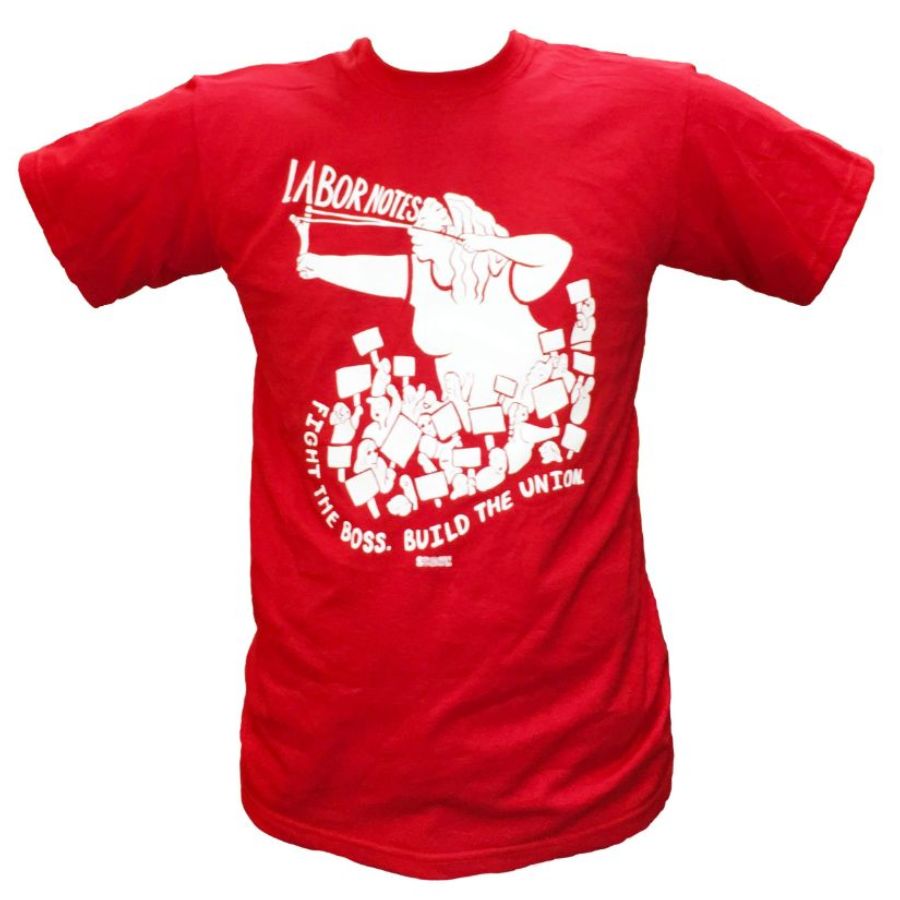 "The real reason they were fighting it is because with a union, their sale price goes down," Cozza said, because T-Mobile must then negotiate about relocation and severance.
Nervousness about the merger drove workers' interest in the union.
"Picture an airplane on the way down," said Cozza, recounting the argument he made to fellow techs. "Who's going to be there holding the door and pushing you out? Management, unless we land the plane softly."
Not everyone is convinced the merger is imminent—or beneficial. Some consumer and internet-freedom groups, like Free Press and Public Knowledge, point out that companies always shed jobs when they combine. They fear resurrecting a Ma Bell-like telecom colossus: Verizon and the bigger AT&T combined would control 80 percent of the wireless market nationally.
CWA and AT&T claim 100,000 new jobs will come from the merger, generated by $8 billion in new investment to build out the network to 97 percent of the country.
Free Press scoffs at the claims, arguing that AT&T is offering to pay $39 billion for T-Mobile, limiting the cash it will have to build anything—and the promised $8 billion build-out is actually a net loss, considering the investments a standalone T-Mobile would have made.
"It's a ransom situation," said Dave Saldana of Free Press. "AT&T is trying to hold the rest of the economy over the barrel by conditioning its investment on approval for the merger."
CWA's Goldman says timetables for investment will be written into any merger approved by the Federal Communications Commission. And the union will work at the bargaining table and with regulators to make sure AT&T lives up to its CEO's promise—given in Congressional testimony—that any short-term job loss after the merger will be handled through attrition and bringing back offshored work, not through layoffs.
"If history is any indication," Saldana said, "the FCC doesn't have the will to rein in renegade providers."
WORTH THE PRICE?
Goldman said the consumer groups are unwilling to acknowledge that T-Mobile will disappear under all circumstances: its German parent company announced it would not pay to build the next generation of wireless technology in the U.S., which put T-Mobile on the selling block.
Sprint had been wooing the company, but Goldman was pleased T-Mobile chose AT&T, noting that debt-ridden Sprint limped along for years after a disastrous Nextel merger, and contracts out much of its work, much of it overseas—putting downward pressure on workers.
Sprint also stomps on workers when they attempt to organize, going so far as to close a San Francisco call center rather than allow a union election.
AT&T has moved aggressively against its own workforce, too, stuffing a substandard contract down workers' throats in 2009—one that Verizon is now trying to emulate.
Plus, AT&T is cutting its landline workforce drastically (shedding 40 percent in California) and—like Verizon—has refused to build the fastest technologies to low-income and rural areas.
With that kind of track record, Saldana says, union and consumer advocates should think twice about blessing its marriage with T-Mobile.
"Are AT&T's promises worth it?" asked Saldana.
"Definitely," Goldman replied. The union needs members to have any leverage on policy.