After Budget Standoff, Wealthy Minnesotans Escape Higher Taxes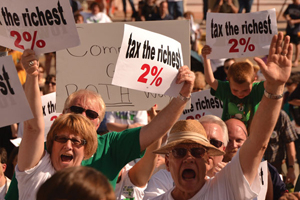 Basic services across Minnesota shut down in July as Republican lawmakers and Democratic Governor Mark Dayton battled over how to fix a $5 billion budget deficit.
State offices were shuttered and 22,000 government workers were sent home as only essential services continued.
Construction projects ground to a halt, locked licensing offices slowed business, and disappearing reimbursements for childcare caused headaches.
By the shutdown's third week, lawmakers reached a deal that would restart state services—but only after Dayton gave up his demand for higher taxes on the rich.
Dayton had proposed increasing taxes on the highest 1 percent of earners (which includes himself, scion of the department-store family that birthed the Target retail chain). The millionaires' tax could have generated $1 billion; Dayton proposed to make up the remaining deficit with cigarette and gambling taxes plus spending cuts.
In Minnesota, the wealthiest 1 percent pay less in local and state taxes than middle-income earners
pay. The Minnesota Budget Project says someone making $429,000 pays 9.7 percent and someone earning $32,000 pays 12.1 percent.
Dayton had already backed off significantly: His original proposal would have raised taxes on households with incomes above $150,000.
Instead, with the mid-July compromise, the state appeared ready to cash in bonds expected from a decade-old settlement with tobacco firms, and Dayton accepted $2 billion in cuts to state programs.
The state will kick the budget problem down to school districts, by deferring payments to them. That will force local districts to either cut education spending or boost property taxes.
NO REAL FIX
The state, which shut down for nine days in 2005, has booted hard choices to localities before, feeding a sense of enduring crisis and rising tax loads that won't be resolved this budget cycle. Counties, which depend on pass-through money from the state, began to feel the strain as well. Hennepin County, home to Minneapolis, issued 1,300 layoff notices.
Led by a group of dogmatic Tea Party freshmen, state Republicans had refused to consider any new taxes to balance the two-year budget.
Unionists in the state predicted the shutdown could tarnish the Tea Partyers, whose eagerness to torpedo special education, bridge and roadway repair, and services for the blind played badly in many precincts.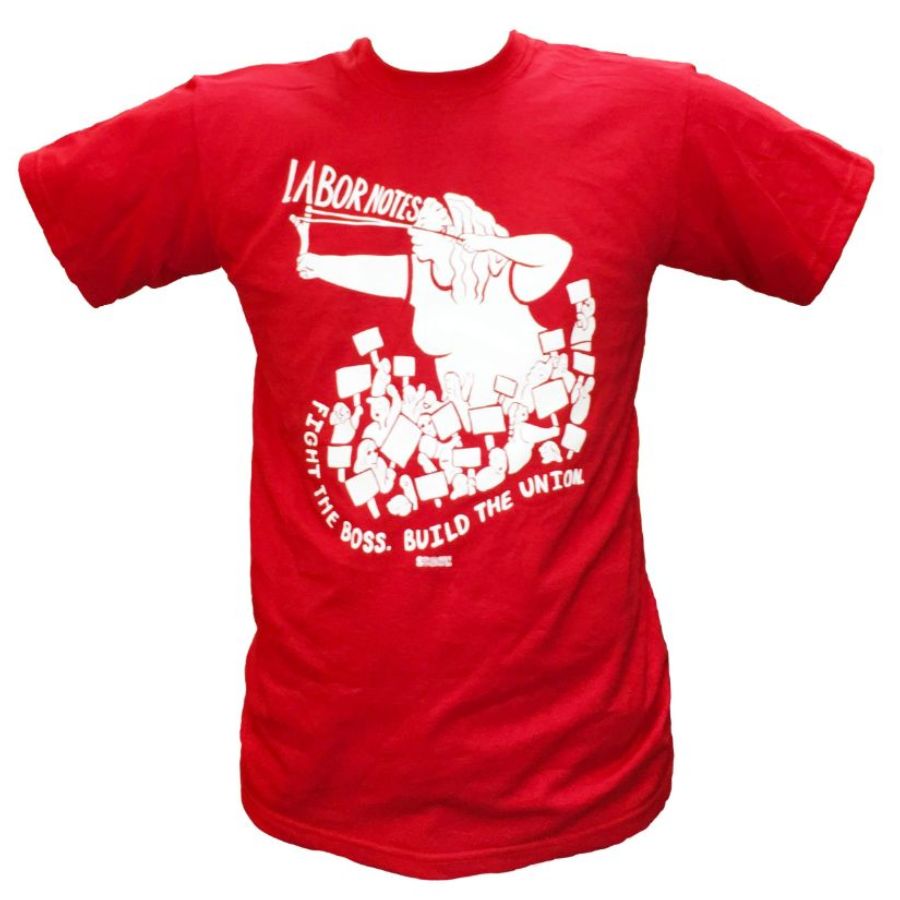 "This is what happens when you cut state services—the poor suffer," said Phyllis Walker, president of AFSCME Local 3800 at the University of Minnesota, which remained open because its budget is separate from other state spending.
MUTED RESPONSE
The state shutdown had been rumored all year. When it hit, Minnesota's unions mounted two rallies at the Capitol, drawing about 1,000 to each.
But they focused on a phonebank operation to mobilize progressive voters in Republican districts to vent their displeasure, guiding them to their legislators' home phones.
Before Wisconsin's uprising this spring, the response would have been considered big—now, Minnesota unionists expressed measured disappointment at the response.
Mike Lindholt, a bridge worker and AFSCME Council 5 member, said timing a rally near the July 4 weekend hurt turnout.
Many workers struggled with the loss of income; Lindholt drew $493 of unemployment benefits in the first two weeks of July. AFSCME members in Minnesota make an average of $38,000 annually, and retirees collect an average $13,000 pension.
Despite Dayton's giving up the millionaires' tax, Michael Kuchta of Council 5 said public unions considered it a win to have him reject Republicans' deep budget cuts, which would have necessitated 5,000 layoffs.
Republicans had put forward dozens of proposals to kill collective bargaining, freeze wages, chop pensions, and privatize services. Kuchta said Dayton's deal took those attacks off the table, adding that AFSCME's tax-the-rich campaign will continue.
Tigger Lunney, a lost-time member-organizer from AFSCME Local 3800 coordinating the phonebank, said members he spoke to were "in mourning, angry, freaked out."
Without an outsize and clumsy target like Wisconsin's Scott Walker to fix on, members didn't rally as quickly as their neighbors in the next-door state, he said.
Lunney said the union's phonebank—making up to 1,000 calls a night—helped members realize that "we're all the union and our problems won't get fixed if we stand aside and pretend other people will fix them for us."
Patience for anti-government dogma may be finally wearing thin, Minnesota unionists said, with the realization that state workers are responsible for mundane but important tasks, like distributing the permits for beer sales at street fairs.
"The Republicans came in promising to create jobs, but the only thing they've created is longer unemployment lines," Lindholt said.