Michigan Governor Takes a Walk of Shame in Benton Harbor
For 39 long minutes, Michigan's Republican Governor Rick Snyder had to endure a barrage of thundering chants. "Recall Rick!" they demanded. "Shame, Shame!"
That's how long it took Snyder, on foot, with his entourage of motorcycle cops, bodyguards, and mounted police, to walk two miles through Benton Harbor as the honorary Grand Marshal of the town's Blossomtime Parade on Saturday.
The parade began under gray skies in the more affluent, mostly white town of St. Joseph, traversing the bridge over the St. Joseph River into the decidedly poorer, mostly African American Benton Harbor, where 50 percent of the people live below the official poverty line.
As the governor crossed the bridge, 500 protesters lining both sides of the street turned their backs and broke out into chants.
Benton Harbor, in the southwest corner of the state on Lake Michigan, is the first town picked by Snyder to flex his muscle under a new law that exponentially expanded the power of emergency managers over local governments or school districts with financial problems.
A slew of managers are in training; they will have the power to cancel union contracts, dismiss elected bodies, sell public assets, and privatize public services.
Within a month of the law's passage, Joseph Harris, Benton Harbor's previously appointed emergency manager, suspended the powers of the city commission, forbidding any action by elected officials without his permission.
Residents say this will be the final measure enabling the state to give away the town's assets to private corporations, turning the town's treasured waterfront park into a private golf course and an upscale residential development spearheaded by the Whirlpool Corporation, whose headquarters are in Benton Harbor.
Wisconsin union members, too, let their governor know last weekend he can't go out in public without attracting attention.
Governor Scott Walker opened the fishing season on Saturday at a state park and a flotilla of union workers took their boats out on the water to greet him. "The governor thinks it's a Madison protest," said Chippewa Falls High School teacher Roger Skifstad. "We have people from the northern part that are upset, too."
Defending Democracy
As Snyder walked through Benton Harbor, wearing a frozen grin, protesters kept pace along both sidewalks. They formed a virtual gauntlet, chanting and thrusting signs accusing the governor of trashing democracy the whole way. Along the route, they interacted with the parade watchers. Many turned around and spontaneously expressed support.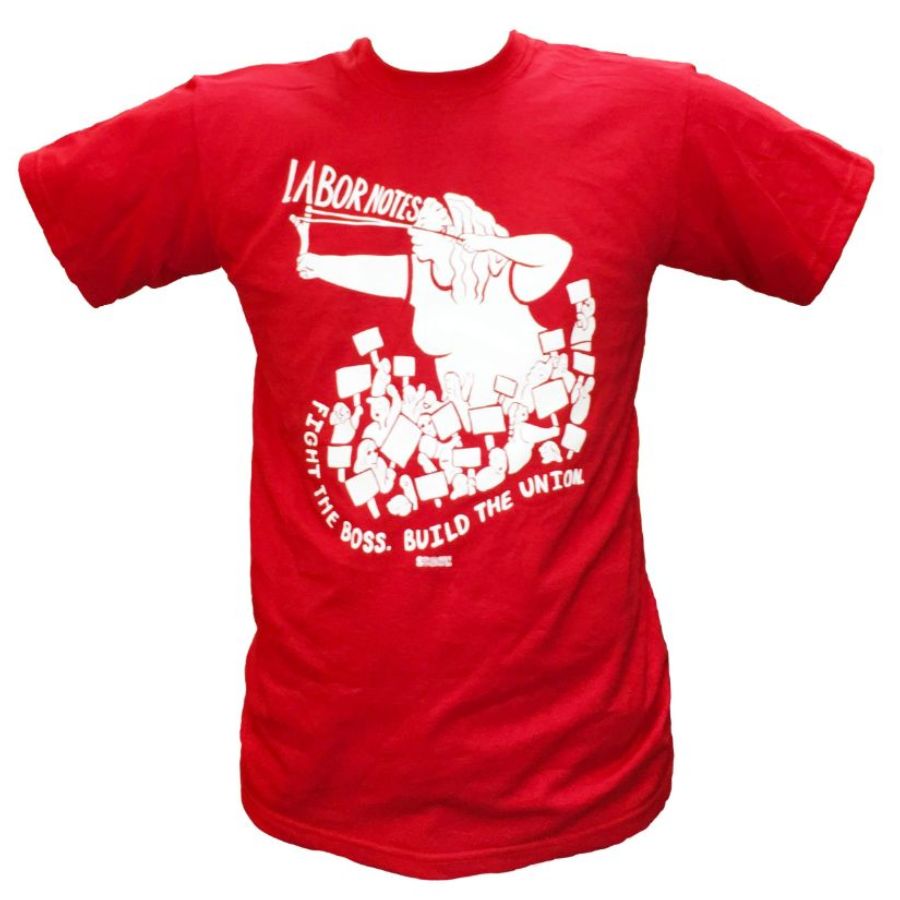 The demonstrators were a blend of local residents and unionists from around the state. The Auto Workers mobilized, dispatching a busload from Flint, and some from as far away as Tennessee. UAW President Bob King spoke, as demonstrators protested not only the dictatorial powers of the financial managers but also the legislature's attacks on public education and Michigan's teachers unions.
One of the speakers, an African American pastor and Vietnam vet, roused the crowd when he said, "I spent 13 months fighting for democracy in another land but I saw a sign here today that said 'Free Benton Harbor.' I'll be darned if I'll fight in Southeast Asia for democracy and freedom and come back to Benton Harbor and lose my democracy here."
Benton Harbor high school teacher Emily Heck decried the hundreds of dollars of cuts per student included in Snyder's proposed state budget, and other attacks on teacher compensation. "This is a blossom time parade, and it's time that our movement blossom," she said. Mayor Wilce Cooke said Benton Harbor was "a test case for the whole country."
Protester Jess Minks, a former United Mine Workers organizer from nearby Buchanan, likened Snyder's actions to those of mine owners who created company towns. "Everybody says this is about the unions," Minks said. "No, this is about democracy."
Asked why Snyder chose to attack Benton Harbor, Minks pointed to the $87 million complex being erected for the new Whirlpool headquarters (financed in part with $20 million from the state).
"Whirlpool is going to take over this city," he predicted.
Sarah Odine said this was only the second demonstration she'd ever been to, but she drove an hour and a half from Holland because "this is extreme. This is calling for a lot of action by a lot of people."
"That's why," said Vera Singleton, a retired city worker, "we are calling for the recall of Rick Snyder."
---
Frank Hammer, a retired UAW-GM International Representative, is the former president and chairman of UAW Local 909 at GM Powertrain in Warren, Michigan.