GE to Unions: Drop Dead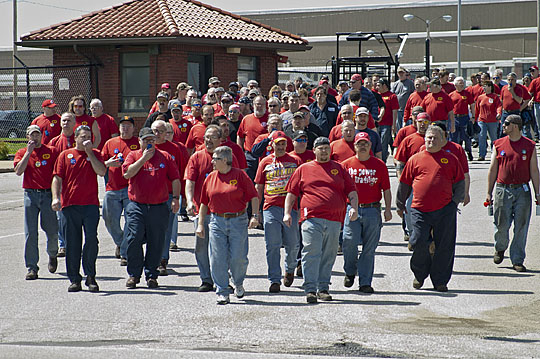 Flush with cash and celebrated at the White House, GE said the company would still seek to double workers' costs for health insurance and eliminate new hires' pensions. Bargaining opened yesterday in New York.
The four-year national contract expires June 19. Contract talks come as GE has cut its U.S. workforce by 20 percent since 2004. The company has shed 32,000 jobs by closing plants, such as the many incandescent bulb plants replaced by compact fluorescent bulb plants in China.
In just 2009-2010 GE closed 27 U.S. locations. The result was that by 2010 only 15,000 workers were left in the 11 unions united in the GE Coordinated Bargaining Committee.
But wait—isn't this the same GE whose CEO is President Obama's "jobs czar"? In January Jeffrey Immelt was picked to head a presidential council whose goal, Obama said, is to "get the American people back to work."
So how does Immelt get to be jobs czar? GE built a new battery plant in Schenectady, New York, and brought back 400 appliance jobs from Mexico to Louisville, Kentucky. But the cost was very dear.
Under pressure of layoffs and the desire to bring jobs to their hard-hit towns, union leaders in both plants agreed to a permanent two-tier wage and benefit system. Existing workers in those locations took a wage freeze, giving up both regular and cost-of-living wage increases.
Recently, our local in Lynn, Massachusetts, at an aircraft engine plant, was facing a similar choice. GE said it would open up a shuttered part of the plant—if the union would agree that new hires throughout the plant take a 25 percent wage cut. We refused, so the work is headed to a non-union plant in Texas.
Immelt's pay, on the other hand, jumped 53 percent last year. GE's top five executives divided $76 million among themselves in 2010.
BIG PROFITS, NO TAXES
GE emerged from the financial crisis with $11.6 billion in net profit in 2010 by squeezing its manufacturing workers. And recently it was revealed that GE paid no taxes last year. Zip.
In fact, the company got a $3.2 billion credit for next year. How? The company has a huge tax department packed with former Treasury and IRS officials and former Congressional staffers from the key committees that deal with tax policy.
It also had a huge lobbying budget—$73,000 for each representative and senator in Congress. Those lobbyists helped block legislation that would eliminate the tax break for U.S. corporations that transfer jobs overseas.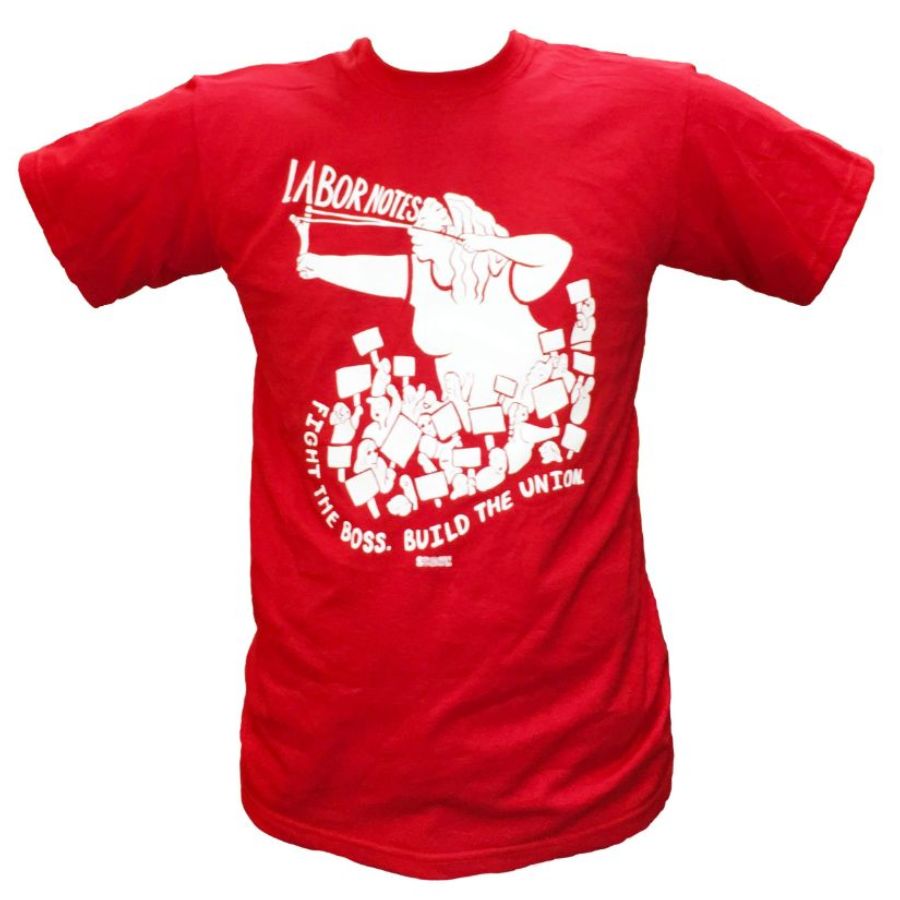 GE signaled its plan for union members when it imposed a health plan with huge deductibles and co-pays on salaried and management workers. The plan, which will double costs, seeks to divide the healthy and lucky from the older and unhealthy. Particularly hard hit will be GE retirees too young to qualify for Medicare, who pay full medical premiums as if they were still working although they live on a much lower fixed income.
GE has shown no interest in attacking the real causes of medical inflation. The company made close to $3 billion in 2010 off its huge health care division.
The company's second attack is on pensions. It sits on a 100-year-old pension fund for hourly, salary, and management that contains $45 billion. The fund is in such good shape that the company has made no contributions since 1987. Yet starting in 2011 GE took away defined benefits from management new hires in favor of a 401k, and says it wants to eliminate pensions for hourly new hires as well.
If GE succeeds, it will eventually end the pension plan for everyone. New hires will have no interest in defending and improving the pension plan in the future. Next steps would be to freeze the plan and then eliminate it entirely.
UNITY ACROSS THE CHAIN
GE workers are split among 10 unions; the two largest are the International Union of Electronic Workers (IUE-CWA) and the United Electrical Workers (UE). Building unity is critical. Towards that goal, 120 reps from dozens of locals gathered in Evendale, Ohio, for a day and half of meetings in January. We shared strategies and agreed to do an action at every plant for the opening of negotiations May 23.
Locals have rallied to support retirees and sponsored teach-ins on the health care plan. Our local hosted the UE's top negotiator with a crowd of 600 members in March. And all the locals are building to bring members to GE's largest union location, Erie, Pennsylvania, for a contract rally June 4.
Our strategy needs to convince management that we will strike if GE overreaches with its attack on health care and pensions. We will defend three generations of GE workers: active members, retirees, and future hires.
Last contract, a local in Strothers, Kansas, made buttons saying, "Don't Screw the New Guy." GE is fabulously wealthy, ships jobs overseas, pays no taxes, and wants to attack the people who built the company. The unions can make GE the poster child for corporate greed.
---
Alexandra Brown is vice president of IUE-CWA Local 201.