Citing Unstable Staffing, D.C. Nurses Strike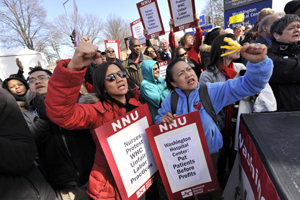 Nurses at D.C.'s Washington Hospital Center took a one-day strike Friday to protest short staffing and compensation cuts.
Hospital administration said they will lock out the 1,600 nurses, represented by the National Nurses United, for four additional days. The union estimated that MedStar, the nonprofit chain that owns Washington Hospital Center, will spend $5 million to lock its nurses out.
So many unions and community groups came to support the picket line, labor and delivery nurse Geri Lee couldn't even count them all. A noon rally brought out 2,000, including AFL-CIO President Rich Trumka, Laborers President Terry O'Sullivan, local politicians, and faith leaders.
The hospital's unstable staffing is the critical issue, Lee said, in bargaining that's lasted a year now. Nurses documented 103 instances of unsafe patient care since last October, and marched on the boss several times to deliver the latest batch.
Yet management still claims there's no problems staffing the hospital, said Lee, a steward and 32-year nurse. According to NNU, 122 nursing positions are unfilled in the hospital, and turnover is rampant. The hospital's lost 1,300 nurses since 2005.
Some nights on Lee's floor, half the nurses can be short-term "travelers" or agency nurses.
Management will regularly assign six or seven patients to a medical-surgical nurse, who in other hospitals would take care of no more than four patients at a time. The stress is too much for many nurses.
"It's a sickening feeling when you're swimming backwards and just hoping you get through the shift without an incident," Lee said.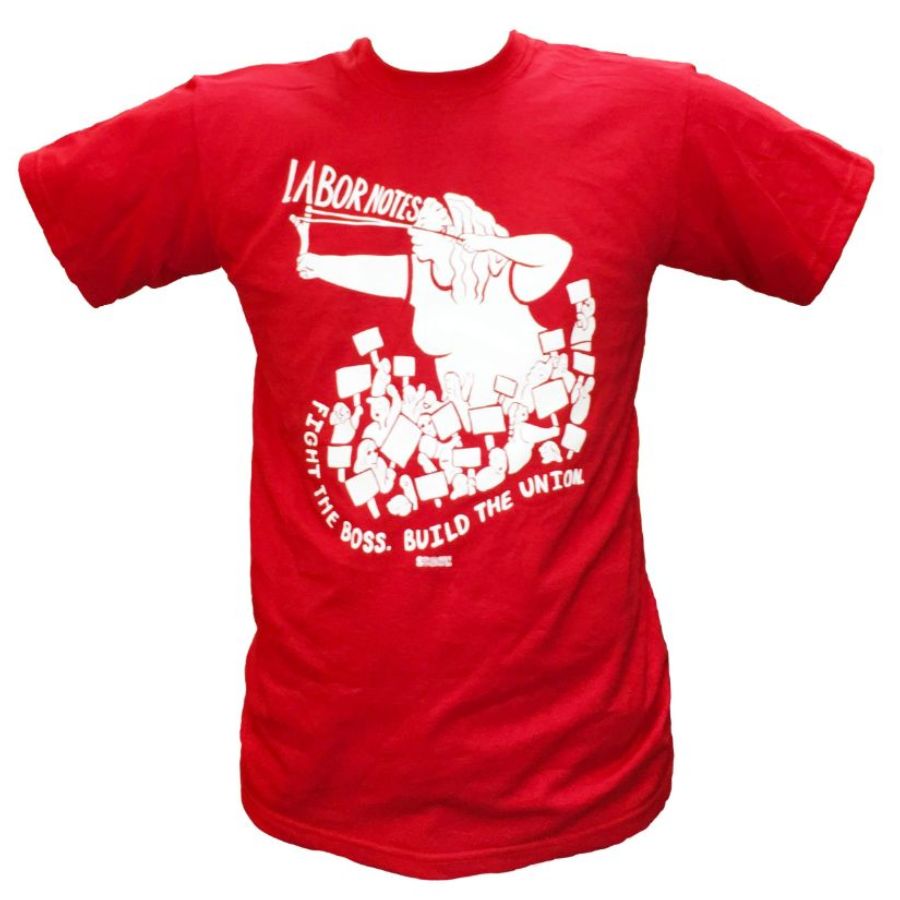 The hospital union, which affiliated with NNU last year, has attempted to bargain for ratios in several contracts but found themselves with little leverage against MedStar, which owns nine hospitals in the D.C. area. Lee noted that staffing concerns are a universal problem among hospitals that have provoked several recent strikes.
"These strikes send a message to hospital administrators and the public: You can't make hospitals so unappetizing people don't want to work in them," she said. "You can't think people will want to work under these conditions."
MedStar is also demanding pension freezes, hikes in health care costs, and reduced shift differentials for night and weekend work.
Lee questioned the company's spending priorities, saying it's hard to find basic equipment like thermometers and blood pressure cuffs in her hospital. The union led a delegation up to Maryland to see an expensive new wing the company just added to a hospital there.
"How do you go and build a tower with a fireplace?" Lee asked. "That doesn't seem very money conscious."
Washington Hospital Center specializes in trauma and other types of complicated care, so the patients it gets are sicker than average. That makes the nurse to patient ratio even more important for Lee, who said her fellow nurses won't back away from their demands to stabilize staffing.
"Nobody wants to care for so many patients they can't keep up," Lee said.