UAW Members Protest 50% Wage Cut at GM Plant, Demand a Vote
Two hundred auto workers picketed October 16 outside the locked gates of their union's headquarters in Detroit, protesting an agreement to let General Motors pay half wages at a suburban assembly plant.
The "Tier 2" workers, who make up 40 percent of employees at the plant, will make roughly $14.50. They'll be working alongside Tier 1 workers making the current production wage, about $28.
Signs included "I could build a two-tier vehicle—you want one?" and "We all pay union dues—why are only 60% represented?"
"It was a backroom deal," said Clarence Heath, who was laid off last November along with the rest of the workforce at the Lake Orion assembly plant. "The union knew that the plant was going to be two-tier from the beginning, and they just waited and waited till the last minute and then they dropped it on us. It's a betrayal to me."
Although the United Auto Workers constitution gives members the right to vote on contract changes, GM and the UAW apparently learned a lesson from a recent defeat at an Indianapolis stamping plant, where workers voted 457-96 not to accept half pay.
At an October 3 union meeting at Lake Orion UAW Local 5960, shop chair Mike Dunn told members they wouldn't be allowed to vote on the pay cuts. The germ of the idea, he said, had been included in the national contract ratified in 2009 when GM was on the verge of bankruptcy and seeking government help.
That contract includes a Tier 2 wage of $14.50 an hour, but only for new hires. Elsewhere, it also says the parties want to produce a small car profitably and that company and union "will work together...to arrive at innovative ways to staff these operations." The Lake Orion plant was chosen among three contenders and began retooling to build the subcompact Aveo and compact Verano nearly a year ago.
Automotive News quoted auto consultant Ron Harbour's estimate that the move will save GM all of $112 per car.
The rally was quickly organized by rank and filers using Facebook and dissident websites, such as Factory Rat and SOS. Workers came from a dozen plants in Michigan, Ohio, and Indiana. The Indiana workers who had voted down wage cuts last month were greeted as heroes.
HALF-PAY DOMINOES
Scott Shingledecker from Flint Truck and Bus came with three others who had made matching blue T-shirts: "Leave Our Wages Alone."
"If they do it here they'll do it everywhere," he said.
UAW President Bob King assured members through the press that the arrangement was only for the small car: "This is not going to go to other plants unless we are able to bring a [subcompact] car into Ford or Chrysler that we don't currently have. We might look at something similar for that situation."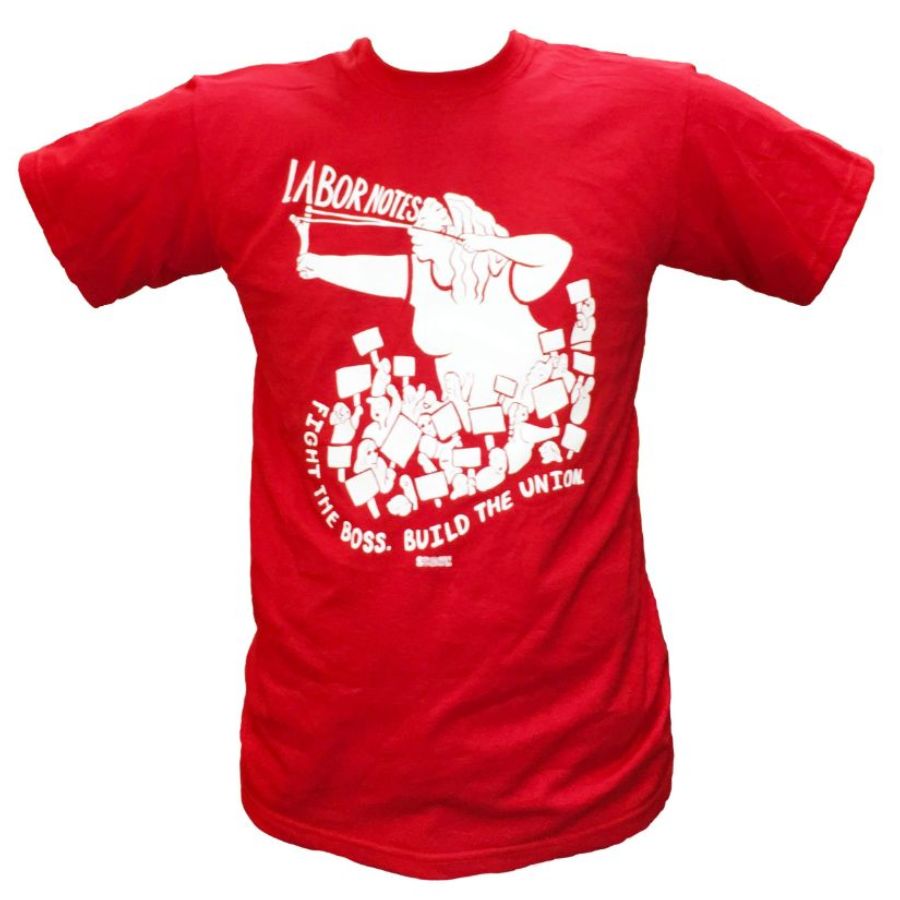 But members at the rally believed otherwise. "They know that they're next," said Dawn Maturen, one of the rally organizers and wife of a Lake Orion Tier 2 worker with 11 years' seniority.
Her husband is on his third plant, 70 miles from their home, as he's bounced around the GM system. "Eventually Tier 1 workers will all be Tier 2," Maturen says. "We've realized in watching how things have worked that if we don't stand up now, no one will have good-paying jobs."
Olen Ham, 93 years old and a veteran of the UAW's 1930s sitdowns, assured the crowd outside Solidarity House that GM's goal was to return workers to the pre-union days, "when workers were peons."
A NEW SEGREGATION
The UAW contract contains a complex and growing number of wage tiers and language governing transfers to other plants. The company now employs Tier 1 and Tier 2 workers, flex workers who work two to three days per week, temporaries, and those "on temporary assignment."
Dunn said the union's goal was to enable all workers who'd worked at the full wage to return to Orion or transfer elsewhere at full pay. That way, only new workers (or those who'd been Tier 2 in the past) would work under the wage cut.
The first 800-900 production workers called back to Lake Orion would work at the full wage and benefits. The rest of the plant's 1,588-person workforce could come back as Tier 2 workers (with full benefits), wait for an eventual Tier 1 opening created by retirement, or hope to get hired at another GM plant elsewhere.
Nick Waun, one of the rally's main organizers, sent an open letter to King likening the tiers to segregation:
The corporate game has split the solidarity that this Union once enjoyed into tiers of grief….Two separate tiers of employees doing the same job is inherently unjust and unequal. Walter Reuther and Martin Luther King would be rolling in their graves if they knew what has happened….As Walter Reuther marched to end segregation, we will march to end the tier II.
The rallyers turned their ire mostly on the UAW. "I'm disappointed they won't open the gates," said Joanne Skornia. "We own the building. Who are they afraid of?"
Skornia is a veteran of former GM subsidiary Delphi, where she watched Tier 2 quickly become a majority.
As for Waun, he and scores of other Lake Orion workers will be transferring to GM's Lordstown, Ohio, plant 250 miles away—the only way they can maintain full pay. For now, that is—Lordstown builds a compact car, too.