UAW Dissidents Slam Concessions, E-Board Raises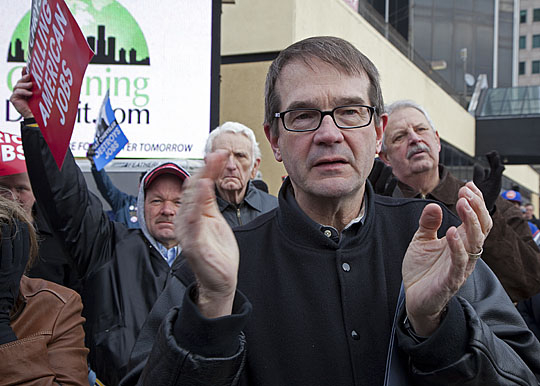 A contested presidential election, grassroots social media, and reams of leaflets—auto worker activists are doing everything they can to make sure the 35th UAW Constitutional Convention doesn't run to script.
A small crowd of 50 auto workers and allies rallied in front of the convention Sunday, chanting: "a message to our delegates: take our union back!" cuffed and briefly detained by police for carrying leaflets.
This convention will see a rare contested election as the union contemplates its shrinkage from 540,000 members four years ago to 350,000 today. Vice President Bob King is the Administration Caucus candidate. Gerald Rowe, a retired member of Local 160 in Warren, Michigan, said he's backing King if "he sticks with the morals that he started with." Rowe was at the rally to support resolutions, opposed by the leadership, that would give retirees voting rights on contracts and take a stronger position on single-payer health care.
Selwyn Rogers, who was active during the New Directions dissident caucus in the 1980s and 1990s, said he hoped King would recognize what he called the "groundswell" of workers who are questioning two-tier wages and giving up the right to strike.
CHALLENGER
That groundswell might be embodied by Ford Local 600 bargaining committeeperson Gary Walkowicz, whose candidacy is one of few in UAW history to challenge the Administration candidate.
Walkowicz is a workplace leader in the plant where workers famously shouted King down famously shouted King down when he came to sell concessions to the ranks last fall.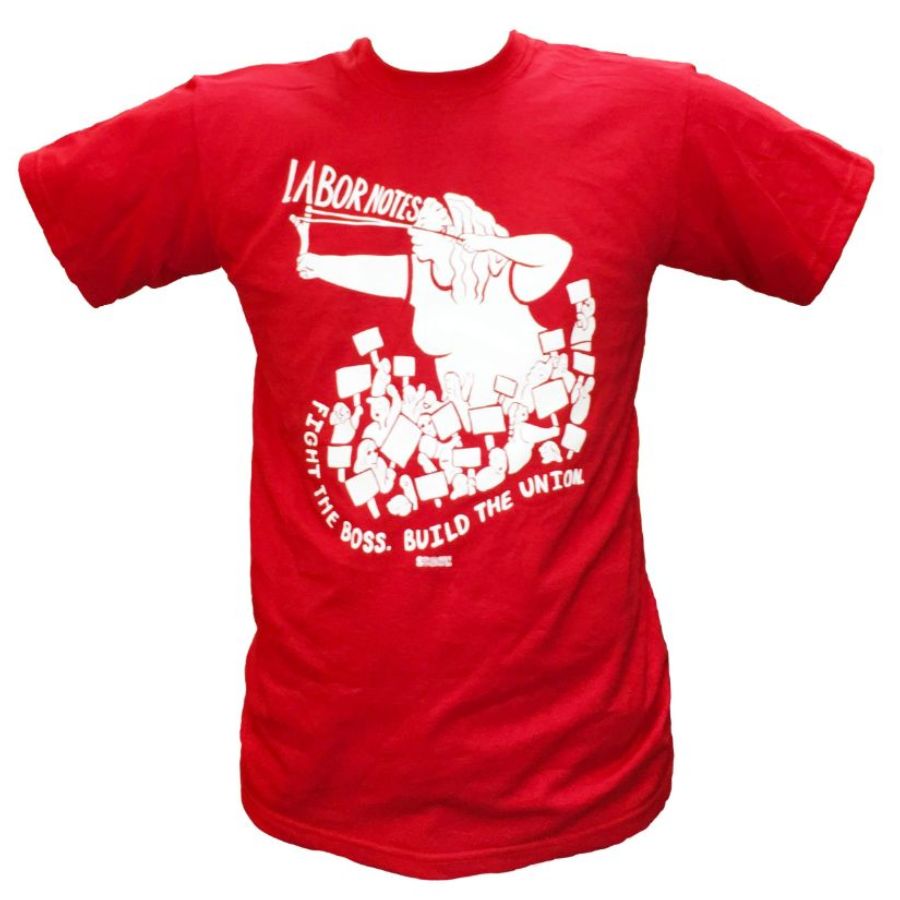 Picketer Paul Wohlforth from Toledo's Jeep plant said that King's role in pushing those concessions made him question who King is working for. Their impact has been devastating to UAW members: "The Big Three are hiring at tier-two wages with no defined pensions. Retired workers have already lost their dental and eye coverage," Wohlforth said.
Differences came into relief on the convention's second day when the Administration put raises for International reps and executive board members to a vote. Delegates applauded Walkowicz for speaking against the resolution and demanding that raises for International staff be tied to upcoming contracts. The raises still passed narrowly.
Walkowicz knows he won't win a majority of delegate votes. "I'm running only to bring the issues to the floor and show how the rank and file feels about the direction the union is heading," he said. "Ford workers expressed it clearly last October, Delphi workers have voted against concessions since then.
"The first thing for the convention to do is discuss the policy of concessions," Walkowicz said. "We need a policy to get back what we lost."
As Walkowicz met with other delegates to talk strategy, the wife of an auto worker brought her technical skills to bear. She created a Twitter hashtag (#uawconvention) and username (@UAWIntnlUnion) to help UAW activists spread the word about their efforts to cause a little trouble during the neatly scripted convention.